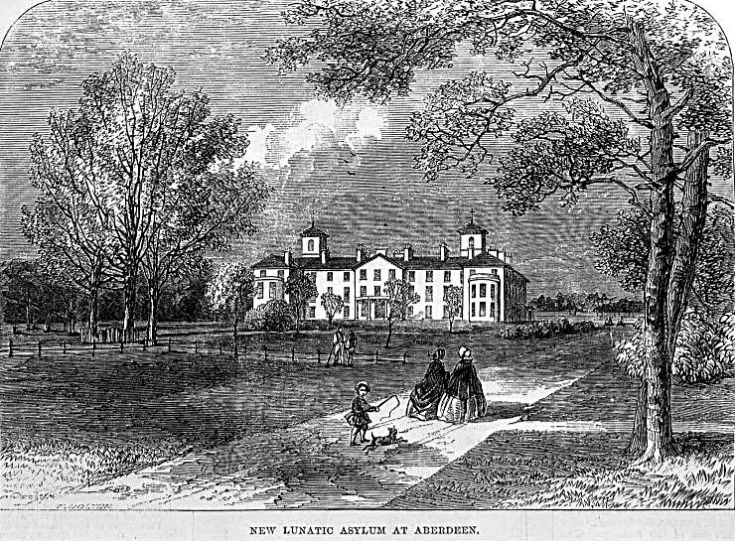 The Glenbuchat Image Library
16 Aberdeen Asylum & Dr William Reid
Royal Cornhill Hospital, Aberdeen was opened in 1800 as Aberdeen Lunatic Asylum.
Photo of Aberdeen Royal Lunatic Asylum - taken from Wellcome image library and Illustrated London News (used under creative commons license)
The connection with this to Glenbuchat may seem strange but there are a couple of connections.
The article below refers to Dr. William Reid is descendant from a famous Glenbuchat family. The Reid family of
Baltimore
and was superintendent of the Asylum.
The other connection is that in the grounds was a monument to
John Forbes, Bombay Jock,
who provided a donation of £10,000 to the hospital. This was probably related to his friendship with Susan Carnegie. Mrs. Susan Carnegie of Charlton founded the Montrose Lunatic Asylum in 1781 for the treatment of private and pauper patients, the first mental hospital in Scotland. Thus developed his support of mental welfare.
Dr. William Reid
Dr. William Reid is descendant from a famous Glenbuchat family. The Reid family of
Baltimore.
Cressida Potter of the
Reids of Rinmore Site
writes of Dr. William Reid
William Reid MD was born the 4th son of the Rev'd William Reid and Elizabeth Scott in 1854.
William was a doctor of psychiatry and the Physician Superintendent of the Royal Asylum in Aberdeen. He entered as an assistant physician in 1876 and was promoted on the death of the previous Superintendent in 1885.
He lectured on psychiatry to many generations of Aberdeen University men and according to an obituary in the Journal of Mental Science in 1918, Dr Reid was a big man in every way 'His handsome presence and indefinable personality will be missed in Aberdeen for many years to come. He was absolutely adored by his patients; as though he did not carry his feelings on the surface, his winning personality and overflowing kindness of heart made him an ideal mental physician'.
He was also apparently passionately devoted to golf, was well known on the links of Balgownie, Cruden Bay and Lossiemouth and his library contained every known book on the game.
Dr Reid was also a great family man and again I quote from his obituary 'Dr Reid's home life was delightful, and to see the big fellow lying on the floor building brick houses with his youngest daughter is a pleasant memory. He was devoted to all children and they to him.'
Dr Reid died on 3rd September 1918 and was survived by his wife and two daughters.
Picture added on 06 December 2010 at 21:40
This picture is in the following groups
people
Comments: