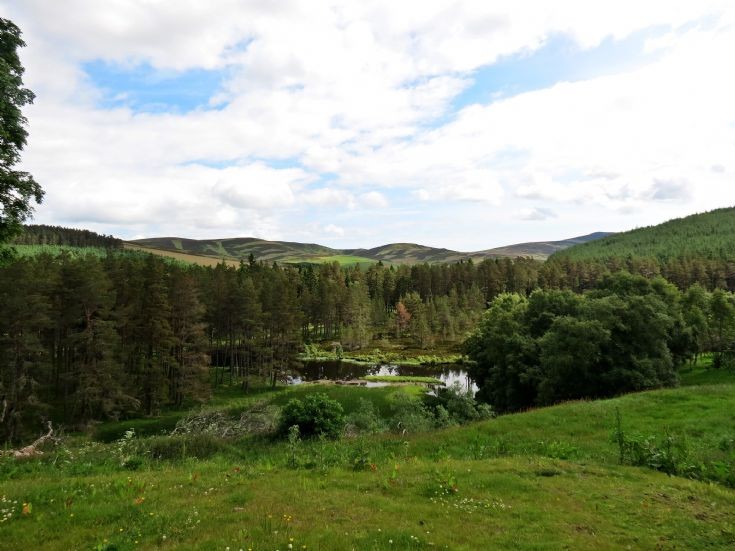 The Glenbuchat Image Library
124 THE BACKIES BIRKEN BRAES. James MurdochPicture Above a view from Backies JAMES MURDOCH: MINOR POET.
From "The Celtic Monthly: A Magazine for Highlanders" 1907James Murdoch,
the writer of the appended poem, was author of several poetical effusions, several having been written in the strain of our national bard, Robert Burns.
The Backies Birken Braes, to which he fondly refers, are situated in Glenbuchat, Aberdeen-shire, and celebrated locally for their pristine beauty and fine situation of surroundings.
The author, my uncle, was the eldest son of Robert Murdoch, farmer, and his wife, Isabella Brodie, and it is well to note that his grandfather, William Brodie, occupied the farm of Backies for several years, and that a branch of the Gordon's occupied it at the end of the eighteenth century. James Murdoch, who died in Glasgow, 8th April, 1899, spent many years of his life in Trinidad, having been employed in the sugar trade. During his outward voyage he commenced a diary, in which he narrated not only his experiences and travels, but kept a copy of his compositions. These he intended to print upon his return to the old country — but, alas! a fire broke out at his residence, and all his effects, including his M.S. poems, etc., were destroyed.
Aberdeen.
Robert Murdoch
THE BACKIES BIRKEN BRAES.
O meet me, Mary Ann, at e'en, where fragrant breezes blaw,
And muse upon the witching scenes amang the birken shaw,
Where birdies sing from bough to bough their sweet enchanting lays,
Where burnlea now, and wild flowers grow, alang the Backies Braes.
Come, Mary dear, and rest ye here, in this gay birken chair,
And view the little weeping leaf that drops the dewy tear.
And contemplate this fairy scene, though often it decays,
It dies, but to revive again, and deck the Backies Braes.
The sun has dipped his golden musings amang the dark brown heath,
The bright and gorgeous gilded beams glide o'er the birken wreath,
Amid cheers the wild romantic dale, while Nature's hand displays
The beauty of the Balluch Vale, and Backies Birken Braes.
Here and there along the braes there is yet to be seen
Engraved on the spotted bark the names of those that's been.
As we are now in richest bloom, but youth it soon decays,
And we, like them, must meet our doom, and le'e the Backies Braes.
0, bright, bright, are the evening's beams, and sweet's the pearly dew.
While bonnie is the star that blinks through gloamin's dusky blue.
And captivating is that spell, while lovely is the gaze.
Of Mary, lily of the Vale, and pride of Backies Braes.
Now, the origin of Backies is rather interesting.
Macdonald, in his ' Place Names of Aberdeenshire," writes as follows: —
Backies (Glenbuchat). Lamg, in the **Donean Tourist," calls this place Bacaiseach, which, he says, signifies an impediment or obstruction. I know nothing of any such form of the name, and Lainff sives no authority.
Baukie (Sco.), 'a strip of un tilled ground between cultivated ridges" does not suit, the vowel beinff long.
Backie (Sco.), dim. of back, and pL s, has oeen suggested, but I never heard the word so used, and do not see the sense of it.
Backhouscroft, Haddington, and Bakhouscroft, Kincardine, seem to be close parallels, but these were probably attached to bake-houses.
In Aberdeenshire there is a curious custom of calling a farmer by the first syllable of the name of his farm, with its added, thus — Drummies, Whities, Kdenies, Scurries, and many such-like. These names do not apply to the farms, but to the occupants, and are really nicknames, although no offence is intended or taken. A farmer in Strathbogie once occupied a farm called 'Back o' Field," and for forty years was commonly known by no other name than "Backies." Had this man gone into a croft after leaving his farm, it would almost certainly have been called " Backie's Croft." In some such way this place in Glenbuchat may have got the name.
Family Tree for James Murdoch
Robert Murdoch
Birth Abt. 1779 in Prob. Aberdeenshire,
Death10 Apr 1824 in Belnaboth, Glenbuchat,
Spouse
Jean McKenzie1784 - 1822
Children
Margaret Murdoch1804 –
John Murdoch1807 - 1869
Robert Murdoch1809 –
William Murdoch1811 - 1823
Alexander Murdoch1815 - 1891
James Murdoch1820 –
Jean McKenzie
Birth Abt. 1784 in Prob. Aberdeenshire,
Death 08 Apr 1822 in Belnaboth, Glenbuchat,
Spouse
Robert Murdoch1779 - 1824

Robert Murdoch
Birth 5 jun 1809 in Glenbucket
Death 1889 in Glenbucket,
Parents
Robert Murdoch1777 - 1824
Jane mckenzie1784 - 1822
Spouse
Isabella brodie1822
Children
James Murdoch1846 –
Mary Ann Murdoch1848 - john Murdoch1850 –
William Murdoch1854 –
Margaret Murdoch1857 –
Alexander Murdoch1860 –
Ann Murdoch1862 –
Archibald Murdoch1869 –

1871 Scotland Census about Robert Mardoch
Name: Robert Mardoch [Robert Murdoch]
Age: 61 Estimated Birth Year: abt 1810
Relationship: Head
Spouse's name : Isabella Mardoch
Gender: Male
Where born: Glenbucket, Aberdeenshire
Address: Craigielea
Occupation: Shoemaker & Grofter Of 7 Acres
Household Members: Name Age
Robert Mardoch 61
Isabella Mardoch 49
James Mardoch 24
William Mardoch 16
Margaret Mardoch 14
Alexander Mardoch 11
Ann Mardoch 8
Archibald Mardoch 2



James Murdoch
Birth14 may 1846 in Strathdon,
Parents
Robert Murdoch1809 - 1889
Isabella Brodie1822 –

1871 Scotland Census about James Mardoch
Name: James Mardoch [James Murdoch]
Age: 24 Estimated Birth Year: abt 1847
Relationship: Son
Father's Name: Robert Mardoch
Mother's name: Isabella Mardoch
Gender: Male
Where born: Strathdon,
Address: Craigielea
Occupation: Merchant
Household Members: Name Age
Robert Mardoch 61
Isabella Mardoch 49
James Mardoch 24
William Mardoch 16
Margaret Mardoch 14
Alexander Mardoch 11
Ann Mardoch 8
Archibald Mardoch 2

Picture added on 09 October 2014 at 17:27
This picture is in the following groups
people