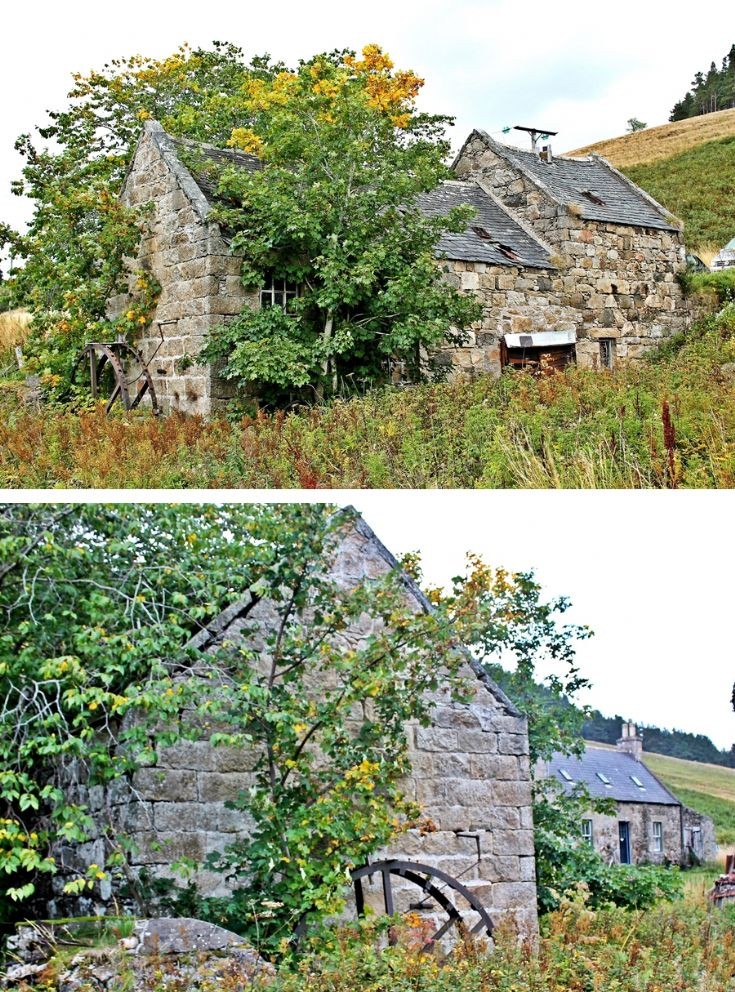 The Glenbuchat Image Library
166 Glenbuchat Mill, Bremners and AustraliaBremner Family in Australia
The article below was contributed by Heather Wade who has undertaken research into the fortunes of Thomas Bremner Junior after he emigrated to Australia in 1855.
Heather Wade lives in Western Australia and her ancestors are Thomas Bremner and Elspeth Dow.
Many thanks to Heather for the article
Heather Wade
and her husband visited Glenbuchat Mill in 2014
Thomas Bremner Senior was the Miller at the Glenbucket Mill (photo above) and his son Thomas Junior emigrated to Australia and took with him some of his Scottish heritage namely milling, whisky making and highland games. The article demonstrates the challenges facing emigrants.
Firstly there is a reminder of the family history and then the article about the Australian adventures.
William Bremner
Birth before 1777 in Aberdeenshire,
Death1800 in Old Machar, Aberdeenshire,
Spouse
? Margaret McBarnett
Children –
James Bremner1786 –
Janet Bremner1787 –
James Bremner1788 –
John Bremner1791 –
Margaret Bremner1794 –
Thomas Bremner1797 - 1849
Elisabeth Bremner1800 –
William Bremner1800 –

Thomas Bremner
Birth01 Oct 1797 in Old Machar, Aberdeenshire,
Death21 Apr 1849 in Glenbucket,
Parents
William Bremner before 1777 - 1800
Margaret McBarnett –
Spouse
Elspet Dow1801 – 1885
Children
James Bremner1820 –
John Bremner1823 - 1848
Helen Bremner1825 –
Thomas Bremner1827 - 1912
Alexander Bremner1829 –
William Bremner1831 - 1844
Janet (Jessie) Bremner1833 - 1890
Robert Bremner1835 - 1861
Jean Bremner1837 –
Elspet "Elsie" Bremner1839 - 1908
Peter Bremner1842 - 1922
Ann Bremner1844 - 1903
William Bremner1846 - 1934

1841: Census

Address: Mill, Glenbucket, Aberdeenshire, Scotland
..........Name..........Age........Occupation...
Thomas Bremner...40...........Miller
Elspet Bremner......40
John Bremner........15
Hellen Bremner.....15
William Bremner...10
Jannet Bremner........8
Robert Bremner.......6
Jean Bremner...........4
Elspet Bremner........1
Alexander Dow.....40...........Tailor
Notes:
Alexander Bremner, age 10, male servant, living with William Ogg,

Elspet Bremner nee Dow (widow of Thomas Bremner), Miller
Died 1885 January Twenty-third 2h 5m PM – Altnacraig, Glenbucket, F: 84 years
Parents: Alexander Dow, Crofter (deceased) & Jane Dow Ms Stuart (deceased) Cause: Old Age, Chronic Bronchitis. As certified by Charles L Wattie MD
Informant: Ann Bremner, daughter (present)
1885 January 30th at Glenbucket. Alexr Callam, Registrar



Thomas Bremner
Birth 04 Mar 1827 in Glenbucket, Aberdeenshire, Scotland
Death1912 in Drouin, Victoria Australia
Parents
Thomas Bremner1797 – 1849
Elspet Dow1801 - 1885
Spouse 1- Not Married
Jessie Begg -
Children
William Bremner1850 –
Spouse 2
Matilda McDowell1852 - 1924
Children
Agnes McDowell/Bremner – she was known as Aggie Bremner. Born 1871, died 1947, Bassendean, Western Australia
David Bremner born 1876, died 1936, Merredin, Western Australia
Thomas Bremner b 1878, died 1903, Mepunga, Victoria, Australia
Mary Bremner b1880, died 1960, Bassendean, Western Australia
Andrew Bremner b 1881, died 1937, Clifton Hill, Victoria, Australia
Jessie Bremner b1883, d 1900, died Kew, Victoria, Australia
John (Jack) Bremner b 1884, died 1955, Hawthorn, Victoria
Peter Bremner b 1886, died 1971, North Beach, Western Australia
Hector Bremner b1888, died 1955, Bassendean, Western Australia
Elspeth Bremner b1890, died 1984, Warragul, Victoria, Australia
Matilda Bremner nee McDowell died in Bassendean, Western Australia in 1924

Jessie Bremner. Pauper, Lunatic (single)
1890 December twentieth 1h 45m PM Altnacraig, Glenbucket, F: 56 years
Parents: Thomas Bremner, Meal Miller (deceased) & Elspet Bremner ms Dow (deceased) cause: Epilepsy 41 years; progressive muscular atrophy 1 year & 1 month. As certified by P.E. Howie MB CM
Informant: Annie Bremner, Sister, present
1890 December 26th at Glenbucket. Alexr Callam, Registrar.


THOMAS BREMNER (1827 – 1912)
GLENBUCHAT TO VICTORIA, AUSTRALIA
Thomas Bremner migrated from Scotland to Australia as a 28 year old miller. The common threads through his activities in both countries were milling, the gatherings and whisky making.
Scotland
Thomas Bremner was the fourth of thirteen children born to Thomas Bremner (1796 – 1849) the miller of Glenbuchat and Elspeth Dow (1801 – 1885).
Elspeth, born in Strathdon, was the daughter of Alexander Dow and Jean Stuart.
In the 1841 Census, Thomas Jnr (born Glenbuchat 1827) was working as an agricultural labourer in Aberdeenshire. Thomas Snr died in 1849 and in the 1851 census, Thomas Jnr was back at the Glenbuchat Mill with his widowed mother and seven siblings. Thomas is not recorded with an occupation but his younger brother, Alex, is described as a meal miller. The Bremners were occupiers of 7 acres and employed 2 labourers.
Jessie Begg and Thomas Bremner had an illegitimate child in 1850.
Emigration to Victoria, Australia
Thomas Bremner, a miller, aged 28, left England on 6th October 1855 on board the 'Schomberg' bound for Melbourne, Australia. The beautifully appointed Aberdeen built clipper was on her maiden voyage to Melbourne. Her captain, James Nicol 'Bully' Forbes, boasted that she would arrive in Melbourne in 60 days. On Christmas Day, 79 days out, she was sighted off Cape Bridgewater, Victoria, and spent the next two days tacking against a strong ESE wind. The big ship was slow to respond to a change of course and it became wedged on a sand-topped reef near Peterborough. All passengers and crew were rescued and the 'Schomberg' broke up.
Melbourne (& Malsters)
Thomas made his way to Melbourne, as an 1857 advertisement placed by William Bremner was looking for his cousin, Thomas Bremner, in the Missing Friends section of 'The Argus' newspaper.
The Victorian Government Gazette announced the dissolution of partnership in September 1858 between Thomas Bremner and William Jenkins, malsters of Pelham Street, North Melbourne. On Thomas Jnr's death certificate, Thomas Snr's occupation was listed as distiller.
MILLING
Allansford
Thomas probably came to Australia with the dream of owning more than 7 acres of land. However, he returned to the trade he knew and became the miller at the Allansford Steam Flour Mill.
From 'Allansford 1855 - 2006' by Graeme & Barbara McLeod.
"It is unclear exactly when the mill was commenced but an advertisement in the Examiner of 2 October 1863 called for tenders to build a 'Blue Stone Store, and other additions to Allansford Steam Flour Mills'.
The mill had ready access to water which was required to fuel the steam engine of about 12 horsepower and the boiler 6 feet in diameter. Produce was received on the ground floor where the machinery was erected. Wheat was weighed and elevated to the second floor where the grind stone were located. It was passed by a set of elevators to the separator for cleaning after which it returned from the smutting floor to the lower floor. After grinding it was sieved and eventually passed through a silk dresser and carried to the lower floor to be bagged ready for sale. In addition the mill produced bran and pollard. Mills in the area all worked in a similar fashion.
Farmers from around the area would drive bullock drays with grain for the mill. The bullocks were unyoked and rested in the paddock next to the mill until the flour was milled, then yoked up for the return journey."
Money Problems at Allansford
"On 27 June 1865 the mill was advertised for sale as the miller, Thomas Bremner, was declared insolvent by the County Court due to non-payment of his account with the architect, Andrew Kerr. The bailiff noted that the sale 'by public auction' would take place on 28 June 1865 on the premises at 2pm with the terms 'cash, on the fall of the hammer' unless Bremner paid the debt beforehand." [McLeod]
Other items for sale on the day were:
"A great quantity of mill firewood, cut in lengths, supposed to contain about five or six hundred tons; bags of wheat, oats and flour, bran and pollard; a weighing machine; 2 trucks; sieves; galvanised iron; carpenters tools, empty bags, sawn timber and some deal boards; about 1,200 of garden paling, and some shingles and sundries." [Warrnambool Examiner]
"Insufficient interest must have been shown as the mill was still for sale on 18 July and again on 2 September of that year as a similar advertisement appeared stating 'For positive and unreserved sale, the Official Assignee's right, title, and interest (if any) in and to 2¼ acres of LAND, or thereabouts, situated at Allansford, together with the Mill'. The machinery was noted as being in 'perfect order'." The stone cottage and all other fixed improvements were included in the sale." [McLeod]
This time, Thomas sold the property.
"In 1865 the Examiner reported that land selection had 'interfered' with farmers planting their crops and that there may not be sufficient wheat produced for local consumption. Although there was an abundance of mill power in the district regret was expressed that 'for this season there is not sufficient grain to keep in full employment the mills now open'." [McLeod]
This did impact on Bremner. He explained the reason for his insolvency as 'Depreciation in value of property. No milling consequent on failure of crops and pressure of creditors'.
Mepunga
In the 1868 & 1870 Post Office Directories, Thomas Bremner was listed as a splitter in Mepunga, not far from Allansford. During that time he must have purchased land conditionally, some which he seems to have kept and other land which was forfeited due to non-payment of rent.
He was in court several times for not paying debts or paying insufficient amounts. Also in 1870, he had up for sale '30 acres oats, in stack and shock, 2 men's saddles, harnesses, posts and rails, shingles, tarpaulin, slabs, sawn timber and sundries.' [Warrnambool Examiner]
Marriage
Thomas Bremner married Matilda McDowell in 1875. Matilda came from Ireland to Victoria in 1864 aged 12 and her father was a farmer in Mepunga. Matilda had a daughter before the marriage, father unknown. Together Thomas and Matilda had nine children.
New machinery for farming operations at Mepunga
"Another of Clayton, Shuttleworth and Co.'s threshing machines, with eight horse power engine, imported by Wilkie, Welds and Co., of Melbourne, arrived in this district yesterday, for Mr. Thomas Bremner, of Mepunga. On Wednesday evening last the ponderous machine arrived at the Cudgee, drawn by three horses, whilst six bullocks brought the engine from Geelong. We have had an opportunity of inspecting the above, and found that there is an improvement in the pressure of air and the bagging apparatus; there is also a superior contrivance for cleansing barley. Both are remarkably well finished and were greatly admired by a number of farmers, who regretted their inability, at present, to follow the example recently set by Mr. Jackman and Mr. Bremner." [Warrnambool Examiner, 13 Jan 1871]
Thomas was known for growing barley and it seems he was joining farming and milling operations as described in the following article from the Warrnambool Standard, 3 Apr 1886.
"Pearl barley manufacture at Mepunga
ALLANSFORD. Mr. T. Bremner has commenced the manufacture of pearl barley, and on Tuesday I had an opportunity of watching the process. As Mr. Bremner's pearl barley mill is the only one in the colony except one or two in Melbourne, it may interest your readers if I describe it and the process of pearl-barley making. The motive power for driving the mill is supplied by one of Marshall and Gilbert's steam engines. The steam engine is made to supply itself with water by an ingenious contrivance of Mr. Bremner's. About 50 yards away is a large waterhole, from this pipes have been laid and connected with a pump at the rear of the engine, and an endless belt working from a pulley on the piston rod causes the engine to pump the water into a trough, from which as it overflows it is conveyed by a drain back to the waterhole. The pearl barley mill is in a room at the rear of the engine. It is of the best make, being constructed by Alex Mather and Son, Edinburgh. The mill is enclosed in a wooden frame-work and consists of a millstone and outer sieves. The mill is driven by the engine at the rate of 300 revolutions a minute. The crude English barley enters the mill by a shoot from a loft above the mill, and driven at the above rate, the centrifugal force hurling it against the sieves rapidly divests it of the husk and outer skin, and converts it into the article known as pearl barley. About a ton and a half will be manufactured per week. Mr. Bremner intends to fatten pigs with the barley meal which forms the residue. In order to secure a first-class sample, Mr. Bremner has also purchased a winnowing machine – 'The Young Giant'- through which the barley is first passed to divest it from all impurities, such as tares, wild oats, etc. Mr. Bremner also employs his steam engine in rather a novel way for this district, - namely the cutting of firewood. To a travelling bench a circular saw has been fitted. This is taken out into the paddock, and driven by the engine by means of a roller and an endless belt. By this means 60 tons of firewood are easily cut in a day, for which a good market is always available in Warrnambool. It is to be hoped that Mr. Bremner's venture in pearl barley making will prove a remunerative one, as it will mean an increased demand for barley, a cereal which thrives well in this district. His first production compares favourably with what is at present in the market and he has also the advantage of being able to supply it cheaper than it can be obtained in Melbourne."
The article of 21 April 1886 from the Camperdown Chronicle, a local paper, gave more background into the accident, and the manufacture of pearl barley. Other more succinct articles were placed in newspapers throughout Australia.
"Explosion at the Mepunga Pearl Barley Mill. A thriving industry in the neighborhood of Mepunga has been suddenly brought to a termination by an untoward and quite unforeseen accident; which, on Saturday last, caused the destruction of a Pearl Barley Mill, and the building in which operations were being carried on. Mr. Thomas Bremner, who is well known in this district in connection with the grain-thrashing industry, some time ago heard of a Pearl Barley Mill being in the market, and conceiving the idea that the industry of pearl barley making could be successfully introduced into this district, where such admirable grain is produced, went to Melbourne to see about making a purchase. The mill, it appeared, was one of the best manufactured by Mithers and Son, mill-wrights, and engineers, Edinburgh, and was being disposed of by the importer, a miller, who had not sufficient power to work it in connection with his flour mill. Mr. Bremner brought the mill to his premises, Mepunga, and fixed up his factory in a very complete manner, having a new Marshall portable engine to drive the barley stone. About three weeks ago a start was made, and an excellent article produced, for which orders were soon flowing in upon him from the tradespeople of Warrnambool. On Saturday morning, Mr. Bremner was on his way to Warrnambool with a fine sample of the pearled grain to obtain orders, and when about ten chains away from his place, he detected something unusual with the steam-engine, which was revolving at an alarming pace. He at once concluded that the belt of the governor-balls had snapped, and that the engine was beyond control till steam was shut off. This necessary operation it appears, was not performed in time, for Mr. Bremner had just reached his gate when a tremendous explosion was heard, and at the same moment H. Miles, the man in charge of the mill came out. 'What is the matter, Harry?' was Mr. Bremner's breathless query. Miles who was very much excited and alarmed, replied—'Oh, the place is all ripped and torn open.' On learning, after further inquiry that no one had been hurt, and thanking Providence for it, the proprietor entered his factory, when an extraordinary scene met his astounded gaze. The sides of the building were torn open, and there was a large hole in the upper floor of the mill, the joists and supports of which were lying crosswise. On all sides destruction appeared, and seeing heaps of grain lying about Mr. Bremner concluded that the barley mill had been overcharged by the miller. Looking upwards, however, that idea was dispelled by his observing that a number of bags of grain that were in the loft had been blown asunder by the explosion, and their contents were then falling down through the holes in the upper floor. The appearance all around was as though a charge of dynamite had been suddenly exploded. The cause of the disaster was simply the bursting of the barley stone, portions of which were found fully a chain away from the factory. Mr. Bremner's first surmise was correct. The breaking of the governor belt caused the steam engine to revolve at a fearful pace. The velocity communicated to the barley stone, which ordinarily travelled at the rate of 300 revolutions per hour, set up a great centripetal force, and the spindle caused it to fly asunder in all directions, the fragments creating the destruction of the mill as stated. There were two men and a boy about the mill at the time, but fortunately neither of them happened to be in the way of the flying particles of stone. Mr. Bremner will be a great loser by the unfortunate occurrence, as, in addition to the destruction of the barley mill and building, his business will be entirely stopped for at least six months, as it will take that time to send to the old country for a new mill. This Mr. Bremner intends to do, and will resume his industry at the earliest possible moment."
Thomas advertised in the local paper in March 1892 that he wanted to purchase barley and oats for the Mepunga Barley and Oat Mills and in November of the same year had a clearing sale of his first class dairy herd so he could devote his whole attention to milling. For sale were '60 First-class Dairy Cows, in full profit and springing; 15 Choice Heifers, dairy bred; 4 Heavy Draught Horses; 2 Buggy Horses; 12 Shares Warrnambool Butter Factory; Pigs; Milk; Waggon; Cans; Farming Implements; Sundries, etc; & 10 Shares in the Mepunga East Creamery.' [Warrnambool Examiner]
Drouin
His money worries continued. Thomas Bremner of Mepunga, farmer, grazier and miller was listed as a New Insolvent in March 1898. He attributed his inability to pay his debts as they became due to 'having had crops seized under lien'. He had total liabilities of 3978 pounds 13s.3d and had total assets of 5959 pounds 10s leaving a surplus of 1980 pounds 16s.9d. The Bremners stayed on the property in Mepunga, named 'Strathbogie', presumably milling and farming until about 1906 when they made the move to Drouin in Victoria's south east. There, they diversified from the normal practice of supplying cream to the butter factories, and successfully made their milk into cheese.
Thomas died there in 1912 and is buried in Drouin Cemetery. Matilda, his wife and some of the grown children remained on the farm and made cheese which was lucrative during World War 1.
Two members of the family had previously moved to Western Australia lured by the gold rushes. In 1920, Matilda and another three adult children moved to WA leaving other family members in Victoria.
LEISURE TIME – the Highland Games at Warrnambool
It wasn't all work and no play when Thomas was young and single and it would appear that there were enough Scots in the area to organize the first highland games as reported in the Warrnambool Examiner in 1864.
"Western Caledonian Society. It does not require much elaboration to describe the games. There were very few games but what were competed for. The Gillie Callum (sword dance) was not competed for through there not being a second piper, the society's piper being a competitor. He, however, went through the dance, accompanying himself with a primitive kind of music improvised for the occasion. The competition for the best dressed boy in Highland costume elicited some admiration and amusement. There were four entries, and each one of the lads was very prettily dressed, one of them being a chubby 'two-year-old' scarcely able to toddle. The retregrade race, wheelbarrow race, and sack race were very amusing, and caused universal laughter. The competition for the best dressed Highlander did not take place, but we may mention two old residents in the district (one a well-known squatter of Camperdown, and the other an equally celebrated Belfastonian) who looked the 'raal' thing. The Highlander (Angus Cameron) who won the first prize for throwing the heavy hammer, and tossing the caber, was a fine specimen of his country, and we believe has won the prize for dancing before the Queen in some of the 'gatherings' in the mother country."
Thomas came 2nd throwing the heavy hammer and 2nd tossing the caber.
The third 'gathering' was held in 1866 and was considered a great success with 2000 attendees.
Thomas came first in Throwing the Light Hammer.
WHISKY MAKING
The family story goes that Thomas Bremner was suspected of being a sly grogger and taught others to make illicit whisky. However, he was not running the still when detectives were in the neighbourhood for some time - weeks or months - trying to find out where the still was being used and hidden. The detectives went around the countryside disguised as hawkers.
NB In 1894 James Sparke, Tom Delaney and Jim Love were arrested for running an illicit still near Nirranda which is not far from Allansford.
Detective John Mitchell Christie from the Customs Department used a number of disguises throughout his career to pursue many culprits in their illegal activities.
"DETECTIVE CHRISTIE'S EXPERIENCE. WARRNAMBOOL. May 6 [1894]. The circumstances connected with the seizure of an illicit still at Nirranda on Friday last are of a sensational character. About four months ago a plant for the manufacture of whisky was seized at the house of James Sparkes, who is now serving a term of imprisonment. Since then Detective Christie has continued his investigations, with the result that he became convinced that another still was being worked, though its whereabouts could not be ascertained in consequence of the density of the forest, and the numerous sympathisers with the illicit distillers, who used to give information. Acting under instructions from Dr. Wollaston, the secretary of Customs, Detective Christie left Melbourne ten days ago and proceeded to the Nirranda district. He had to work at night, camping out in the forest, sleeping often in hollow trees, and never venturing near frequented places. He received great assistance from Constable Arthur, who is a splendid bushman. As a result of his investigations, he was convinced that a still existed somewhere in the vicinity of a small stream, which he named 'Whisky Creek'. Last Thursday the arrangements were completed for making a raid, and the detective was accompanied by Constables Arthur, Snowden, and Jones. Leaving their horses they proceeded on foot towards Whisky Creek. Rain was falling, and the night was dark, but they were experienced bushmen. At 2 o'clock in the morning, after four miles' walk, they reached a belt of almost impenetrable scrub on the banks of Whisky Creek. Voices could be heard coming from this scrub, and the police proceeded towards them, but the barrier formed by the ti-tree undergrowth and sword grass was so strong that they advanced with difficulty. They were over an hour in penetrating 150ft of scrub. Then suddenly a remarkable scene opened before them. There was a small building or gunyah rudely constructed, in which two men were busily engaged in manufacturing spirits. A fire was burning, over which was a large still connected with other appliances, and there were numerous vats. A rush was made by the officers and the detective covering the men with his revolver, called out, 'Customs I arrest you, Tom Delaney and Jim Love.' Both men rushed away. The detective fired two shots over their heads, and Constable Jones also fired in the air to frighten them. Before the constables could seize them the men entered the scrub and became lost to view, evidently taking a path which they knew. In attempting to follow them the detective was caught in the scrub and thrown back, sustaining several scratches about the neck. It was deemed advisable to wait until daylight, but one constable kept watch while the others obtained an hour's rest, the detective making his bed in a large vat. At daylight they found footmarks, which were followed to a house occupied by James Love, who was arrested. The police next visited Thomas Delaney's residence, two miles away, but he was not at home, and did not return that day. The plant found in the building was complete, including two stills and coolers, vats containing wash ready for manufacturing into spirits also two casks of whisky of about thirty-five gallons. The building was destroyed and the appliances and whisky were brought into Warrnambool. James Love was lodged in the watch house and a warrant was issued for the arrest of Thomas Delaney. -Argus. (From Queensland Times, Ipswich Herald and General Advertiser, 10 May 1894)
Heather Wade has kindly contributed the following information about the Bremner family
Elspeth Bremner v John Ingram re Mill of Glenbucket 1876
18 Oct 1876, p6, Aberdeen Journal.
Action of Removal
Ingram v Bremner
There is an action at the instance of John Ingram, miller, Mill of Glenbucket, against Elspeth Dow or Bremner, widow, and her daughter, both residing at Mains of Glenbucket. The following interlocutor and note by Sheriff Thomson explains the nature of the case : -
Having resumed consideration of the cause : Finds that the respondents have failed to produce any valid title to the subjects in question, which can be set up against the title derived by the petitioner : Finds that the respondents received timeous warning to quit ; therefore repels the defences ; decerns [sic] instant and summary ejection in terms of the prayer of petition : Finds the petitioner entitled to expenses.
Signed John Comrie Thomson.
Note. – The respondents are the widow and daughters of the deceased Thomas Bremner who died in 1849. He paid 7 pounds of rent for the croft and he seems to have erected the present buildings upon the croft at his own expense. The mill itself was also built by him with the assistance of neighbouring tenantry. The subjects are all upon the estate of the Earl of Fife, but the proprietor has never down to the present time, claimed rent in respect to the mill. For some years after Tho. Bremner's death, the senior respondent carried on the mill and croft; her son Robert helping her. But in the year 1862 he seems to have married [he married 31 July 1865], and at that time he was accepted as the tenant of the croft by the proprietor. Subsequently, viz. in 1865, his mother the respondent, handed over to him her right to, and interest in, the mill. In the meantime the barn had been fitted up as a dwelling place for Robert and his wife, while his mother and sisters remained in that part of the building which they had previously occupied. It was a condition of Robert's lease of the croft that he was to support his mother and sisters (No. 10 of process) and it was a condition of Robert getting the mill that his mother was "to remain in her present house free of rent during her life, during the time that Robert Bremner is in possession." No. 41 of process. At Whitsunday 1873, [celebrated in May or June] R. Bremner left the place, and the proprietor accepted this petitioner as tenant of the Croft in Bremner's room. The letter containing the acceptance is No. 11 of process, and the proprietor there states "he is willing to accept of Mr Ingram (petitioner) as tenant of the croft as previously occupied by you (Bremner), at the present rent, and on the footing otherwise stated in my note to you of 22 ultimo." In the last mentioned letter the Factor declines to give any opinion as to the footing which the mill building should be on. "The 'heritor,' he says 'lets the croft with the houses, effeiring thereto. And I do not undertake to remove your mother or sister. Mr Ingram must not call on me to do that. But if he become [sic] miller on the same footing as you have been hitherto, I am ready on the heritor's part to accept him as tenant of the croft at same rent as you have paid, and I presume the arrangements as to the mill will be the same hitherto."
It thus appears that what was let by the proprietor to the petitioner was the houses effeiring to the croft. I think there is little room for doubt that this expression includes that portion of the houses presently occupied by the respondents, and which are subject to this action. The factor states in his evidence (proof p25) that the respondents have no life-rent right to the house, and that he did not impose it as a condition upon the petitioner getting the place that he should not remove the respondents. The factor only announced that he would not remove them himself. It is plain that it was not in his power to do so, because they were not Lord Fife's tenants. The whole rent and other burdens, as well as insurances upon the mill are paid by the petitioner. And in the whole circumstances, it seems to me that unless the respondents can show something which binds the petitioner to let them remain in premises which are included in his lease, they have no case. It will be noticed that even in the agreement between the mother and son in 1865 the right of the former to remain in the subjects was limited to the time during which the latter should be in possession of them; and no agreement between Ingram and Bremner on the subject has been proved.
The petitioner admits that as a matter of favour he agreed to allow the respondent to remain undisturbed for a year after he became tenant of the subjects, but when that period elapsed he intimated to them that they must leave. A formal warning, in terms of the statute or Act of Sederunt, was not, in my opinion, necessary in such a case and all the respondents were entitled to was "timeous notice to quit." – (Chirnside v Park, 8th March, 1843, 5 D. 864)
(Initialled) J.C.T.
Agent for Petitioner – Mr. W. Moir, advocate.
Agent for Respondent – Mr Charles Duncan, advocate.
Glossary
Effeiring – relating or corresponding to
Sederunt - Act of Sederunt (literally Act of Session; with sederunt a term meaning a session or meeting of a court.[1]) in Scots law, is an ordinance for regulating the forms of judicial procedure (hearings and trials) before the Court of Session (the supreme civil court of Scotland), Sheriff Courts in civil session…
Robert Bremner migrated to Canada
Robert Bremner & his family migrated to Ontario, Canada and arrived in Quebec aboard the 'Corinthian', 7 July 1873.
Robert, 38, carpenter, his wife Elspeth 28, Alexander 7, Ellen 4, Robert 2 and Thomas 6 months.
Robert and Elspeth had another 4 children in Ontario – William b 1876, James b 1877, Charles b abt 1882 and George b abt 1883.
Cutting Timber
In 'Glenbuchat Yesteryears' it makes the point that in the time of John Stewart Senior 'milling was a seasonal occupation and besides working the croft, the miller ran a timber yard and carried out building work'. I hadn't thought of milling as being seasonal but Thomas was a farmer, so it is implied.
It was interesting to note below that Thomas had for sale lots of wood to clear his debt, so here is another activity he carried on in Australia which was normal practise associated with a mill.
TAKE NOTICE, that I, Thomas Toole, Bailiff, will sell or cause to be sold by public auction, on Wednesday next, the 28th day of June, 1865, at the hour of two o'clock in the afternoon of the same day, on the premises of the above named defendant, Thomas Bremner, situate and known as the Allansford Steam Flour Mills, at Allansford-road, and near the bridge, unless this execution be previously satisfied, all the right, title and interest, if any, of the above named defendant, Thomas Bremner, of, in and to:
A great quantity of mill firewood, cut in lengths, supposed to contain about five or six hundred tons
A lot of bags of wheat and bags of oats
A lot of bags of flour
A lot of bags of bran and pollard a lot of drake and dirty wheat
A weighing machine
2 trucks
Sieves, brushed and some galvanised iron
Carpenters tools
A lot of empty bags
A lot of sawn timber and some deal boards
About 1,200 of garden paling, and some shingles and sundries
Terms - Cash, on the fall of the hammer.
Dated at Warrnambool this 23rd day of June 1865
THOMAS TOOL
Bailiff of the County Court of Warrnambool.
Ingram v Bremner
I found the newspaper article with Ingram v Bremner. Unfortunately the outcome was not good for the Bremner women but it does appear that they couldn't expect the outcome they wanted and were being unrealistic. It also highlights the plight of women.
However it gave me some unexpected details -
That Thomas Bremner Snr had built the mill with the help of his neighbours. We know from the category ll listing that it was built in 1829.
That Elspeth carried on the business with her son.
That her son Robert left the Mill in 1873 and this was the reason the women subsequently lived at Altnacraig. They were living at Mains of Glenbucket at the time of the trial in 1876 and I wonder if there was a tie up with the Bremners from Mains of Glenbucket.
Through Ancestry and Findmypast, I found out that Robert and his family went to Ontario and Robert became a farmer. However, his sons do not appear to become farmers, several became stone masons.
One child died in Glenbucket and another four were born in Ontario.
Ownership of the Mill & Croft.
From the newspaper article, The Earl of Fife owned the Mill and croft. Ownership has passed through a few hands since then.
Thomas Bremner of Rhynie
I bought the marriage entry to see if Thomas was also a miller but it wasn't stated, however the following is interesting.
Marriage at Glenbucket. 1823 BREMNER & DOW - November 9th - Thomas Bremner Rhynie & Elspet Dow in Peatfold were proclaimed & married.
Christening at Glenbucket Church. James Bremner Christening. 1820, October 20th. Baptised James, son of Thomas Bremner. Man in Rhynie.
So it appears that James is illegitimate and we have no idea of the mother
Christenings at Glenbucket Church. 1823. Bremner. Thomas Bremner Rhynie had a son by his wife Elspeth Dow Baptised and named John before witnesses on the ninth day of November.
Same page and next entry as John Bremner's Christening at Glenbucket Church Sept 18th 1825. Bremner. Thomas Bremner Mill of Glenbucket had a daughter by his wife Elspeth Dow Baptised and named Hellen before witnesses.
Christening at Glenbucket Church. 1827, 4th March. Thomas Bremner Miller and Elspeth Dow his wife had a son Baptised and named Thomas before witnesses.
So Thomas doesn't appear to be the miller at Glenbucket at marriage.
Heather Wade August 2015
Picture added on 27 May 2014 at 23:11
This picture is in the following groups
people
Comments: