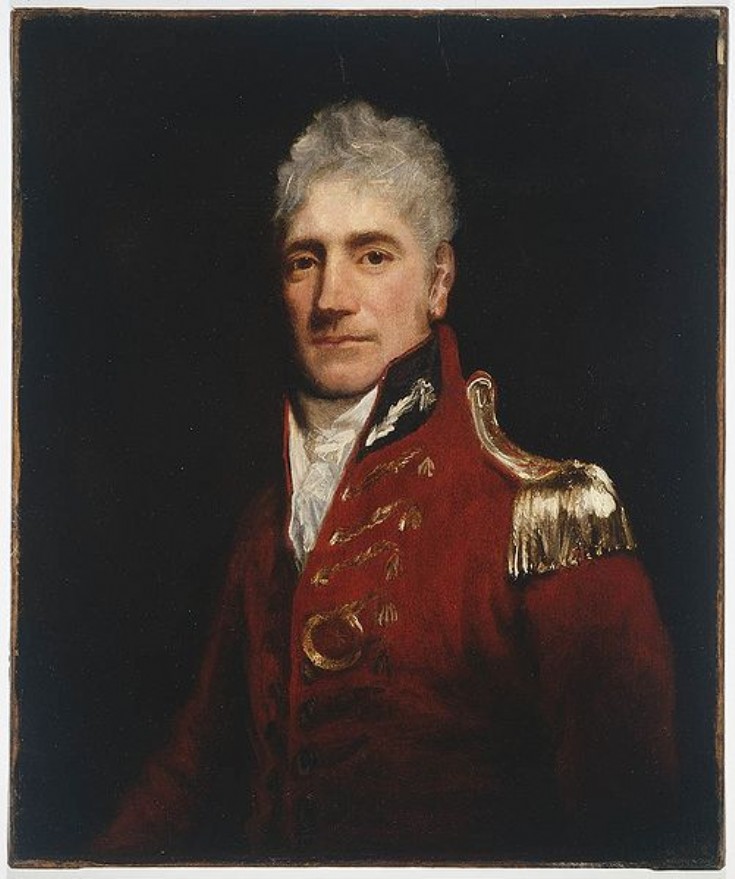 The Glenbuchat Image Library
114 Lachlan Macquarie and the Forbes FamilyLachlan Macquarie
A recent internet search about the Forbes family produced an entry in the diaries of Lachlan Macquarie for a visit he made to the Forbes family in New(e) in 1804. This raised the question of how the 'Father of Australia' became connected with Strathdon
The following is the entry in Macquarie's diaries about his trip to Strathdon
From the Lachlan Macquarie Archive.Click for more details about The Forbes Family in India1804 Augt. 4. Saturday.
I breakfasted with my worthy friends at the Manse, and set out from Abernethy at Ten O' Clock, accompanied by my kind Host – the Parson – who rode along with me for Six miles of my Journey; which now was directed to the upper Parts of Aberdeenshire. — After conducting me to nearly the Boundary of his Parish, Mr. Grant took his leave of me to return Home, and I pursued my Journey at rather a quicker rate – the Country here being very wild and desolate; the Roads too being very bad indeed.
At a place called Korgoff [?] I quitted Inverness–shire near the Head of Strathdonne. — At this place I struck to the Left, and travelled along the Left Bank of the River–Donne till I arrived at the House of New [sic] on the Estate of that Name belonging to my good old friend John Forbes Esqr., but which is now occupied by Mrs. Forbes, the Mother of my much esteemed and excellent Friend Charles Forbes Esqr. of Bombay – and to whom I made a promise when I left that Place to visit his good Mother and Family at New. [sic] — I arrived here at 6,O' Clock in the Evening, after a most dreary ride of 30 Miles from Abernethy; the only halt I made during which, was at a place called Tamintoule, (?) in Inverness–shire, to rest and Bait my Horses.
I found Mrs. Forbes at Home; also her three sons, one Daughter, her Daughter in law (Mrs. Major Forbes) and Miss Forbes Senr — Sister to Mr. Jno. Forbes of New. [sic] — The good old Lady was extremely happy to see me, as were also the rest of her Family, and I spent a very pleasant Evening with them; being all highly gratified with the accounts I was able to give them of the happiness and prosperity of my good Friend Charles and his Family. —
Augt 5. Sunday
I staid [sic] to Breakfast with the good old Lady Mrs. Forbes and her Family at New, [sic] and immediately afterwards pursued my Journey through the upper part of Aberdeen–shire towards Angus–shire. — Major Forbes was so obliging as to accompany me for about seven miles on my Journey. I crossed the River Don (or Donne) at New. — I halted at Aboyne alias Charletown on the Left Bank of the Dee for about an hour to rest and Bait my horses, and then crossed that river at this place, where it was very much swelled and difficult to ford. Halted a second time at Cutty's–Hillock to take some refreshment and Bait my Horses; and then pursued my Journey again through a very wild uncultivated Country, most of the way over a Moor, with very bad Roads; so that I was compelled to ride very slow. — At 8.P.m. I arrived at the village of Fettercairn in Angus–shire, which is 34 miles from New, alias Nowe, that I took my departure from this morning. — Here I halted for the Night, and put up at a small neat Inn, where I got a very good Supper. —
First, a little more information about Lachlan Macquarie and his relevance to Australia From Wikipedia
Major-General Lachlan Macquarie CB 5th Governor of New South Wales 1810 – 1821
Born 31 January 1762 Ulva, Inner Hebrides, Scotland, United Kingdom, Died 1 July 1824 (aged 62) London, England, United Kingdom. Spouse(s): Jane Jarvis 1st wife (1792–1796) and Elizabeth Campbell 2nd wife (1807–1824)

Major-General Lachlan Macquarie CB was a Scottish British army officer and colonial administrator. He served as the last autocratic Governor of New South Wales, Australia from 1810 to 1821 and had a leading role in the social, economic and architectural development of the colony. He is considered by historians to have had a crucial influence on the transition of New South Wales from a penal colony to a free settlement and therefore to have played a major role in the shaping of Australian society in the early nineteenth century. An inscription on his tomb in Scotland describes him as "The Father of Australia".

Macquarie joined the 84th Regiment of Foot on 9 April 1777, travelling with it to North America in 1777 to take part in the American War of Independence. As a new recruit on the way to America he participated in the Battle of the Newcastle Jane. This battle was the first naval victory for a British merchant ship over an American privateer. He was initially stationed at Halifax, Nova Scotia, and was commissioned as an ensign five months after his arrival. On 18 January 1781, he was promoted to lieutenant and transferred to the 71st (Highland) Regiment of Foot, and served with them in New York, Charleston, and Jamaica.

In June 1784 he returned to Scotland as a half-pay lieutenant. Three years later, on Christmas Day 1787 he received his commission as lieutenant in the 77th Regiment, where he saw service with the army in India and Egypt. Macquarie became a Freemason in January 1793 at Bombay, in Lodge No. 1 (No. 139 on the register of the English "Moderns" Grand Lodge).
He was promoted Captain on 9 November 1789, Major on March 12, 1801. During 1801 he had accompanied Sir David Baird and the Indian Army to Egypt, with the rank of Deputy Adjutant General, and was present at the capture of Alexandria and the final expulsion of the French Army from Egypt.

Two years later, 1803, he was in London, as Assistant Adjutant General to Lord Harrington, who commanded the London district. In 1803 and 1804 saw him on active service in India. He returned to London in 1807, commanding the 73rd Regiment of Foot, and on May 8 was appointed Governor of New South Wales and its dependencies, leaving for the colony on 22 May 1809, in H M S. Dromedary, where he landed officially on 31 December 1809, at Sydney Cove.
From entries in Macquarie's extensive diaries it is evident that he had a long and close relationship with both John and Charles Forbes, before he set off for India, while in India and whenever he was back in the UK. The Forbes's were supportive both personally and financially. In fact John Forbes acted as his deputy as Paymaster General when Lachlan was away from Bombay and Charles Forbes supported him in Parliament when he was attacked by the Government.
There is also a very poignant letter from Mrs Macquarie, after Lachlan's death, which describes Charles Forbes' assistance at that time and the fact that he was present when Lachlan died, and in fact his last words about Charles Forbes.
The following are entries from Lachlan Macquarie's diaries indication the involvement of the Forbes family. It also illustrates life in the early days of then Empire. From the Lachlan Macquarie Archive.1793
Augt. 17.
— I dined at Mr. Morley's with the Ladies en famille– Mr. M. dined abroad – I had the pleasure of accompanying the Ladies in the Evening to visit Mr. Forbes who is very ill – we saw him and sat some time with him. —
Septr. 8. (Macquarie's wedding)
The following Ladies and Gentlemen were present at the celebration of Our Nuptials – vizt. Mr. and Mrs. Morley, Mr. John Morley, Mr. Jas. Morley; Major & Mrs. Stirling, Major & Mrs. Oakes, Major & Mrs. Woodington, Mr. and Mrs. Halliday; Colonel Balfour, Lt. Colonel Nicholson, Surgeon Colin Anderson, Mr. John Forbes, Mr. John Tasker; besides the Revd. Mr. Burrowes; all these Gentlemen had the pleasure of kissing the Bride and the rest of the Ladies, as is usual on these occasions, I having myself set them the example as soon as the ceremony was over….
…after which the Company sat down to cards; and in addition to our former Society, which I have already named, the following Gentlemen who had been invited to spend the Evening joined us –vizt. Mr. Thistleton, Mr. Stevenson, Mr. Harding, Mr. Reeves, Doctor Scott, Mr. Boag, Mr. Charles Forbes, Captain Romney; – Mr. Seton, Mr. Paddock & the Revd. Mr. Wade were invited but sent excuses on account of their having been engaged. —
Septr. 15.
..but several friends called on us in the mornings and Evenings without waiting for the ceremony of our Sitting up in form; – vizt. Mrs. Stirling, Mrs. Woodington, Mrs. Halliday, Mrs. Coggan, Mrs. Sandiford, Mrs. George Simson, Mrs. William Simpson, and Mrs. Roberts; – Colonel Balfour, Doctor Anderson, Major Stirling, Major Oakes, Major Woodington, Mr. Wilson Mr. Sandiford, Mr. Tasker, Mr. Halliday, Mr. Forbes, Mr. Thistleton, Colonel Nicholson, Mr. Burrowes, Mr. Reeves, Colonel Kerr, Doctor Spink, Capt. Romney, Capt. Dunlop, Mr. Boag, Mr. Maister, Mr. Torin, Capt. Williamson, Capt. Torin, Mr. Atkins, Mr. Seton, Major McDonald, Mr. Harding, Mr. Wade, Capt. Storey, Mr. Stevenson, &c. &c. &c.; —
Novr. 1.
I omitted to mention in its proper place according to the order of dates; that, on the 16th. day of last month, being my beloved Wife's birth day (having attained her one and twentieth year) we gave our first publick [sic] Dinner to a select Party of Friends – vizt. – Mr. Morley, Major & Mrs. Stirling, Major & Mrs. Woodington, Mr. & Mrs. Halliday, Colonel Balfour, Doctor Anderson, Colonel Nicholson, Mr. Thistleton, Mr. Herring and Mr. Reeves; Mrs. Morley being unfortunately indisposed, we were disappointed of the pleasure of her agreeable Society. — We also gave an Entertainment on the 19th. day of last month to the following Friends – vizt. Mrs. Ersden, Mr. Forbes, Mr. Chas. Forbes, Mr. Harding, Lt. Wilson, Capt. Romney, Capt. Whitelocke, Capt. Dunlop, Capt. Spry, Lt. Mackenzie & Lt. Gray.
Novr. 6.
This day my beloved Wife received a most polite and friendly Note from Mr. John Forbes of Bombay enclosing an Order on his Shroff(sic) for Four Thousand Bombay Rupees, as a present to her; and which he has conferred in the most delicate and handsome manner imaginable – – telling her in his Note, that the sum he has presented her with, arises from his Commission on collecting her deceased friends Colonel Nugent's money in this Country for his Heir Mr. Howe, and as he has had no trouble in doing that business, he begs her acceptance of the money; knowing the sincere and warm regard her friend the deceased had for her, he thought it could not be bestowed better. — My dearest generous Wife has transferred this sum over to me to do what I like with it, and I have lodged it accordingly in the hands of my Agents, Messrs. Bruce, Fawcett & Co. to bear interest at Nine Per Cent, for our mutual use and support. — This by the bye comes in at the present moment as quite a Godsend to us, as it clears me of Debt entirely and leaves me a free man, at whatever time I may be called upon for the money belonging to others now in my hands. — I have therefore, much reason to be very thankful to a good and kind Providence for this good fortune!
Novr. 27.
Wednesday. This day we had the following friends to dine with us – vizt. Mr. & Mrs. Lewis, Mr. & Mrs. Morris, Mr. & Mrs. Shaw, Mr. Forbes, Sir Fras. Gordon Bart., Doctor Scott, Revd. Mr. Burrowes, and his friend Captain Story – in all Eleven guests, – the Ladies & Gentlemen went in the Evening to the Assembly, (being the first held this Season.) but we all returned to Supper afterwards; and concluded the Evening agreeably.
Decr. 4.Wednesday.
— We dined this day with Mr. John Forbes. — I attended the Funeral of the late Captain Bell of the Artillery, on the invitation of his father in law, Counsellor Lewis, at five O Clock in the Evening. —
1794
Jany. 1.Wednesday.
This being New Year's day we had asked some time before a select party of our Particular friends to dine with us; and the following friends dined and spent the day with us — vizt. Mr. & Mrs. Morley – Colonel Balfour – Colonel Nicholson – Mr. Thistleton – Mr. Forbes, Mr. Chas. Forbes, Lieut. Geo. Gordon, Capt. John Macdonald, and Doctor Anderson. —
Jany. 6.
I dined with Mr. Forbes at an extra Sans Souci Club given this day by him at the Grove. — Mrs. M. called on me in Mr. Tasker's carriage in the Evening, and I accompanied her to a Ball and Supper given by Samuel Wilson at Parell House. — On our way thither we called on Colonel and Mrs. Kerr (formerly Miss Dick) to pay them our Compliments on their marriage.
Mar. 29. Saturday.
Mr.Morley having invited Mrs. Macquarie and myself to take a cruize [sic] with him at Sea on board of his late Purchased Vessel, the Snow Maria, we accepted of their invitation; and having Packed up a few suits of Cloathes, [sic] and obtained Colonel Howson's leave to be absent from the Garrison for Nine Days, we embarked this day at Eleven OClock on board the Maria, in company with Mr. Morley and John Forbes Esqr.; we weighed anchor and stood to Sea immediately on getting on board. — Captain Smart and two officers Mr. Grant and Mr. Lindsay of the Sarah, were on board the Maria with about twenty Lascars to navigate her. — We found everything very clean and in high order on board; a canvass [sic] Partition divided off the one Half of the Great Cabin (Starboard side) for the accommodation of Mrs. Macquarie and myself; — Mr. Forbes slept on a couch in the other Half; Mr. Morley slept in a small State–room; the Officers slept forward in the Steerage; a Part of which, was alloted [sic] for our Dining and messing on, as being the coolest part of the Ship. — The Maria was armed with Four Six Pounders, some Musquetoons, and some few stands of Arms, to defend us against any of the Piratical Mulwan or Cooly Boats in case they should attempt to molest us during our cruize. [sic] In this state we steered our Course Southerly. — The Swell occasioned a little motion, which made Mrs. M. and all of us at first a little Sea Sick, but we entirely got the better of it by Dinnertime, when we all displayed a tolerable good appetite. — Mr. Morley at first did not intend to put in or call anywhere, and only meant to stay out at Sea for three or four Days to try how the Maria sailed; – but, at Dinner, in the course of conversation, Goa was talked of and it being proposed by him, that we should run down that far to the Southward, and touch at Goa, to see the place; never having been at Goa, Mrs. M. and myself gladly assented, and it being agreeable to Mr. Forbes, it was determined we should proceed directly thither; orders were accordingly given to Captain Smart, to that effect.
Mar. 31. Monday.
— We got up at Six O Clock this morning – almost abreast of Goa River – very little wind, and that unfavorable, which oblige us to work in and make several tacks. — About Ten OClock we anchor in Goa Roads, on the Out Side of the Bar, within about Four Miles of the town of Panjim, the present Residence of the Governor and Principal of Goa. — We cast anchor close to a small Fort called the Allyuade [?] a watering Place for Shipping on the North side of the River and Roads; the High Hill, on which the Convent de Caubba is situated, forming the Southern Boundary on the opposite side of the Roads.
As soon we came to Anchor Mr. Forbes dispatched a Note to Mr. Pereroe the English Agent at Panjim, with whom he was acquainted, requesting he would send us a covered Boat to carry us up to the Town; Mr. Pereroe having been up at the City of Goa, when the Note arrived, the boat was not sent down to us till about 2,OClock; we therefore dined on board, and in the Evening we went up in the Boat to Panjim, and went directly to the House of Mr. Pereroe who received us very politely and gave us an invitation to put up at his House during our stay on Shore.
Mr. Morley only spoke Portuguese; Mr. Forbes and myself were obliged to speak and answer thro' the means of our Interpreter Mr. Pereroe. – The Governor was exceedingly polite; we made him acquainted with the purpose of our landing, and intention of visiting next day the famous City of Goa; — after a good deal of conversation the Governor invited us to dine with him next day; but, at this time, we declined accepting of it, on account of having a lady in company, and our anxiety to get back to our Ship early next Evening after our return from Goa; we then thanked His Excellency for his politeness, and returned, after taking our leave, to our Host's House; where, we met with Capt. Reid, late commander of the Hampshire, a Bombay Country Ship. — I presented the Governor, with last Bombay Courier, of date 29th. March, which he thanked me for and kept. —
July 28. Monday.
We had the following Friends to dine with us today, vizt. Mr. & Mrs. Tate, Mr. & Mrs. Crozier, Mr. & Mrs. Shaw, Miss Pittman, Mr. Reeves, Mr. Forbes, Mr. Harding, Mr. Hadow, Mr. Anderson, Capt. Romney; — Mr. Burrowes, Sir Fras. Gordon & Doctor Scott were invited, but sent excuses; Mr. Burrowes came to Supper. —
Augt. 30. Saturday.
The following Friends dined with us this day vizt. Mr. and Mrs. Taylor, Mrs. Jno. Taylor, Captain and Mrs. Sandiford, Mr. Crokatt, Mr. Farmer, Mr. Galley, Mr. Forbes, Mr. Torin, Mr. Fisher, Capt. Williamson, Lt. Wilson, Lt. Geo. Gordon;– Mr. and Mrs. Rivett we invited and had engaged to dine with us, but sent an excuse on account of Genl. Carnac's approaching departure for Bengal in a day or two hence.
Septr. 11. Thursday.
I dined this day with Mr. Forbes, at the Sans–souci–club, at Sorabjee's Bungalo on Malabar Hill. —
Octr. 16. Thursday.
This day being the anniversary of my Jane's Birth, we invited and had the following friends to dine with us in commemoration of that event – vizt. Mr. and Mrs. Lewis, Mr. and Mrs. Halliday, Captain and Mrs. Burt, Lieut. & Mrs. Blackall, Mr. Morris, Mr. Forbes, Lieut. Sheen, Revd. Mr. Wade, Mr. Anderson and Captain Whitelocke. — Mrs. Morris and Colonel Balfour were invited and sent excuses. — We spent a very merry jovial day; every one being disposed to contribute his mite [sic] to good humour, mirth and harmony.
Novr. 29.
We were at a Wedding this Evening. — Lt. Green and Miss Kihn both having requested that we would witness the ceremony of their being married at her Mother Mrs. Kihn's House, we accordingly attended and were present at the celebration of their Nuptials.
The Revd. Mr. Burrowes, Mr. Forbes, and ourselves were the only Company besides Mrs. Kihn and the young Couple, — We supped with them and broke up early. —
Decr. 17. Wednesday.
The following friends dined with us this day to take a farewell Dinner with us, vizt. Mr. Forbes, Colonel Balfour, Doctr. Ker, Captain Halkett, Captain Dunlop, Lt. Wallace, Lt. West & Mr. Maclean. —
Decr. 20. Saturday.
— I got up at Four O Clock in the morning – went to my Office where I wrote letters till Eight O Clock, by which time I had all the business of my Office finished and ready to deliver over charge of it to my friend Captain Dunlop, who was announced in yesterday's General Orders, to act for me as Major of Brigade, during my absence from the Presidency. — I dressed at Eight O Clock and went to Mr. Burrowes's to Breakfast where I found several friends assembled to wait on us previous to our departure — vizt. Mr. Forbes, Colonel Nicholson, Major Oakes, Captain Dunlop, Captain Romney, Lieutenant Robert Gordon &c. &c. — after Breakfast, I waited on Colonel Balfour for his commands but did not find him at home. — I returned to my Office by appointment with Captain Dunlop, to whom I gave over charge of all the Books and Papers belonging to it and appointed Thomas Thomas as my Clerk, to whom I have agreed to pay Forty Rupees Per Month for his trouble, he himself to find Stationary out of that Sum. —
…Our Friends that came off with us staid on board until the Anchor began to be weighed when they all took their leave of us. — My poor dear Jane was very much affected after their departure. — I have settled a correspondence with my friends Captain Dunlop, Lt. Wilson and Lt. Gordon, and occasionally with Mr. Forbes, Colonel Nicholson, and Mr. Burrowes.
I left Duplicates of letters for Mrs. Morley and Messrs. Gosling of London to be forwarded by the Ships of the Season by Mr. Forbes. —
Decr. 27.
I gave Captain Bampton my letters for Europe and Bombay enclosed to Mr. Forbes, and Colonel Balfour. —
1795
Sept 13.
— There being however no prospect now of our returning to reside permanently at Bombay for some time to come, my dearest Jane and myself have come to the resolution to order our Chariot to be sold immediately to the best advantage by our friend and Agent Mr. John Forbes at Bombay. —
Novr. 23.
Monday! — Arrived and Anchored in Bombay Harbour at 9,O' Clock at Night; and it being rather too late to go on shore, we have determined to remain on board all night. — We however have written on shore to our friends Mr. John Forbes – and Major and Mrs. Oakes to announce to them our arrival and informing the latter that we shall be on shore to Breakfast with them tomorrow morning. —
Novr 24.
At 8,O' Clock in the morning we quitted the Helen and went on shore along with Capt. Seton in his own Boat, landing at the Dock–Pier–Head; where we found our friend Major Oakes waiting to receive us and conduct us to his House. — He had brought Mrs. Oakes's Palanquin to carry my dear Mrs. M. — On our way to Major Oakes's, we called on our good worthy friend Mr. John Forbes, whom we were very sorry to find indisposed and confined to the House. — He was however very glad to see us, and giving a most kind pressing invitation to our Brother George to take a Room in his House and live with him as long as he remained in Bombay. — After staying for about a quarter of an Hour with Mr. Forbes, we proceeded to Major Oakes's House, where we found our amiable good friend Mrs. Oakes ready at the Breakfast Table with open arms to receive and welcome us to her hospitable mansion – and where we accordingly take up our Quarters. — As soon as we had Breakfasted I went to wait on Colonel Balfour – now Commanding the Forces – to report my arrival from Malabar. — I afterwards visited a number of other friends in Bombay. —
1796
Feby. 28. Sunday.
— Nothing Extraordinary. I accompanied Mr. Fretz to the Dutch Church. — I wrote of this date to my dear Mrs. M., and to my worthy friends Major Oakes and Mr. John Forbes at Bombay - Via Madras. —
1797
Death Notice and Burial of Jane Macquarie: 6 January 1797
At Macao, on the 15th July last, Mrs. Macquarie, the Lady of Major Macquarie, of His Majesty's 79th [sic] Regiment, where she had proceeded in the Honourable Company's ship Exeter, Captain Wilson, for the benefit of her health; the remains of this Lady, which had been preserved after the Chinese manner, were brought to Bombay in the Sarah, Captain McIntosh, and interred on Monday last, with all the respect due to the memory of one whose loss has been much and deservedly regretted in this Settlement, the following Gentlemen performing the last friendly office upon this melancholy occasion: Mr. Forbes, chief mourner; (supported by Major Cameron, and Captain Mackenzie) — Pall Bearers, General Balfour, General Nicholson, Commodore Thistleton, Lieutenant Colonel Kerr, Lieutenant Colonel Gore, and Lieutenant Colonel Oakes, besides a numerous train of Gentlemen of the first rank and respectability in the Settlement.
1798
Jany. 9. Tuesday!
— I Breakfasted on board the Hughes – and at 9, O' Clock this morning I accompanied Capt. Urmston in his own Boat on shore. — I went direct to my friend Mr. John Forbes's, from whom I learnt that all my Servants, Furniture and Baggage had been removed some time since to my own House in "Rampart Row"; and that my worthy good friend Lt. Colonel Gore was living there at present, which I had requested of him to do when he lately came up from Malabar for the purpose of returning to Europe. —
After staying some little time with my friend Mr. Forbes, I went to my own House, where I found Col: Gore at Breakfast. — He was very happy to see me, as were also my Servt. Bowmanjee and my two Black Boys Hector and George. — I found everything safe and in good order – and all very well arranged by poor Bowmanjee. — I requested of my friend Colonel Gore to stay in my House and live with me until he embarked for England – which he agreed to do. — I then went to call on my several friends in Town, who were all very glad to see me. —
1799
Decr. 5. Thursday
— I this day resumed my Duty as Actg. Dy. Paymr. Genl. to the King's Troops serving under this Presidency; my worthy friend Mr. John Forbes having superintended the Duties of the Office during my absence on Service. —
1800
Apl. 28. Monday
— The Honble. The Governor having received orders from the Earl of Mornington Governor General of Bengal to proceed forthwith to the City and District of Surat for the purpose of new modelling the Constitution and Government of that Town and its Dependencies, the present System in both being found very defective and inadequate; Governor Duncan having made the necessary preparations for his departure, announced this day to the Gentlemen of his Family that he intended Setting out tomorrow for Surat, and that he would embark very early in the morning at Mahim on board the Bombay Frigate; I made my arrangements accordingly by getting my friend Mr. Chas. Forbes to act for me as Dy. Paymr. Genl., and my friend Capt. Archd. Campbell of the 88th. Regt. as Major of Brigade, during my absence from the Presidency. — The Governor having gone out to Parell this Evening I accompanied him thither after Dinner and Slept there also. —
1802
July 15. Thursday
—Having brought three fine Egyptian Horses with me from Egypt, I this day made Presents of two of them to my much esteemed Friends Doctor Colin Anderson and Charles Forbes Esqr.; both of whom are highly pleased and gratified with this mark of attention.
Augt. 29. Sunday
— The Hughes Indiaman Commanded by Capt. Urmston arrived this day from England, which she left on the 18th. of April. — My Niece Miss Louisa Wilkins is arrived in the Hughes; and knowing that she was on board, I immediately went off to receive and bring her on shore to the Family of my friend Mr. Charles Forbes, Mrs. Forbes having kindly offered to give her an asylum until she gets settled. — She accordingly was so good to receive Miss Wilkins in the most kind and friendly manner on my bringing her on shore. — I had the pleasure of receiving several Letters from my Sister Mrs. Morley, Broyr. Charles and other Friends at Home by my Niece Miss Wilkins. —
1803
Jany. 1. Saturday
— Being now about to take my departure from India for Europe, and reflecting on the uncertainty of Life as well as on the mutability of all Human Affairs; I have judged it necessary and proper, in justice to my Family and near Relations, to make my last Will and Testament; disposing of my Property between them, in such manner as to prevent all Disputes after my death. — I consider myself to be worth at this moment about Twenty Thousand Pounds in Lands and Money. I have made my Will in duplicate; leaving one copy with Charles Forbes Esqr. my Attorney at Bombay, and sending the other Home by the Earl St. Vincent Indiaman to my Brother Charles. — I have nominated my Brother Charles, and my much esteemed Friends, Doctor Colin Anderson and Charles Forbes Esqr. Executors to my Will. —
Jany. 5
Mr. Duncan did me the honor to give me this day a farewell Dinner; and invited some of my most particular friends to meet me; namely, Mr. & Mrs. Forbes and my Niece Miss Wilkins, Capt. Mc.Intosh, and my Cousin Lieut. Mc.Quarie. —
Mar: 9.
I wrote Letters yesterday and this morning to the following friends at Bombay: Vizt. – Govr Duncan, Mrs. Coggan, Niece Miss Wilkins, Charles Forbes Esqr., Jas. A. Grant Esqr., Major Cuyler, and Doctor Anderson. —
Mar: 27. Sunday
— I stayed at Home all this forenoon to write Letters of Introduction for Major & Mrs. Torrens to my principal Friends at Bombay Vizt. – Governor Duncan, Genl. Nicholson, Col: Kerr, Col: Oakes, Lt. Col: Gordon, Lt. Col: Boden, Capt. Moor, Chas. Forbes Esqr., Mrs. Coggan, Major Cuyler &c. &c. &c. — I have requested of my worthy friend Lt. Col: Gordon and his amiable pretty wife to ask Major & Mrs. Torrens to live with them on their arrival at Bombay until they can get themselves settled there.
May 9.
I went afterwards along with my Brother to call on my good Friends Mr. John Forbes late of Bombay, Genl. Marsh, Genl. Balfour, Capt. & Mrs. Shaw, &c. &c. all of whom were most happy to see me. — My Brother dined with me at Jacquiere's Hotel in Company with Mrs. Gray, and her Mother Mrs. Johnston and Brother Major Johnston, who were just arrived from Scotland to see her; which I am rejoiced at as it relieves me from all further charge of the poor Widow Gray.
Jun 9.
I dined today with the Highland Society at the Shakespeare Tavern – being Mr. John Forbes's Guest. —
Augt. 22. Monday.
— I dined with Mr. Jno. Forbes. —
Macquarie now found himself moving in social circles higher than he had ever enjoyed before, mixing with royalty and people of rank and wealth. He attended his superiors at numerous regimental military reviews and dinners, and joining fashionable gatherings and routs in various stately homes and country residences; he preened himself, ordering a full suit of regimentals for the 86th. Regiment and other expensive articles of clothing; and ingratiated himself with members of the aristocracy with the presentation of gifts and tokens. He visited the theatre, ballet and opera; moved residence from Leicester Square to fashionable St. James; purchased and stabled two new black chargers — until finally he was forced to write to his friend and banker, Charles Forbes, in India to request that he urgently remit to him £1000 from his Bombay account because his current living expenses were now more than double the annual income of his salary and allowances.
Decr. 1.
I wrote Letters of this date to Govr Duncan and Mr. Chas. Forbes at Bombay to go overland – and which Mr. Roberts the Depy. Chairman of the Court of Directors has been so kind as to promise to forward immediately.
1804
Jany. 20. Friday
— there was a meeting this Day of the Highland Society at the Shakespeare Tavern, where The Earl of Harrington and myself were invited to dine with it, and did so accordingly, The Marquis of Douglas being in the Chair.
I was proposed by John Mc.Arthur Esqr. as a Member for the Society - which motion being seconded by Jno. Forbes Esqr. I was duly elected accordingly. —
May 28.
— General Balfour gave his annual Dinner and Party this day at Richmond to a Select Party of Friends; amongst whom were Lord & Lady Banbury, Mrs. Scott, Miss Jarvis, Mrs. Doig, Miss Carnegie, Mr. Jno. Forbes &c. —
Novr. 11. Sunday.
— I dined with Mr. Jno. Forbes at his House in Fitzroy Square, having only returned from Scotland a few days since.
Decr. 13. Thursday.
— I dined with my friend Mr. Forbes at his House in Fitzroy Sqr., and afterwards accompanied in his Carriage to a Ball & Supper given by Mr. & Mrs. Lewis at Hammersmith, where I met a great number of Bombay friends. —
1805
Apl. 25.
As soon as we had Breakfasted, I sat down to write short Letters to my dearest Elizabeth, Broyr. Charles, Mr. John Forbes, and also to my good faithful Servant Wm. Stewart. —
Augt. 12. Monday
After parting with Capt. Landon and Colonel Skinner, I called on my Niece Mrs. Macquarie, Mr. & Mrs. Forbes, Mrs. Nesbitt, and many other old friends in Bombay - who were all very happy to see me here again.
1807
Jany. 1. Thursday
— I made my much esteemed friend Mr. Chas. Forbes of Bombay, a Present this morning of my elegant new Saddle & Bridle and Military Horse-Furniture, as a New Year's Gift and a small testimony of my friendship and regard.
March 18th. Wednesday
The Bengal and Madras Dispatches having arrived, and the Benares Cruizer being ordered to sail with them tomorrow for Bussora, I took leave this forenoon of all my good friends at Bombay.
I dined at home with the Governor, who was kind enough to ask my excellent and highly esteemed friend Mr. Charles Forbes, and his two lovely Boys, John and Charles, to dine with us. — After Dinner I took leave of my amiable good friend Mr. Duncan, and went with Mr. Forbes to his House to take leave of Mrs. Forbes and the Children.
At 10, O' Clock at Night, accompanied by my friends Mr. Forbes – and Mr. Newnham, I embarked on board The Hon'ble Company's Cruizer Benares Commanded by Lieut. William Nesbitt; my Baggage having been put on board in the course of the day, but my Servt. Boy George went off with myself. — After seeing me safe on board and staying a few minutes with me, my friends Forbes and Newnham took leave and returned on Shore.
Apl. 27th. Monday
Finding that Mr. Manesty (see below) will certainly be able to Dispatch me this Evening or tomorrow morning, I devoted the whole of this day to writing my Letters to my Friends in India – as Pr. List – and which I have left in charge of Mr. Manesty.
I wrote long Letters to my friends Govr. Duncan and Mr. Chas. Forbes at Bombay, giving them a full account of all my Proceedings up to this date, with my future plans. —
June 27th. Saturday
The Wind continuing still to blow directly against us, we took an early Breakfast at Anseley and at 8.a.m. we Embarked and set out from thence in a small Four Oared Boat, navigated by a Pilot and six other men; having previously taken leave of our Conductor Hassan Khan, and our Interpreter Minas; to both of whom I made suitable Presents, as well as to our other Persian Attendants. — I wrote a Letter by the Khan to the King of Persia's Vizier agreeably to my promise; and I likewise wrote Letters by Minas to my Friends Governor Duncan and Mr. Chas. Forbes at Bombay; Mr. Manesty at Bussora, and to Mr. Hine at Bagdad, both officially and privately. —
1809
Letter from Lachlan Macquarie to Charles Forbes.

London 22d. April 1809

My dear Friend,

I did myself the pleasure to write you a short hurried Letter in February last, and I am sorry this one must be one of the same kind – as I am much limited for time – and the Packets for the Ships now under dispatch at Portsmouth for Bombay are to be closed this Evening, which precludes the possibility of my now giving you a long Letter. — Indeed you hardly deserve one of that description from me, as you have not favoured me with anything like a proper letter since we parted; but I make great allowances for your situation, knowing the real goodness of your Heart, and how impossible it is for you to bestow your time on Private Correspondence. —

When I last wrote you I thought I should by this time have been halfway on my Passage to Botany Bay; but here we have ever since been detained in anxious suspense expecting every day to receive orders to Embark for that Land of Exiles! — The period of our departure, however, at length draws near, as, I believe, we shall certainly sail in 8 or 10 days hence at farthest. — The 73d. was only about 600 strong when I brought them up from Scotland in January last, but our numbers are now increased to 800 men, by Draughts and Volunteers from the Militia Regiments lately; so that we shall go out a very respectable Battalion, and complete in a very good and genteel Corps of Officers; several of whom are married, which will add much to our comfort and society in our exile to the Land of Convicts! —

I am happy to inform you that I am appointed Lieut. Governor of New South Wales (– alias Botany Bay!) with the rank of Colonel in that Colony, and shall have the chief charge of it until such time as a Governor is sent out from this Country no one going out in that Capacity at present; Genl. Nightingall, who had been nominated Govr., having lately been obliged to resign it in consequence of bad health. I was at first in some hopes that they would appoint myself Governor, but I find there is no chance of their doing me that honor; so that I shall probably have all the trouble, plague, responsibility, and odium of new modelling the Government of New South Wales, and restoring order and tranquillity there; and most likely be immediately afterwards superseded by a Governor sent out from England which, I must confess, I shall think rather hard; but, I must however be contented and do my duty. We go out in two very fine ships large and commodious, named the Hindostan and Dromedary both being Troop Ships. The latter was formerly our old Bombay friend The Sha Kai Kusseroo and afterwards called the Howe. Mrs. Macquarie and myself embark on the Dromedary, as being by far the finest Ship of the two. —

I hope and trust I shall have the pleasure of hearing from you soon after my arrival at New South Wales; to which place please direct your letters for me in future; and if a good opportunity offers, I should like you to send me a couple of good Arab Horses for Mrs. Macquarie and my own riding. —

I had the pleasure of seeing your Uncle yesterday, and also your Broyr. Gordon, who is now in Town; and they are both in very good health. — Mrs. Macquarie unites with me in kindest regards [to] you & Mrs. Forbes and your dear Boys. — Adieu

Yours sincerely & affectionately

L. Macquarie.

Chas. Forbes Esqr. Bombay
1814.
June 18 Saturday.
The Ship Frederick of Calcutta Commanded by Capt. Duncan, and of which Mr. O'Connor is the Supercargo, arrived this day in the Harbour from India, but last from the Derwent. — By this opportunity I have received a Grey Arab Horse (which I have named Abdulla) sent me by my friends Messrs. Forbes & Co. of Bombay, aged 7 years and 14 Hands 2 Inches high, and Cost 700 Rupees at Bombay. He was first sent on to Batavia where he remained some time, and from thence was brought on by the Frederick; being altogether above 7 months on board Ship. — He is at length however safely landed here, but very low in flesh.
1820
Feby. 16. Wednesday
This morning the Ship "Castle Forbes" commanded by Capt. Thomas Levington Reid, sailed from Port Jackson direct for the Derwent – but ultimately for Bombay. — On the Castle Forbes Mr. Bromley Naval Officer, Mr. Priest Asst. Surgeon, and Mr. Roberts Free Settler, went Passengers, together with 180 Male Convicts for distribution in Van Diemen's Land, with a Guard of 14 Soldiers as their Escort; the Castle Forbes having been engaged to land them at Hobart Town at the rate of Two Pounds Sterling for each man. —
Decr. 28. Thursday
I only recd. One Private Letter from Chas. Forbes Esqr. M. P. of Fitzroy Square.
1821
July 25. Wednesday
This afternoon H.M. Store Ship Coromandel, commanded by Capt. Downie, sailed directly for England. I sent Public Dispatches (in two Boxes) for Early Bathurst H.M. Prinl. Secry. of State for the Colonies, Home by the Coromandel in charge of Capt. Downie, as per Register kept of said Dispatches. — I sent a Pair of Emus to Lord Bathurst, a Pair of Emus to Ld. Castlereagh, and a Pair of Black Swans to Genl. Sir George Nugent Bart., and a Box of Stuffed Birds (from Mrs. M. for his Daughter) for Charles Forbes Esqr. M.P., all in charge of Captain Downie – who has promised to take particular care of them. Lieut. O'Brien 48th. Regt. – and Dr. Espie R. Navy have gone Home as passengers in the Coromandel. —
1822
Sunday 7 July
At 1. p.m. my good, faithful, and highly esteemed friend Charles Forbes Esqr. M.P. of Fitzroy Square, his Daughter Kitty, and youngest son James, came on board the Surry to visit us, and to see all our Pets, Horse etc. etc. -- They staid [sic] to dine with us, and left us at 6, o'clock. ---
Lachlan made Miss Kitty Forbes a present of one of his two Cockatoos.
1824
April 24. Saturday
The Weather this morning is fair – but very Cold and Windy. — Weighed at Daylight, and proceeded up the River.
At 8,O'Clock came to anchor at Black-Wall. As soon as the Baggage could be got out of the Hold, which it was not till 9,O'Clock, I landed at Greenwich, and Breakfasted there in some Comfort. — I then hired a Coach to convey myself and Baggage and Hector Macquarie and George to London; where we arrived at Half past 12,O'Clock; taking up my Quarters for the present at Hatchett's Hotel (– The White Horse Cellar –) in Piccadilly. — But as soon as I was dressed, I sallied out in search of a Private Lodging; and after looking at several, I at length succeeded in getting a very good and a very reasonable one at No. 49 Duke Street, St. James's, at Mr. Trulock's, for Thirty four Shillings per week, including a Bed Room for George; the Woman agreeing to Cook for Him for which however she is to be paid Extra. — I have fixed on removing to my new Lodgings on Monday morning next, from which day the Rent is to commence. These Lodgings are but a very Short Walk to the Club House, which makes it very convenient. — Hector and I dined quietly on a Beef Steak at Hatchett's and late in the Evening I went as usual to pay first visit in London to my old and dear friend Sir Charles Forbes. — He received [me] in his usual kind affectionate manner; I spent an Hour with him, and came Home by Ten to my Hotel to Bed. —
Apl. 26. Monday
After Breakfast, I paid my Bill at Hatchett's Hotel, and removed with my Baggage to my new Lodgings in Duke Street. — I afterwards paid a number of Visits, and dined with my friend Sir Charles Forbes, late in the Evening; returning Home before 11,O' Clock. The principal Visits I paid today were the following – namely:
1. H.R.H. The Duke of York.
2. H.R.H. The Duke of Clarence.
3. H.R.H. Prince Leopold.
4. Earl Bathurst
5. Earl of Harrington
6. Sir Henry Torrens
7. Colonel Macdonald
May 1. Saturday
I this forenoon accompanied Lady Forbes and her Family to see the North Pole Ships and the Royal Sovereign Yacht at Deptford; and was introduced to Captain Parry of the Hecla, who is about to sail on a fresh Voyage of Discovery. —
June 11. Friday [Final journal entry]
Between 2 and 3,O Clock this morning I awoke very ill, with a severe Headache, Pains in my Bowels, and a difficulty of making Urine. — I sent immediately for Dr. Andrews, who was with me by 4,O' Clock. He ordered Fomentation immediately and some Diurectine Medicines which relieved me very much – but continued ill all Day in Bed. —
His death was reported in the papers:
John Bull: Sunday 18 July 1824
London newspaper, first published on 17 December 1820; discontinued on 16 July 1892. [Nos. 1-3739]. Lachlan Macquarie's death notice and the description of his funeral procession were published in two separate sections on the same page of John Bull Vol. IV No. 29, Sunday 18 July 1824:
"DIED:
On Thursday the 1st. instant, in Duke-street, St. James's, Major-General Lachlan Macquarie in the 63rd year of his age. His conduct from earliest youth, was marked by a most amiable disposition, a high sense of honor, and animated zeal for his profession. He entered the Army at the age of fifteen, and served his King and Country for forty-seven years in all parts of the world, with great credit. His many excellent qualities endeared him to an extensive circle of friends in all classes of society; and it may be truly said that, no man ever possessed in a higher degree, the respect and the esteem of his superiors, inferiors, and equals."
"THE LATE MAJOR-GENERAL LACHLAN MACQUARIE
On Sunday last, between two and three o'clock in the afternoon, the remains of this lamented Officer were removed from Duke-street, St. James's, attended by a most respectable assemblage of nobility and gentry. Among whom were the Duke of Argyll, the Earl of Breadalbane, Mr. Justice Park, Sir Alured Clarke, Sir Byam Martin, Sir Henry Torrens, General Hart, General Forbes, Sir Fitzroy Maclean, General Campbell, Sir Edmund Antrobus, sir James Mackintosh, Hon. Colonel Cochrane, Mr. Page, Mr. Wilkinson, Mr. Beale, Mr. Booth, Mr. Bruce, Mr. Shank, Mr. M. Forbes, Colonel Lewis, Colonel D. Forbes, Major Carnac, and many more of the deceased's friends, followed by about forty carriages; among which, besides those of the partiers present, were those of the Duke of Wellington, the Earl of Harrington, the Earl of Clarendon, the Earl of Bathurst, J. Wilmot Esq. M.P. the Hon. Basil Cochrane, &c. &c. The whole proceeded through St. James's-square, up Regent-street and Portland-place, entering the New Road by Park Crescent, where the procession dispersed; and the hearse then proceeded along the City-road, accompanied by the deceased's son Master Lachlan Macquarie, his brother Colonel Charles Macquarie, Sir Charles Forbes and his four sons, Mr. Campbell, Mr. Gray, Mr. Meiklejohn, and a few more friends, in mourning coaches; and upon arriving at Hermitage Wharf the body was consigned to a vessel chartered for the purpose of conveying it to its last resting place, among the General's ancestors, in the Isle of Mull."
Tomb Inscription
This epitaph was prepared by Elizabeth Macquarie, with assistance from the Reverend David Bell of Fifeshire. The text is based on a notice published by Lachlan Macquarie's old friend, Sir Charles Forbes, and on a sermon preached by the Reverend William Cowper at a memorial service held at St Philip's Church, Sydney on 14 November 1824. The gravestone with its distinctive claim that Macquarie was the 'Father of Australia' was probably laid over Macquarie's resting place by Elizabeth in c.1832/1833. At this stage she had returned to live on Mull permanently on the Jarvisfield estate, and soon afterwards she passed away herself (on 11 March 1835).
Tomb Inscription:
Lachlan Macquarie (1761-1824)
HERE IN THE HOPE OF A GLORIOUS RESURRECTION
LIE THE REMAINS OF THE LATE
MAJOR GENERAL LACHLAN MACQUARIE
OF JARVISFIELD
WHO WAS BORN 31ST JANUARY, 1761
AND DIED AT LONDON ON THE 1ST OF JULY, 1824
THE PRIVATE VIRTUES AND AMIABLE DISPOSITION
WITH WHICH HE WAS ENDOWED
RENDERED HIM AT ONCE A MOST BELOVED HUSBAND,
FATHER AND MASTER, AND A MOST ENDEARING FRIEND.
HE ENTERED THE ARMY AT THE AGE OF FIFTEEN
AND THROUGHOUT THE PERIOD OF 47 YEARS
SPENT IN THE PUBLIC SERVICE
WAS UNIFORMLY CHARACTERIZED
BY ANIMATED ZEAL FOR HIS PROFESSION, ACTIVE BENEVOLENCE,
AND GENEROSITY WHICH KNEW NO BOUNDS.
HE WAS APPOINTED GOVERNOR OF NEW SOUTH WALES A.D. 1809
AND FOR TWELVE YEARS FULFILLED THE DUTIES OF THAT STATION
WITH EMINENT ABILITY AND SUCCESS.
HIS SERVICES IN THAT CAPACITY
HAVE JUSTLY ATTACHED A LASTING HONOUR TO HIS NAME.
THE WISDOM, LIBERALITY, AND BENEVOLENCE
OF ALL THE MEASURES OF HIS ADMINISTRATION,
HIS RESPECT FOR THE ORDINANCES OF RELIGION
AND THE READY ASSISTANCE WHICH HE GAVE
TO EVERY CHARITABLE INSTITUTION,
THE UNWEARIED ASSIDUITY WITH WHICH HE SOUGHT TO PROMOTE
THE WELFARE OF ALL CLASSES OF THE COMMUNITY,
THE RAPID IMPROVEMENT OF THE COLONY UNDER HIS AUSPICES,
AND THE HIGH ESTIMATION IN WHICH BOTH HIS CHARACTER
AND GOVERNMENT WERE HELD
RENDERED HIM TRULY DESERVING THE APPELLATION
BY WHICH HE HAS BEEN DISTINGUISHED
THE FATHER OF AUSTRALIA.
Among Macquarie's Possessions was a Book of Common Prayer, London, Inscribed 'To Lachlan Macquarie from Sir Charles Forbes Bart'.
1825
From a letter written by his wife Elizabeth Macquarie relating to death of Husband and mentioning the sattention givern by Charles Forbes who was present at his death.
Historical Background
The manuscript is a copy of a letter from Elizabeth Macquarie to friends in NSW that she began writing on 3 November 1825 – the 18th. Anniversary of her wedding day. It was apparently finished (or perhaps dispatched) on 23 March 1826. The letter was addressed to the Rev. William Cowper and his wife, Ann, though clearly it was intended as a document that could be circulated amongst personal friends of the Macquarie's in New South Wales.
The doctor advised me to take a drive out in the carriage, wch. I am still so extravagant as to keep, for taking a little fresh air in, the Park, wch. I accordly. did, and also called on our worthy friend Sir C. Forbes, from whom I got the Franks,….
…He then asked, where Lachlan (son) was, I told him, that Sir C. Forbes had taken him, and his Tutor to his house. He said it was extremely kind. Lachlan visited his father every day, and the beloved Soul always kissed him with the greatest tenderness….
….On the fatal morning of Thurs: the 1st. July I sent for Lachlan, to come without delay, and for Sir Ch. Forbes. Lachlan came first, through the streets at full speed, in Sir C. F. coach, in dreadful agitation……
….I said "my Love here is Lachlan come to see you" on wch. they kissed each other, and after a while Lachlan was prevailed upon to return. Sir C. Forbes came about that time. I told him that I saw what was before me, that I did not know, what power I shd. have till it befell me, to act as I wished. I therefore begged to know, whether he wd. be so good as to order, that I required. I wished to have the assistance of one person only. Sir C. readily undertook to do, what was to be done[.] I took him into the room, to see my beloved husband, who fixed his eyes upon, with an expression as extremely tender, benevolent, and kind, that I never saw anything so benign and beautiful in my life; but once, and that was, when our little darling daughter, regarded me with intelligence her eyes were exactly like him. After a little time Sir C. F. left the room. I saw my Husband, looking for him. I called him back. The same extraordinary expression was renewed, and I observed him, to say, "fine fellow, fine fellow," These were his last words. This was the way he always mentioned Sir C., who stroked the General on the face, and said, "I am obliged to leave you, a little, but I shall soon be back, when I hope to find you better." Our Dear friend shook his head, with an intelligence wch. it was impossible not to understand…….
Time goes at such moments one does not know how. I think it was but a few moments after my beloved Husband looked earnestly, as George thought, for me. Unhappily, I was not in the room, not apprehending the event so near. He gave a heavy sigh, before I entered. At that moment his eyes, were turned up to heaven. He continued to breathe gently, for some time, and at length, it ceased, without a groan, or struggle of any kind. I was on my knees, beside him, and had hold of his shoulder. Everyone was perfectly tranquil. He was certainly undisturbed, at the last, wch. is all that I can say in commendation of my services. The only persons present, were myself, his faithful servant George, and a man servant of Sir C. Forbes, who I had got to assist us for several days. He is a quiet, well-disposed man, and was a very great comfort to me.
The moment of his departure was to me the most sublime of my Life. I felt as though my soul was ascending with his to heaven. His countenance remained the same as usual, but strongly expressive of exhaustion, and resignation. Sir Ch. had a Cast taken wch.. is the same as himself, I could not trust myself with it, at first, but now it is my most valuable possession.
Will
Forbes and Co were involved in the management of Mcquarie's will.
From Ambaile.org
Total in England £15,739..2..6 In the hands of Messrs Forbes & Co. Agents at Bombay in the East Indies and under their care & management in trust for me by Power of Attorney An East India Bengal Government Prom[isso]ry Note of 6 per cent under date 30th of June 1811 for 64000 Bombay Rupees of Licca Rupees 60,000 the said sum of 60,700 Licca Rupees being running on at the said rate of Interest of 6 pct from the above mentioned date and the principal being in Sterling money} 8,000..-.. Total 23,739.2.6 Deduct ? of late sum by me to Messrs Forbes & Co. of Bombay being cash p[ai]d there in my acco[un]t up to 1,500..-.. 31 ? 1814 ________ Net Balance remaining £22,239..2..6
There was disagreement with the British establishment and Macquarie about the management of then Penal colony. Macquarie was praised by the colonists and the abolitionists by criticised by the government. His contact with John Forbes may have had an influence on his views. It would seem the Forbes had 'humanitarian sentiment'.
From breaking the shackles
Later, as military secretary to the governor of Bombay, Jonathan Duncan, and as a friend of wealthy merchant Charles Forbes - two Englishmen(?) who endorsed the emerging humanitarian sentiment of the time - Macquarie became a critic of slavery. He returned to England in 1807, the year of the abolitionists' victory, and caught the enthusiasm for their cause. That year he married his second wife, Elizabeth, and came under the influence of her religious outlook, especially her belief that all human creatures were equal in the eyes of God.
From Scottish and Irish Romanticism by Murray Pittock
'Macquarie freely admitted that he viewed the colony (Australia) as an asylum, a place of sanctuary or refuge in which he offered hope to the downtrodden by trying to raise them from subjection'. Macquarie's close associates included 'Purser Jock', collateral descendant of the Jacobite leader, Forbes of Pitsligo, who 'continued to live in his business premises and to take meals with his Indian employees', in Bombay.
When former NSW governor Lachlan Macquarie was attacked in parliament, he was defended by Sir Charles Forbes, Sir James Mackintosh and W. T. Money who had been in India at Bombay. Charles had a nephew of John Forbes in India. Charles and his wife had four sons and two daughters. He was of Newe and Edinglassie, Aberdeenshire, a descendant of Alexander Forbes of Kinaldie, and in 1833 Charles served heir male in general to Alexander, third Lord Forbes of Pitsligo, father of Alexander, fourth Lord Forbes. Charles was educated at Aberdeen University, then went to Bombay to become head of Forbes and Co of Bombay. (So who preceded him there?). He was later a "Tory of Tories", supported Catholic Emancipation and advocated women's claims for franchise. However he thought the 1830s reform bill "a hideous monster", though he advocated justice for India. Bombay erected a statue in his honour for improving water supplies. Sir Charles Forbes is mentioned in the City in 1847 re cotton and Jamsetjee Jeejeebhoy, at a time when money was tight in London.
The Forbes generosity was not limited to helping Lachlan Macquarie
From the Oxford University Press Manesty, Samuel
(1758–1812), (Noted above)merchant and diplomat, was born on 26 May 1758 and baptized at St Peter's, Liverpool, Lancashire, on 23 June 1758, the eighth son of Joseph Manesty (d. 1771/2), a Liverpool merchant and slave trader who owned at least five Atlantic slave-trade ships. In 1752–4 his father recruited the future Church of England clergyman John Newton to command his slave ships the Duke of Argyle and the African for three voyages to West Africa and the Caribbean, but he was declared bankrupt in 1764.
Samuel Manesty was appointed a writer on the Bombay establishment of the East India Company in December 1778. After an absence of approximately thirty years he chose to return home with his wife and children in considerable style, travelling overland to Constantinople and sailing on to Britain from there. They eventually reached London on 17 May 1812, after an eighteen-month journey. Five weeks later, on 23 June 1812, at the home in Fitzroy Square, London, of his old friend the former Bombay merchant and banker Sir Charles Forbes (1773–1849), with whom the family were staying, he died, apparently by suicide.
Shortly before his death, Manesty drafted a 'memorial' or petition to the directors of the East India Company seeking financial aid and a pension (BL OIOC, personal records, P 0/6/6). This desperate appeal for assistance was submitted posthumously for consideration by Forbes, who wrote a covering letter summarizing the family's situation. All Manesty's property had been sold before his departure from Basrah, and the proceeds had been used to pay for the return journey. In consequence the family was now destitute (Forbes to Inglis, 2 and 3 July 1812, ibid.). In 1824 Forbes stated that Manesty 'died so poor, that he did not leave sufficient to defray the cost of his funeral' (Asiatic Journal and Monthly Miscellany, 18, Aug 1824, 206). The family lived in obscurity and poverty in Britain, where Maria Manesty died intestate at Chelmsford on 28 December 1835, aged sixty-four.
From WikipediaJames Mudie
(1779-1852) was a Scottish-born free settler of Australia who became an officer of marines, large landowner, and author. He was the son of John and Margaret Mudie of Forfarshire, Scotland.
Mudie was given the opportunity for a new life when Sir Charles Forbes offered him (and his four children) free passage to New South Wales, Australia. Grateful to Forbes, Mudie accepted the offer willingly, and he and his children arrived in New South Wales in July 1822. Additionally, Mudie had an order for a land grant of roughly 2150 acres (870 hectares approx.) on the Hunter River. He named this land Castle Forbes, after Charles Forbes, as a way of showing his appreciation of his free passage to New South Wales. After Mudie was able to acquire roughly 2,000 acres (8.1 km2) of land (809 hectares) in 1825, an expansion on the land he already owned on Castle Forbes, he – with the assistance of numerous convicts and an overseer, John Larnach – was able to turn his land into one of the best, most-productive agricultural establishments in the colony at the time. Selling produce and such commodities as meat, wheat and wool, Mudie was often known to boast how well guarded his 'fortress' at Castle Forbes was, and how all of his servants and guards exacted justice with strict adherence to his rules.
Picture added on 16 February 2013 at 19:03
This picture is in the following groups
people