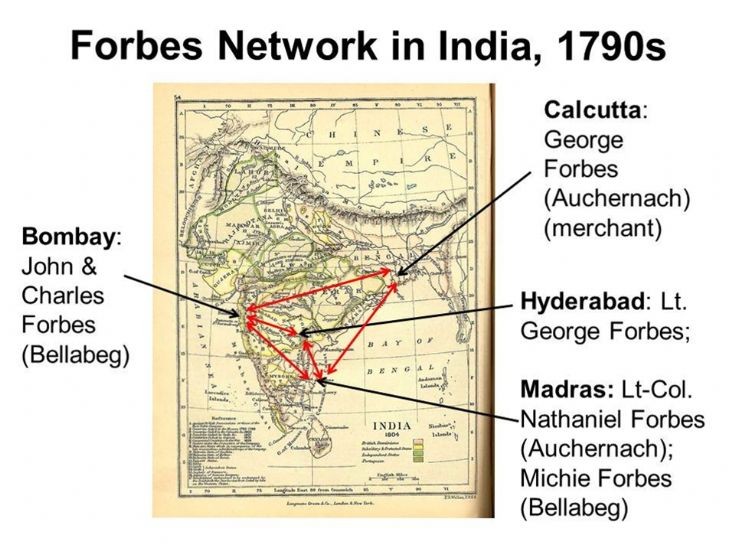 The Glenbuchat Image Library
155 Bombay Jock and the Forbes in India'Bombay Jock': Merchant Adventurer of the Early British Empire in Asia

Dr Andrew Mackillop
Senior lecturer from the School of Divinity, History and Philosophy
Aberdeen University
The following is a transcript of a lecture given by Dr Andrew McKillop on 14th February 2013 as part of a series of lectures entitled 'Great Aberdonians.'

I am grateful to Dr Mckillop for permission to reproduce the lecture and the above picture.

The lecture uses the history of John Forbes (Bombay Jock) to highlight the influence of the Forbes family in particular and other Aberdonians and Scots in the development of the burgeoning Empire in India.
Click for more details about 'Bombay Jock'
Click for more details about Auchernach and Nathaniel Forbes
Click for more details about The Forbes Family
Click for more details about The Forbes Family friendship with Lachlan Macquarie
When reflecting on how best to introduce John Forbes of New, or 'Bombay Jock' as he was known to many of his contemporaries, I found myself struggling to decide which aspect of his multi-faceted career I should best emphasise in the context of a lecture series on Great Aberdonians. Of course I should begin by pointing out that he was not in fact from Aberdeen, - but from the Shire; but his links to the City were many and profound, and a case can easily be made for his inclusion. But this statement of the obvious does really deal with how best to introduce the man. I could begin by drawing out Bombay Jock's significant links with the City and the Shire and stress the ways he deployed his imperial wealth to transform wholes swathes of his native Strathdon and Aberdeen's medical and educational infrastructure.
Then I could make glib comparisons with recent events, noting how Aberdeen seems to have a track record of attracting rich and powerful business men anxious to hand over aspects of their fortunes to modernise the City and its environs. Why not begin, in other words, by painting Forbes as an earlier, less contentious example of Sir Ian Wood or Donald Trump.
But cheap-shot allusions to the tangled politics of contemporary patterns of capital investments or city philanthropy is to miss what I think is the more interesting set of understandings that John Forbes of New offers for eighteenth- early nineteenth-century Aberdeen and its place in the world. His conspicuously successful career in Bombay, the protection and patronage he offered to numerous kinsmen and associates from the NE, and the deployment of this wealth upon his return home give us a glimpse of an Aberdeen City and Shire operating effortlessly and effectively within the global frameworks constructed by British imperialism. Usually the period of the eighteenth and early nineteenth century is seen as one where Aberdeen, notwithstanding large urban 'improvement' projects like the creation of Union St., remained a somewhat sleepy place, sedately pursuing its traditional North Sea trades and leaving dramatic expansion into global markets to the likes of Glasgow. Aberdeen is not really seen as an imperial city — even if compared with near neighbours like Dundee which would go on- in the 1840s to develop an obvious Empire dimension in the form of the jute nexus with Calcutta. Steady consolidation and even continuity seem to best exemplify Aberdeen in the 100 or so years after the Union. But the career of John Forbes of New, and others like him from Aberdeen and the shire, directly challenge this historical view of the City and the region. In the person of Forbes we can recapture a significant, if largely unknown, history of Aberdeen and the NE that was characterised by a highly effective _ combining of the local-and the global aspects of British imperialism. That such a history does not involve great colonial trades — tobacco or jute — locating in Aberdeen but rather Aberdonians moving to integrate themselves into trade and commerce on the other side of the planet simply means the City and shire provide an intriguing alternative to more established models. John Forbes — or Bombay Jock - and those like him allow us to rethink the nature and geographic boundaries of the forces that shaped the City's and its place within Scotland, Britain, and Britain's world-wide empire.
Much of John Forbes the individual is well known and it is heartening to see that local historians such as David Walker and university academics like Professor Alistair Mutch at Nottingham Trent are exploring his life and legacies. Indeed given the scale of his influence upon the city and shire of Aberdeen this is hardly surprising. He was born in Sept. 1743 the son of John Forbes, 2nd of Bellabeg, a scion of the Strathdon lairds, the Forbes of E New. His commercial sojourn (that is to say his emigration to Asia with the intention of coming back) lasted from 13*64 to 1796. Upon arrival back home John acted as the patriarch of a truly global set of commercial, financial and civic activities. These encompassed the continuation of his Company in Bombay under the auspices of his nephew and heir, Charles Forbes, considerable political and financial prestige in London, and his myriad estate and town improvements in Strathdon and Aberdeen. Upon his death in 1821 at his house in 1 Fitzroy Sq. in East Marylebone, London, his fortune was inventoried at just under £350,000, exclusive of the numerous small landed properties, including the ancestral estate of New, which he had purchased. Charles Forbes as his heir would in turn go on to perpetuate the considerable local, regional, national and imperial influence of the Forbes of Bellabeg and New family for another generation until his death in 1849.
Going back to the beginning of John's life, it is tempting to link his early years to the aftermath of the 1745 Jacobite Rising. But neither Forbes of New nor Bellabeg appear to have joined Gordon of Glenbuchat's levy of c.400 men from the Strathdon area. Indeed, given that John's brother, George, was to become a Kirk of Scotland minister, it is clear the Bellabeg family were, if not before 1746, certainly thereafter committed to the Hanoverian and Unionist order. The key problem for his father, John Forbes, 2"d of Bellabeg, lay in providing economic and professional opportunities for his family from what were strictly limited resources. The Statistical Account of Scotland entry for the parish of Strathdon compiled in the 1790s notes that in 1745 Bellabeg rented a single farm for £100 (Scots).
Material practicalities demanded that the various kindreds of the Forbes of Strathdon — be they of New, Auchernach or Bellabeg — diversify their opportunities through what amounted to a high-risk-high return strategy of extreme, long-distance economic emigration.
There is tendency see Bombay Jock as a conspicuous leader in this respect. In fact he was not. In assessing his likely career options as he reached his 20s in the early 1760s, John and his family would have been very much aware of others from the NE who had been attracted to the expanding ports of the English East India Company in India and across Asia more generally. Several Forbes had served as junior military officers in Bombay in the 1730s and 1740s. All over the North East the 1750s and 1760s witnessed an intensifying of this trend.
In 1762 one of the Burnetts of Echt secured a much sought after accountant's post in the East India Company's Fort Marlborough in Bengkulu on the west coast of Sumatra, in present day Indonesia, as did Thomas Forbes junior of Waterton near Ellon two years later. In 1764, just as John considered his options, John Robertson, the son of Alexander Robertson, Aberdeen's Provost in 1758-9, joined Burnett of Echt and Forbes of Waterton at Bengkulu. Indeed, upon his arrival at Fort Marlborough in 1767, George Ross of Arnage, again from near Ellon, noted 'I have many countrymen here, no less as four of the Present Councillors being Scotch [and] after my arrival here I found an Aberdeen old, acquaintance in the person of Captain Alexander Young master of a small vessel in the Company's country service '. That Ross of Arnage could comment on this collection of Aberdeen and shire individuals at one of the East India Company's most isolated trading posts reveals how Jock's decision to chance his luck in Bombay was part of a wider engagement by the NE's gentry and merchant families with the emerging empire in Asia.
Moreover, this participation had already extended into Strathdon by the 17Os. A kinsman of the Bellabegs, John Michie had been a purchasing agent for the RN fleet operating in Indian waters during the 175Os. Upon returning to Britain, Michie's maritime experience formed the basis of a growing set of connections with what was known as the 'Shipping lnterest', a cartel that controlled and supplied the provision of the East India Company's large and very expensive ocean going merchant ships. It was almost certainly his family's Strathdon connections with Michie that secured John his position as Purser on the East Indiaman the Asia in 1764: owned by a Scot, Charles Foulis, her commander was another Scot, Cornelius Inglis. It is telling that the three ships on which Forbes served as purser, the Asia, the Bute and the Bessborough, were all owned and commanded by Scots. Forbes formed part of a noticeably high Scottish profile among the officers of the Bessborough in particular. Fully 40% of her 10-strong officer cadre was Scots: besides the Captain, Thomas Riddell, and his kinsman, Robert Riddell, the 3rd mate, Forbes served with Charles Dundas from Alloa, the 4th mate.
It is worth pausing to note the maritime origins of John's career. For a man from Strathdon — which is about as far from the sea as you can get in Scotland — it might at first seem a surprising route. His education, however, was clearly excellent, as pursers had, by the very nature of their responsibilities, to be highly literate and numerate. A key advantage for Aberdonian and NE families in their efforts to exploit the Empire lay in the region's unusually dense educational infrastructure, especially within Aberdeen itself. There is considerable uncertainty over the precise trajectory of John's career at this early stage. The company he founded in Bombay is traditionally held to have been formed in 1767, a period between his voyages on the Asia and the Bute. He may well in fact have combined two roles - EIC Purser and Bombay private trader. This would have enabled him to extend his contacts and diversify his business opportunities. A glimpse of the scale of the turnover in his business activities is his account in 1775-1776 with Charles Grant from Lochness-side, an East India Company civil servant in Bengal which came to .£11,375. What is not in doubt is that by the 1780s Forbes was a well-established name in the community of private traders — known as 'free merchants' — operating out of Bombay.
The Bombay that John Forbes used as his base in Asia shared many characteristics with the other two major 'Presidency' ports in India held by the English Company – Calcutta in Bengal and Madras on the SE Camatic coast of India. Ruled by a Governor and Council administered by the Company's commercial and financial elite — the civil servants — all these ports had a miniscule European presence compared to the substantial local populations. Bombay was however much larger than Aberdeen in human terms: in the 1801 census the total population of the Scottish city was approximately 27,000: Bombay was well over 100,000 in 1801. The town was strikingly cosmopolitan and was certainly one of extremes.
By the time he settled there, the port was already a substantial commercial emporium exchanging the famed cottons of Gujarat and Malabar coast spices — pepper and cardamom - into the Persian Gulf, Indonesia and even China. Bar the 2,000 odd European garrison soldiers — most Irishmen —— the European ` population was remarkably small. By the mid- 1790s, just around the time John was preparing to return home, the East India Company civil service still numbered only 117 individuals, supplemented by an army officer corps of 259 — many of the senior members of which were Scots. Even the unofficial Europeans — those not in the Company's service — numbers only 267 in 1800, almost all of them mariners or merchants. To understand why Forbes was so successful commercially it is important to remember that he operated in a very small, close-knit, almost incestuously interconnected European expatriate community.
Historians of the EIC agree that Bombay operated in relatively distinct ways which resulted in the boundaries between its official East India Company administrative elite and its private free merchants, like John Forbes, being nominal at best. Dense webs of interlocking credit, I perhaps best be described as an eighteenth-century version of PPP (Pub1ic-Private- Partnerships), existed which ensured the East India Company's Bombay government was essentially in hoc to the private firms, such as Forbes and Co.. Government contracts for 'supplies of major commodities like cotton and pepper were allotted on favourable terms, while civil servants and military officer advanced their own salaries and private venture capital to the free merchants in order to maximise their own commercial returns. In this context who you knew counted as much, if not more, than how much initial venture capital you could muster. For a relatively impoverished, undercapitalised new entrepreneur like
Forbes, Bombay was perfect.
Involvement in Bombay's chief branches of trade, textiles, spices and, increasingly, the financing and ownership of shipping, ensured that John's business portfolio rapidly encompassed extensive credit networks with the civil servants and army officers, consignment work on their private trade concerns and shipping and maritime insurance. An early associate was William Shepherd from Ayrshire, and their resultant partnership emerged alongside that of Andrew Adamson a Co. as arguably two of the three most powerful private merchant houses in later eighteenth-century Bombay. Yet just as local and kin links had facilitated Forbes' move to Asia, so they remained a defining feature of his commercial operation. In 1787 two of his nephews, sons of the Reverend George Forbes, journeyed to Asia: John's namesake died on board the Hastings East Indiaman on a voyage to China, while the other, Charles arrived in Bombay and was destined to take formal charge of the organisation once John decided to return home to Europe in ca.1795/6. Another of the Reverend George's progeny, Michie Forbes gained experience in Indian languages, commerce and finance in Bombay under his brother's tutelage before being appointed a civil servant in Madras in 1798. The dense set of kin links that shaped the organisation grew more elaborate as Arthur Forbes Mitchell, the son of Mitchell of Thainston, now related to the Forbes of Bellabeg by marriage, became a Bombay civil servant in 1796.
Bombay was increasingly only one part of British India where Forbes from Strathdon sought career opportunities. By 1789 George Forbes, a scion of the Forbes of Auchernach — further up the water of Nocthie from Bellabeg - was a merchant in Calcutta. His death in that year witnessed Jock and another relative, Jonathan Duncan from Wardhouse near Montrose — destined to become Governor of Bombay in the early 1800s — act as his executors Meanwhile scions of a related family, the Forbes of Auchernach, George and Nathaniel, were army officers in Madras. Although George died in 1796, his brother Nathaniel would rise to the rank of Lt-Colonel and return home in the 1800s with a substantial fortune. So it was that a dense set of connections based on highly localised Strathdon association criss-crossed the whole Indian subcontinent. This mixture of Strathdon-based kinship and ultramodern finance, shipping and commerce enterprise was extremely productive.
The scale of wealth generated by Forbes's commercial operations can be grasped in two ways. At a parliamentary inquiry in 1812-13 into the highly unstable finances of the Bombay government, Charles Forbes testified that Forbes and Co. had, between 1803 and1805, supplied £2.48 million to the East India Company's administration. At a time when the entire land tax in Scotland had only recently been raised from its cap of £48,000 per annum, the scale of the organisation's command of credit can be put into some perspective.
Shipping was another key feature of the Forbes operation, and thanks to the work of the late Anne Bulley we now know about Bombay's merchant shipping of this period in considerable detail. The Parsee community provided superb, cutting edge ship building techniques that combined European designs with expert use of Asia materials such as teak.
Most of Forbes and Co.'s commissions were undertaken by the Lowjee and Wadia families, who constructed what were extremely large merchant ships by contemporary standards. The Lowjee Family, for example, registered at 926 tons. One way to appreciate the scale of Forbes and Co.'s maritime operations is to compare its fleet in the mid-1790s with that of Aberdeen. A government report of 1787 showed that Aberdeen had a registered fleet of 141 ships, totally 10,338 tons (av. 73 tons). ln 1795 Forbes and Co owned, in whole or in partnership, 4 large merchant ships totally 3,403 tons — equivalent to 1/3 of Aberdeen's entire fleet less than a decade earlier.
While a striking commercial and financial success, with business interests stretching from Canton in China, through Calcutta, Madras and Bombay to London, the Forbes's commercial endeavours were in many ways simply a means unto an end. All the individual Forbes I have mentioned, Bombay Jock himself, Charles, and the Auchernach brothers in Madras, ventured to Asia with the explicit intention of returning once they had secured enough profits to live comfortably or indeed enhance their family's financial and social status. Many did not make it. It is a sobering indication of a certain ruthless self-motivation — or self-delusion — that individuals moving to Asia did so knowing they stood a less than 50:50 chance of returning alive. Participating in the British Eastern Empire was akin to a form of Russian roulette, and plenty were prepared to play. The hope was to live long enough to return — and in this sense Bombay Jock was doubly successful.
In many ways Jock's retirement back to Britain followed an orthodox pattern. He bought a town house in Fitzroy Sq. in London and spent most of his time there. Long term investments in government stock and bonds were matched by what amounted to a system policy of land acquisition in Strathdon designed to consolidate what was seen as the ancestral patrimony. Court records show that on Boxing Bay 1783, while still in India, he purchased the lands of Ledmacay, just to the north of Bellabeg. Culquoich in the parish of Migvie followed in 1792 and, symbolically, the estate of New itself, purchased from Forbes of Smeaton on 30 April 1793. Other small properties such as Culquaharrie and Ardgeith followed until a large stretch of Strathdon was held by returnees from India. Charles also got in on the act, and on 31 August 1808, while still in Bombay, purchased the estate of Edinglassie, to the west of Bellabeg.
Such purchases were not unusual; most rich and successful returnees from Britain's Eastern Empire sought to make their imperial fortunes more respectable and tangible in the form of landed acres. Where Bombay Jock is relatively distinctive, even among a relatively imperial elite known for their conspicuous expenditure, is the sheer scale, range and enduring commitment of his civic and philanthropic expenditure.
A striking aspect of Forbes is that his interest in civic improvements spanned cross the Empire, and was evident while he was in India and once back in Britain. In 1785 he and David Scott, another prominent Bombay merchant who hailed from near Montrose, were leading lights in a campaign to raise a subscription for the Royal Scots Corporation of London — a charity that provided for poverty stricken Scots in the capital. Both Jock, now back in Britain, and Charles, still in Bombay, were conspicuous subscribers in yet another appeal in 1801. It is a clear indication both of the number of Scots in Bombay and the Forbes's abiding interest in civic development that Forbes and Co. was prominent in the campaign to raise money for the construction of a 'Scots Kirk' on Apollo St, which ran on the north side of the docks
But these activities were surpassed by John's wide range of financial commitments in Aberdeen and the Shire. In the 1800s he lent over £10,000 to various Aberdeenshire landowners, including William Forbes of Craigievar. That the average lending capital of Scottish provincial banks in this period was between £40-£50,000 gives an indication of how much additional liquidity Jock added to the region's economy. Other activities included£1000 in the Aberdeen Canal Navigation Co. Eight annual bursaries of £25 each divided equally between King's and Marischal College Poor relief: £500 to the parish of Strathdon; £100 each to Towie and Migive. This may not sound a lot but: in 183 0s annual poor relief collection in Strathdon = just under £15. Forbes = 33 years' worth of poor relief; £1,000 to Aberdeen Infirmary in his will. Biggest legacy was the funding for what became the Aberdeen Royal Lunatic Asylum. Significantly, a Managing Committee had been established as early as 1800, yet by 1821 still nothing had happened — it's like Union Terrace Gardens! In his will Jock left £10,000 to begin the project: given the first phase cost £13,135, it is clear that it was only with Forbes' donation that the building got underway in 1822. Result: Obelisk to John and Charles Forbes to New to commemorate their contribution.
Conclusion:
What are we to make of the career of John Forbes? It is hugely important not to descend into uncritical hagiography and assert only the positive sides of his life. Men like Forbes made their fortune on the back of an extremely aggressive process of East India Company and British led aggression that brutally subordinated South Asia sovereignty and economic autonomy on the back of out and out naval and military conquest. Forbes was a committed British imperialist — not least because he and his immediate and extended family benefited hugely from that imperialism.
Bombay Jock fully deserves to be included in a series that explores the idea of Great Aberdonian for two distinct reasons. The first is what he tells us some significant about the place of the NE and the City within what had become a global British empire. Aberdeen and the shire participated fully in that process — and were in turn to be profoundly shaped by the resultant imperial connections. That this engagement with Empire took the form of human mobility, of throwing people at the opportunities of empire, in no way whatsoever detracts from the need to more fully understand how later eighteenth- and nineteenth-century Aberdeen and Aberdeenshire were in many ways deeply imperial societies. Aberdeen's commercial and human horizons were truly global at least 150 years before the City settled for the rather narrower claim to the oil capital of Europe.
The capacity of Britain's Eastern Empire to shape City and Shire is made manifest in the person of Bombay Jock. He is a figure whose influence and significance for the city and regional history of the NE is difficult to underestimate. He and his successor transformed A large parts of Strathdon in ways that totally belie the tendency to think of such rural areas as marginalised and far from any imperial and global influences. The Forbes family injected what were, by the standards of the day, colossal amounts of imperial wealth in the landed economy of the shire and into the educational and medical fabric of the city — to lasting effect. If for these two reasons alone, he deserves to be remembered.
Picture added on 15 February 2013 at 10:21
This picture is in the following groups
people
Comments: