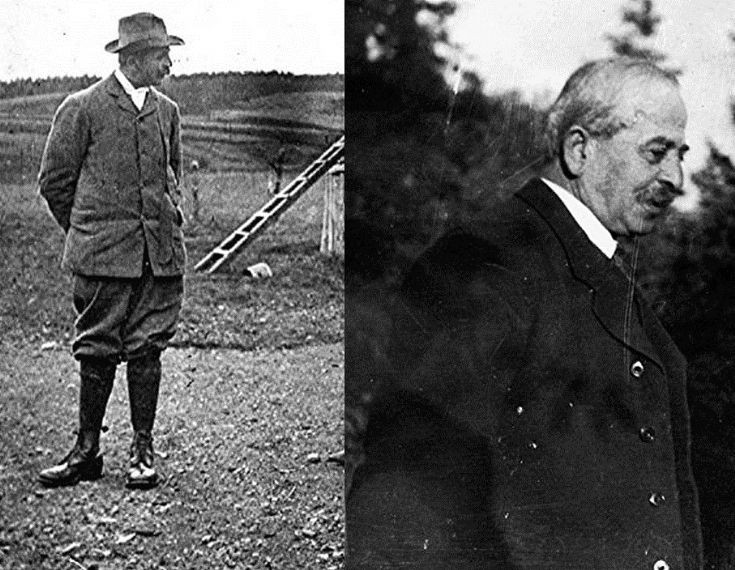 The Glenbuchat Image Library
111 Dr. HowieDoctor Howie
The following snippet from
Evelyn Waugh's Diaries
raised the interesting comment that while visiting Strathdon, he was going to visit the 'Negro Doctor.'
(Evelyn Waugh, however got the story about Dr Howie wrong.
Click here for the True Dr Howie Family Story
)
"At about 4 we reached Strathdon .We went first to call on the Forbes. They were living in what used to be their laundry. It makes a delightful little house, carpeted and curtained in tartan, and hung with arms.
We left Mrs G. to stay with a negro doctor called Howie and came to this public house - the Newe Arms - which is much nicer than everyone told us it would be."
Unfortunately Waugh had got Dr Howie's racial background wrong, as he was in fact of Arabian origin as the following footnote in his diary states. If fact he was almost more Scottish than the Scottish:
(As a baby, Dr Howie had been found abandoned in a desert beyond the Jordan after a Bedouin tribal battle; he was saved and adopted by Scottish missionaries who named him Howie after his native tribe, the Howeitat; his first and only language was broad Scots.)
The Howeitat or Huwaytat are a large tribal confederation of historic Transjordan, an area in present-day Jordan and Saudi Arabia.)
In the University of Edinburgh Graduates' Association Journal 1934, his death in 1933 is noted:
"1933
Phadlallah Elias El Howie
, MB Edin. 1887, died at Strathdon, Aberdeenshire, on 22nd April 1933, aged sixty-nine years. Born in Lebanon, Syria, in 1864, he settled, after graduating in medicine, in Aberdeenshire, where he became, in 1890, medical officer for Strathdon and Glenbuchat. Though an Arab by birth, Dr Howie, in his forty-two years of service, was a Scot of the Scots, and the Lonach Highlanders, headed by their Chief, paid him Highland honours at his funeral. "
The British medical journal: Supplement of 1933 noted
"DEATHS: Howie. — At Craig-na-hullie, Strathdon, on April 22nd, Phadlallah Elias Howie, MB., CMEd., aged 69. Medical Officer to Strathdon and Glenbuchat, Aberdeenshire."
Dr Howie graduated in Medicine from Edinburgh University in 1887 and the graduate list notes:
"Graduates Edinburgh University: Howie, Phadlallah E. el, M.B.,C.M. 1887"
He became a British citizen in 1890
The London Gazette, of October 3, 1890 noted under The Naturalization Act, 1870, "A List Of Aliens to whom Certificates of Naturalization or of Readmission to British Nationality have been granted by the Secretary of State under the provisions of the Act 33 during the Month of September, 1890."
Name. El - Howie, Phadlallah Elias
Country. Turkey
Date of Certificate. 22nd September, 1890
Place of Residence. The Coull, Strathdon, Aberdeenshire
By 1891 he had moved into accommodation at Coull of Newe where he was a lodger with the Michie family.
The 1891 Census noted
1891 Scotland Census about P Elias U Howie
Name:P Elias U Howie
Age:25 Estimated Birth Year:abt 1866
Relationship:Lodger
Gender:Male
Where born:(British Subject), Syria
Registration number:240 Registration district:Strathdon Civil parish:Strathdon County:Aberdeenshire
Address:Coull Of Newe
Occupation:Medical Genrl Practetioner
Household Members:NameAge
William Michie62
Jane Michie57
Isabella Michie32
John Michie31
Alexander Michie22
Ann Michie20
Mary Michie17
Esther Michie15
William Michie12
James Michie9
George Michie7
William Mason9
George Mason6 P
Elias U Howie25
Dr. Howie must have joined the army or T.A. as in 1917 as he was given the rank of Hon. Lieutenant:
"Supplement To The London Gazette, 22 October, 1917.
Phadlallah Elias el Howie, M.B., late temp. Lt., is granted the hon. rank of Lt. 23rd Oct. 1917."
He must have practiced in Strathdon at least from 1891 to 1933, 44 years and he must have been a very popular doctor. He was innovative and according to Amy Stewart in her book "In Memory Long" said, "Dr Howie of Strathdon is supposed to have had the first car in Scotland back in 1895 or 1896,. It was certainly the first in the Nor' East."
Jean Farquharson, 'Aunty Jean', told Dr Howie's grandson that Dr Howie's advice about motor cars was:-
"Plenty of petrol, plenty of oil - never wash your car!"
Dr Howie bought his car in 1896. The following note form the
Alford Transport Museum
confirms the event and motoring happenings about that time
1896
"Repeal of the so called "Red Flag Act" and speed limit raised to 14mph (lowered to 12 by local authorities) in November.
Frederich Simms forms the Motor Car Club and stages the First Motor Exhibition at Imperial Institute, London, May
9th - August 8th. First car arrives in the North of Scotland from the London Exhibition. Shown in Aberdeen on 16th July and sold in Alford to Dr Howie of Strathdon following day.
Harry Lawson's British Motor Syndicate tried to control the development of the British Motor Industry and purchased Simms' Daimler concern.
In America Henry Ford made his first car."
There are a few photographs of him:
Visiting Mr McPherson at the Deuchry Glenbuchat
Driving his new car, one of the first in the area.
Celebrating his Silver wedding.
And the marriage of his daughter Jean
His daughter Jean graduated in medicine in 1926 and the Aberdeen University Review states:
"Dr. Jean Nicol Howie (MB 1926) is carrying on the practice of her late father, Dr. PE Howie, who passed away at his home, Craig-na-Hullie, Strathdon, on 22 Apri 1933, in the sixty-ninth year of his age"
She married in 1933:
"Peterson — Howie. At Aberdeen, on 13 October, 1933, James Mclnnes Peterson (B.Sc. Agr. 1922, B.Sc.)"
Picture added on 11 June 2012 at 01:27
This picture is in the following groups
people