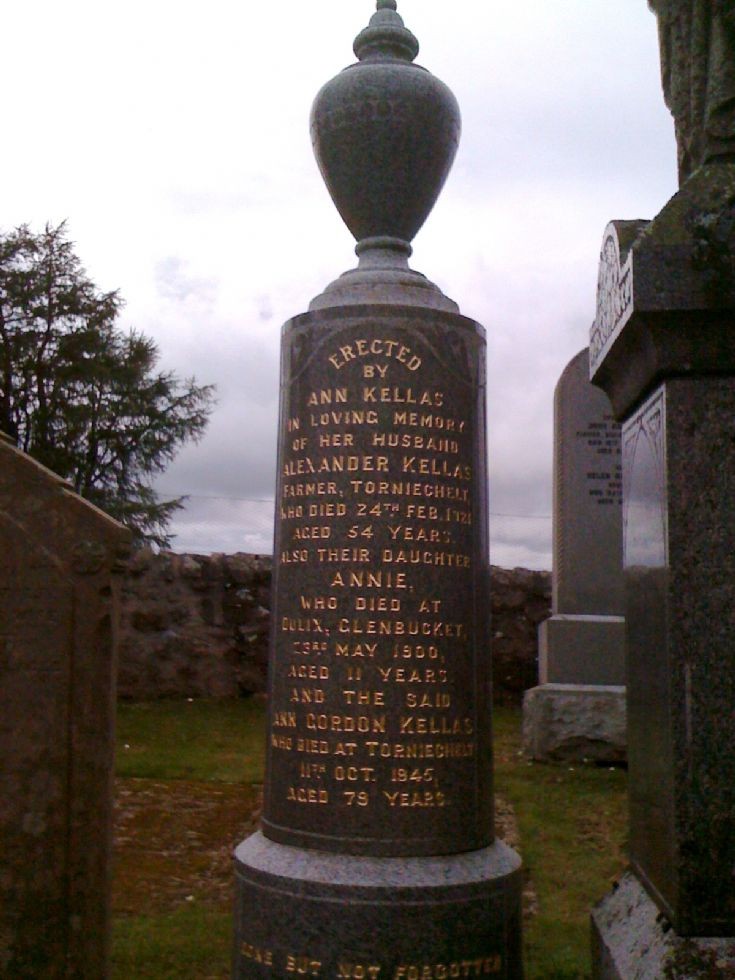 The Glenbuchat Image Library
89 Kellas Memorial
Memorial stone in Cabrach churchyard, taken 16/07/11.
Records death of Annie, age 11 years, at Dulix (now Dulax). She is mentioned on this site as dying from osteomyelitis and pericarditis.
Annie Kellas 1900 May Twenty-third, Dulax, Glenbucket
F: 11 years, parents: Alexr Kellas, Farmer & Annie Kellas ms Gordon
cause: Osteo Myelitis 10 days, Pericarditis 1 day.
The following are the family origins of the Kellas Family originally from the Cabrach and ancestors of who Ann who died at Dulax.
Thanks to the web site
Myweb.Tiscali.co.uk
for most of the information. Also some extra information from
From Family Tree MakerAlaster Kellas
Marriage 1 : UNKNOWN
Alaster Kellas, b. bef. 1696
Alexander Kellas
, b. abt. 1707
Jean Kellas

Alexander Kellas
Father: Alaster Kellas
Mother: ?
Birth: abt. 1707 Torniechelt, Cabrach,
Residence: 1727 Largue, Cabrach, Abrdeenshire
Marriage 1
Janet Fettas m. 01 January 0100 Not married, b. abt. 1705
John Kellas, b. February 1727, d. 19 January 1791
Marriage 2
Isabel Grant m. 04 June 1727 Cabrach, b. bet. 1683 and 1715
William Kellas, b. 28 June 1728

Notes:
Baptismal Entry from Cabrach OPRs: 1727 February 19: Alexander Calles/Kellas had a natural son baptised, John Calles/Kellas his brother being sponsor and taking on of vows, called John. (Based on interpretation from written entry).
From the Ministers Notes:
1726 December 4 The session being met and [ante] by prayer . . . .
There being a flagrant request of Janet [Fettas] [for ... ting (fornicating?)] to Alexander CALLES in Tornichelt [is with] child and being [cited] to this [district] being called did com[pear] and being interrogated [ ]anent and acknowledge of same of [great/gabe] [...ys] Alexander Callas Younger [in....] Tornichelt, an unmarried man as if [payment (Payt)] [?? of ??] after grate (cf gabe above) exhortation she was cited; agreed [ ] to of next meeting and of [ ] Alexander Calles was appointed to be cited [to] [is ...] district. Closed with prayer.
1726 December 18: Alexander Calles being cited and called did [compear] and acknowledged his guilt [out of a ...] Janet Fettas and being suitably [on betted] did engage to make his publick appearances when required, and to pay his own and [the] womans penalties. The [wife] Janet Fettas is appointed to begin his publick appearances [at] next Lords day. Closed with prayer.
1727 January [1] Janet Fettas appeared this day [first] and was rebuked.
1727 January 8 Janet Fettas did appear this day (the 2nd) and was rebuked.
1727 January 15 Janet Fettas did appear this day (3rd) and, being rebuked, was absolved.
1727 February 12 Alexander Callas did appear this day (the 1st) and was rebuked.
1727 February 19 Alexander CALLAS appeared this day (the 2nd) and was rebuked; and the said Alexander had a son baptised [? ?] of this instant called John, John Callas, his brother, being sponsor.
1727 February 26 Alexander Calles did appear that day (3rd) and, being rebuked, was absolved.
In the entry for his marriage to Isobel Grant it is mentioned that Alexander is the youngest son of Alaster Calles in Tornichelt.



John Kellas
b. February 1727, d. 19 January 1791
Father: Alexander Kellas, b. abt. 1707
Mother: Janet Fettas, b. abt. 1705
Birth: February 1727 Torniechelt, Cabrach,
Death: 19 January 1791 Torniechelt, Cabrach,
Marriage
Margaret Stewart m. 22 February 1757 Cabrach, , b. 12 November 1727, d. 1817
Anna Kellas, b. 12 January 1765
Isabell Kellas, b. 24 August 1760
Rachel Kellas, b. 21 August 1771
Christian Kellas, b. 06 June 1767
Hugh Kellas, b. 27 April 1758, d. 01 March 1838
Alexander Kellas, b. 26 August 1762, d. aft. 1806

Notes:
Heather Kellas Notes:
According to Graham Kellas' research:
John was born in the Cabrach 1727. He had two brothers, Sanders? b1727? (elder) and
William b1728 (younger).
John's parents are listed as Alexander Kellas and Janet Fettes?. Additional notes : this appears to be the first kellas in the Cabrach (John's father Alex). There are Kellas' in Strathdon at least 50 years earlier.
Graham has not given references for these assumptions.
John was possibly adopted (sponsored) by his father's brother John. (REF:Kellas Familes in Cabrach Parish and Strathdon Parish, Carol Fordyce) = possibly Graham Kellas has seen these records and made above assumptions.



Alexander Kellas
b. 26 August 1762, d. aft. 1806
Father: John Kellas, b. February 1727, d. 19 January 1791
Mother: Margaret Stewart, b. 12 November 1727, d. 1817
Birth: 26 August 1762 Torniechelt, Cabrach,
Death: aft. 1806
Occupation: Farmer, Torniechelt, Cabrach
Baptismal Witnesses : 26 August 1762 James Milne in Torniechelt & Alexander Strachan in Peathaugh
Marriage
Janet Ferrior m. 26 July 1787 Cabrach, b. 27 October 1765, d. bet. August, 1801 and 1802
Ann Kellas, b. 06 August 1801, d. 15 June 1869
Isobel Kellas, b. 1789, d. 10 February 1870
Margaret Kellas, b. 22 January 1795, d. 03 September 1842
James Kellas, b. 19 May 1793
John Kellas, b. 06 June 1788, d. 25 March 1866
Janet Kellas, b. 30 November 1799
Hugh Kellas , b. 30 December 1789, d. bet. 1838 and 1841
Alexander Kellas, b. 12 March 1798, d. 04 December 1857
Marriage 2 :
Margaret Souter m. 01 January 1803 Cabrach, b. bet. 1761 and 1784, d. 15 June 1837
James Kellas, b. 21 November 1803, d. 20 June 1858
Mary Kellas, b. 09 December 1804, d. bef. 01 October 1806
Mary Kellas, b. 12 October 1806
Elizabeth Kellas, b. 09 December 1804, d. aft. 1881

Notes:
John Kellas in Torniechelt had a son by his wife Margaret Stewart baptised and named Alexander, witnesses Alexander Strachan in Peathaugh and James Milne in Torniechelt.
In the rent roll for Torniechelt (1784-1803), Hugh and brother Alexander paid 7pa for a half-share; the other half was rented by Alexr. Robertson. In 1804 they have all of the farm, for 20pa.
Evidence for marriage to Margaret Souter from James Kellas death cert, which names Alexander Kellas, farmer at Torniechelt and Margaret Souter as parents.
Kiwi Adams has James Kellas b.ca1748 & Isobel McWilliam b.ca1748 as Alexander's parents (the only child)



Hugh Kellas
b. 27 April 1758, d. 01 March 1838
Father: John Kellas, b. February 1727, d. 19 January 1791
Mother: Margaret Stewart, b. 12 November 1727, d. 1817
Birth: 27 April 1758 Torniechelt, Cabrach,
Death: 01 March 1838 Torniechelt, Cabrach
Occupation: Farmer
Occupation: Ground officer to the Duke of Richmond
Residence: bet. 1784 and 1803 Torniechelt, Cabrach
Residence: 1784 Torniechelt, Cabrach
Baptismal Witnesses : 27 April 1758 John Gordon in Craigencat, Thomas Robertson in Powneid
Est. Birth : abt. 1764 Cabrach,
Marriage
Anna McHardy m. 17 February 1790 Strathdon, , b. January 1761
Margaret Kellas, b. 28 March 1797, d. 29 January 1850
Janet Kellas, b. 03 December 1790
Alexander Kellas, b. May 1795, d. 30 June 1883
John Kellas, b. 18 March 1792, d. 16 November 1859
Hugh Kellas , b. bet. 1801 and 1806, d. 25 April 1875
Anna Kellas, b. 06 April 1794, d. 18 December 1858
Isabel Kellas, b. abt. 1803, d. 02 February 1891



Hugh Kellas
Birth Abt Jun 1799 in Torniechelt, Cabrach, Aberdeenshire
Death 25 Apr 1875 in Torniechelt, Cabrach, Aberdeenshire
Father: Hugh Kellas, b. 27 April 1758, d. 01 March 1838
Mother: Anna McHardy, b. January 1761
Birth: 28 June 1799 Torniechelt, Cabrach,
Birth: bet. 1801 and 1806
Death: 25 April 1875 Torniechelt, Cabrach,
Burial: 26 April 1875 Cabrach,
Census: 1841 Tornichelt, Cabrach,
Occupation: Farmer, Torniechelt, Cabrach, 1858
Occupation: Farmer, Torniechelt, Cabrach, 1841
Residence: bet. 1851 and 1871 Torniechelt
Baptismal Witnesses : 28 June 1799 John McHardy in Miltown, Alexander Kellas in Tornychelt
Death informant : 26 April 1875 John Kellas, son
Marriage
Isobel Grant m. 18 December 1827 Cabrach, b. 16 August 1805, d. 24 January 1877
Ann Kellas, b. 24 September 1828, d. 1905
Janet Kellas, b. 26 May 1830
John Kellas, b. 21 April 1837, d. 21 August 1912
Hugh Kellas, b. bet. 1836 and 1837, d. 1912
Isabella Kellas, b. 20 September 1832, d. 25 April 1924
Robert Kellas, b. 05 August 1839, d. 13 September 1927
James Kellas , b. 08 April 1842, d. 09 January 1912

Notes:
Extract from OPR
28 June 1799 Birth of Hugh Kellas to Hugh Kellas and Anna McHardy: Torniechelt, Witnesses: John McHardy in Miltown and Alexander Kellas in Torniechelt
DATES DO NOT MATCH for:
Inscription in Cabrach Churchyard
Erected in memory of Hugh Kellas farmer died Torniechelt 25 Apr.1875, aged 73, his wife Isabella Grant died 25 Jan.1877, aged 72.
From Census Returns in 1841:
In Torniechelt, in one (1) inhabited building were Hugh Kellas Farmer 35, Isobel Kellas 30, Ann Kellas 11, Janet Kellas 8, Isobel Kellas 6, Hugh Kellas 4, John Kellas 2, Robert Kellas 1.
Cabrach Inscription CA148
Erected in memory of HUGH KELLAS farmer d. Torniechelt 25 Apr. 1875 aged 73 ??, his wife ISABELLA GRANT d. 25 Jan. 1877 aged 72.
J&H K - had inscribed as Hugh's death date as 23/4/1873
Buried: 1875 April 26th At Cabrach Wm. Ronald





Hugh Kellas
Birth 19 Nov 1834 in Torniechelt, Cabrach, Aberdeenshire, Scotland
Death 13 Nov 1912 in Dunedin, Otago, New Zealand
Parents
Hugh Kellas (1799-1875)
Isabella Grant (1805-1877)
Spouse
Margaret Johnston Draper (1850-1931)
Children
John Draper Kellas (1874-1943)
Margaret Johnston Kellas (1878-1956)
Isabella Grant Kellas (1880-1961)
Robert Kellas (1882-1968)
Hugh Kellas (1884-1897)
Annie Christian Kellas (1886-1972)
Lucy Janet Kellas (1888-)
Evelyn Gertrude Kellas (1890-)
1834 19 Nov Birth Torniechelt, Cabrach, Aberdeenshire, Scotland Birth witnessed by Hugh Kellas Snr in Torniechelt and Robert Grant in Largue.3 source citations
1834 29 Nov Christening Cabrach, Aberdeenshire, Scotland Cabrach Church
1841 Age: 7 Residence Aberdeenshire, Scotland Torniechelt - scholar -
1851 Age: 17 Residence Cabrach, Aberdeenshire, Scotland Torniechelt - scholar - with parents & siblings
1860 Aug Age: 25 Departure Liverpool On board Immigration Ship Result with brother Robert & Sister Janet
1860 3 Oct Age: 25 Arrival Melbourne, Australia
1863 26 Feb Age: 28 Departure Melbourne, Victoria, Australia Onboard MSS Gothenburg with brother Robert
1863 4 Mar Age: 28 Arrival Port Bluff, Otaga, New Zealand
1863 6 Mar Age: 28 SS Gothenburg Arrival Port Bluff, Otaga, New Zealand Appeared in The Southland Times on 6 Mar 1863
1877 16 Feb Age: 42 Marriage to Margaret Johnston Draper Dunedin, New Zealand Marriage Reg #765/1877 - Found under surname of Kellens.
1912 13 Nov Age: 77 Death Dunedin, Otago, New Zealand Living in St Kilda at time of death. Farmer. 49 Years in New Zealand. Death Reg #8263/19121912 16 Nov Burial Portobello, Dunedin, New Zealand Portobello Cemetery Block 1 Plot 139 with wife and children
1912 Age: 78 Probate Dunedin, Otago, New Zealand Probate and Letters of Administration held at Dunedin Record Office



John Draper Kellas
Birth 1874 in Dunedin, Otago, New Zealand
Death 15 Dec 1943 in East Melbourne, Victoria, Australia
Parents
Hugh Kellas (1834-1912)
Margaret Johnston Draper (1850-1931)
Spouse
Nellie Alice Hypatia Tilley (1886-1970)
Children
Gordon Grant D Kellas (1908-1932)
1874 Birth Dunedin, Otago, New Zealand
1893 Age: 19 Arrived in Maffra Maffra, Gippsland, Victoria, Australia John was not able to work on his family's farm in New Zealand possibly due to having a club type foot so he moved to Maffra where he taught violin and had a stationary & fancy goods store.
1903 Age: 29 Residence Maffra, Gippsland, Victoria, Australia Maffra - music teacher (violin)
1906 Age: 32 Marriage to Nellie Alice Hypatia Tilley Maffra, Gippsland, Victoria, Australia Marriage Reg #3604/1906
1924 Age: 50 Residence Maffra, Gippsland, Victoria, Australia Maffra - music teacher (violin) & home duties
1926 22 SepAge: 52 Watertrust Commission appointment Maffra, Gippsland, Victoria, Australia Appeared in the Victorian Government Gazette
1927 23 Nov Age: 53 Assistant Fisheries appointment Maffra, Gippsland, Victoria, Australia Appeared in the Victorian Government Gazette
1930 1 Oct Age: 56 Watertrust Commission - re-election Maffra, Gippsland, Victoria, Australia Appeared in the Victorian Government Gazette 1931
1943Age: 57 Residence Maffra, Gippsland, Victoria, Australia Maffra - music teacher (violin) & home duties - son Gordon (shop assistant) listed in 1931.
1931 Age: 57 Residence Maffra, Gippsland, Victoria,
1933 5 Apr Age: 59 Trustee for Cemetery Maffra, Gippsland, Victoria, Australia Appeared in the Victorian Government Gazette 1933 24 Oct Age: 59 Deputy Coroner - Wounded in Head Mafffra, Gippsland, Victoria, Australia Article appeared in The Argus Newspaper
1933 28 Oct Age: 59 Deputy Coroner - Wounded in head verdict Maffra, Gippsland, Victoria, Australia Article appeared in The Argus Newspaper
1933 8 Nov Age: 59 Vice President - Swimming Club Maffra, Gippsland, Victoria, Australia Appeared in The Argus Newspaper
1933 11 Nov Age: 59 Deputy Coroner - Farmer's Death Accidental Maffra, Gippsland, Victoria, Australia Article appeared in The Argus Newspaper
1933 29 Nov Age: 59 Appointed Deputy Coroner Melbourne, Victoria, Australia Appeared in the Victorian Government Gazette on Wednesday 29 November 1933
1935 15 Aug Age: 61 Deputy Coroner - Woman found dead Maffra, Gippsland, Victoria, Australia Article appeared in The Argus newspaper
1936 29 Jan Age: 62 Caledonian Society Annual Burns night Maffra, Gippsland, Victoria, Australia Article appeared in The Argus Newspaper
1936 Age: 62 Residence Maffra, Gippsland, Victoria, Australia
1940 16 Aug Age: 66 Vice President - Angling Club Maffra, Gippsland, Victoria, Australia Appeared in The Argus Photos (1) 1943 Jan Age: 69 Residence Maffra, Gippsland, Victoria, Australia
1943 15 Dec Age: 69 Death East Melbourne, Victoria, Australia Died at Freemason's Hospital, Melbourne. Death Reg #50/1944
1943 17 Dec Death Announcement Melbourne, Victoria, Australia Appeared in The Argus Newspaper - Friday 17 Dec 1943
1943 18 Dec Burial Maffra, Gippsland, Victoria, Australia Maffra Cemetery
1944 28 Jan Probate Melbourne, Victoria, Australia Appeared in The Argus Newspaper - Friday 28 January 1944
1990 Inclusion in "Gippsland in Focus" book Bairnsdale, Victoria, Australia Gippsland in focus : a directory of photographers to 1950 / compiled by Debra Squires, Linda Barraclough, Helen Clothier.



Robert Kellas
Birth 5 Aug 1839 in Torniechelt, Cabrach, Aberdeenshire, Scotland
Death 13 Sep 1927 in Yulungah, Trafalgar, Gippsland, Victoria, Australia
Parents
Hugh Kellas (1799-1875)
Isabella Grant (1805-1877)
Spouse
Annie Draper (1856-1911)
Children
Hugh Kellas (1874-1969)
John Draper Kellas (1876-1949)
Margaret Johnston Kellas (1880-1981)
William James Kellas (1882-1944)
Isabella Grant Kellas (1884-1974)
Robert Kellas (1887-1973)
George Thompson Kellas (1895-1917)
1839 5 Aug Birth Torniechelt, Cabrach, Aberdeenshire, Scotland Witnesses to birth - John Kellas in Torniechelt & Rev James Gordon, Minister
1839 21 Aug Baptism Cabrach, Aberdeenshire, Scotland
1841 Age: 2 Residence Aberdeenshire, Scotland Tornichelt - with parents & siblings aged 11 source citation Hide source citations 1841 Scotland Census
1851 Age: 12 Residence Cabrach, Aberdeenshire, Scotland Tornichelt - scholar with parents & siblings1 source citation Hide source citations 1851 Scotland Census
1860 Aug Age: 21 Departure Liverpool, England, United Kingdom Onboard Ship Result - with brother Hugh and Janet Kellas
1860 3 Oct Age: 21 Arrival Melbourne, Australia
1863 26 Feb Age: 23 Departure Melbourne, Victoria, Australia On board MSS Gothenburg with brother Hugh.
1863 4 Mar Age: 23 Arrival Port Bluff, Otaga, New Zealand
1863 6 Mar Age: 23 MSS Gothenburg arrival report Port Bluff, Otaga, New Zealand Southland Times newspaper - 6 Mar 1863
1874 13 Mar Age: 34 Marriage to Annie Draper Dunedin, New Zealand Marriage Reg #7098/1874 (NZ)
1887 4 Nov Age: 48 Departure Dunedin On board Union Co's Te Anua with family. Via Hobart 8th November.
1887 10 Nov Age: 48 Arrival Melbourne, Australia
1887 11 Nov Age: 48 Te Anua arrival Melbourne, Victoria, Australia Appeared in The Argus Newspaper
1903 –1914Age: 64 Residence Trafalgar, Flinders, Victoria, Australia Moe Swamp - farmer & home duties
1909 Age: 70 Residence Moe, Gippsland, Victoria, Australia
1914 Age: 75 Residence Moe, Gippsland, Victoria, Australia
1924 Age: 85 Residence Moe, Gippsland, Victoria, Australia Trafalgar - farmer with son Robert Jnr
1927 13 Sep Age: 88 Death Yulungah, Trafalgar, Gippsland, Victoria, Australia
1927 14 Sep Burial Trafalgar, Gippsland, Victoria, Australia Trafalgar Cemetery



Hugh Kellas
Birth 16 Dec 1874 in Portobello, Dunedin, New Zealand
Death 11 Mar 1969 in Maffra, Victoria, Australia
Parents
Robert Kellas (1839-1927)
Annie Draper (1856-1911)
Spouse
Annie Osborn (1882-1977)
Children
Private (-)
Private (-)
Private (-)
Private (-)
Hugh Osborn Kellas (1914-1966)
1874 16 Dec Birth Portobello, Dunedin, New Zealand Birth Reg #7213/1874 (NZ)
1913 8 Oct Age: 38 Marriage to Annie Osborn Newry, Victoria, Australia
1969 11 Mar Age: 94 Death Maffra, Victoria, Australia

John Draper Kellas
Birth 12 Aug 1876 in Dunedin, Otago, New Zealand
Death 15 Jul 1949 in North Fitzroy, Melbourne, Victoria, Australia
Parents
Robert Kellas (1839-1927)
Annie Draper (1856-1911)
Spouse
Margaret Hypatia Ellen Kelberg (1884-1969)
Children
John Kelberg Kellas (1912-2001)
Charles Alexander Kellas (1918-1982)
1876 12 Aug Birth Dunedin, Otago, New Zealand
1903 Age: 27 Residence Trafalgar, Flinders, Victoria, Australia
1906 18 Apr Age: 29 Marriage to Margaret Hypatia Ellen Kelberg Nelson Vale, Trafalgar, Australia
1949 15 Jul Age: 72 Death North Fitzroy, Melbourne, Victoria, Australia



John Kelberg Kellas
Birth 1912 in Trafalgar, Australia
Death 29 Sep 2001
Parents
John Draper Kellas (1876-1949)
Margaret Hypatia Ellen Kelberg (1884-1969)
Spouse
No Spouse or Children
1912 Birth Trafalgar, Australia
2001 29 Sep Age: 89 Death

Charles Alexander Kellas
Birth 1918 in Yarragon Reg, Australia
Death 1982 in Kilmore, Australia
Parents
John Draper Kellas (1876-1949)
Margaret Hypatia Ellen Kelberg (1884-1969)
No Spouse or Children
Member Connect Media Gallery No photos, stories, audio or video have been added yet.Timeline(View details)
1918 Birth Yarragon Reg, Australia
1982 Age: 64 Death Kilmore, Australia



James Kellas
b. 08 April 1842, d. 09 January 1912
Father: Hugh Kellas, b. bet. 1801 and 1806, d. 25 April 1875
Mother: Isobel Grant, b. 16 August 1805, d. 24 January 1877
Birth: 08 April 1842 Torniechelt, Cabrach,
Death: 09 January 1912 Hill of Daugh, Cabrach, in snow storm
Baptism: 26 May 1842 Hillhead, Cabrach
Burial: Cabrach
Census: 1861 Torniechelt, Cabrach
Occupation: Farmer at Largue, Cabrach bet. 1869 and 1901
Occupation: Farm servant at Largue bet. 1866 and 1869
Occupation: Farmer, Largue, nr Turriff 1912
Residence: 1851 Torniechelt
Residence: bet. 1869 and 1901 Largue, Cabrach
Baptismal Witnesses : 26 May 1842 John Kellas in Tornichelt, Revd. James Gordon minister
Death informant : 11 January 1912 John G. Kellas, son
Marriage 1 :
Isabella McWilliam m. 01 January 0100 Not married, b. 22 March 1836, d. 08 November 1920
Alexander Kellas , b. 30 July 1866, d. 24 February 1921
Marriage 2 :
Jean Duncan , b. abt. 1844
Ann Kellas, b. 25 September 1862, d. 12 February 1942
Marriage 3 :
Jean Gordon m. 27 May 1869 Aldivalloch, Cabrach, b. 09 October 1841, d. 10 February 1935
Robert Kellas, b. 24 March 1881, d. 1966
Isabella Kellas, b. 31 January 1874, d. 26 August 1957
John Grant Kellas, b. 24 July 1871, d. 14 September 1958
James Kellas, b. 26 December 1872, d. 05 April 1873
Jane (Jeanie) Kellas, b. 31 March 1880, d. 22 March 1967
Peter Kellas, b. 12 January 1883, d. aft. 1967
James Kellas, b. 21 January 1879, d. 12 February 1966
Hugh Kellas, b. 21 September 1875, d. 19 June 1959
William Kellas, b. 15 June 1877, d. 1951
Notes:
Report of death in Dufftown News 31st Jan 1912 p3



Alexander Kellas
b. 30 July 1866, d. 24 February 1921
Father: James Kellas, b. 08 April 1842, d. 09 January 1912
Mother: Isabella McWilliam, b. 22 March 1836, d. 08 November 1920
Birth: 30 July 1866 Aldivalloch, Cabrach,
Death: 24 February 1921 Torniechelt, Cabrach,
Occupation: Farmer, Torniechelt, Cabrach
Occupation: Farm servant at Largue, Cabrach 1887
Occupation: Shepherd 1891
Residence: bet. 1871 and 1881 Torniechelt, Cabrach,
Residence: 1891 Aldivalloch, Cabrach,
Residence: 1901 Dulax, Glenbucket
Death informant : 26 February 1921 William Kellas, son at Tomnavouan
Est. Birth : abt. 1866
Marriage
Ann Gordon m. 03 December 1887 Aldivalloch, Cabrach, b. 1866, d. 11 October 1945
Children:
Ann Kellas , b. 28 October 1888 Cabrach Aged 11.), d. 23 May 1900 Dulix, Glenbucket
Isabella Kellas, b. 26 December 1892 Aldivalloch, Cabrach,
William Kellas, b. 19 December 1889 Cabrach, d. 09 January 1958
Beatrice Ann Kellas, b. abt. 1905, d. 10 February 1966

Notes:
Illegitimate son of James Kellas (I have birth cert). His mother later married John Kellas (surely James brother).
Gravestone of an Alexander Kellas married to Ann Gordon at Cabrach has birth ca 1866.
Gravestone has him as a farmer at Torniechelt.
NOT 100% sure Alexander son of James & Alexander wife of Anna are the same person - need to find wedding cert. If correct, Alex and Anna were 3rd cousins.
In 1871, Alexander is with his Kellas grandparents at Tornichelt, then in 1881 with uncle John Kellas also att Tornichelt.

Notes for Anna Gordon
Obituary in Dufftown News 20th Oct 1945.
Anna Gordon:
Date born 2: 1866 (Source: Gravestone at Cabrach.)
Burial: Cabrach
Cause of Death: Arteriosclerosis
Death informant: 1945, Francis Rattray, son-in-law
Occupation: 1887, Farmer's daughter (Source: Marriage cert.)
Residence 1: Bet. 1887 - 1891, Aldivalloch, Cabrach (Source: Marriage cert, and 1891 census.)
Residence 2: Bet. 1871 - 1881, Aldivalloch, Cabrach (Source: Census.)
Residence 3: 1901, Dulax, Glenbucket (Source: 1901 census.)



Ann Kellas
b. 28 October 1888, d. 23 May 1900
Father: Alexander Kellas, b. 30 July 1866, d. 24 February 1921
Mother: Ann Gordon, b. 1866, d. 11 October 1945
Birth: 28 October 1888 Aldivalloch, Cabrach,
Death: 23 May 1900 Dulix, Glenbucket
Residence: 1891 Aldivalloch, Cabrach,






Picture added on 06 August 2011 at 17:28

This picture is in the following groupspeople