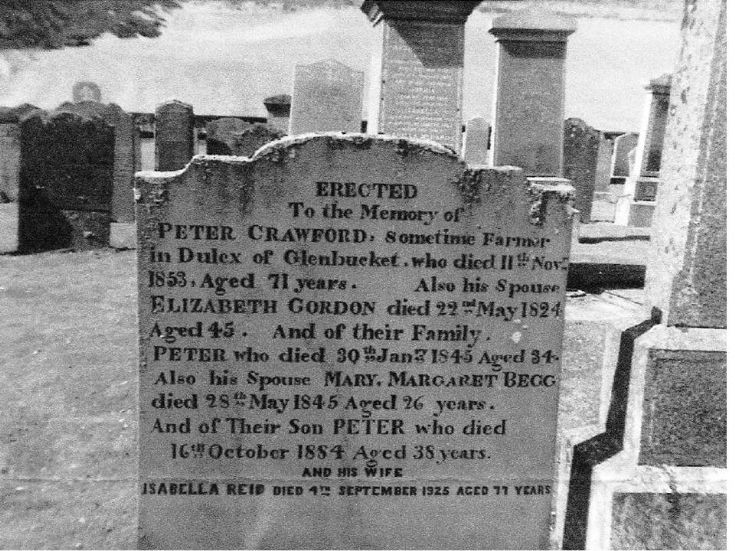 The Glenbuchat Image Library
87 Dulax and the Crawford Family
Dulax and the Crawford Family
Peter Grant of Banbury sent the following letter about his relatives who lived at Dulax as well as the photo of the Crawford's Gravestone.
Below is more detail of the Crawford Family History and a fuller account of the story about Major Forbes (the shoe involved was his , not Queen Victoria's!)
"You mentioned that you were aware of a shepherd who in 1884 had died as a consequence of being caught out on the hills in bad weather. That was my great-grandfather. He didn't actually live in Glenbuchat, though he was born there, very likely at Dulax. He lived at Delhandy, which is just over the river from the main road two or three miles beyond Roughpark. It appears in his day to have been a settlement of several dwellings, mainly small, but by 1920 had become, as it is now, a single house. According to a letter from my father"s cousin Isobel:
"Peter Crawford was only 38 years old when he died. He went away over the hill looking for some sheep and a snowstorm came on. By then he must have been near Glenbuckat. His uncle lived there so he was taken there in a state of near collapse. He died of pneumonia. No antibiotics in those days."
He was the grandson of the Peter Crawford who was farming at Dulax at the 1841 census. That Peter Crawford had a son who predeceased him, also Peter and the father of Peter the shepherd, and a second son (James) who had either died or moved away by 1881, so the uncle to whose house he was taken may have been maternal (his wife's maiden name was Begg). Peter the shepherd was evidently orphaned at a very early age, to judge by the dates on the family memorial, which may well be why he did not continue the family tradition at Dulax.
He left a wife (nee Isabella Reid) and five young daughters, the eldest aged about eleven. She continued living in the house at Delhandy, even after all the daughters had moved away, until at least about 1920. Isobel told me that the Forbses at the Castle of Newe were very good to them and Lady Forbes was instrumental in getting four of the girls started in life with training as children's nurses, a housekeeper and a missionary.
The three Peter Crawfords and their respective wives are commemorated (if not interred) in the burial ground at the Auld Kirk. The stone is now badly weathered and almost illegible (that is why I missed it on my earlier visit). In case it is of any interest I am attaching a photograph of it as it was some time ago, perhaps having being scoured and re-lettered when the latest name was added to it. (The more distinctive and legible memorial next to it is that of William Chree.)
I don't know whether you have heard this anecdote about one of the Forbes baronets. I read it about eighteen years ago and thought I could put my hand on the book I read it in, but I haven't found it yet so I shall make do with my memory. Major(?) Forbes was out exercising a company of soldiers (it may have been near Corgarff) when they encountered Queen Victoria on an excursion from Balmoral. Having some whisky with him, Major Forbes asked whether he might drink Her Majesty's health, but then realised that he had nothing suitable to drink it out of. Not wishing to swig from the flask he asked to borrow one of the Queen's slippers and drank from that."
Crawford Family History
From
Kildrummy FamiliesPeter Crawford 1786

Peter Crawford 1814 -
Birth 06 Aug 1814 Glenbucket/Glenbuchat
Family Mary Begg, b. 15 Jul 1822, Glenbucket/Glenbuchat
Married 06 Sep 1845 Glenbucket/Glenbuchat
Children
1. Peter Crawford, b. 16 Nov 1846, Glenbucket/Glenbuchat
2. Jessie Crawford, b. 24 May 1849, Glenbucket/Glenbuchat
Histories census
1841 enumerated @ Dullox, Glenbucket with father and siblings Ann and James

His wife (See Begg Family History at Badenyon)

Mary Begg 1822 -
Birth 15 Jul 1822 Glenbucket/Glenbuchat
Death 28th May 1845 (Age 26)
Father John Begg, b. 18 Jan 1792, Glenbucket/Glenbuchat
Mother Jannet Dawson, b. 07 Jul 1796, Kildrummy
Histories census
1841 enumerated @ Badenyon, Glenbucket with parents and brothers James, William and John



Peter Crawford 1846 - 1884
Birth 16 Nov 1846 Glenbucket/Glenbuchat
Died 16 Oct 1884 Glenbucket/Glenbuchat
Father Peter Crawford, b. 06 Aug 1814, Glenbucket/Glenbuchat
Mother Mary Begg, b. 15 Jul 1822, Glenbucket/Glenbuchat
Family Isabella Reid, b. 1849, Tarland and Migvie
Married 18 Jul 1873 Strathdon and Corgarff
Children
1. Elizabeth Crawford, b. 1874, Strathdon and Corgarff
2. Mary Margaret Crawford, b. 1875, Strathdon and Corgarff
3. Isabella Crawford, b. 1877, Strathdon and Corgarff
4. Jane Ann Crawford, b. 1879, Strathdon and Corgarff
5. Helen Crawford, b. 1883, Strathdon and Corgarff
Histories census
1851 enumerated @ Badenyon, Glenbucket with grandparents and aunt/uncles James, William, John and Jean
1861 enumerated @ Badenyon, Glenbucket with grandfather (widower) and aunt/uncle William and Jean
1881 enumerated @ Delhandy, Strathdon (shepherd) with wife, mother-in-law and daughters Elizabeth, Mary, Isabella and Jan

1841 Scotland Census about Peter Crawford
Name:Peter Crawford
Age:25
Estimated Birth Year: abt 1816
Gender: Male
Where born: Aberdeenshire, Scotland
Civil parish :Glenbuchat County:Aberdeenshire
Address: Dullox Parish Number:200
Household Members: NameAge
Peter Crawford 55
Peter Crawford 25
Ann Crawford 20
James Crawford 15
Margaret Mcgregor 15
Alexander Dow 12
Source Citation: Parish: Glenbuchat; ED: 3; Page: 7; Line: 1149; Roll: ; Year: 1841.
1841 Scotland Census about Peter Crawford Senior
Name:Peter Crawford
Age:55 Estimated Birth Year:abt 1786
Gender: Male
Where born: Aberdeenshire, Scotland
Civil parish:Glenbuchat County:Aberdeenshire
Address:Dullox
Occupation:Farmer
From
Life of Her Most Gracious Majesty the Queen, (Victoria) Vol II by Sarah Tytler

"On the following day the royal party left Holyrood and travelled to Balmoral. The Queen, with the Prince and her children, and the Duchess of Kent, with her son and grandson, were at the great gala of the district, the Braemar gathering, where the honour of her Majesty's presence is always eagerly craved.
Another amusement was the 'leistering', or spearing, of salmon in the Dee. Captain Forbes of Newe, and from forty to fifty of his clan, on their return to Strathdon from the Braemar gathering, were attracted by the fishing to the river's edge, when they were carried over the water on the backs of the Queen's men, who volunteered the service, "Macdonald, at their head, carrying Captain Forbes on his back." The courteous act, which was quite spontaneous, charmed the Queen and the Prince. The latter in writing to Germany gave further details of the incident. "Our people in the Highlands are altogether primitive, true-hearted and without guile.... Yesterday the Forbeses of Strath Don passed through here. When they came to the Dee our people (of Strath Dee) offered to carry them across the river, and did so, whereupon they drank to the health of Victoria and the inmates of Balmoral in whisky (schnapps), but as there was no cup to be had, their chief, Captain Forbes, pulled off his shoe, and he and his fifty men drank out of it."
The Forbeses got permission to march through the grounds of Balmoral, "the pipers going, in front. They stopped and cheered three times three, throwing up their bonnets." The Queen describes the characteristic demonstration, and she then mentions listening with pleasure "to the distant shouts and the sound of the pibroch."
Same event From Queen Victoria's Highland JournalTHE GATHERING.
September 12, 1850.
We lunched early, and then went at half-past two o'clock, with the children and all our party, except Lady Douro, to the Gathering at the Castle of Braemar, as we did last year. The Duffs, Farquharsons, the Leeds's, and those staying with them, and Captain Forbes(1) and forty of his men who had come over from Strath Don, were there.(2) Some of our people were there also. There were the usual games of " putting the stone," " throwing the hammer" and " caber," and racing up the hill of Craig Cheunnich, which was accomplished in less than six minutes and a half; and we were all much pleased to see our gillie Duncan,(3) who is an active, good-looking young man, win. He was far before the others the whole way. It is a fearful exertion. Mr. Farquharson brought him up to me afterwards. Eighteen
1 Now Sir Charles Forbes, of Castle Newe.

2 A work shortly to be published, entitled Highlanders of Scot/and, by Kenneth Macleay, Esq., R.S.A., contains excellent portraits of some of the men of these and other of the principal Highland clans, as well as of the Retainers of the Royal Household.

3 One of the keepers since 1851 : an excellent, intelligent man, much liked by the Prince. He, like many others, spit blood after running the race up that steep hill in this short space of time, and he has never been so strong since. The running up hill has in consequence been discontinued. He lives in a cottage at the back of Craig Gowan (commanding a beautiful view) called Robrech, which the Prince built for him.
or nineteen started, and it looked very pretty to see them run off in their different coloured kilts, with their white shirts (the jackets or doublets they take off for all the games), and scramble up through the wood, emerging gradually at the edge of it, and climbing the hill.
After this we went into the castle, and saw some dancing; the prettiest was a reel by Mr. Farquharson's children and some other children, and the " Ghillie Callum" beautifully danced by John Athole Farquharson, the fourth son. The twelve children were all there, including the baby, who is two years old.
Mama, Charles, and Ernest joined us at Braemar. Mama enjoys it all very much : it is her first visit to Scotland. We left after the dancing.
SALMON LEISTERING.
September 13, 1850.
We walked with Charles, the boys, and Vicky to the river side above the bridge, where all our tenants were assembled with poles and spears, or rather " leisters," for catching salmon. They all went into the river, walking up it, and then back again, poking about under all the stones to bring fish up to where the men stood with the net. It had a very pretty effect; about one hundred men wading through the river, some in kilts with poles and spears, all very much excited. Not succeeding the first time, we went higher up, and moved to three or four different places, but did not get any salmon ; one or two escaping. Albert stood on a stone, and Colonel Gordon and Lord James Murray waded about the whole time. Duncan, in-spite of all his exertions yesterday, and having besides walked to and from the Gathering, was the whole time in the water. Not far from the laundry there was another trial, and here we had a great fright. In one place there was a very deep pool, into which two men very foolishly went, and one could not swim; we suddenly saw them sink, and in one moment they seemed drowning, though surrounded by people. There was a cry for help, and a general rush, including Albert, towards the spot, which frightened me so much, that I grasped Lord Carlisle's arm in great agony. However, Dr. Robertson(1) swam in and pulled the man out, and all was safely over; but it was a horrid moment.
A salmon was speared here by one of the men; after which we walked to the ford, or quarry, where we were very successful, seven salmon being caught, some in the net, and some speared. Though Albert stood in the water some time, he caught nothing : but the scene at this beautiful spot was exciting and picturesque in the extreme. I wished for Landseer's pencil. The sun was intensely hot. We did not get back till after three o'clock, and then took luncheon. The Duchess of Gordon came to see us afterwards; and while she was still with us, Captain Forbes (who had asked permission to do so) marched through the grounds with his men, the pipers going in front. They stopped, and cheered three-times-three, throwing up their bonnets. They then marched off; and we listened with pleasure to the distant shouts and the sound of the pibroch.
We heard afterwards that our men had carried all Captain Forbes's men on their backs through the river. They saw the fishing going on, and came to the water's edge on the opposite side; and on being greeted by our people, said they would come over, on which ours went across in one moment and carried them over—Macdonald at their head carrying Captain Forbes on his back. This was very courteous, and worthy of chivalrous times.
1 The gentleman who has had from the beginning the entire management of our property at Balmoral, &c. He is highly esteemed, and is a most amiable man, who has carried out all the Prince's and my wishes admirably.
Picture added on 28 March 2011 at 19:02
This picture is in the following groups
people
Comments: