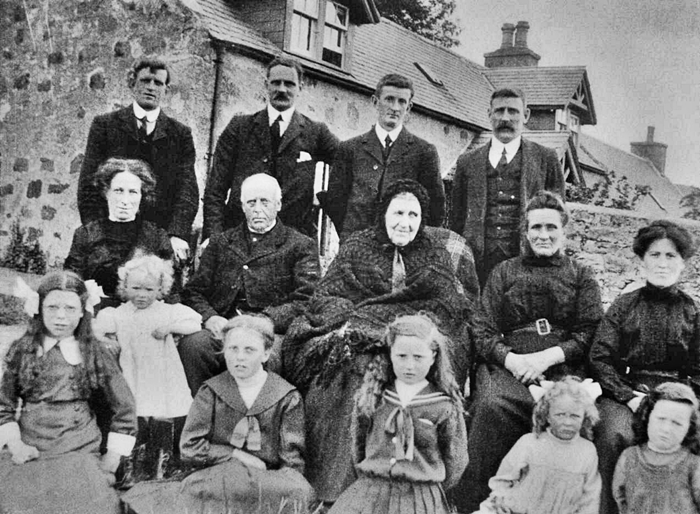 The Glenbuchat Image Library
67 Cameron Family Sunnybrae
This family photo was taken at the funeral of James Cameron. back row; Brothers left to right are George, William, Robert and Alexander Cameron. Second row: Jeannie (wife of George), Daniel Cameron, Ann Chree (Daniels Mother In Law, Ann (wife of Daniel), Bella (widow of James). Children Left to right; Girl called Anderson (no relation), Florence (in white dress), Jessie, Isabella, Ethel (in white dress), Elsie.
Peter Cameron has contributed the following:
"Here is a photo of my family taken at Sunnybrae Farm about 1901-This one shows my Father
Alexander
top right and three of his eight brothers -My Grand father
Daniel
and Grand mother Ann ( Nee Chree) are seated second and third in the middle row -l do not know any of the others-l presume they are wives and grandchildren-l think it was the taken on the occasion of a family funeral -Daniel took over Sunny brae Farm after the death of his Father-in-law William Chree -Daniel died in 1914 Ann died in 1942 -my Father lost touch after then"
"l myself have never been to Glenbuchat -my father and mother used to go there quite regulaly pre-war -My father came to England in 1902 and joined the Chelmsford Police Force he retired in 1927 with the rank of Sergeant-and then became a security officer on the oil tankers coming into the Shell Refinery in Essex-he retired in 1947 and died in 1958 His elder brother also lived nearby -nearly all his brothers joined various Police Forces -two of them joined the R C M P in Vancouver -One of his tales was about his Grand father James who was at one time the strongest man in Aberdeen -pulling a runaway pony and trap from a pond -the Lairds' wife was in it"
See Photo of Alexander CameronFamily of Ann Chree
Updated with information from email below
From Kildrummy FamiliesWilliam Chree
1822 - 1900
Birth 18 Nov 1822 Glenbucket/Glenbuchat
Sex Male
Died 26 Mar 1900 Glenbucket/Glenbuchat
Father William Chree, b. 02 May 1779, Glenbucket/Glenbuchat
Mother Mary Dawson, b. 1794, Strathdon (and Corgarff)
Family Annie Farquharson, b. 29 Mar 1829, Glenbucket/Glenbuchat
Married 09 Feb 1882 Glenbucket/Glenbuchat
Children 1.
Ann Chree,
b. 27 Aug 1853, Glenbucket/Glenbuchat
Ann Chree
1853 - 1942
Birth 27 Aug 1853 Glenbucket/Glenbuchat
Sex Female
Father William Chree, b. 18 Nov 1822, Glenbucket/Glenbuchat
Mother Annie Farquharson, b. 29 Mar 1829, Glenbucket/Glenbuchat
Family Married
Daniel Cameron,
b. 25 Mar 1846, Tullynessle and Forbes d. 1914
Married 29 May 1875 Old Machar
Children
1.
James Cameron,
b. 22 Feb 1876, Towie
2. Ann Isabella Cameron, b. 1877, Towie
3. William Cameron, b. 1878, Towie
4.
Alexander Cameron,
b. 19 Apr 1880, Tullynessle and Forbes
5. George Cameron, b. 1882, Auchindoir and Kearn
6. Daniel Cameron, b. 15 Sep 1883, Auchindoir and Kearn
7. John Cameron, b. 28 Mar 1886, Auchindoir and Kearn
8. Charles Chree Cameron, b. 1888, Auchindoir and Kearn
9. Robert Garden Cameron, b. 03 Oct 1893, Auchindoir and Kearn

James Cameron
Birth 22 Feb 1876 Towie
Death 1913 Peritonitis
Father Daniel Cameron, b. 25 Mar 1846, Tullynessle and Forbes
Mother Ann Chree, b. 27 Aug 1853, Glenbucket/Glenbuchat
Married Isabella Cameron, b. 17 Feb 1881, Kildrummy
Married 22 Jul 1900 Alford
Children
1. Jessie Ann Cameron, b. 25 Mar 1901, Auchindoir and Kearn
Histories census
1881 enumerated @ Tulloch, Tullynessle with parents and siblings Ann, William and Alexander
1901 enumerated @ Lumsden Village, Auchindoir (hostler) with wife, brother Daniel and daughter Jessie


Alexander Cameron
1880 - 1958
Birth 19 Apr 1880 Tullynessle and Forbes
Died April 1958
Sex Male


View Large Version
Picture added on 30 September 2010 at 00:23
This picture is in the following groups
people
Comments: