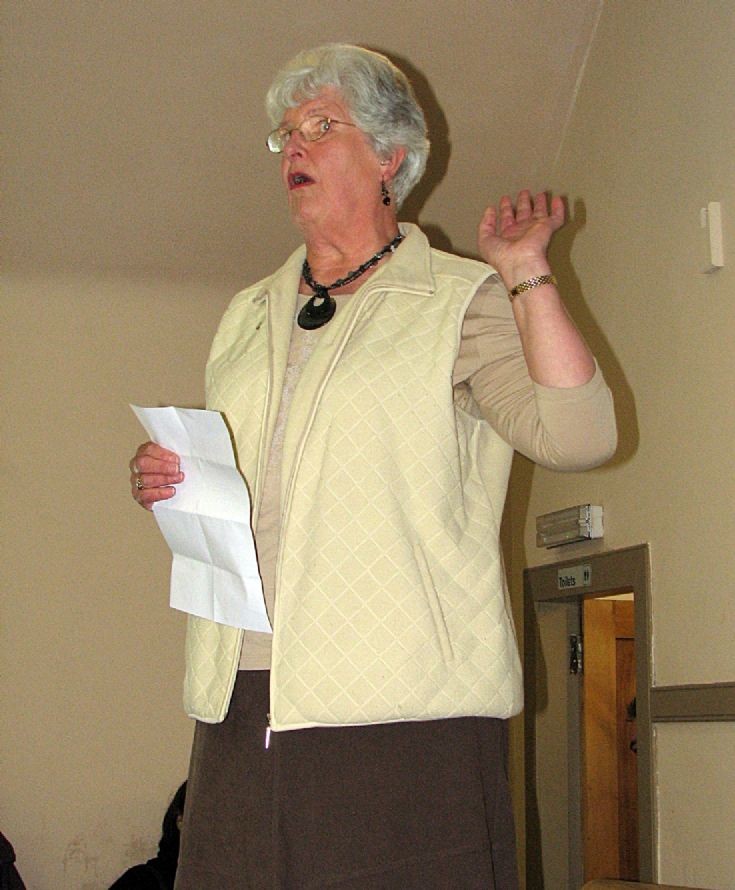 The Glenbuchat Image Library
74 PEG LEG by EILEEN DAVIES
Good humoured poem written after a bad fall this winter (2010)!! (a skytie klyte)
PEG LEG by EILEEN DAVIES
Do you know Glenbuchat hall?
Where Eileen had her stupid fall.
She must have left a great big hole
When she came thumping down.
Her pals from Art class gave their all,
Set up a camp so neat and small,
A shelter from the stormy blast
'til Doc and ambulance came at last.
There's mobile phones to call for help,
While Eileen tries hard not to yelp,
Isobel makes sweet tea for shock
While Kathleen shoves rugs under her dock.
Umbrellas,dog blankets,coats and all
To keep her warm from her stupid fall.
Lallah drove Eileen's car away
So her hubbie could come and say
'Now what are you doing there,
Underneath this tent complete with chair?'
A milk bottle's emptied and filled with water hot,
To keep the cold at bay, that is what she got.
With encouragement from Heather, she was all a quiver
And in spite of all her covers, she began to shiver.
She clung to that bottle as if it were gold,
A real comfort it was out in that cold.
Until she was rescued in an hour and a half
All she could see was feet, legs and calfs!
Eileen's home at last with a brand new pin
She'll have it forever to pay for her sin
Of breaking her leg at Glenbuchat hall
Where Eileen had her stupid fall.
Here's Eileen's warning to one and all-
Do make sure if you have a fall,
Be it a big one or even small
You're among KIND FRIENDS at Glenbuchat Hall
Picture added on 06 June 2010 at 18:17
This picture is in the following groups
people