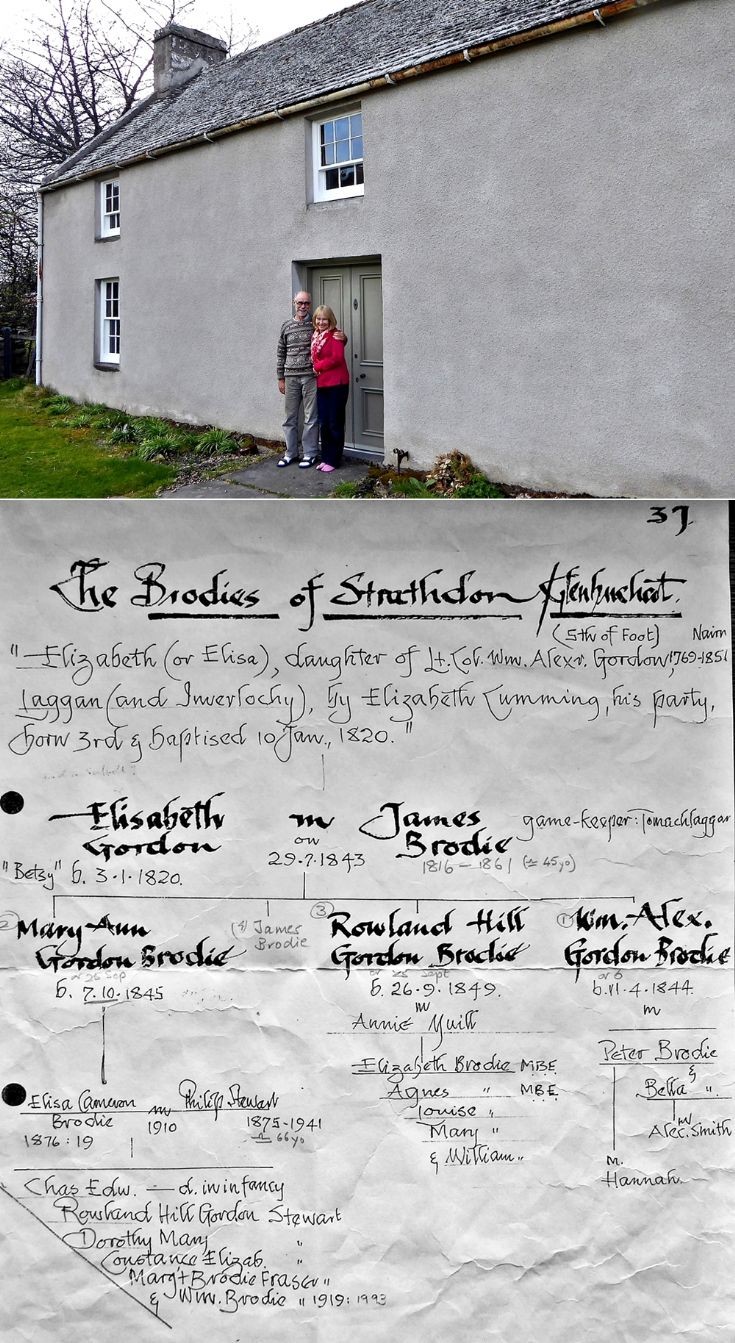 The Glenbuchat Image Library
41 Brodie - Stewart Families'Photographs courtesy and copyright of Jennifer Stewart'.
Jennifer Stewart of A'anside has kindly shared some pictures and family history which involved Glenbuchat. Two branches of the family. One branch, the Brodies, lived at Backies at the top of the glen and another member was a teacher at the Balloch School near Backies.
Jennifer and her husband are pictured above outside their historic mid-18th century farmhouse.
The Brodie family history is noted below and highlighted in red are the people who feature in the photographs in the following pages.
2.
Gravestones at Kirkmichael Church
3.
Stewart Family and 'Backies' Glenbuchat
4.
Mary Jane Gills and the Balloch School
5.
Stewart family Brodie Family TreeWilliam Brodie
Birth: Bef 1764
Death: AFT 1798 in prob Glenbucket,
Marriage
Janet Gauld b: 23 AUG 1755 in Glenbucket,
Children
1.
William Brodie
b: Bef 30 NOV 1785 in Glenbucket,
2. Jean Brodie b: 28 FEB 1788 in Glenbucket,
3. Alexander Brodie b: 28 FEB 1788 in Glenbucket
4. Elizabeth Brodie b: Bef 05 JUL 1790 in Glenbucket,
5. Isobel Brodie b: Bef 02 JUN 1793 in Glenbucket,
6. James Brodie b: Bef 12 FEB 1796 in Glenbucket,
7. Helen Brodie b: Bef 08 JUN 1798 in Glenbucket,

William Brodie
Birth: Bef 30 NOV 1785 in Glenbucket,
Death: 26 MAR 1839 in Backies, Glenbucket,
Father: William Brodie b: Bef 1764
Mother: Janet Gauld b: 23 AUG 1755 in Glenbucket,
Marriage
Mary Reid b: 16 May 1789 in Glenbucket,
Children
1. James Brodie b: 25 May 1816 in Glenbucket
2. William Brodie b: Bef 12 JAN 1818 in Glenbucket
3. Margaret Brodie b: Bef 02 FEB 1820 in Glenbucket
4. Isabella Brodie b: Bef 20 NOV 1821 in Glenbucket,
5. Alexander D Brodie b: ABT 1824 in Glenbucket,
6. William Brodie b: 09 JUL 1825 in Glenbucket,
7. Mary Ann Brodie b: 11 DEC 1828 in Glenbucket,

From Scottish notes and queries, John Malcolm Bulloch, D. Wyllie and Son, 1906
"William Gauld, in Crofts, previous to his removal from Tarntoul, along with Adam Hay, Upperton, and William Brodie, Backies, was captured by the excise, smuggling whisky, and heavily fined. Gauld was able to pay his fine. Brodie, while languishing in Aberdeen jail, wrote his wife, Mary Reid, daughter of Archibald Reid and Jean Middleton, to get sharp tools passed in to him so that he might break out. This alarmed her, and she rode, during the night, on horseback, from Tarntoul to Aberdeen, a distance of forty-four miles, to inform him that Lord Fife was using his influence to get him liberated — he being at that time employed by his Lordship

1851 census
Backies
Mary Brodie Head W 61 Occupier of 20 acres Aberdeenshire, Glenbucket
Alexr D. Brodie Son U 27 Ag Lab do, do
Mary Ann do Dau U 22 house Serv do, do
Grace Reid Visitor 7 Scholar do, do
John Grant Serv U 15 Farm lab MorrayShire, Rothes
Donald McNicol Lodger Mar 43 [Hd?] Game Keeper Argyleshire, Glenorchy
Nicol McNicol Visitor do 32 do Keeper do, do
John Robertson Lodger do 40 do do Perthshire, Longforgan(?)



James Brodie
Birth 25 May 1816 Glenbucket
Died 21 Jul 1861 St Nicholas, Aberdeen
Father William Brodie, b. 30 Nov 1785, Glenbucket
Mother Mary Reid, b. 16 May 1789, Glenbucket
Occupation Gamekeeper
Spouse
Elizabeth Gordon, b. 03 Jan 1820, Kirkmichael,
Married 29 Jul 1843 Kirkmichael,
Children
1. William Alexander Gordon Brodie, b. 06 Apr 1844, Kirkmichael,
2. Mary Ann Gordon Brodie, b. 25 Sep 1845, Kirkmichael,
3. Rowland Hill Gordon Brodie, b. 25 Sep 1849, Kirkmichael,
4. James Brodie, b. 1851, Kirkmichael,
Histories census
1851 enumerated @ TomachLaggan, Kirkmichael with husband (gamekeeper) and children William, Mary and Rowland
1861 enumerated @ Backies, Glenbucket with husband (farmer) and children William, Mary, Rowland and James
1871 enumerated @ Backies, Glenbucket (widow) with brother William and sons William and Rowland
1881 enumerated @ Backies, Glenbucket (widow) with son William



Lt Col William Alex Gordon
m Elizabeth Cumming (Servant)
Daughter
Elizabeth Gordon (Betsy) 21/1/1820 from A'an Side



Elizabeth Gordon
Birth 03 Jan 1820 Kirkmichael,
Father Lt Col William Alexander Gordon 1769-1851 of Laggan and Inverlochy
Mother Elizabeth Cumming b. 3rd Jan 1820



Mary Ann Gordon Brodie
Born 7/10/1845
Father James Brodie
Mother Elizabeth Gordon,
m Dr Cameron of Alford
Family
Elizabeth Cameron Brodie 1876 – 1960. Went back to Backies when mother died.



Elizabeth Cameron Brodie
Birth 1876
Death 1961.
Married 1910
Philip Stewart 1875-1941
Family
Charles Edwin Stewart d. 1914 aged 10 days
William Brodie Stewart

Alexander Stuart of Braes
spouse
m. Mary Jane Gills
Children
Maisie Stuart
The Braes of Glenlivet lie in a remote and little known corner of the northern foothills of the Cairngorms. Though less than five miles from Tomintoul as the golden eagle flies, the area is accessed by a minor single track road which leaves the B9008 at Knockandhu, and proceeds for some three miles into a broad bowl set into the Ladder Hills
THE ALBUM" (BRAES FAMILIES 1896)
Alexander Stuart, mills of auchnascraw
John Stuart, mills of auchnascraw
Alexander Stuart jr, mills of auchnaveran



William Brodie Stewart
Father Philip Stewart
Mother Elizabeth Cameron Brodie
Spouse
m. 1949
Maisie Stuart
(Daughter of Alex Stuart and Mary Jane Gills )
Family
Jennifer Stewart
Brother died


Picture added on 15 November 2017 at 22:37
This picture is in the following groups
people
Comments: