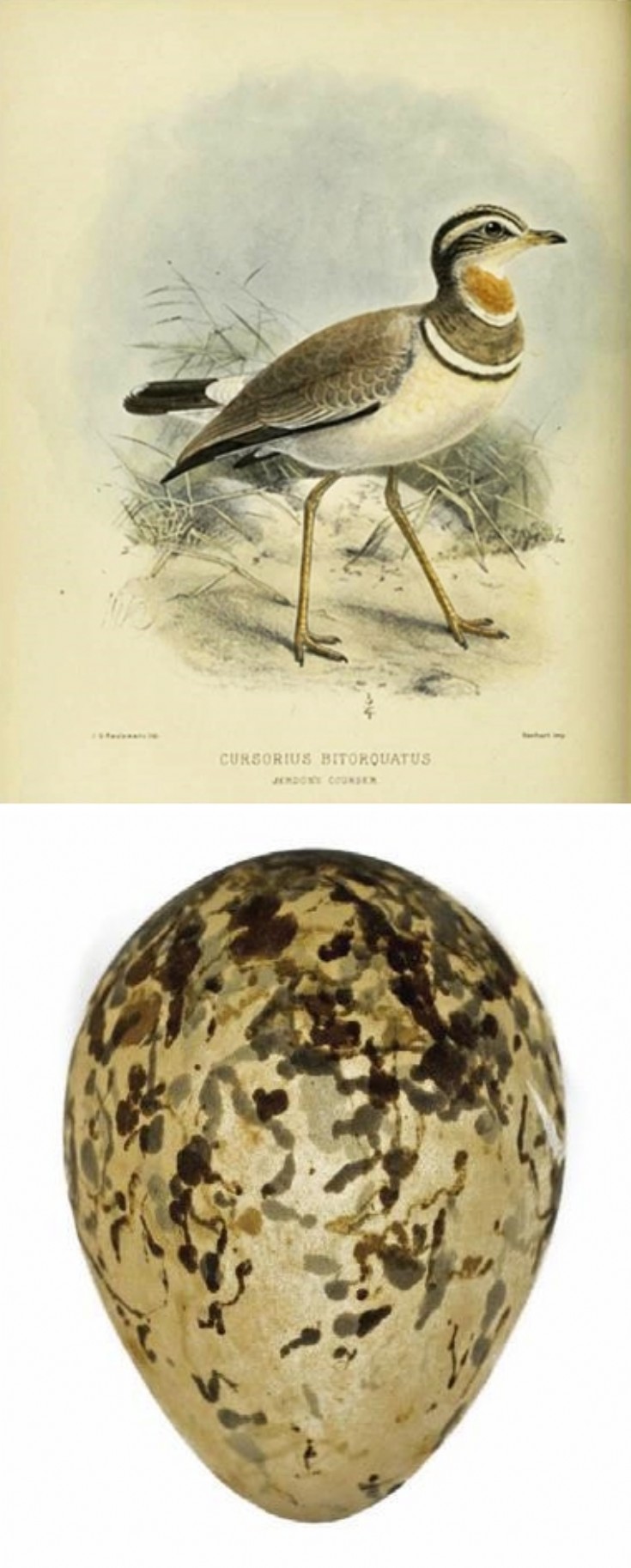 The Glenbuchat Image Library
3 G F Rose and the tale of an Indian egg Click for Introduction page to G F Rose of Auchernach
I am grateful to Alan Knox for giving permission to display the article below which was originally published as the following articles. As well as giving information about the egg he gives a lot of information about G F Rose himself.
George Rose and the tale of the Indian egg
The first egg of Jerdon courser
The photos above show:
1. Drawing of Jerdon's Courser'
2. Picture of Jerdon's Courser's egg
An article by Alan Knox about George Rose and the tale of an Indian egg.
In 2008, Alan Knox - the then head of museums at the University of Aberdeen - was browsing through drawers of un-catalogued eggs and noticed one labelled 'Jerdon's Courser'. This was a surprise, as this plover-like bird, from southern India, is exceptionally rare - Critically endangered, in fact, and was at one time thought to be extinct.
A quick check showed that the egg of this species had never been described and none was known to be in any collections, anywhere in the world. A unique egg! This should have been one of those "Eureka!" moments, but a little thought brought a problem into focus: had the egg been correctly identified; could labels have been muddled, and how do you actually identify something nobody has ever seen before?
Alan took the carefully-wrapped egg to the largest egg collection in the world, at the Natural History Museum, Tring, Hertfordshire. There he compared it with the eggs of other courser species and found it was just the size that would be expected, and that the colour, shape and texture were similar, but not identical, to eggs of closely related coursers. This was very promising. At this point, modern technology stepped in. Stuart Piertney had been working with animal DNA for many years. With some difficulty, he obtained minute scrapings from the membrane lining the inside of the fragile shell, from which, with even greater difficulty, he extracted fragments of DNA. There are only five preserved skins of Jerdon's Courser anywhere in the world, but we persuaded the Natural History Museum to let us have
a shaving from the toe of one of their two skins. Stuart worked his alchemy and the
DNA from the egg matched the DNA from the toe of the Jerdon's Courser. We had a definite Jerdon's Courser egg! It was a belated - but nonetheless enthusiastic - "Eureka!"
After much work in the archives, through old newspapers, and hundreds of emails all over the world, the story of the egg came together.
It was part of a collection put together by Ernest Gilbert Meaton, a veterinary surgeon at the Kolar Gold Fields, east of Bangalore, in the latter part of World War 1. Meaton had married Mary Josephine Prunty, and they had three children in quick succession, born in 1915, 1916 and 1917, but Mary died in the Spanish flu epidemic at the age of 26, in October 1918, leaving Ernest with three young children under the age of four. Maybe this domestic crisis was the trigger that made Meaton change direction and sell his egg collection. However it came about, a certain George Rose purchased his eggs and presented them to his old school, Aberdeen Grammar, in early 1919.
George Rose – international engineer and soldier
George's story begins in rather scandalous circumstances. His father, Alexander MacGregor Rose, was a Free Church Minister, though not for long. After a degree from the University of Aberdeen and a spell as a teacher in Ross-shire, Alexander returned to study at the Free Church College, in Alford Place, Aberdeen (now the gothic College nightclub). He was ordained in 1875 into the Parish of Evie and Rendall, in Orkney. His two sons were born there: George Falconer Rose, in December 1876, and Alexander MacGregor Rose, Jr, two years later. And then he left. Bankrupt and in disgrace, in 1879 he abandoned his flock and his young family in Orkney and sailed to New York, where he forged a new career as a journalist and minor comic poet, first in California, and then in Canada.
George, the young Alexander and their deserted mother, Mary, returned to Aberdeen to Mary's father, George Falconer (after whom young George was named) – a successful draper living in Union Row. He took the family in and became the boys' guardian, although they had to move in with Mary's brother, William, in Belgrave Terrace, when George Senior died, around 1890.
In 1881, when he was four, George Jr. entered Aberdeen Grammar School and was a happy pupil there until the age of 15. On leaving the Grammar, he went on to Robert Gordon's College, coupled with a seven year apprenticeship with James Abernethy & Co – the engineering firm responsible for many of Aberdeenshire's iron bridges, including several of the suspension walkways over the River Dee. George excelled at Abernethy's and, in 1899, he completed his apprenticeship, left college, and went to sea as a marine engineer. Just two years later, at the age of 24, he joined the vast trading empire that was Andrew Yule & Co, in Calcutta. Andrew Yule's was one of the largest companies in southern Asia, founded by George and Andrew Yule, both born in Stonehaven, sons of Robert Yule, a local draper. After they retired, the company was taken over by their nephew David - later Sir David - Yule, in 1902. George Rose's uncle, Alexander Falconer, was a business partner of David Yule, and this no doubt helped further George's career. By 1917, Andrew Yule & Co managed more than 60 companies and George Rose was rising through the ranks. He specialised in the burgeoning jute business in India, as engineer at the Budge- Budge Jute Mills, then manager of the Central Jute Mills, which he reconstructed. He designed and oversaw the building of at least another two jute mills. He was a member of the Institution of Mechanical Engineers and a member of the Bengal Chamber of Commerce (1914-29). In December 1914, Rose joined the Calcutta Scottish Volunteers, part of the India Defence Force, and was a Colonel by the time he resigned, in 1932.
Management changes at Andrew Yule and Co brought opportunities for the determined George Rose. In 1919, he became a director and, subsequently, managing director, possibly of the jute division. He was president of the Indian Jute Mills Association for four years, with an international reputation in the industry, and served two terms as a member of the Legislative Council of Bengal.
George Rose maintained his close ties with North-east Scotland, and was deeply interested in his old school. He was a member of the Grammar School Former Pupils' Association, and became the school's first former pupil consul for Bengal. At this time, the school was under the enlightened rectorial leadership of Dr H. M. F. Simpson, and was actively building a diverse and significant museum. It contained some very important collections from around the world: antiquities, paintings, school memorabilia, stamps, anthropological items and natural history, mostly donated by various former pupils in their roles as part of the great Scottish diaspora. Rose, too, donated to the school: a stuffed mongoose fighting a cobra, in 1915; a collection of birds' eggs, in 1919; a fine collection of Indian butterflies, in 1924; more moths and butterflies, in 1927 and 1928, and a stuffed golden eagle, in 1930. Although the eagle was probably from the North-east, all the other items came from
India.
The school egg collection (and indeed, the rest of the museum) was gradually dispersed: some stolen by the boys, some broken, some given away. One of the last tranches to be disposed of was a selection of stuffed birds and some eggs, transferred to the University of Aberdeen around 1978. The eggs went into a store room in the Zoology Museum in Old Aberdeen and remained there until Alan's discovery, in 2008.
On one of his trips home, and not long after he became a director in Yule's empire, George Rose purchased (and later extended) Tullich Lodge, the grand Baronial house overlooking the River Dee, just east of Ballater - considered one of the finest houses in Deeside. Three years later, in 1924, he also purchased the estate of Auchernach, in Strathdon. The house there had been built by Lieut-Gen Nathaniel Forbes of the Hon East India Company, and its walled garden and narrow clock tower are said to have been modelled on an Indian hill fort.
In 1932, aged 55, Rose retired and he and his wife, Margaret, returned to Scotland. In that year, they also sailed from Southampton to Quebec, perhaps on their way to Montreal, where George's father had died in 1898. In Calcutta, George and Margaret had celebrated their Scottish roots. George was an active member of the Caledonian Society and a founder member of the Burns Club, of which he was president in 1931-32.
He similarly threw himself into local life in Aberdeenshire. He gave talks on colonial
India to the school in Strathdon; he was president of the Aberdeen branch of the Royal Scottish Forestry Society and a keen member of the Third Spalding Club (his name appears as a subscriber in many of their volumes). His brother, Alexander, had entered the army, rising to Lieut-Colonel, also retiring to Aberdeenshire, and living latterly in Cults.
George died at Tullich Lodge on 24 February 1940, and is buried in Springbank Cemetery. His service at Tullich Lodge was attended by mourners from Ballater and Strathdon, and the pall-bearers included Mr Tindall, the gamekeeper from Auchernach. The house there was pulled down in 1945. The gardens are now ruined, although the clock tower still stands tall, on the right as you approach the Lost Gallery through the forest.
From an inauspicious start, George Rose went on to considerable success, through which he retained his love of the North-east. His donations in turn enriched
And what became of Meaton? He went on to marry Violet Walsh, in 1923. They remained at the Kolar Gold Fields, where they were local tennis champions and pillars of the community. In 1942, as the Japanese advanced through Asia, they packed all their belongings and sailed on the liner SS Tilawa, en route from Bombay to Mombassa and Durban. Around midnight on 23 November 1942, the first torpedo from the Japanese submarine I-29 struck. Frightened passengers and crew evacuated the stricken ship and watched, but it stayed afloat. Attempts were being made to reboard her when the second torpedo hit, and the vessel went down. The Meatons did not survive. It was nearly a century before Meaton's unique egg was recognised for what it is. What other treasures await discovery in our outstanding local museums?
Dr Alan Knox retired as head of museums at the University of Aberdeen.
Stuart Piertney is a professor at the University's School of Biological Sciences. His research interests are in understanding more about the natural history, conservation and evolution of Scottish fauna by studying their DNA.
An Enigmatic Bird - Jerdon's Courser
Discovered around 1844, by Thomas Jerdon - an army surgeon, who collected three specimens - Jerdon's Courser was subsequently seen or collected three times by the naturalist WT Blanford, and twice in June 1900, by Howard Campbell, a rural missionary from Northern Ireland.
The species wasn't found again for 86 years and was presumed extinct. It being a ground-living bird, active only at night, and inhabiting scrub-jungle, it is perhaps understandable that it remained unseen all this time. Its rediscovery, in January 1986, caused great excitement, and the courser has become a 'poster- child' of Indian conservation.
Despite much research, it has still rarely been observed and the nest has never been seen by an ornithologist. The known range of the species spans just a few kilometres in the Penner river basin, in Andhra Pradesh, in southern India, and it is now threatened with permanent extinction.
It is hoped that the discovery of the egg, in Aberdeen, will help local conservationists both raise awareness of the plight of the courser, and to help validate possible breeding records.
It may also point to areas, nearer the Kolar Gold Fields, where the bird might possibly still be found.
Picture added on 07 October 2015 at 18:49
This picture is in the following groups
people