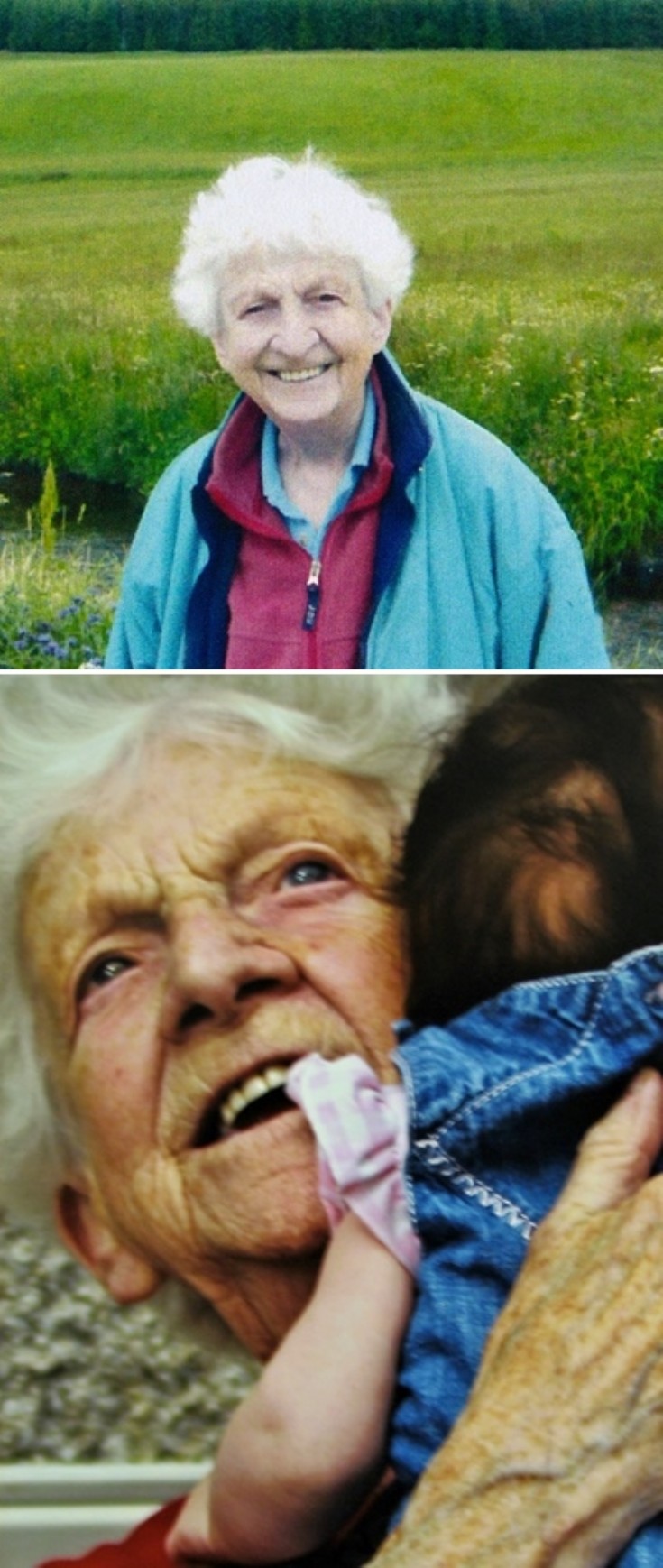 The Glenbuchat Image Library
190 Marjorie Craig 1917 - 2015Marjorie Craig 1917 - 2015Marjorie Simmonds CRAIG (nee Bain)
aged 98, formerly of Aberdeen but who had lived in Glenbuchat for 40 years, passed away in the early hours on Tuesday, May 12th 2015
She had lived at
Altnacraig Cottage
for 40 years. Below is a tribute prepared by her family and read out at her Funeral at Tullynessle Church on 18th May 2015
Marjorie Craig
1917- 2015
A Tribute from her Family
Marjorie was born in Kirkcudbright on the 1st of April 1917, the youngest daughter to George Bain, a post master, and her mother Margaret McKenzie. She had a brother, Duncan and two older sisters, Dorothy and Elise. Because of her father's job, the family moved around firstly to Huntly and then to Dingwall. It was here, when she was only 9 that, following a routine operation, her father suddenly died and the family found themselves both without a father and without a home. Her mother (our grannie), a strong willed matriarchal woman moved the family to Aberdeen and after a short spell near Ashley Road where our mum went to Primary School, the family moved into the house in Victoria Street which was also the home of her Uncle Duncan and his sister Bessie.
The following years Marjorie flourished. She was the dux at School, went to Aberdeen Academy ultimately going to Aberdeen University to be one of the few women of her day to study medicine. She was also quite sporty and played for the school, University and North of Scotland hockey teams. She went hill-walking with her friend Margaret and her sisters but maintained her fashion style by wearing short skirt and socks even up Cairngorm when it was still covered in snow! She really adored her Uncle Duncan and his black Labrador called Mac and they often went for walks and went fishing together. She used to describe her Uncle as a perfect gentleman. She must have been a bit of a beauty because she even had her portrait painted by one of her Uncle's friends and it has hung in her bedroom to this day.
Well the war came and she graduated and practised as a GP at Auchinloch near Glasgow where she went down a coalmine. She also did a locum for her cousin Winifred at Didcot. However when she was a bridesmaid at her friend Margaret's wedding she met the best man Ronald who must have been the best man at the time because after the war in 1947 they got married. They lived together for a couple of years in the top floor of the house in Victoria Street along with their first child Marjorie until they moved into their own home in Blenheim Place, Aberdeen which would be the family home for over 25 years.
It was here that mum really developed the skills and attributes that would become so much her hallmark for the rest of her life: a wife and companion to our lawyer father, a mother to us her 5 children, a gardener, avid reader, crossword solver, house planner, house builder, joiner and painter and all with patience, perseverance and a great sense of humour.
Our house for many years would have a missing strip of wall-paper in a spot where she would like a section of wall removed. If our dad did not agree it would remain for several months after which time she would have created a small hole through the wall and our dad would then have the necessary alterations done. This happened to at least 6 different walls. In addition she helped in the digging and building of a pool 14 feet long, 6 feet wide and 3ft 6 deep for us to play and swim. It was probably a way of toughening us up as the water felt barely over freezing. However in case that was not enough to stave off winter colds she used to continue to practise her medical skills by giving us a course of 6 flu injections. It ended more like a game of catch me if you can and thankfully she only did it for 1 year. After that she just resorted to Halibut liver oil tablets for us all.
The importance of education was always uppermost. When we were young, she would sit down with each one of us and go over our spellings and reading and like many parents used bribery to encourage us to do our best. The reward was our personal choice of bun from the bakers van and we couldn't wait to open the bag arriving filled with cream, walnut and cinnamon buns, and always a coconut bun for Ronald.
She encouraged us to share in her passion for reading and was a regular visitor to the second-hand book shop. Our home was soon filled with shelves of books of all sorts which evoke fond memories every time we pick one up or browse through them.
She was always busy, ran everywhere, and never seemed to sit for long and there was always a dog. We would often pile into the car and go for runs to Banchory for an ice cream or for picnics by a stream. One of the favourite spots was here in Tullynessle by the ford and many a weekend would find us paddling in the stream fishing for sticklebacks while she prepared the picnic and tea on a small calor gas stove.
By the early 1970s many of us had left home and our mum and dad bought an old but and ben named Altnacraig in Glenbuchat. She designed its renovation making the most of every nook and cranny and following the rebuild, our parents spent more and more time there. Our mum and her sister Dorothy would spend hours in the garden and the flower show in the summer was a sight to behold. She built a pond which has ever since been the meeting place for hundreds of frogs and the nursery for thousands of tadpoles. She laid the patio slabs and placed chalets and seats in the best positions to get the views of the surrounding garden, hills and the stream. However, not having any walls in the house to open up, she was forever trying better placements for the sheds and surrounding patios. Though our father passed away 24 years ago, mum, even well into her eighties, would be out with a spade, lifting and repositioning the 2 by 2 concrete slabs and moving a chalet inch by inch for several days until she was satisfied with its new location. She would have put many a navvie to shame especially as she had a quite diminutive stature.
She seldom travelled far but in 1995, at the age of 78, took one of very few trips abroad, to visit Duncan who was working in Chicago. There she fulfilled one of her dreams to go out in a speed boat. Age to her never got in the way of fun.
Glenbuchat is a wonderful place and we all had many happy times with our children (our mum's 9 grandchildren) and their children (she has 12 great grandchildren) playing in the stream or in the garden and in the evenings we would have dinner, listen to music or do crosswords with her. We also had wonderful parties when many of you here today would visit and join us in celebration of a special birthday or anniversary.
For over 40 years, Glenbuchat was truly her home, the door was always open, and she had a welcome for everyone who came passing. In 2006, she felt very honoured to be photographed as the oldest resident in the glen with the youngest resident.
However age does not come alone and 7 years ago she lost much of her sight. She managed on her own, but her good neighbour George continued to pop in for a cup of tea and a chat and do the odd task that she was finding herself less able to do. His passing earlier this year was a great sadness and loss for her and us all. But her declining health really took its toll and she became unable to remain independent or do the things she loved. Her pets were a real comfort and the 24 care she got from Marjorie, Norman and Lorna provided her the helping hands and companionship through the following years of waiting.
And now her waiting is over. We and our mum would like to thank everyone for their friendship and support over the years, Dr Fitton for her regular attention and especially the carers who have visited every day for several years providing relief and help and been like one of the family.
When asked how she was our mum's response was always "can't complain. You know …. I have a wonderful family"
We had a wonderful mum and she was and is an inspiration to us all. We will miss her.
Picture added on 04 June 2015 at 15:31
This picture is in the following groups
people