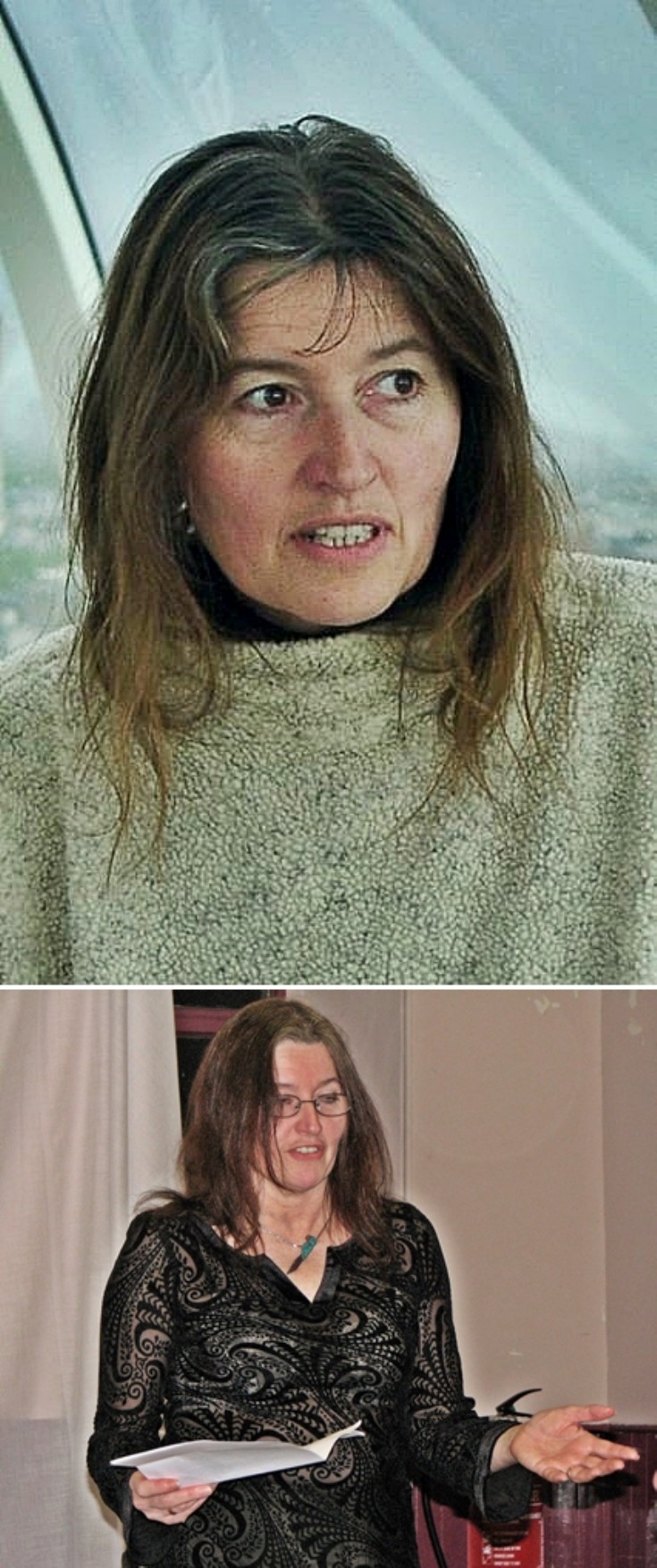 The Glenbuchat Image Library
185 Jan Wells Auld Kirkhouse GlenbuchatJan Wells.
Jan Wells, who lived at the Old Kirkhouse Glenbuchat with her husband Mike Gray, died on 5th August 2014 after a long illness.
Photo above of Jan and below that when she was giving the 'Response from The Ladies' at a Glenbuchat Burns supper
The following is an appreciation of Jan's life based on the eulogy given at her funeral.
"Jan was born Janet Heather Tottenham, in Brighton on the 29th of December 1952. Her father Albert died while she was young and her mother Queenie brought Jan up alone until she remarried, to Gym Mayfield. Her stepfather Gym became a huge part of Jan's life.
Jan attended Hove County Grammar School for Girls, where she proved a good student; as well as being academically outstanding she became a team leader and ultimately Head Girl. She was talented in art and design, not surprisingly, as her family had artistic traditions, and she also had ambitions to become a nurse. In fact, Jan was never able to choose between those two, and she kept up her artwork alongside a successful nursing career. Her main artistic achievements were in pottery and sculpture.
Jan trained as a nurse in Brighton and after several years, in 1977, was named "Nurse of the Year", with her face on billboards all over Brighton. She loved spending her off-duty time with friends and family and loved Brighton's famous beach.
In 1973 Jan married Peter Wells. It was a short-lived marriage, but left Jan a valuable legacy, her daughter Sam. Jan then fell in love with Mike Gray, and they married.
Jan was inclined to keep her surname of Wells, but sometimes did deign to be called Gray - it has become a bit of a running joke between Mike and Jan, and their families, over the years.
Jan and Sam moved from Brighton to Scotland to be with Mike, but not before Jan had added a first class degree in design from Brighton University, to accompany her nursing qualification. She could never choose between nursing and art, so pursued both talents!
Some will have fond memories of Jan and Mike from their days in Midmar. While at Midmar, Jan added a son, Adam, to the family, joining her daughter Sam, and Mike's sons Mike and Paul. Later, the family moved to Glenbuchat, which has remained the family home to this day.
During her time in the North-East of Scotland, Jan stepped a wee bit sideways from nursing into social work; she did more studying at RGU and the Northern College. Whilst working for the VSA (Voluntary Service Aberdeen) Jan opened the Princess Anne Royal Trust Care Centre, which she managed for many years.
Both in Midmar and later in Glenbuchat, Jan liked to be sociable and became an active part of the local community - she was always in the middle of planned events, whether it was Easter egg hunts, roller skating nights, fancy dress parties – you name it! She had a wide circle of friends and liked to be kept busy.
In her younger years Jan liked to play squash. She loved walking, particularly in the Glen; she found a passion for sailing and loved pottering about in her garden. Holidays with family and friends were treasured and many will have memories of good times together.
Jan has been described by her family as having been very independent, strong-minded and stubborn – thrawn, even! She also had a strong sense of justice and was always ready to help others.
There were many high points in Jan's life, no doubt most of all meeting Mike and his sons, the births of Sam and Adam and grandson Ollie; but also being on a Scottish Parliament panel, meeting Princess Anne, meeting The Queen in Buckingham Palace, appearing on radio and TV. (Not forgetting being on all those billboards as Nurse of the Year!)
Life was good for Jan and her family. Then, six years ago, while she was still only in her mid-fifties, Jan began to show signs that all was not well with her and she had to give up work, although she was still able to keep on with her art work. About the same time that her grandson Ollie was born, she was diagnosed with Alzheimer's disease. Mike cared for her devotedly for five years, but eventually the illness reached the stage where she had to go into hospital. She died peacefully with her family present.
Jan was well-known and well-loved by so many. She was a great neighbour and a great friend. She helped many people, both through her work, and in her personal life. Jan is gone, but she not forgotten! "
The following is a transcription of Jan's reply from the ladies at the last Burns Super in Glenbuchat in 2008. It reflects her personality and sense of humour.
BURNS NIGHT 2008 – Response from The Ladies
"Thank you for the invitation, and the opportunity to feel like wonder woman, as I stand here wondering why on earth I agreed to respond to the erudite speaker on his views of the ladies, AKA the opposite sex.
It is clear that most study of Burns work is undertaken at this time of year. One such male seeker of knowledge from these parts visited the main library in Aberdeen recently. He strode up to the librarian in reception and said 'Robbie Burns, the complete works'. The receptionist looked round the library which was in complete silence as she turned to whisper in his ear 'The massage parlour is next door!'
On a more serious note I hope to bring a balanced view to the ongoing debate of difference and harmony between men and women, mostly using historical, hysterical and pseudo-scientific theories.
It was in the 18th century when scientists proved that opposites attract – at approximately the same time that Rabbie had discovered this personally, and had begun to write his timeless poetry in praise of the lassies.
Although I was born in Brighton (because my mother was there at the time) I moved to Scotland a long time ago where I found myself in the company of a very special brew AKA Homo Sapiens Scotticus Tartanus.
This species demonstrated defining behaviour and were not difficult to observe, particularly after a few malt whiskies. They demonstrated an allegiance to the clan, with certain characteristics.
These included the following:
A faraway look in their eyes when watching any sporting programme, and complete attention for football or rugby matches, with ear-splitting cheers or non-pc comments as and when required. I was also aware of the vital role of the woman of the house in this situation in translating the torrent of syllables to the children. This was clearly the traditional female responsibility.
Smiling and complete silence is evidenced when the seductive sound of malt whisky or cold beer pouring into oversize glasses is heard in TV adverts. This is the first level of appreciation.
To witness the second level Clan Cheshire Cat Grin Syndrome requires half-clad female dancers as the brew pours. (Think Ricky Martin and his Mambo dancers). Finally, a tear in the eye will appear if bagpipes are played.
On holiday at this time of year in exotic places there is likelihood for this species to fantasise – about butteries, haggis neeps and tatties!
A female can easily spot Scotticus Tartanus specimens whilst on holiday by the ever-present socks, particularly on sandy beaches.
If you wish to take this categorisation further many other types are easily identified, including the Scotticus Agriculturalis – often seen hereabouts in the glen.
A wide range of male social types exist in each species, e.g. 'The life and soul of the party'. This state is often due to a female taking two hours to persuade him to go out, and another two to persuade him to go home again at 4am, whilst being called a spoilsport.
Older males' general behaviour has become internationally famous through TV programmes, for example Still Game, One Foot in the Grave, and Rab C Nesbit.
Over recent years there have been many changes in male and female roles, lifestyle and work. For both, the advent of I.T.; computers are everywhere, in a variety of shapes and sizes – just like our men. We now have access at home and at work to laptops (not dancers….) and palm-sized blackberries (not the edible kind). A version for pensioners is being designed by Bill Gates, so watch out for the launch of the Elderberry!
Information Technology tries to meet the needs of all, male and female, equally. Some see it as 'electronic tagging', others enjoy the opportunity to seek, and sometimes find, information 24/7. This includes sites for almost anything including relationship issues based on computer technology. Here are some I found earlier to advise the lassies:
Five IT programming tips for women re: male functions
• In some cases, Husband 1.0 is often initially programmed to run as few programmes as possible.
• Any new programme files can only be installed once a year due to limited memory.
• Husband 1.1 disables existing programmes if there is a change to time of any sporting programmes.
• If possible, remove Clutterware 4.5 to avoid disharmony and disorder.
• In crisis, use Self Help – Chocolate 100% cocoa.
Five things for you to remember, chaps
• IT was seen as a male dominated tool, but much has changed. Two women set up a website called 'Moan about Men' in 2007, which was inundated by users. It was so successful that they set up a sister site, 'Moan about Women', which is less used. Go surfing chaps!
• There is equality; both Grumpy Old Men and Grumpy Old Women shows were a hit with viewers. It told the world that both men and women had the potential for negativity and were equally able to complain about the noise, even when opportunity was knocking on their door!
• Victor Hugo, philosopher and author, often wrote of communication issues between the sexes, and recommends that when a woman is speaking to you; listen to what she says with her eyes.
• Remember the poetry of Burns, and avoid finding yourself in the end of the first verse of Tam O'Shanter and be faced with your beloved nursing her wrath to keep it warm!
• Behind every successful man is a very surprised woman.
The bard himself oft said that he admired the creator's workmanship; the following words express this theme:
Auld Nature swears the lovely dears
Her noblest work she classes
Her prentice hand she tried on Man
And then she made the Lassies.
Last but not least, in the words of John Dryden
….As for women though ye scorn and flout them, you may live with, but cannot live without them."
Jan Wells 2008
Picture added on 18 May 2015 at 18:36
This picture is in the following groups
people