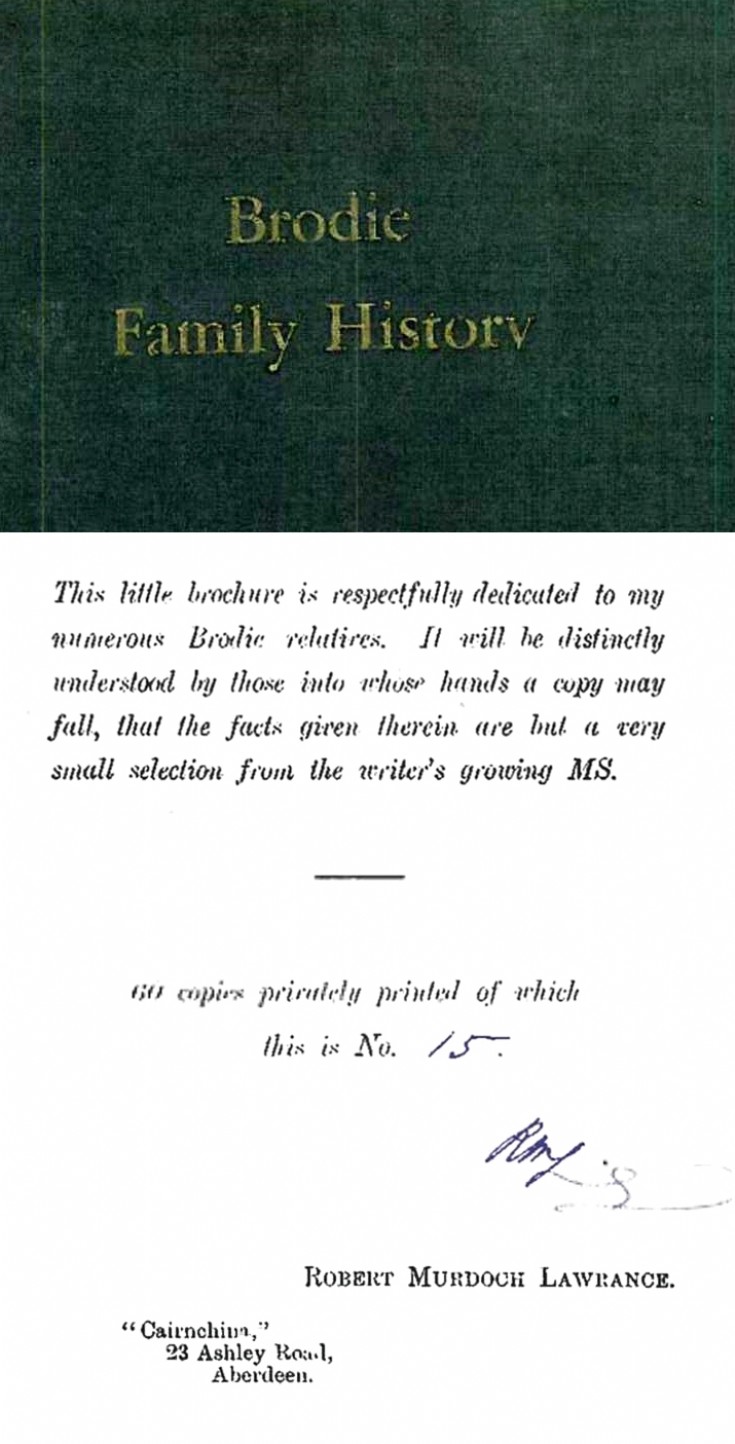 The Glenbuchat Image Library
181 Brodie Family History
The following is a copy of a small booklet about the Brodie Family kindly contributed by Hilary Brodie, a member of the Brodie Clan. The book was written by Robert Murdoch Lawrence a member of the family about 100 years ago probably about 1914
It outlines the past history of the Brodie Clan with special mention of the Glenbuchat connection.
Click to
Search on 'Brodie'
for more details and pictures of Brodies in Glenbuchat
BRODIE FAMILY HISTORY.
The genealogy of the Brodie family from Malcolm, Thane of Brodie, temp. Alexander III. A.D. 1249-S5 to the year 1862, compiled from various documents and competent authorities, was privately published by the late Mr. William Brodie, Eastbourne, Sussex, in 1862. It would be tedious so detail here the descents of the senior line, as they are well known by our northern genealogists. Of the cadet: families the ease is different, their pedigrees being rarely investigated with assiduity, and thus many valuable records are completely lost and irrecoverable. To preserve in the chaste columns of this monthly periodical brief particulars of some descendants of Alexander Brodie, 12th laird of Brodie, and relative information concerning Alexander Brodie of that Ilk and the Burn (1748-1818) and of his soil-in-law's marriage and death; poem on; the marriage of Alexander Brodie, Lord Lyon, King of Arms, who was 19th Laird of Brodie; also a stirring poem "The Brodie and the Gordon," both written more than a century ago; and other notes, has long been the object of the writer, who is one of the descendants of the Glenbuchat, Aberdeenshire, branch of the family, of whom special reference will be found on another page.
ORIGIN OF THE NAME.
The ancient, and honourable name of Brodie is territorial, and was assumed by an remote ancestor from his patrimonial barony of Brodie in Elgin shire, so early as surnames began to he used in Scotland. Brothie in Gaelic, signifying a mire, or trench, or ditch, or miry rivulet, and that which of old, ran between the village of Dyke, seems to have given the locality and barony the name of Brothie, or Brodie. There is one feature in the history of the family of Brodie of that Ilk, to wit - that no history, record, or tradition, does so much as mention any other name or family that ever were in possession of the barony of Brodie, but the Brodies, or that the family came from any other country. It follows, therefore, that the sept is a branch of the ancient native legal tribes of Moirrevians, who get their lands confirmed to them by King Malcolm IV.* when he supplanted the Murrey or Moray rebels, AD 1160 and consequently that the family of Brodie has possessed the same barony for several centuries. The family has intermarried frequently with many ancient, illustrious and powerful families in the county.
* "He began to reign 1153, hut having at delicate constitution, it soon gave way, the young king dying 9th December 1165, at the early age of 24. He was succeeded by his brother William, surnamed the Lion, a title which points lo the introduction of the science of heraldry"
PUBLISHED RECORDS
These are far from numerous as the accompanying list shews :—
(I) The Diary of Brodie of Brodie, Senator of the College of Justice. Svo. Edinburgh: printed by T. Lumsden and J. Robertson and sold by Booksellers in London, Edinburgh, and Aberdeen. Edinburgh, 1740.
(2) Extracts from the Diary of Alexander Brodie of Brodie, and of his son, James Brodie of Brodie, AD. 1652-1635. Edited by David Laing, Signet Library, Edinburgh, for the Spalding Club, 1863. This club was inaugurated in Aberdeen, 1839.
(3) Extracts from the 'Diaries of Alexander Brodie of Maine (1671-1676). Compiled by Dr. William Cramond, schoolmaster, Cullen. 24 pp Elgin: Printed at the Cournand and Courier office, 1903.
(4) Lord Brodie: His Life and Times, 1617- 1680. With continuation to the Revolution By George Bain, author of "History of Nairnshire." Nairn: Telegraph Office, 1904; xiii and 194 pp. demy 8vo; with photograph of Brodie Sculptured Stone, and Brodie Castle. The object of this publication was to present in fuller outline than has hitherto been done, a sketch of the life and character of a prominent man in one of the most interesting periods of Scottish history. No portrait of Alexander Brodie of Brodie is known to exist.
ALEXANDER BRODIE
of that Ilk and the Burn (1748 1818) some- time M.P. for Elgin, purchased Arnhall, Kincardineshire, from Sir David Carnegie, in 1796; and, after the demise of Lord Adam Gordon, in 180, he added the adjoining lands of the Burn, and continued the improvements so spiritedly begun by his illustrious and gallant predecessor, who in less than a score of years, "created a desert into an arcadian grove." Mr. Brodie left an only child and heiress Elizabeth Brodie (1794-1664) who married at Bath, 11th December, 1813, without issue, George, 5th and last Duke of Gordon (1770-1836) whose graceful granite monument erected in the Castlegate of Aberdeen is an example of the artistic uses to which the native stone can be put. When Marquis of Huntly, he was the first colonel of the Gordon Highlanders, alter his mother, the gay Duchess, had with her money and kisses raised the regiment. The Duke sold Arnhall and the Burn to John Shand of Demerara, in 1814. The arms on the Burn House are described by Mr. David MacGregor Peter in his now extremely rare book " The Baronage of Angus and Mearns" (1856) as follows :—Argent, e. chevron gules, between three mullets, azure; Crest--a dexter hand holding a sheaf of arrows, proper; Motto- "Unite " ; and the tartan thus—l2 red, 1 white, 1 black, 3 red, 1 blue, 1/4 yellow, -1/4 red, 1 blue, 3 red, 1 black, 1 blue, 1 white. Specimen plates of the Brodie tartan settings, both dress and hunting, are very faithfully reproduced in the elegant book published 1906 by Messrs. W. & A. K. Johnston, Lt. Edinburgh, entitled the "Tartans of the Clans and Septs of Scotland" An anonymous poet contributed the undernoted poem to the Aberdeen Journal, 22ml December, 1813, on the marriage of Miss Elizabeth Brodie, and George, 5th and last Duke of Gordon. It is entitled|:
THE BRODIE AN THE GORDON
"Tune your fiddles, tune them sweetly,
Play the Marquis Reel discreetly,
Here we are a band completely
Ftted to be jolly."
Rev. John Skinner
Wi' loud hurrahs now rings the Burn,
Au' widely winds the bugle horn:
They hail the welcome-wish'd return,
O' Brodie an' her Gordon.
The rocks, an' woods, an' glens O' Esk
Resound the shouts ; an' there fu' brisk
The kelpies prance, and fairies frisk,
For Brodie an' her Gordon.
The rocks an' woods, &c
But yont at Huntly's Lodge arise
The cheering sounds that ren' the skies,
Frae that the gratefu' message flies,
That Brodie weds the Gordon.
Gae heese the flag abeen the tower;
Proclaim around the happy hour,
May Heav'n its richest Blessings show'r
On Brodie and her Gordon.
Through a' the Enzie run an' ride.
The lovely Brodie is the bride,
(A lady o our country side),
Shall bless the noble Gordon.
Whar Isla and the Bogie rin,
Whar speedfu' rows the Deverine;
Cry, louder than the roaring linn.
"Fair Brodie weds the Gordon."
Whar Isle, &c
Flee up the hurling Spey wi' speed,
'Through Morayland, through Inverness,
'Through Badenoch, quickly onward press:
An' tell ye aye-nor mair nor lass—
Fair Brodie weds the Gordon.
Through Morayland, &c.
And now the flunkies run and ride,
As frae a bow the arrows glide,
The news they spread, baith far an' wide-
That Brodie weds the Gordon.
In Cothouse, Ha', and Borrowstown,
There's naething now but merry soun'
O' music an' o mirth, a' roun', '
'Cause Brodie weds the Gordon.
In Cothouse, Ha', &c.
Frau Abertarf to Aberdeen,
Frae Tarbetness to baul' Month-Kean,
Stark gladness dances i' their ecu,
For Brodie weds the Gordon.
An' on their Sunday's claes they fling,
An' cags o' whisky out they bring;
For they maun drink, an' dance, and sing,-
Sin' Brodie weds the Gordon.
An' on their Sunday's claes &c
Now Bonaparte cunger'd fair,
The King our brave Black Watch will spare,
An' sen' them North to share,
Wi Brodie an' their Gordon.
'Their hardships a' sall be forgot,
Au' Peace an' Plenty be their lot,
The Tyrants fa'en! -His native spot,
Now claims the Noble Gordon
Their hardships a', &c
Last douff an' dowie thoughts gale dreel;
Frae dearth an' scant we'll now get biel;
Strike up the Marquis merry reel,
Or Brodie weds the Gordon.
Rise, lassies, rise, fu' trig and braw,
Come, Norland lads your fealty shaw,
Au' dance till ye be like to fa',
Fair Brodie weds the Gordon.
Rise, lassies, rise, &c
An' Pipers, gar your chanters chime:
Gay blithesome teens, an' wiel in time:
To mar our mirth would be a crime,
When Brodie weds the Gordon.
Oh! that auld Scotland's noble race,
To mix wi' foreign folks would cease;
An' aye themsels an' country grace,
Like Brodie an' the Gordon.
Oh! that auld Scotland's noble race, &c
The Duke died at 34 Belgrave Square, London, 28th May, 1836. Mr. David Macgregor Peter thus tells the story of the funeral- "On Monday, 5th June, the mortal remains of George Gordon, fifth and last Duke of Gordon, were landed at Speymouth, from London, under an escort chosen from the 3rd or Scots Fusilier Guards, of which regiment he was Colonel. This escort, six Colour-Sergeants, were all Scotsmen, selected by his amiable and sorrowing Duchess-Dowager. The body was carried to "bonnie Castle Gordon," and there lay in state on Thursday the 9th. (The outer coffin was covered with crimson cloth, studded with gold tacks, with a. gold plate on the lid, containing an engraving of his arms, name and titles, &c. ; and had gold handles.) On Friday the 10th J one, his Grace's remains were interred in St. Mary's aisle of the Old Cathedral of Elgin. (The hearse made for the solemn occasion, was elaborately emblazoned with his arms; and plumed on the canopy with vast waving plumes of black ostrich feathers, and drawn by six black entire Arabian horses, with long tails, draped with black cloth, and their heads adorned with black ostrich plumes. The hearse and procession were preceded by six "saulies." in pairs, mounted on black steeds, with curiously plaited crapes around their hats and hanging clown their hacks—-each pair a distance of about a mile in advance of the next.) The funeral was attended with all the honours which his high rank, and chivalrous character demanded, amid the sorrow and regret which his worth and benevolence so justly called forth.
"How sound he sleeps I his battles o'er,
Life's fitful fever pass'd away,
'While sounds of war are heard no more,
And trump and drain are mute for aye."
He, the last lineal representative of his illustrious and noble house, for hundreds of years, now slumbers with his brave progenitors in the family vault, and another Duke of Gordon will not, alas! share the last silent mansion - house of the Chiefs of the Gordons. The lesson is well worth studying - it is far better than a thousand dry, heartless homilies!
"The towers must share the builder's doom:
Ruin is theirs—and his a tomb;
But better doom benignant heaven
To Faith and Charity has given,
And bids the Christian Hope sublime,
Transcend the bounds of Fate and Time"
Much interesting information on the illustrious Duke is contained in Mr. John Malcolm Bulloch's "Gay Gordons." In this volume appears a copy of the celebrated painting of the Duke, wearing his Gordon tartan hilt, by George Sanders (1774-1846), and his beautiful and accomplished wife, by William Wesscx (1781-1869) faithfully reproduced from the originals. The Duchess, it may be slated, was a deeply religious woman of very strong and marked evangelical tendencies, and founded the Gordon Schools at Huntly, Aberdeenshire.
12th LAIRD'S DESCENDANTS
Alexander Brodie, XII. Brodie of Brodie, came into possession of the lands in 1550, and died in the year 1583. He married first in 1553, Marjory Dunbar, daughter of Robert Dunbar of Durris, by whom he had a son David Brodie, afterwards XIII. Brodie of Brodie, who was born 1553, died I626, who married in 1584, Janet, the youngest sister of his step-mother, and daughter of John Hay, of Lochloy and Park, and had numerous descendants. In 1550 the XII Laird was declared a rebel, along with John Hey, son of the Laird of Park, and 125 others. This fact may possibly explain the fact of George Brodie, the second, but the oldest son of the second marriage - to which reference will be made again—coming into the possession of the property. The second marriage of the 12th Laird was in 1569 with Margaret Hay (died 1609) who was widow of Dunbar of Benagefield, and daughter of John Hay of Lochloy and Park, by Janet, daughter of William Sutherland of Duffus. Their issue was (1) George Brodie; (2) Henry Brodie; (3) John Brodie, the ancestor of the Brodies in Glenbuchat in Aberdeenshire, of whom afterwards; (4) Thomas Brodie; (5) Andrew Brodie; (6) Marjory Brodie; (7) Elspeth Brodie; (8) Janet Brodie; (9) Catherine Brodie; and (10) Margaret Brodie. An attempt was made by the second wife's relations to disinherit David in favour of her son George - but the attempt was unsuccessful, and right so. When the father was declared a rebel as lies been stated, George Brodie the eldest son of the second marriage was for some time in the possession of the property. By a Charter dated 29th May l596, the said George Brodie gave over the Domical lands of Brodie to his elder brother David, and he got them erected into the Barony of Brodie, 22nd July 1597.
John Brodie third son of Alexander Brodie, twelfth Laird of Brodie, by his second wife, Margaret Hay, was the ancestor of the Borides long located in the Upper Donside parish of Glenbuchat, Aberdeenshire. He was horn 1580, died 1660, married in 1616, Helen Mackenzie, and their issue consisted of (1) David; (2) John (1624-1680) " Honest John Brodie " mentioned in James Brodie's Diary, who married, 1652, Catherine Paterson, and had issue of whom afterwards; (3) Alexander; (4) Margaret ; (5) Janet; and (6) Agnes, who was probably the wife of James Mortimer, mentioned in the
Aberdeenshire Poll Book
1696.
"Honest" John Brodie, second son of Alexander Brodie and Helen Mackenzie, married, as stated, in 1652, Catherine Paterson, and had issue as follows : (1) Alastair Brodie(1666-1730), married about 1692, Jean Morris, with issue (mentioned in the Poll Book of Aberdeenshire 1696), who came to Glenbuchat parish with
John Gordon of Glenbuchat
(died 16th June, 1750, at the age of 77, whose name and fame, however, long lingered in Aberdeenshire, where the legend still goes that George II. sometimes would waken from his sleep in terror lest "de greet Glenbogget vas goming,") and was located at
Belnacraig
there; (2) William Brodie: (3) John Brodie, married Barbara Cumming: (4) David Brodie; (5) Margaret; Brodie: and (6) Catherine Brodie (Brodie MS.).
Alastair Brodie (1666-1730), son of John Brodie and Catherine Paterson, had by his wife -Jean Morris, whom he married about 1692, the following children :-(1) William Brodie (1693- 1776 who was married at Glenbuchat 13th July, 1738. to Joan Brebner, with issue. He was in Cottoun 1744-1751; in
Dalfrankie
, 1752- 1776, both places in Glenbuchat parish. As a great favourite of William Duff (created in I759
Viscount Macduff and Earl Fife
in peerage of Ireland, died I763), who purchased Glenbuchat 1737, it was his custom to give his lordship a glass of whisky to drink the health of his tenants, on the occasion of his yearly journey to Braemar. Having strong Jacobite leanings and sympathies, he was at once appointed a Sergeant of Horse in John Gordon of Glenbuchat's regiment. Gordon, it may be explained here, joined the Pretender's army soon after the Battle of Prestonpans, and is stated to have had under his command a numerous body of select gentlemen and private people. The Highland brooch worn by William Brodie, on the moor at Culloden, was long cherished by his descendants. In due course it came into the possession of the writer's grand-aunt,
Mary Ann Brodie or Gauld
(1828-1905) a native of Glenbuchat. To save the brooch from destruction, she, in 1888, presented it to Mr. Hugh Gordon Lumsden, laird of Clova, Lumsden, Aberdeenshire, to be placed in his private museum, where it may yet be seen (2) Alexander Brodie, and (3) John Brodie. One of these went south, the other fled the country to escape the vengeance of Anderson, the laird of Candacraig in the adjoining parish of Strathdon, and so nothing is known of their after careers. (4) Agnes Brodie and other daughters.
The family of 'William Brodie (1693-1776) by his wife, Joan Brebner above-mentioned, were as follows :--
(1) William Brodie, born at,
Cottoun
Glenbuchat, 24th April, 1744 (baptismal register. He married first, in 1779, Agness Anderson. She died lst. May, 17S3, in the 38th year of her age, and was buried in Glenbuchat Churchyard. Married secondly, 20th October, 1783, Janet or Jean Gauld, who died 7th April, 1798, aged 55, and was buried in the same burying-ground She was at daughter of John Gauld, sometime a highly successful farmer of Netherton, Glenbuchat, who died 6th February, 1802, aged 91, and his wife, Elizabeth Gracie, who died 12th March, 1786, aged 55, both being buried at
Glenbuchat Churchyard,
where there are three auld family memorials.
William Brodie,
who farmed
Belnaglack,
Glenbuchat, from at least 1785 till his death, which took place there 10th October, 1802, was also buried at Glenbuchat Churchyard where there is a. tombstone erected to his memory. There were issue of both marriages, but it is not the writer's intention to enumerate the descendants meantime, as their history is too recent and may not prove of general interest.
(2) Alexander Brodie, horn at Dalfrankie, Glenbuchat, 29th January, 1752 (Baptismal Register); and
(3) John Brodie, horn at Dalfrankie, Glenbuchat, about 1753. The information we have of these brothers is to the effect that they went to Newcastle and started a pottery business, but the writer conjectures that they joined as partners in a going concern. It is known that they were in frequent correspondence with their nephews down to 1830. By that time they were old men and had little interest in their native glen. Probably, some Brodie families now residing on Tyneside are descendants of these brothers.
(4) David Brodie, born at Dalfrankie, Glenbuchat, 26:11 January I755 (Ibid.)
(5) Agnes Brodie, born at Glenbuchat, who married 26th December, 1769, William Provost (Marriage Register),. Her husband appears to have died previous to 16th October, 1773, as on that date her father, William Brodie, acted as sponsor to her child, who was baptised Adam Provost (Baptismal Register).
(6)Jeanie Brodie, born Glenbuchat, who was married, resided in the Parish, and had at least two children (Register).
WILLIAM BRODIE
William Brodie, engineer, Aberdeen, was the fourth son of
William Brodie
, farmer, ,
Backies
Glenbuchat (land steward and gamekeeper to the Duke of Fife), by his wife, Mary Reid, daughter of Archibald Reid, tenant of
Kirkton
, Glenbuchat, and grandson of William Brodie, farmer, Belnaglack, Glenbuchat (1744-1802), by his second wife, Janet or Jean Gauld (1743- l798), mentioned on page 14. He was born at Backies, Glenbuchat, 2nd July, 1825, and baptised 13th July later (Glenbuchat Baptismal Register). He came to Aberdeen 1840, and entered the employment of Messrs. Blaikie Brothers, Footdee Ironworks, as an apprentice draughtsman. His abilities were speedily recognised and he gradually made his way in the service until he occupied an important position in the firm. On the death of Mr. John Blaikie, he was assumed a partner in the firm. His connection with the firm, which lasted more than half a century, terminated about 1892. Messrs. Blaikie Brothers, founded by Provost Sir Thomas Blaikie, carried on a very extensive business, particularly in the manufacturing of sugar machinery, and in the interests of the firm Mr. William Brodie made two lengthened voyages abroad, spending a considerable time in the Mauritius. A few years previous to his death, which took place at 23 Ashley Road, Aberdeen, 17th July, 1900, he took a. trip to Johannesburg on a visit to his younger son, Dr. William Hampden Brodie, who, it may be recollected, was a prominent member of the Johannesburg Reform Committee, and was one of those who were tried and sentenced for complicity in the Jamieson Raid. Mr. Brodie was a Justice of the Peace and a Member of the incorporated Trades, Aberdeen. He was a welcome guest of the late President Paul Kruger, who, by the way, held a very high opinion of the Scottish race in general, and is once jokingly remarked to Mr. Brodie, when drinking coffee with him, that he wouldn't he at all surprised if he was a. descendant of their stock!
He married at Aberdeen, 20th May, 1852, by Rev. Samuel Grant, minister of Bon-Accord Church, Aberdeen, Elizabeth Ferrier Nicol Baillie, daughter of the late Thomas Baillie, contractor, in Inverness, before witnesses, Alexander Robertson, tailor, and John McRobbie, dyer, both in Aberdeen (St. Nicholas Marriage Register, Aberdeen). They had issue as follows: ---
(I) Charles Fraser Brodie, born at St. Nicholas Parish, Aberdeen, 1854, married 1882, Jessie Davidson, with issue. He was sometime partner in Messrs. Blaikie Brothers, Aberdeen. He was appointed 2nd Lieutenant in the 1st Volunteer Battalion Garrison Artillery, Aberdeen, 19th April, I831, lieutenant later, Captain 18th April, 1888, retired 21st June, 1890. He was a so one of the Honorary Members of the Aberdeen Mechanical Society, 1888- 1889.
(2) William Hampden Brodie born at St. Nicholas Parish, Aberdeen, l8th August, I855, died at Wenner House, Johannesburg, 12th May, 1909, of whom later.
(3) Louisa Mar Brodie, born at 74 Wales Street, Aberdeen, 22nd July, 1857, and registered 11th August, same year; died near Aberdeen, 11th July, l9l1, buried at St. Peter's Cemetery, Aberdeen, 12th July, I911. In early life she was extremely devoted to music and painting. Before I878 she wrote poetry, and the writer has preserved copies of " Venus De Medico," "The Skylark," "To Nora," "Ben-Avon," "Address to the Castle of Kildrummy," "Dedicated to Four Smart Ones," and' "Dedicated to Six Larking Ones."
(4) Alice Brodie, born at Aberdeen, March, 1859, died there 4th February 1860, and buried at St. Peter's Cemetery, Aberdeen. It may be added that Elizabeth Ferrier Nicol Baillie, died at Footdee Ironworks House, Aberdeen, 7th November, 1879, aged 52 and was buried at St. Peter's Cemetery, Aberdeen, where her husband is also buried. An oil painting, unsigned and undated, has been in the custody of his grandnephew- the writer of this brochure - since 1910. An inscription at the foot bears that it was "Presented to 'Wm. Brodie, Esq.,* by the clerks and foremen of Footdee Ironworks."
*His elder sister
Isabella Brodie - RobertMurdoch
(1821-1988) (I809-I839)
I
Mary Ann Murdoch - Captain Robert Scott Lawrence:
(I843) (1845-1885}
I
Robert Murdoch Lawrence,
only son born at Old Machar Parish, Aberdeen, 9th August 1879. He is the eldest grandson of the aforesaid Robert Murdoch, farmer, Glack of Migvie, Tarland
Dr. WILLIAM HAMPDEN BRODIE
Dr. William Hampden Brodie, 1855-1909, above-mentioned, was a medial gentleman well known on the Rand, where he was highly esteemed. He graduated M.B., C.M., at Aberdeen University, 1880, and M.D. two years later. He afterwards visited America, and subsequently proceeding to Johannesburg in the early days, he took an active part in the work of the Reform Committee, holing as he did strong sympathies with that movement. He served during the South African War as medical officer on the hospital ship, Lismore Castle, and No 6. General Hospital, Johannesburg. He had also been medical officer of the W.N.L.A., and of the Ferreira group of mines, and till recently had been acting as medical adviser to the Central Administration. The cause of death was pneumonia, with which Dr. Brodie was struck down only a few days before his death.
The Transvaal Leader, |referring to Dr. Brodie, says:—"He will he affectionately remembered by the many hundreds who had from him the benefit of the medical skill which a. winning and sympathetic personality made doubly helpful. Also as a member of the Reform Committee he wrote his name into the political records of his day. It was simply from a patriotic motive, and with the view of rendering what he felt to be his duty as a citizen, that he joined the Reformers. No man in Johannesburg could have been freer from hitter feeling against his fellow colonists belonging to the older population. Least of all had he any thought of calling in external force against the then Government. He remarked, indeed, to a friend of the present writer that he would never have associated himself with the Reform movement had he suspected there was to be a raid at the back of it. At the same time he felt like his co-Reformers, that the Johannesburg people would not continue to accept the status of out- landers without sacrifice of their self-respect. Nobody had a stouter heart for the risks of revolution, and when these risks matured he made light of his imprisonment as holiday he had needed for a good many years. His sane outlook on life, his cheerful humour and kindly temperament endeared him to a large circle who, through their sense of what they must miss themselves, are able to appreciate the greater loss which has fallen on his widow and children."
The funeral of Dr. Brodie, which took place to Bramfontein Cemetery, -Johannesburg, on Thursday, May 13th, 1909, was attended by a very large gathering of mourners, including many of the leading men of the community. Rev. Frank Collyer of the Congregational Church of which Dr. Brodie was an ardent member~—conducted the funeral service. Mr Collyer remarked on the sterling qualities of the deceased, whose life, he said, was an example to them all.
He married in 1882, Rachael Peterson, youngest daughter of the late Baillie William Paterson, Aberdeen, by his wife Rachael Wyllie, and had one son and two daughters. Baillie Paterson, wholesale and manufacturing chemist, Gallowgate, Aberdeen, entered the Town Council of Aberdeen 5th November, 1861, was elected a magistrate in 1864, and continued in office till his death in the summer of 1866.
ON THE MARRIAGE OF ALEXANDER BRODIE, LORD LYON, KING-A'I'-.ARM,
AND MRS. MARY SLEIGH.
When time was young, and innocence,
With tender love govern'd this round,
No mean design to give offence
To constancy and truth was found:
All free from fraud, upon the flowry sward,
Lovers carest, with fond and chaste regard
From easy labours of the day,
Each pair to leafy bowers retir'd:
Contentment kept them ever gay,
While kind connubial sweets conspir'd
With smiling quiet and balmy health thro' life
To make the happy husband and the wife.
Our modern wits, in wisdom less,
With spirits weak and wavering minds
Void of resolve, poorly confess,
They cannot relish ought binds:
Let libertines, of taste so wond'rous nice,
Despite to be confin'd in paradise.
While Brodie with his beauteous Sleigh,
On purest love can safely feast,
Quaff raptures from her sparkling eye,
And judge of heav'n within her breast
No dubious cloud to gloom upon her joy!
Possessing of what's good can never cloy.
Her beauty might for ever warm,
Altho' her soul were less divine
The brightness of her mind could charm,
Did less her graceful beauties shine;
But both united, with full force inspire
The warmest wish and the most lasting fire.
In your accomplished mate, young Thane,
Without reserve ye may rejoice;
The heav'ns your happiness sustain,
And all that think, admire your choice;
Around your treasure circling arms entwine,
Be all thy pleasures her's and her's be thine.
Rejoice, dear Mary, in thy youth,
The first of this brave ancient clan,
Whose soul delights in love and truth,
And view'd in every light a man,
To whom the fates, with lib'ral hand, have given
Good sense, true honour, and a temper even.
When love and reason thus unite
An equal pair in sacred Lies,
They in gain the bliss complete,
And approbation from from the skies:
Since you approve, kind heaven upon them pour
The best of blessings to their latest hour.
To you who rule above the sun!
To you who fly in fluid air,
We leave to finish what's begun,
Still to reward and watch the pair;
Thus for the Muse, who did an answer wait
And heard the gods name happiness their fate.
The foregoing poem by Allan Ramsay was contained in his "Poetical Works," vol. m., pp. 49-51, published at Edinburgh 1818. Alexander Brodie, whose marriage is thus highly commemorated by so distinguished a poet, was 19th Laird of Brodie. He was born 1697; died 1734: acted as Lord Lyon of Scotland, 1727-54. By his wife, born 1704, died 176$, who was a daughter of Major Sleigh, he had issue of whom the third son, Alexander Brodie, born 1740, died 1759, ultimately succeeded his father as the 20th Laird of Brodie. Surely his life was a very short one indeed!
MISCELLANEOUS RECORDS
The following Brodies were mode Burgesses of Guild of the City of Aberdeen before 1701, viz. : Alexander Brodie of that ilk, and Alexander Brodie of Lethen elected 16th March, 1635; Alexander Brodie, '37th April, 1642; Alexander Brodie, 28th June, 1649; James Brodie, merchant in London, 15th January 1687; John Brodie, Provost of Forres, 9th July, 1698; and Captain John Brodie, 22nd March, 1700 (Miscellany, New Spalding Club. vol. ii.) The Commissariat, Record of Aberdeen Register of Testaments, 1715-1500, furnishes the following names:--Lientenant Alexander Brodie, of H.M ship, "The Norfolk." there after residing in Old Aberdeen, 12th March, and 26th November, 1750; John Brodie, carpenter in Aberdeen, 130th February, 1754; John Brodie, ship master in Peterhead, 19th August, 1772; Jean Bagra, relics of John Brodie, late mason in Portsoy, 17th March, I791; and Alexander and John Brodie, both shipmasters in Peterhend, 18th May, 1753. The Poll Book of Aberdeenshire, 1696, already mentioned contains the names of 49 Brodies in the shire of which Breadie is :1 variation in Buchan parishes. A friend has made a synopsis of them, as follows: Presbytery of Aberdeen: Old Machar, 1 ; Presbytery of Alford, 3 : Tullynessle, I ; Kennethmont, 1; Glenbuchat, 2; Kinbattock, 7; Presbytery of Deer: Peterhead, 3; Deer, 1; Fraserburgh, 1; Presbytery of Ellen: Cruden, 13; Foveran, 2 ; Tarves, 1; Presbytery of Strathbogie: Dunbennan, 2; Ruthven, 1; Presbytery of Turriff: Drumblade, 3; Turriff, 6; and Monquhitter, 1-49 in all. From these representatives of over two centuries ago descend a large number now bearing the ancient surname.
SOME BRODIE MINISTERS
The following list of Brodies in the ministry is taken from Rev. William Ewing's Annals of the Free Church of Scotland, published by Messrs T. & T. Clark, Edinburgh, in 1914 :-
Brodie, James, M.A. Born in the parish of Fordoun, 1800. Studied at Aberdeen University. Ordained assistant and successor to Dr. Samuel Marlin, of Monimail. 1829. Married, 1830, Margaret Martin Signed the Act of Separation and Deed of Demission. Mr. Brodie was Clerk of the Free Church Synod of Fife for several years. Died 1878. Publications;—The Alphabet Explained, The Rational Creation; The Antiquity and Nature of Man, etc.
Brodie, James. Born, Dunkeld 1830. Lost his sight when three years old. Studied at the University and New College, Edinburgh. Ordained at Ormiston, 1875. Married, 1564, Jessie Tennent. Died, 1887.
Brodie, Neil. Born at Campbeltown, 1813. Studied at Glasow University. Ordained at Kilmarnock St. Andrew's, 1842. Signed the Act of Separation and Demission. Translated to Shandon, 1844 ; and to Pollokshaws, West, 1862. Became senior minister, 1832. Died, 1892.
BRODIE ARMS
By the aid of Sir James Balfour Paul's 'Ordinary of Arms', we are enabled to give a complete list of all bearing the name who registered their arms with the Lord Lyon King of Arms. They include the following-
Brodie of that ilk (1726-9): Arg. a chevron gu. between three mullets az.
Brodie of Idvies, Co. Forfar (1892): Arg. on a chevron gu. between three mullets a.z., a galley ppr., within a. bordure en railed of the second. [J. Sharp Callender Brdie, of Idvies, Forfar, was a subscriber to Rev. John Stirton's " Glamis, a Parish History " (1913)]
Sir Thomas Dawson Brodie of Idvies. Bart.,W.S. (I895): Avg. on a chevron gn. between 25 three mullets az., n galley, oars in action ppr., within a bordure engrailed of the second. Callendcr Brodie oi Idvies (1899): parted per bend or and a Six billets all counter-changed (2nd and 3rd quarters).
Callender Brodie of Idvies (I899): Arg. on a chevron gn. between three mullets az., a galley ppm, four oars in action, within a bordure engrailed of the second, ,1st and 4th quarters for Brodie of Idvies.
Brodie of Leithen (174-54): Arg. on a. chevron gn., between three mullets az, a galley ea.
Brodie of Mayne (1748-54): Arg. a chevron gn., three mullets az., a stag's head cabossed or.
Brodie of Mylntonn (1748-54): Arg. on a chevron gu. between three mullets a.z., £1 lion rampant of the first.
Brodie of Rosthorn (1748-I54): Avg. on a chevron gn. between three ullets az., n horse salient ppr.
Brodie of Spynie (1748-54): Arg. on a chevron gu. between three mullets az., the sun in his splendour or.
Captain David Brodie (I748-54): Arg. on a chevron gal. between three mullets a.z., an anchor ppr. or.
WILLIS AND BRODIE TOUR
At the commencement of this article we made reference to Brodie published records, but we now draw attention to a recent publication which does not appear to be well known, except to collectors of eighteenth century itineraries. Mr. R. L W(illis), rent or great-great grandson of Sir Richard Willis, secretary to King Charles the First, made a tour about the year 1790 from London to Elgin in company with Mr. Brodie, younger brother of Brodie of Brodie. The journal of this Tour, which makes interesting reading, seems to have been very carefully preserved by its subsequent owners. In 1897, Messrs. Thomson Brothers, the expert book- sellers of 74 George Street, Edinburgh, ventured publishing a very small edition of the Tour, limited to 250 copies, from the original manuscript. The worthy Laird of Brodie at the period of the Tour was undoubtedly James, the 21st holder of the title, born 1744, died 1824. He was Lord Lieutenant of the County of Nairn, and M.P. for the County of Moray, 1796; married 1767 with issue, Lady Margaret Duff, seventh daughter of William, 1st Earl of Fife. The name of the Laird's brother is not disclosed in the manuscript, and it leaves us in doubt whether it was Colonel George Brodie (1145-1312) sometime Governor of Fort Augustus, or Alexander Brodie of Arnhall and the Burn, Kincardineshire (1748-1818), whom we have already' made adequate and appropriate reference to.
THE CELT AND HIS ANCESTRY
Family pride is a pleasing weakness of the Scottish Celt, and he glories in being able to trace his descent from some great chieftain of historical or even mythical origin. Brand-new titles and great wealth, unaccompanied by good birth, have little or no glamour for him. On the other hand, he will never cease to reverence the head of his clan, however involved his finances may become. In his eyes a laird who cannot afford to live on the land of his fathers is a grander person than a mere millionaire.
GLENBUCHAT
The appended verses on the pretty parish of Glenbuchat, appeared in Bon-Accord of date 1st April 1909, and were greatly admired by those having connection with the parish. They were said to have been written by a well-known professional gentleman holding an important county appointment, who was too modest to publish or to subscribe his initials to his poetical effusion. To those who know the places and scenes mentioned the poem appeals very strongly indeed.
Glenbuchat is bonnie in spring,
The morning of the year,
When birds begin to mate and sing,
And buds and braid appear.
Glenbuchat in summer is fair,
When daisies deck the lea,
When broom and wild rose scent the air,
And lure the passing bee.
But Glenbuchat shows best, for best,
With hills in purple clad,
When fields are yellow to harvest,
And hearts of men are glad.
When winter with its mantle white
Hops vale and heath-clad hill,
With Nature's face close-veil'd from sight,
Fair is Glenbuchat still.
Yes, fair the glen where Buchat flows,
Whence deer browse at its source.
'Tw'een moors of grouse the riv'let goes,
Along its babbling course.
Past farm and mill it hurries on,
Past kirk and castle grey.
Till-as an eager bride—to Don
It gives itself away.
The hills stand guard now as of yore
Around the mountain bride-
Cairn-crown'd Ben Newe and Craigenschor
The monarchs on each side--
And form as rampart round the glen
Whose hearts and hearths are warm,
And Nature aye in stream and ben
Unfolds some novel charm.
Oft-times the morning's cheering light
And moontide's searching beam
Reveal fresh marvels of delight
In hillside and in stream.
And oft the sunset's rosy glow
And evening star's bright ray
Transform the scene and beauties show
All undisclosed by day.
And when at night the silver moon
Casts glamour all around,
Still other charms, unseen at noon,
In glen and ben abound.
THE LAST REPRESENTATIVE
It may be remarked that the last representative of the Brodies to remain in Glenbuchat parish was the late highly respected and esteemed
Mary Ann Brodie
(1828-1905), long widow of Jonathan Gould (1799-l876), farmer, Crofts, there. A splendid representative of the olden days, she took a great interest in everything appertaining to the ballads, songs, folk-lore, games, music, and traditions of Scotland, and was a very accomplished lady in many ways. Her demise was a great loss to the district. Of course, branches of the Clan still remain in Aberdeenshire, mainly connected with or engaged in farming, but like the Scottish race in general, a great number find lucrative employment abroad, and occupy positions of trust and responsibility in the Colonies and United States, and, like all true Scots' descendants, look towards the Motherland as Home, and rally round the flag as in days of yore.
ROBERT MURDOCH LAWRENCE
" Cairnchina,"
23 Ashley Road,
Aberdeen
Picture added on 04 February 2015 at 00:32
This picture is in the following groups
people