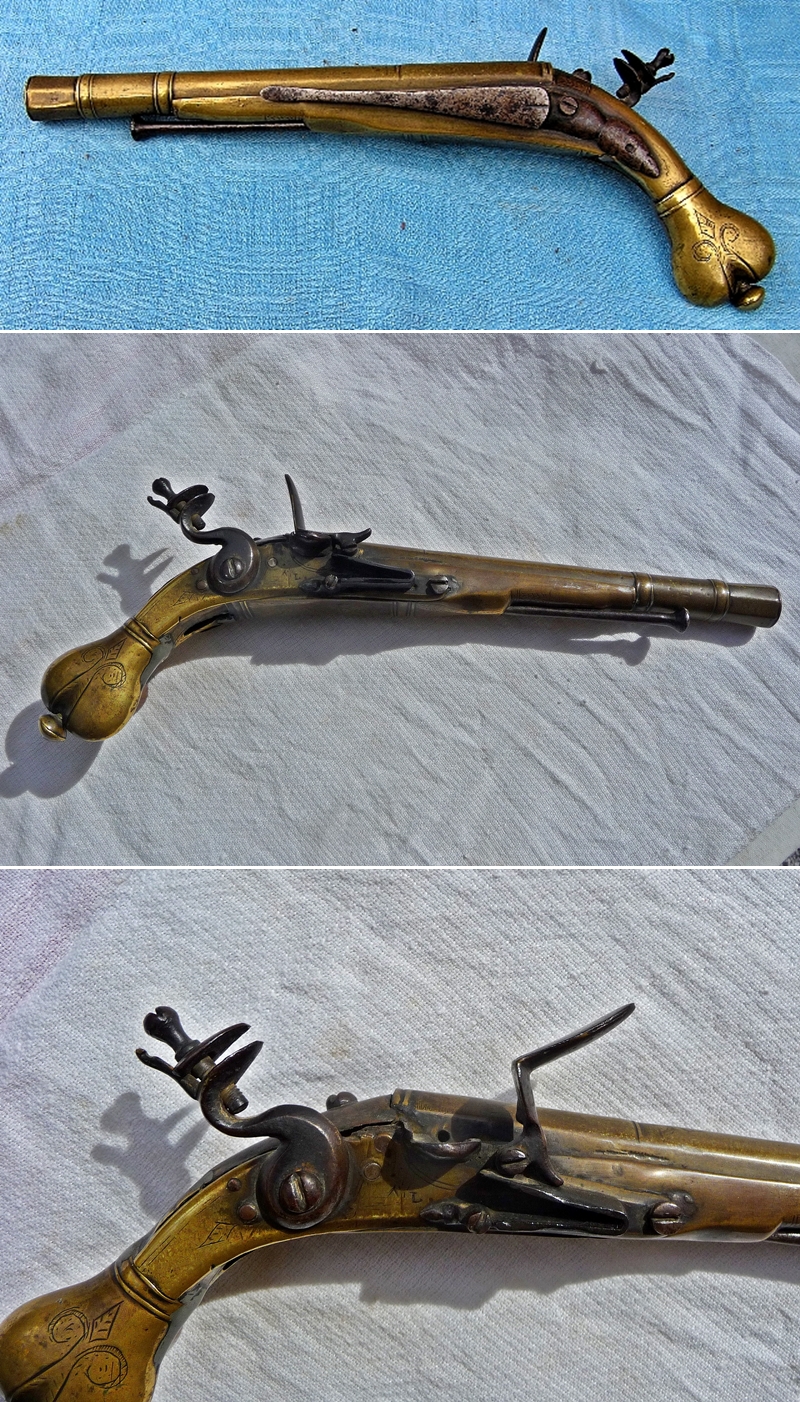 The Glenbuchat Image Library
168 Begg's PistolBeggs Pistol
The Photo above is of a pistol taken from
Begg's House
at Badenyon.
I am grateful to
Ian Begg
for the picture and permission to show it. Ian is a descendant of the Begg family.
The picture is of an antique Scottish Flint Lock pistol.
On initial inspection it seems to lack a trigger or trigger guard.
I am not a firearms expert but an internet search has brought to light the following interesting information.
'A much more distinctive weapon had been issued to Highland troops in about 1757.
Isaac Bissell and John Waters made the Scottish Pistols in Birmingham. Typical of other Scottish pistols they are of all metal construction and have a button trigger and no trigger guard.

They are fitted with an eight inch barrel and the metal stock ends in a decorative ram's horn. The Scottish Pistols are also equipped with a belt hook for attachment to the cross strap are often marked 'RHR' for Royal Highland Regiment.

There are some accounts of charging Highlander troops discharging their pistols at the enemy, hurling the empty pistols at their opponents' faces, and then laying on with the traditional basket hilt broad swords. Still many deemed the later, mass produced Scottish pistol an inferior weapon and its unpopularity led to its retirement in 1795.'
And from another source:
'Scottish pairs of pistols frequently had locks mounted on opposite sides. Both pistols and guns had button triggers without trigger guards, and pistols were fitted with long iron belt hooks along the side.'
From this it can be deduced that:
It is an all brass pistol
The trigger is missing but I wonder whether the ball in the centre of the heart shaped stock is in fact a trigger which is removed as a safety function
The flint lock mechanism is on the opposite side in the photo
On the side shown is the metal belt hook to clip the pistol on to the cross belts.
This would therefore appear possibly to be a military pistol of the late 1700's.
If there are any pistol experts out there, perhaps you would like to add some comments.
The next question is why was it in the Begg's House?
The residents of Glenbuchat were closely involved in the rebellion of 1745 but the pistol would appear to be dated after that. Perhaps one member of the family served in one of the highland regiments but this might be unlikely in view of the Glen's connection with the rebels. Whisky making was popular in the Glen and the last shoot out against the excise men took place in the ladder hills only a few miles away from Badenyon. Perhaps it was used in smuggling or to defend against smugglers.
A recent note from Ian Begg in an email states:
(Note. I have a brass Scots pistol said to have been picked up by John Begg on the field of Culloden)
View Large Version
Picture added on 09 July 2014 at 17:42
Comments: