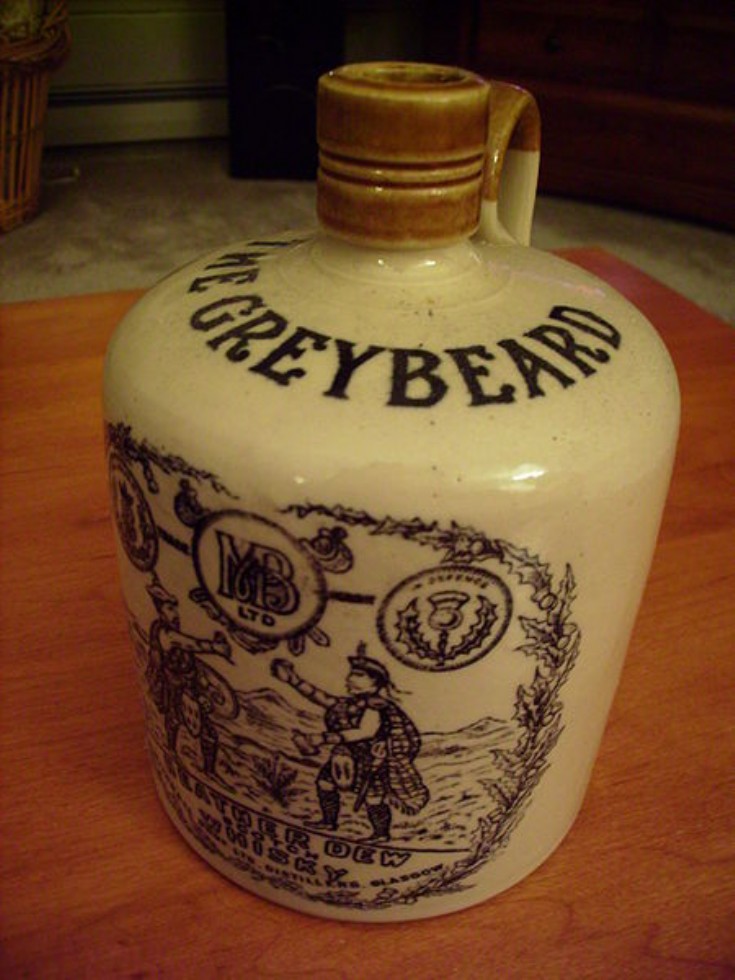 The Glenbuchat Image Library
19 Greybeard whisky bottleGreybeard whisky bottle.
A 'Grey Beard' is a stoneware drinking jug with a long neck; decorated with a caricature of Cardinal Bellarmine (17th century)
There is a report of a
Roadside
Inn ' in Glenbuchat in the early 1800's.
Mary Ann Kellas
who became Mrs Pirie, is reported to have said in an interview on her 90th birthday:
Her Grandfather, John Kellas, owned the roadside inn there, and also she'll tell you with a smile, "His own still which he kept in the hills. It must have been well hidden because he was never caught. Maybe that was because he always kept a stone greybeard of whisky for the gauger vein he called."
Glenbuchat was famed for the illicit distilling of whisky; Glenbucket whisky was reputed to be as good as Glenlivet over the hills. Glenlivet became legitimate and flourishes to this day, but the Glenbucket trade was stopped by the excisemen (gaugers). When they appeared in the district, the news was flashed through the glen and the 'worms' were hidden away, until one day (so the story goes), disguised as women, they surprised the distillers at work.
The first taxes on whisky production were imposed in 1644, causing a rise in illicit whisky distilling in the country. Around 1780, there were about 8 legal distilleries and 400 illegal ones. In 1823, Parliament eased restrictions on licensed distilleries with the "Excise Act", while at the same time making it harder for the illegal stills to operate, thereby ushering in the modern era of Scotch production.
Picture added on 10 September 2011 at 00:03