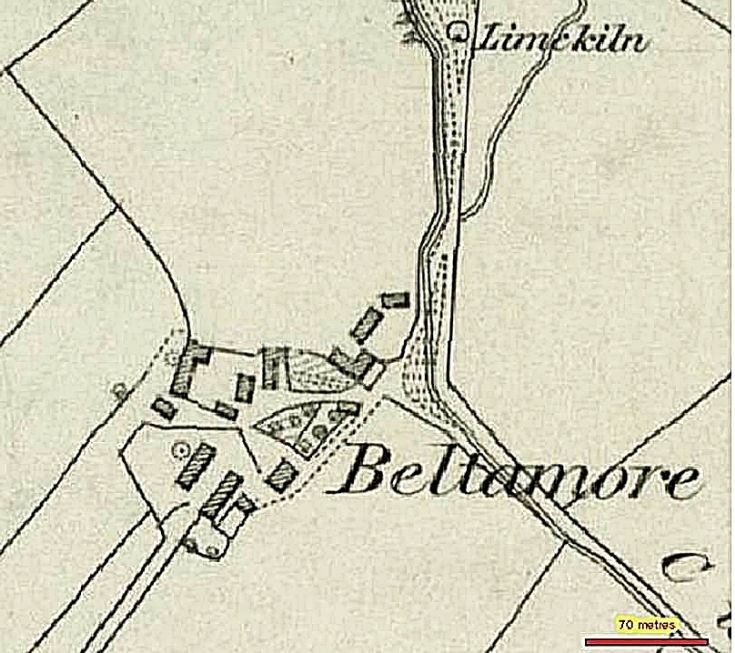 The Glenbuchat Image Library
89 Baltimore Farm 1850 map
Baltimore
Balitimore or Beltamore (for Baile Teach Mor). Town at the big house. Baile, town; Teach,house; mor, big.
Situated on an elevated position at the lower part of the Glen Baltimore has an excellent view of the entrance to the Glen and the Castle.
The fermtoun of Baltimore was the site of a number of houses as noted in the above map. In the 1851 census there were 23 people recorded living there.
It is now empty and derelict.
Click to see Baltimore today.
There is a two storey house and U shaped steading still standing. Inside the steading is a
threshing machine
built by Wright Brothers Portsoy. There is also some
writing on the machine
but not as much or as old as the writing at Badenyon.
Click for Aerial Photo of Baltimore farm 1696 Poll Book
BELTIMOIR.
James Strachan, tennent ther, and his wife £0 12 0
Gilbert Strachan, tennent ther, and his wife, generall poll 0 12 0
George Strachan, tennent and his wife, generall poll 0 12 0
Alexander Watson, tennent, andhis wife, generall poll 0 12 0
John Hay, tennent ther, and his wife, generall poll 0 12 0
Donald Igo, tennent ther, andhiswife, generall poll 0 12 0
William Igo, tennent ther, and his wife, generall poll 0 12 0
George Igo, tennent ther, and his wife, generall poll 0 12 0
John Deson, tennent ther, and his wife, generall poll 0 12 0
William Connan, tennent, and his wife, their generall poll 0 12 0
Total £6 0 0
1841 Census
Beltimore
Adam Reid 40 Mer.
Isabella do 20
Ann do 1
Jannet McGrigor 15 F.S.
Baltimore
William Ogg 55 Farmer
Mary do 55
Jean do 25
Charles do 25
George do 20
Margaret do 15
William do 3.
Alexander Bremner 10 M.S.
Baltimore
Archibald Reid 75 Farmer
Barbra do 75
Archibald do 35
Margaret do 35
Elizabeth Forbes 15 F.S.
Gordon Reid 31 M.S. y.
Alexander Allanach 12 M.S.
Baltimore
Jean Ogg 60 Ind.
Baltimore
William Provost 70 Pauper
Sarah do 65 Pauper y
1851 Census
17 Beltamore
William Ross Head Mar 30 Shoemaker (Master employing 1 App) do, do
Isabella Ross Wife Mar 34 Shoemaker's Wife do, Migvie
Robert Ross Son 6 Scholar do, do
Isabella Ross daur 4 do, Glenbucket
Robert Kellas Apprentice U 21 Shoemaker (App) do, do
18 Beltamore
Adam Reid Head Mar 50 Merchant (Clothier and Grocer) do, do
Beltamore
Mary Chree Wife Mar 21 Merchant's Wife Aberdeenshire, Glenbucket
Mary Ann Reid daur 1 do, do
Betty Barron Serv U 16 House Servant Banffshire, Tomantoul
19 Beltamore
Archibald Reid Head Mar 49 Farmer (of 31 Acres) employing 3 Lab Aberdeenshire, Glenbucket
Helen Gauld Wife Mar 45 do, do
Gordon Reid Brother U 41 Farm Labourer do, do
Disney Hay Servant Mar 25 Farm Labourer do, Strathdon
Barbara McHardy Servant U 16 House Servant do, Corgarff
20 Beltamore
William Ogg Head Widr 66 Farmer (of 26 acres employing 2 Lab) do, Strathdon
Jane Ogg Daur U 37 Farmer's Daughter do, Glenbucket
Charles Ogg Son U 35 Farmer's Son employed on farm do, do
William Ogg Grandson 12 Scholar do, do
Peter Dow Serv U 17 Farm Labourer do, do
21 Beltamore
Jane Ogg Head U 68 formerly Ag Lab do, Strathdon
Catherine Esson Visitor U 16 Ag Lab do, Strathdon
22 Beltamore
William Provost Head Mar 85 Pauper do, Strathdon
Sarah Hunter Wife Mar 69 Pauper (Stocking knitter) do, Lumphanan
In the pages of the
Harry Begg letters
there is an interesting reference to a
murder at Baltimore.
Charles Begg in Towie is writing to Harry Begg in Canada with the News of the area. The letter is dated 25th June 1834. There is also reference to Minister Scotie, presumably The Rev Robert Scott (minister 1808-1854) and his son in law who also got himself into trouble. 'Interesting Times'! The Brody affair possibly refers to the imprisonment 'for an extended period' of William Brody and Adam Hay for whisky smuggling in 1819.
"Dear Brother & Sister
…the real news in this quarter are not good,
James Forbes in Baltimore, was both poisoned & murdered by his brother George, the enmity arose about a servant lass which was about their house It is reported that both were attached towards her & of course it ended in the death of the eldest. An inquest was held & George did not appear, the Officers have been searching after him but he has as yet eluded them,
the Reverend Adam Smith Towie has lost his wife – Mr. McHaidy Deldergie is now minister of Coldstone in room of the deceased Mr. Tawse, who dropped down dead in the pulpit about Christmas last, Reverend William Rede in Milltown of Glenbucket is now minister of Auchendoir, Reverend Mr. Lawblatt is minister of Teig & another reverend Sir (which I do not recollect his name) is appointed minister Lough, the Reverend James Cordiner schoolmaster -- Tartly is minister of Forgue – Minister Scotie Glenbucket was to be transferred but the Brody concern put a stop to that, & Scot's son in law nearly murdered James Roy in the spring for to obtain part of the Tail Siller, he has his trial to stand before the high court of justiciary in September or October, he is one of the four in Baltimore – that family is rapidly drawing to a close.."
1808 Robert Scott
born 1778, son of William Scott; farmer, Rothiemay ; educated at King's College, Aberdeen ; M.A. (27th March 1800); became tutor in the family of Major Innes at Keiss ; licen. by Presb. of Caithness 5th March 1805 ; pres. by George III. 22nd Feb., and ord. 9th June 1808 ; pres. to Forgue Nov. 1833, but declined; died 16th June 1855. He marr. 15th April 1812, Mary Margaret (died 23rd Oct. 1830), second daugh. of James Forsyth, min. of Belhelvie, and had issue Isabella Elizabeth, born 27th May 1813 (marr. Charles McCombie, LL.D., min. of Lumphanan) ; Elizabeth Mary, born 25th Dec. 1814 (marr. William Reid, min. of Auchindoir. See Reid family below)).
He married Mary Margaret Forsyth and his brother in law invented a percussion lock and a book "
"The Rev. Alexander John Forsyth and his Invention of the Percussion Lock"
extolling this was written about this by Major-General Sir Alexander Reid (See below) a member of the Baltimore Reid dynasty.
Interestingly a later minister the Rev Spark also had a connection with Baltimore as he married Isobel the daughter of Charles Ogg Baltimore. (See Ogg family history below.)
1886 William Arthur Spark
born Aberdeen, 1853, son of Archibald S. and Barbara Keith ; educated at Univs. of Glasgow and Aberdeen ; licen. by Presb. of Aberdeen in 1884 ; assistant at Wemyss, Fife, 1884-6; ord. 28th Oct. 1886. Marr. 21st Aug. 1895, Isabel, daugh. of Charles Ogg, Baltimore, and has issue Archibald Charles, 2nd lieut, Gordon Highlanders, born 26th May 1896, killed at Ypres, 31st July 1917 ; John Alexander, lieut. Royal Air Force, born 16th Dec. 1897 ; Annabella Mary, born 10th Dec. 1899; Robert Albert, born 8th May 1902 ; Emelia, born 8th May 1905 ; Gertrude, born 21st May 1912.
From
Roots Web
comes some detail about William Ogg
Extract from will of William Ogg, Baltimore (5 July 1851)
Executors: Son, Charles Ogg, Adam Reid, Merchant at Baltimore
1. Pay all debts, sickbed & funeral expenses
2. Of my late wife's third, I leave and bequeath to my three sons
Alexander, William and James one pound sterling each, and to the youngest son I leave a bedding of clothes
3. To my daughters of my late wife's third I leave and bequeath to Jean and Margaret 10 pounds each and also all their own providing of every kind, and moreover of my own money I leave and bequeath to each of them 30 pounds sterling (making the total 40 pounds sterling)
4. Residue, with exception of above legacies to son Charles
Written 19 December 1849 by Revd Robt Scott Minister of Glenbucket (see above)
Witnesses: Archibald Reid, farmer in Beltamore, William Reid, servant in Beltamore
Another family with roots at Baltimore are the
Reid family
.
The following passages are taken from
The Reids of Rinmore
by kind permission of Cressida Potter who is researching the Reid family in Strathdon.
"William Reid and Anna William (1727-1815) my great great grandparents
Gordon Reid and Jane Grant (1842-1923) my great grandparents
William Reid and Elizabeth Nicol (1873-1960) my grandparents"
In amongst the family tree are some very successful children and they have been linked to extra pages to highlight their activities.
Reids of Glenbucket
"The earliest confirmed record I have for my branch of the Reids, is the birth, in Glenbuchat, of:
William Reid
on 5th March 1727. Son of a
James Reid
, mothers name not traced. William went on to marry Anna William on 11th August 1747
Children of William and Anna William
(1st son and eldest child) b 1750 at Baltimore, Glenbuchat - no more information.
Archibald
(2nd son) b 1753 at Baltimore, Glenbuchat - no further information
John
(3rd son) b. 8th June 1755 at Baltimore, Glenbuchat. Farmed Miltown of Glenbuchat Married Charlotte Lindsay (1773-1836) they went on to have at least four children, one of whom:

William (1804-1882) gained an M.A. and became minister of the united parishes of Auchindoir and Kearn: Married Elizabeth Mary Scott (1814-1890)(daughter of Rev Robert Scott noted above) and they had 9 children, three of whom I have more details on:-



Alexander John Forsyth Reid KCB, MA, LLD (1846-1913) Third son became a Major General in the Indian Army and Hon. Col of the 29th Punjabis., marrying Alexandra Catherine Dyce Stewart (1863-1928) eldest daughter of Sir David Stewart of Banchory, Devenick and Leggart: they had no children.
Robert William Reid
MD, LLD, FRCS (1851-1939) Fourth son was Professor of Anatomy at Aberdeen University 1889-1925. John died on 5th October 1844 and is buried in the churchyard of the Old Kirk of Glenbuchat.
Dr William Reid MD
(1854-1918). Fifth son was a Doctor of psychiatry at The Royal Asylum in Aberdeen.

Jean
(1st daughter, 4th child) b 27th March 1756 at Baltimore - no further information
James Reid
, born 30th April 1757. James in turn married a
Hellen Reid
on 1st January 1788 in Glenbucket. Hellen was the daughter of Thomas Reid and Jean Abel and was born 8th May 1762 in Skene.
James was the first Reid to move from Baltimore Farm in Glenbuchat to Rinmore farm in Glenkindie. He is mentioned in a Horse Tax for the years 1797/98, and listed as living at Rinmore where he owns one horse and has to pay a duty of 2/-. James died in 1836 aged 79.
Hellen Reid was born to Thomas Reid and Jean Abel from Skene on 8th May 1762. Hellen is mentioned in the first Scottish census of 1841 where she is still living at Rinmore, this would be the original habitation known variously as East Rinmore, Old Rinmore or Rinmore . In this census she is described as aged 75 and of independent means, she is living with her son Peter (45) and his family. Hellen dies around 1843
James and Hellen marry on 1st January 1788 and have five children, all boys and all recorded as born in Genbucket.
Children of James Reid
Harry b 1789-1819 died aged 30 in 1819.
Archibald b 1791-1792, died at only 7 months in 1792
James b 1793-1862 James the 3rd son married twice, firstly to Mary Glennie (probably one of the Glennie family from Lochrie) on 8.8.1829 in Inveravon and they had three children James b2.9.1830 who died as a child, Jean b 18.8.1833 and Mary b 31.5.1835 who also died as a child. Mary Glennie herself died c1835/37 and James then married Jean Dawson (b 1799) a member of the Dawson family from Largue, just up the glen. They had no children but James's daughter Jean lived with them up to the 1851 census, when she would have been about 19, perhaps she followed many other of the family members and emigrated. James and Jean farmed at Rinmore and later Rinmore Croft, James dying on 13th October 1862 at Rinmore aged 69. His widow Jean died on 5th April 1881 at East Rinmore.
Peter b 1794: Peter was born the 4th son of James and Hellen in 1794 and his wife Jean was the eldest daughter of Gordon Reid and Jane MacDonald from Tollafraike - a farm about a mile further up Glenkindie. Jean sometimes appears in accounts as Jean and sometimes as Jane, but it is the same person. Jean and Jane appear to be interchangeable in Scotland at this time. Peter farmed East Rinmore all his working life and all their children were born there.
They marry on 10th November 1833 and have 6 children all recorded as born in Strathdon:


Peter 1835-1917, farmed East Rinmore after his fathers death. Married Isabella McDonald (1834-1904) and had seven children (James, Robert, Jean, Isabella, Helen, Peter, Elizabeth)
Helen or (Ellen) b1837.
Harry 1839-1859
Gordon Alexander Reid born in 1842 and he married Jane Gauld Grant also from a neighbouring farm of Ardler, in 1851. They had 9 children a son:
William Gordon Reid in 1872, who went on to marry Elizabeth Nicol from 'The Smiddy' in Muir of Alford in 1904 and they produced my mother, their 5th child, Margaret Grant in 1911, he died in 1960
James b 1845
Mary Jane b 1848 Emigrated to the USA in 1873

Peter
(5th son, 6th child) b 25th February 1760 at Baltimore. Continued farming at Baltimore. He married Mary Dingual and they had at least 4 children, Peter died 10th August 1808. Mary survived him by a further 40 years, dying in 1848.Their son:
Adam was described as a merchant, clothier and grocer and also lived at Baltimore. He married twice: First to Isobel Crawford (1816-1844) which produced one daughter Ann b 1840 and secondly to Mary Chree (1829-1889) this poor woman went on to produce a further 12 children)! Adam and Mary's 5th child another Adam (1859-1933), emigrated in 1884 to the States, he married American Nellie Dodge and their third child was Dr Ada Chree Reid the pioneering American female doctor.


Adam
(6th son, 7th child) b 24th April 1762 at Baltimore - no further information
Anna
(2nd daughter, 8th and final child) b 5th August 1764 at Baltimore - no further information
Another well-known family living at Baltimore was the Ogg family. The family is still represented in the Glen by Charles Ogg who farms at
Buchaam
but still grazes cattle in Glenbuchat.
From
Kildrummy FamiliesOgg Family
1 William Ogg b. 07 Jan 1785 d. 10 Apr 1851
m.Mary Dingwall d. 22 Jun 1848


2 Robert Ogg b. 1810 d. 28 Feb 1815
2 Alexander Ogg b. 13 Feb 1811
2 Jean Ogg b. 03 May 1813 d. 17 Jan 1881
m. George Begg b. 24 Mar 1810 d. 20 Dec 1887



3 James Begg b. 15 Mar 1856 d. 16 Sep 1900
m. Anne Grassick Gordon b. 16 Apr 1869



4 George Alexander Begg b. 1894
4 James Gordon Begg b. 1895
4 Anne Grassick Begg b. 1896
4 Francis Gordon Begg b. 1898 d. 24 Sep 1898
4 Ian Donald Begg b. 1900 d. 25 Jun 1900



2 William Ogg b. 03 May 1813
m. Elizabeth Grassick b. 07 Oct 1810

2 Charles Ogg b. 28 Aug 1815 d. 25 Dec 1882
m. Margaret Brodie



3 William Ogg b. 09 Jun 1838
m. Ann Farquharson b. 06 Jun 1831

3 Mary Dingwall Ogg b. 17 Oct 1854
m. Alexander Brodie b. 15 May 1852



4 Annie Isabella Farquharson Brodie b. 12 Apr 1888
4 William Alexander Brodie b. 12 Apr 1888 d. 14 Apr 1888
4 Alexander Grassick Brodie b. 1892
4 Charles James Brodie b. 1895



3 Charles Ogg b. 11 Jul 1856
m. Elizabeth Forbes b. 01 Apr 1872



4 Charles James Ogg b. 21 Apr 1902
4 Alexander John Ogg b. 02 Jul 1903



3 John Ogg b. 06 Jun 1858
m. Agnes Cran b. 12 Oct 1851



4 James Charles Ogg b. 1880
4 John Alexander Ogg b. 1883
4 Ann Isabella Ogg b. 31 Aug 1885
4 Robert Dawson Ogg b. 1888



3 Ann Margaret Ogg b. 06 Aug 1860
Father Unknown - 1339



4 William Ogg b. 05 Apr 1880



3 Jean Ogg b. 26 Jan 1863
3 Isobella Ogg b. 18 Feb 1867
m. William Arthur Spark b. 11 Jul 1853



4 Archibald Charles Spark b. 26 May 1896
4 John Alexander Spark b. 16 Dec 1897
4 Annabella Mary Spark b. 10 Dec 1899
4 Robert Albert Spark b. 08 May 1902
4 Emilia Barbara Spark b. 08 May 1905
4 Gertrude Spark b. 21 May 1912



3 Alexander Ogg b. 13 Jan 1870
3 Janet Ogg b. 13 Jan 1870 d. 04 Jan 1878



2 John Ogg b. 03 Dec 1817 d. 31 Oct 1823
2 George Ogg b. 05 Sep 1819 d. 21 Oct 1843
2 James Duff Ogg b. 10 Jan 1823
m. Margaret Donald b. 1828

2 Margaret Ogg b. 02 Nov 1825 d. 08 Mar 1898
m. John Lawson b. 09 Mar 1825 d. 18 Aug 1894



3 Ann Forbes Lawson b. 20 Dec 1855
3 Margaret Lawson b. 08 May 1858 d. 11 Dec 1863
3 Mary Jane Lawson b. 03 Apr 1861
3 Joseph Lawson b. 30 May 1863 d. 18 Dec 1863
3 Maggie Ramsay Lawson b. 25 Aug 1866
3 William Lawson b. 05 Nov 1868







Picture added on 06 December 2010 at 18:08

This picture is in the following groupsfarm