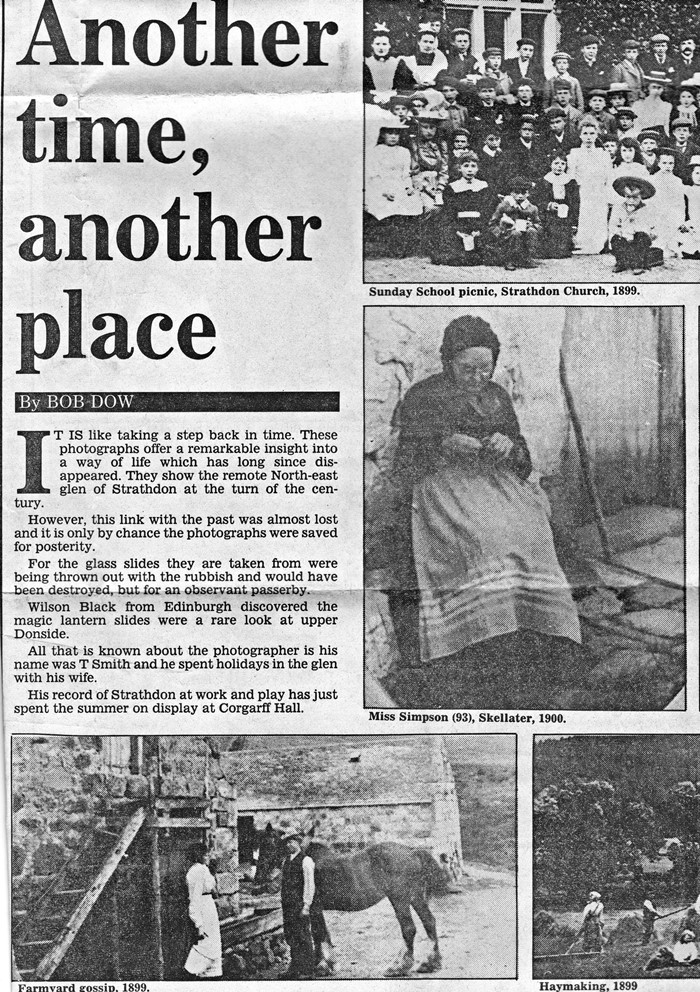 The Glenbuchat Image Library
1 Strathdon Slides - Cock BridgeStrathdon Lantern Slides
This album contains photographs of slides reported to be of Strathdon and taken around 1900-1910. Details about the background to the slides are noted below.
Some of the slides are obviously Strathdon, i.e. Cockbridge, Poldhuillie Bridge and Corgarff and Newe Castles. Some are typical of Strathdon countryside and Strathdon people. Others have Strathdon countryside and buildings with non local looking people possibly actors, and finally some are identified and may not even be in Strathdon.If you can recognise the places depicted in the slides please let us know
Ken Cruickshank who photographed the slides has written the flowing about their background.
"A gentleman from Edinburgh contacted me in the 1970 s and said he had found a collection of 'Strathdon' slides in a local antique shop. They were glass positive slides, from the Edwardian era, for projection by 'magic' lantern - a popular entertainment at the turn of the late 19th and early 20th century, before moving pictures were introduced. He allowed me to copy them on to 35 mm negative film, which more recently, was scanned and digitised for the Glenbuchat Heritage Site. With no information available on them, we can only make some assumptions from the images.
The collection is a mixture of professionally taken photographs, and 'snap shots' and rejected images. Most are identifiable as scenes from Strathdon, but there are others which require identification. These are not amateur pictures or randomly taken, but professionally shot scenes. The photographic expedition to remote Strathdon would have taken planning and preparation. The camera and equipment would have been transported in horse and gig around Strathdon, possibly from the railway station at Alford. The scenes would have taken time to set up, and an assistant would be required for the photographic process, in particular, with the large tableaus of people in some of the images. The subjects in some scenes are carefully arranged for an artistic view, and posed for the long exposure required for the tripod mounted, plate camera.
The quality of many of the glass slides suggest a photographic company took them, and were probably intended for commercial sale. There was a tremendous interest in photography and projection on images at the time, and especially scenes of the remoter parts of Britain. Very few companies did work in the area, the most famous being George Washington Wilson's Aberdeen company, but also Valentines photographic company from Dundee. As far as I know, these slides are not listed in their surviving catalogues. Perhaps a lesser known company was involved. The scenes depicted in the glass slides are yet to be identified, so please, help with any information you can."
View Large Version
Picture added on 17 July 2017 at 00:11
This picture is in the following groups
places