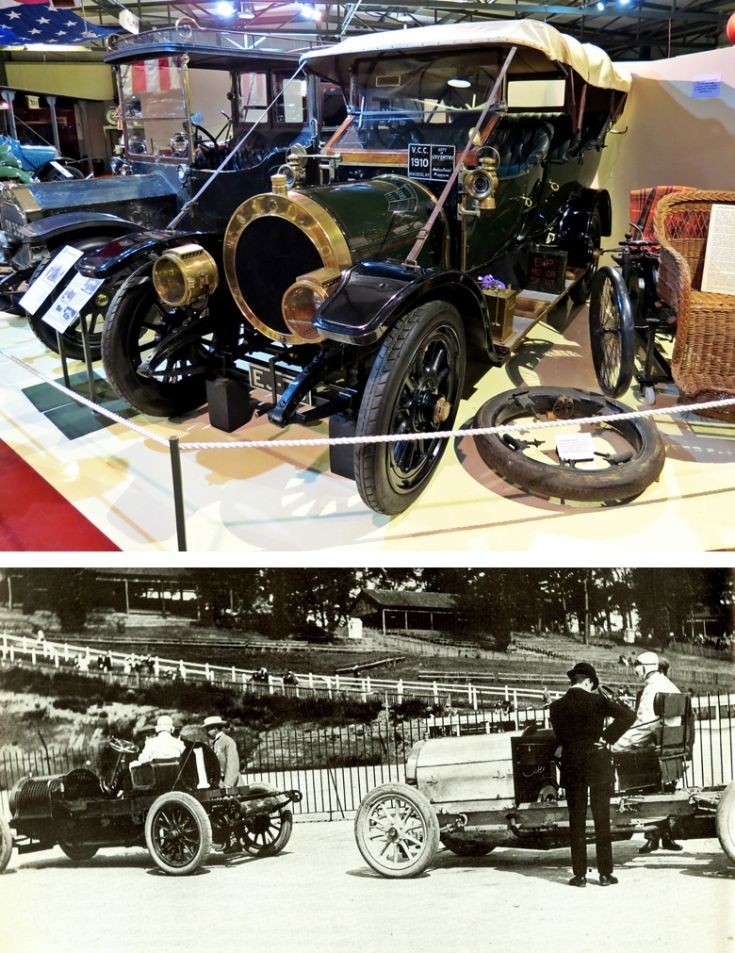 The Glenbuchat Image Library
167 Sir Charles Forbes and the Maudsley Motor CoMaudslay Cars and Sir Charles Forbes
At an exhibition at the
Grampian Transport Museum
in Alford there was on display a wonderful Maudsley 34hp 1910 Tourer (pictured above). In the accompanying information sheet it stated that Sir Charles Forbes had been a director of the Maudsley Car Company. The car was on loan from the Coventry Motor Museum. Sir Charles Forbes was the owner of Newe Castle and estates in Strathdon
Because of his influence locally Sir Charles had been able to encourage many other local landowners and even Aberdeen council to by some of the models.
So how did it come about that Sir Charles Forbes of Castle Newe became a director of a motor company?
The Maudslay Motor Company was formed in 1903 by Cyril C. Maudslay. In 1905 they produced 16-20 h.p. three-cylinder, 20-30 h.p. four-cylinder and 30-40 h.p four-cylinder models of car. In 1907 a public company, the Maudslay Motor Company (1907) Ltd, was formed to acquire the business of Maudslay Motor Co. The first directors were Sir Charles S. Forbes, Bart., Alexander Craig, Francis Edward Foster, Cyril C. Maudslay, Samuel Sanders and J. W. C. Seymour. Sir Charles Forbes, was also elected to the committee of the commercial vehicle section of the S.M.M.T. as representative of the Maudslay Motor Company,
Sir Charles Forbes had a significant interest in the company finically as he had 10,000 shares, one share less than the original owner Cyril Maudslay. Perhaps as a result of this interestSir Charles also entered the world of motor racing and sponsored a car at Brooklands Racing track.
The photo from
Unique Cars and Parts
above shows Sir Charles's 32.4 h.p. Maudslay (on the right) in 1908 prior to a race at Brooklands. A report of the race states: "At the Whitsun meeting Leo Ralli (35.7hp Hotchkiss) challenged Sir Charles Forbes to a 200-sovereign contest over four laps. W H Cox drove the latter's 32.4hp Maudslay and proved the faster by several miles per hour."
The Maudsley Car Company has a history which stretches back to the age of the Seam engine. In 1798 the company 'Maudslay, Sons and Field of Lambeth Marsh, London was a maker of steam engines. It was set up originally as Henry Maudslay and Co and was founded by Henry Maudslay (1771-1831).
In 1831 Henry Maudslay died. His sons continued the business; two of them in particular made their mark on its development. The eldest son, Thomas Henry Maudslay (1792–1864), demonstrated considerable commercial ability. His third son, also a gifted engineer, was Joseph Maudslay (1801–1861) and in 1833 with the inclusion of Maudslay's sons the firm became Maudslay, Sons and Field.
In 1838 the company made steamship engine for pioneer transatlantic SS Great Western, built by Patterson. Walter H. Maudslay was Chairman and Managing Director of the company in 1895 and retired in 1899. In 1900 the company closed down. His descendant Cyril Maudslay then went on to found the Maudsley Motor Company.
The Forbes connection with the Maudslay family may go further than the Motor Company. Charles's grandfather also called Charles had been senior partner in the leading agency house of Forbes and Company of Bombay and was a prominent member of the court of proprietors of the East India Company.
The East India Company bought ships built in India and there is evidence that the Forbes's were involved with this, as evidenced from this quote from
"Ardaseer Cursetjee (1808-1877), The First Indian Fellow of The Royal Society Of London, By R.K. Kochhar"
"Ardaseer Cursetjee was born on 6 October 1808. He was a Parsee. His father was at the time assistant ship builder; he rose to become the master builder in 1844. Cursetjee was, as he says, 'brought up and educated in the Hon. Company's (East India Company) service'.
In 1837, Cursetjee was elected a non-resident member of the Royal Asiatic Society of England. During his one-year stay, Cursetjee had a number of social engagements. The First person he visited was 'that great friend of India,
Sir Charles Forbes, Bart'
. Cursetjee also asked for a testimonial from
Messrs Maudslay, Sons and Field,
'as they are preparing the machinery intended for the Bombay Dockyard'."
The Maudslay Company supplied steam engines for the Indian Ships and was thus known to Cursetjee and probably to the Forbes's as well. It is therefore possible to assume that there was some personal contact between the Maudsley family and Sir Charles prior to his investing in the companies.
Picture added on 28 May 2014 at 21:11