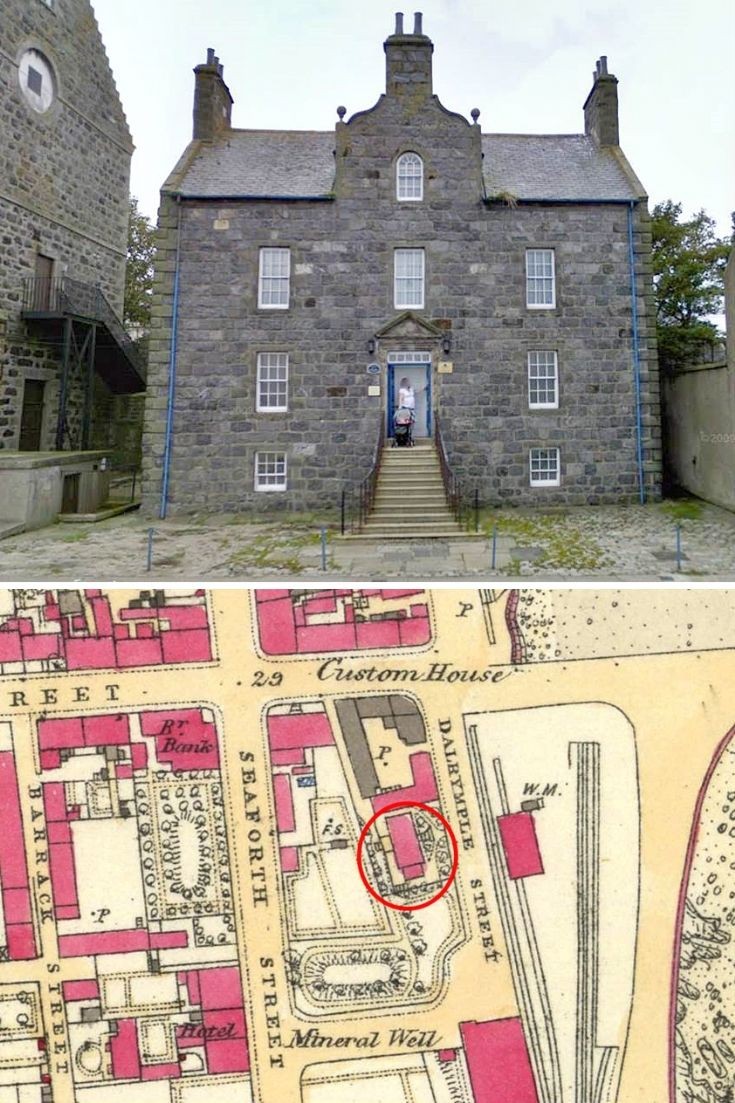 The Glenbuchat Image Library
115 Old Glenbucket and Warlds End Fraserburgh
A request form a Canadian correspondent on the web site led to research that brought to light John Gordon's (Old Glenbucket) house in Fraserburgh.
The request was as follows:
On my GG grandmother Margaret (Murdoch) Simpson's death record it shows her death at Glenbuchat cottage in 1907. She died of TB. I would like to know if this was a Sanatorium for tuberculosis patients. Her home was Sinclair Hills near Fraserburgh and I would like to know why she was so far from her home.
Any information would be appreciated.
On researching the Murdochs in Glenbuchat I could find no connection with the lady in question. To my surprise, however, I did find a Glenbuchat link to Fraserburgh in the presence of a house there owned by Old Glenbucket himself.
The house is a called now 'Warlds End' House and above is a photo from Google Street View and an 1850's map. While I could find no mention of a Fraserburgh sanatorium, the Glenbuchat Cottage mentioned may be the cottage at the rear of the House in the extensive garden.
More details are available in a
Leopard Magazine article
Elegant town house
That Fraserburgh became a notable town – more than the average burgh of barony – can be seen in the elegant town house of the Gordons of Glenbuchat down on the Shore, now known as Warld's End. The house is now in 1767 garb, but there is evidently an older structure within.
And that leads directly into the entirely unexpected saga of Fraserburgh as a garrison town. The North-East being staunchly Jacobite, it was dealt with harshly after 1745. Fraserburgh had manned gates, and a garrison built against the southern edge of the town, probably in the grounds of Warld's End. The garrison commander probably occupied the house itself. There are buildings and reused bits of buildings on the high platform (parade ground?) immediately behind the house which might be relics of this period.
The house is a listed building and details are available from
The British Listed Buildings Web Site.
The World's End 11 Dalrymple Street, Fraserburgh
Location: S Harbour Road, Fraserburgh, Aberdeenshire AB43 9DN

Listing Text
Circa 1767(') 2-storey and basement 3-window squared heathen stone with freestone dressings; quoins, shaped wallhead gable with arched window and ball finials, stairs to pedimented door-piece obscured by wooden porch, moulded eaves course and chimney copes. Poor condition.
References:
Cranna, Fraserburgh Past and Present p.382
Pratt Buchan p.175
Notes:
Belonged to the Gordons of Glenbuchat. Lord Pitsligo hid here after Culloden. Sold to Charles Gordon 1766. One of the best houses of its date in Aberdeenshire
If anyone knows any more information about the house or sanatoriums in Fraserburgh please let us know.
Picture added on 24 March 2013 at 21:49
This picture is in the following groups
buildings
Comments: