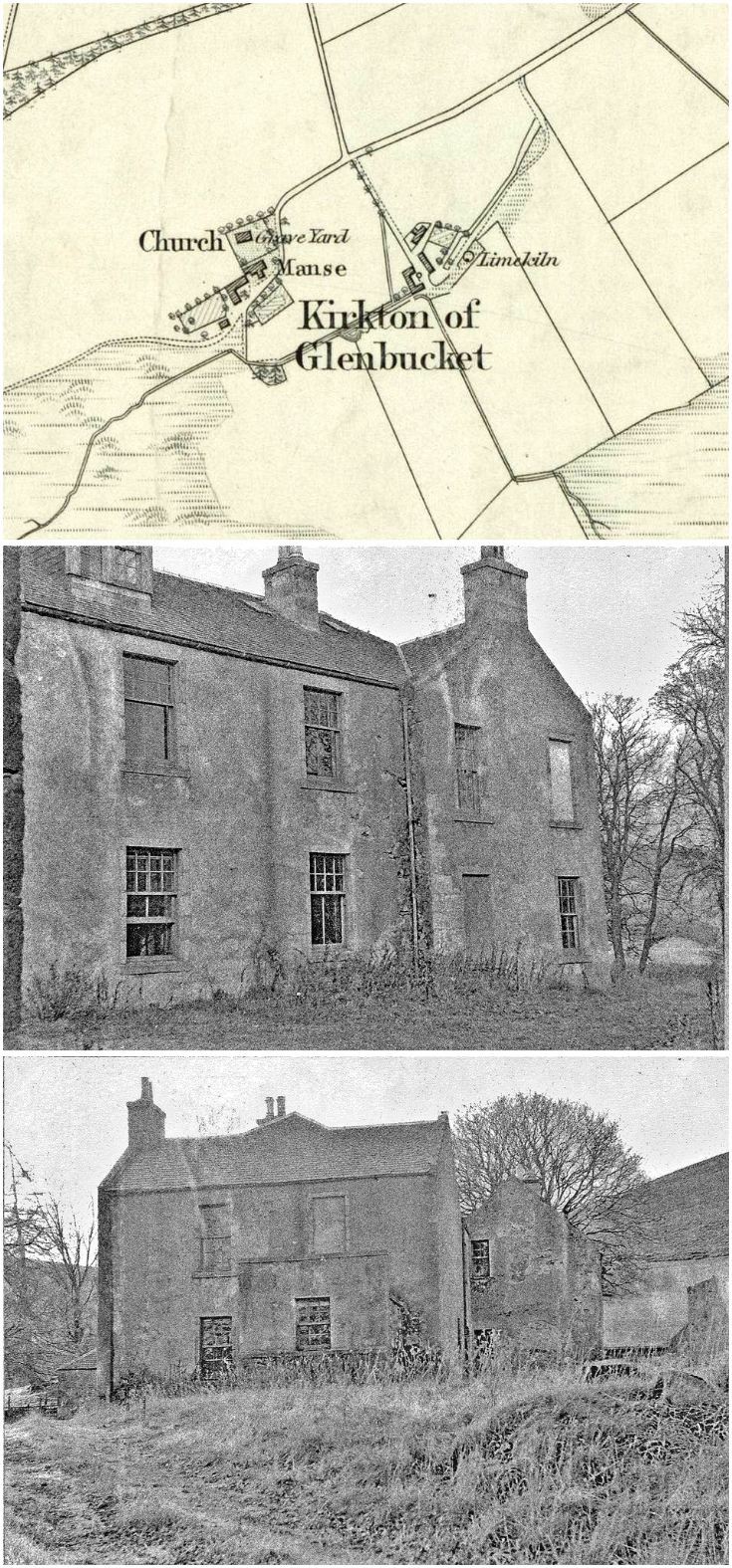 The Glenbuchat Image Library
113 Glenbuchat Manse pre restoration
Glenbuchat Manse – Before renovation 1975
Map of site 1850's
Click for photo of manse today Manse
Manse \Manse\, n. [LL. mansa, mansus, mansum, a farm, fr. L. manere, mansum, to stay, dwell. See Mansion, Manor.]
1. A dwelling house, generally with land attached.
2. The parsonage; a clergyman's house. [Scot.]
The manse in Scotland is traditionally the house attached to a church where the Minister and family lived.
The first church in Glenbuchat was founded in 1473 and dedicated to St Peter. It was erected at Capeltone, almost certainly the present Kirkton. The present church rebuilt in 1629 and again in the 18th century, probably stands on the site of the original church and may even incorporate parts of its fabric. The present 18th century church is harled and bears no trace of an earlier structure save for the date-stone built into the W gable.
The Glenbuchat manse was originally built about 1785 and with additions later. In 1975 it had lain derelict for a decade and the insides were gutted; it was then restored and renovated into three self-contained flats. It was returned to a single house during the 1980s and taken over by the current (2006) owner in 1996.
From 1946 - 1948 Fred Wright ran the Ben Newe Private Hotel in the old manse before emigrating to Canada with his family
From.
"Records of the meeting of the exercise of Alford, 1662-1687"
details of the condition of Manses in the North East can be understood
"Manses.
These it would appear were no better than the Churches, frequently even worse, though perhaps quite in keeping with the houses of the period. Like the kirks they seem to have been long and narrow. At first the parish manses were built and kept in repair by the ministers themselves. When the minister died or left the place the buildings were "appreciated" to his successor. Examples of this, Keig p. 98 ; others pp. 321,
In 1649 it was decided that a manse for every parish minister was to be provided by the heritors. The heritors had secured the larger share of the Church s property, and it was only fair, no hardship, that the building of Churches and manses should be laid upon them. The seventeenth century manses were, however, neither very elegant nor very expensive structures, but were mostly erected at the least possible cost. Like many other houses of the period, they were built of clay and turf, and thatched with heather. A fact or two from our own bounds will give the best idea of what the manses were. In 1707 we find in the Presbytery minutes complaint made that the manse of Glenbucket has never been divided by partitions, that it is without stairs and glass windows. In 1779, little more than a hundred years ago, it is stated that in Kearn manse there are no slab stones for the fire except in one room Manses in other places were similar.
Glebes, Etc.
From Duncan s "Parochial Law" we learn that Act 1644 conferred on Presbyteries the power to design glebes at every parish Church. Act 1663 declares that every minister, except those in Royal Burghs, shall have grass for a horse and two cows in addition to the glebes designated by other statutes, and shall also have " fewel, foggage, feal, and devots."
In these former times when minister and people alike lived on home produce the glebe was indispensable. Cattle had to be kept to do the ploughing, as well as to supply milk, &c., for the family. Then there were, we may say, no roads. Consequently all travelling had to be done on foot or on horseback. Hence the pony the ministe' s pony or "sheltie" was needed to convey him to the Presbytery, to the Synod, and even to the General Assembly, as well as to other places.
Some of these things seem strange to us now. But into the present century ministers from Alfold Presbytery going to Edinburgh to attend the General Assembly often went on horseback. Sometimes the horse was only taken so far, to a place from which a coach started, and either left there till the minister s return, or taken back by his "man" who had been sent on before for the purpose, in due course going back to meet the minister when the Assembly was over.
Before coming to what we have to say about the Church, it may be well to try to get some idea of the religious and social condition, of the country at the time. This will help us the better to understand the state of things with which the Church had to deal in our district, as well as throughout Scotland. For, looking at our " Record" and other similar " Records," the number and nature of the " discipline cases " in these, one would be apt to conclude that the condition of the people was most deplorable, lawlessness and licentiousness running riot everywhere, and this, as some would have us believe, caused mainly, if not entirely, by the restoration of the monarchy a revolution in government and a revolution in morals going hand in hand. We shall see if such a conclusion is altogether warranted.
In 1687, Glenbucket reports
that it has a school. But, twenty years later, in 1707, matters had changed. The report is we may quote it in full as showing the somewhat destitute condition of that unfortunate parish it runs thus, " No Schoolmaster, nor maintenance for one; no Session Clerk, nor any capable in the parish to officiate as such; no precentor, nor any in the parish capable of the affair; no office -houses except some built by the minister at his own expense; the mansion (manse) never divided by partitions, without stairs, or glass windows."
Description of the present manse from
britishlistedbuildings.co.uk Old Parish Church Manse and Former Stable, Glenbuchat
Grade: C(S) Date Listed: 7 April 197
Location: Kirkton of Glenbuchat, Aberdeenshire AB36 8TR
Circa 1785 and later. 2.-storey and attic, 4-bay, irregular plan former manse with some stone-pedimented dormers. Roughly coursed rubble with large squared rubble quoins, and harl to rear.
S (Principal) Elevation: 4 symetrically-fenestrated bays with 2-bay gable at right and 20th century dormer window over left bay.
W (Entrance) Elevation: dominant asymmetrically-fenestrated gable set-back at right, and projecting lower gable of original manse at left incorporating stone-pedimented dormer window on return to right.
E Elevation: plain 2-bay elevation with single storey flat-roofed porch at right.
Predominantly 4-pane glazing pattern in timber sash and case windows. Grey slates. Coped squared rubble and harled stacks with cans, some polygonal. Ashlar-coped skews.
Interior: deep niche and salt box(') adjacent to former fireplace opening in original kitchen. Some moulded cornicing and coomb ceiling to E wing. Most fixtures removed during 1980s, but some timber shutters retained. Some imported fireplaces and timber shutters reinstated.
Former Stable And Bothy: to SW of house, altered with garage openings and corrugated roof.
Notes:
Group with Old Parish Church and Graveyard.
The Old Manse is a notable example of a late 18th century manse in terms of its vernacular origins.
Situated close to the category `A listed Old Parish Church, and `B listed graveyard, the manse with its adjacent ancillaries would have constituted an important element in the traditional Kirkton of Glenbuchat settlement. The original building would probably have been a modest rectangular-plan structure with striking pedimented dormers (as retained at the north) overlooking the south garden elevation, with the church and churchyard to the north. The first major extension, carried out prior to the first edition Ordnance Survey map, comprised a large rectangular-plan gabled wing off-set to the south, itself subsequently enlarged with a further gabled rectangle to the east. Evidence remains of extensive offices forming a courtyard to the west, as well as a fine kitchen garden beyond overlooking the old road which ran immediately to the south of the Kirkton settlement.
The Old Statistical Account reports that the Kirk manse and offices [were] lately rebuilt, and the New Statistical Account that the glebe is worth about L.10 annually; and the manse is in excellent condition. After being threatened with demolition in 1974, the building was sold and subsequently converted to flats. It was returned to a single house during the 1980s and taken over by the current (2006) owner in 1996. During the past decade the Old Manse has been renovated and some traditional fixtures carefully reinstated.
Category changed from B to C(S) in 2006.
From topographical dictionary of Scotland: comprising the several ...: Volume 1 - Page 519 books.google.com Samuel Lewis – 1851
"Ecclesiastically the parish is within the bounds of the presbytery of Alford synod of Aberdeen patron the Crown The stipend is 158 of which 125 are drawn from the exchequer there is an excellent manse with a glebe of about 10 annual value Glenbucket church built about sixty years since is a plain commodious edifice There is a parochial school the master of which has the medium legal salary school fees a house and garden with three acres of land A parochial library is also kept up Burnett's mortification shared in by all the parishes in the synod and of which no parish can receive more than 50 nor less than 20 comes to Glenbucket about once in eight years The old castle now nearly in ruins is a highly picturesque object"
From Wanderings in the Highlands 1881
"Away further up we could also catch a sight of the Established Church and Manse, hid in a grove of trees. Close by. Ben Newe rears its somewhat conical summit, dividing Glenbucket from Strathdon. Near the foot of Ben Newe is the old Market Stance of Peterfair, now removed to Huntly, owing, it is said, to its being likely to prove a second Donnybrook, as far as free fighting is concerned."
(Donnybrook Fair, a horse fair that used to be held in Donnybrook, Dublin that gave rise to the term donnybrook meaning "wild brawl", "free-for-all")
There is a piece of music related to the manse:
Mrs. Bremner, The Manse, Glenbucket
aka Miss Innes
E dorian, reel
composed by Charles Grant
The manse has been occupied by many ministers over the years and details about them will be expanded in future contributions to the site.
The following is an outline list of some of the Church of Scotland ministers at Glenbuchat.
Glenbuchat.
From
Glenbuchat Ancestors
The church of Glenbuchat was dedicated to St Peter. The parish was annexed to Cabrach by the Commissioners of Teinds 7th July 1618 (Aberdeen Hornings, 24th Nov. 1631).]
1567 William Cowper:
reader from 1567 to 1591.
1582 Arthur Skene:
mentioned as min. in 1582.
1599 Thomas Melvill:
removed from Kildrummy in 1599, having that parish, Cabrach, and Logie-Mar also in his charge ; still min. in 1601.
1608 William Brown:
min. in 1608, with Innernochtie also in the charge ; removed thither before 24th March 1618.
1618 Andrew Ker [Or Car]:
educated at King's College, Aberdeen ; M.A. (1607); adm. before 2nd Aug. 1618, with Cabrach also in the charge, to which place he removed after 26th Nov. 1633. In 1642 he was summoned before the Privy Council for a riot at Glenkindie. He returned here before 5th Sept. 1662, when he was in "decripit old age,"; and died Dec. that year. A tablet with his initials and dated 1629 is in the wall of the church. He marr. Christian Burnett, and had issue Alexander, min. of Grange ; John. [P. C. Keg., 2nd ser., vii., 589 ; Aberdeen Sas., ix., 416; Row's "Diary"; Scot. Notes and Queries, vii., 53; Aberdeen Sas. iv., 528.]
1663 David Milne:
educated at Marischal College, Aberdeen, 1650-5 ; became chaplain in Glenbuchat, 1663 ; pres. by John, Earl of Mar, in July, and adm. before 31st Aug. 1665 [the parish was vacant 26th Sept. 1666]; afterwards min. of Gadder.
1667 William Christie:
educated at Marischal College, Aberdeen ; M.A. (1658) ; Keen, by Presb. of Alford ; adm. 24th July 1667 ; died in 1695. He marr. Barbara Innes, who survived him, and had issue Robert ; Christian ; Ann (marr. Patrick Copland, merchant, Aberdeen; Elizabeth; Jean (marr. James Thorn, merchant, Aberdeen. -- [Banff Inhib., 10th July 1704 ; Index to Services.]
1697 William Law, M.A. :
called 16th June, and ord. 4th Nov. 1697 ; trans, to Crimond 26th March 1701.
1704 Alexander Shand, M.A.
: called by the Presb. jure devoluto 2nd March, and ord. 10th May 1704; trans. to Insch 23rd June 1708.
1710 John Gordon:
called 15th Jan., and ord. 9th Aug. 1710 ; clerk of Presb. ; trans, to Gamrie 7th May 1717.
1718 Adam Oliphant:
called by the Presb. jure devoluto 10th Sept., and ord. 25th Nov. 1718 ; died 29th July 1746. He marr. 14th March 1721, Margaret (died 19th June 1755), daugh. of Bailie Martin, Hawick, and had issue - James, merchant, Edinburgh ; Samuel ; John ; Ann ; Margaret. [Brux Writs, 31st Aug. 1745.]
1747 Thomas Johnston:
pres. by George II. 10th Nov. 1746; ord. 16th July 1747 ; trans. to Boharm 31st May 1753.
1754 Patrick Duff:
called 30th Jan., and ord. 2nd May 1754 ; trans. to Second Charge, Old Machar, 6th March 1755.
1755 William Duff, M.A.:
called 18th Sept., and ord. 8th Oct. 1755 ; trans. to Peterculter 4th March 1767.
1767 William Duff, M.A.:
called 9th Aug., and ord. 17th Sept. 1767 ; trans, to Keig 27th June 1772.
1772 James Douglas:
called 6th July, and ord. 26th Aug. 1772 ; trans. to Premnay 1st Aug. 1787.
1787 William Spence:
born Banffshire, 1749 ; educated at King's College, Aberdeen ; M.A. (28th March 1771) ; licen. by Presb. of Strathbogie 3rd Dec. 1783; called 13th, and ord. 27th Sept. 1787; died 27th Oct. 1807. He marr. 13th Aug. 1799, Mary Grassick, who died at Aberdeen, senior annuitant on Widows Fund, 9th Dec. 1864, aged 90), and had issue Mary Ann, born 21st July 1800, died 7th July 1814; William, secretary to British Linen Company Bank, Edinburgh, born 26th Sept, 1801, died 1st Dec. 1874; Robert, born 7th April 1803, died at sea 23rd Jan. 1841; Alexander, M.A., D.D., min. of St Clement s Church, Aberdeen, born 12th Dec. 1804, died 30th Aug. 1890; Jean, born 20th July 1806 (marr. 28th June 1832, Alexander Booth, jeweller, Aberdeen), died 8th Oct. 1883. Publication Account of the Parish (Sinclair's Stat.Acc., xix.).
1808 Robert Scott:
born 1778, son of William Scott; farmer, Rothiemay ; educated at King's College, Aberdeen ; M.A. (27th March 1800); became tutor in the family of Major Innes at Keiss ; licen. by Presb. of Caithness 5th March 1805 ; pres. by George III. 22nd Feb., and ord. 9th June 1808 ; pres. to Forgue Nov. 1833, but declined; died 16th June 1855. He marr. 15th April 1812, Mary Margaret (died 23rd Oct. 1830), second daugh. of James Forsyth, min. of Belhelvie, and had issue Isabella Elizabeth, born 27th May 1813 (marr. Charles McCombie, LL.D., min. of Lumphanan) ; Elizabeth Mary, born 25th Dec. 1814 (marr. William Reid, min. of Auchindoir). Publication—Account of the Parish (New Stat.
Acc., xii). [Aberdeenshire Epitaphs, 464.]
1854 William Gordon:
M.A.; ord. (assistant and successor) 12th Oct. 1854 ; trans, to Glenbervie 10th June 1863.
1863 John Bremner:
born Strathdon, 26th June 1815, son of Garden B., farmer, and Janet Wattle ; educated at King's College, Aberdeen ; M.A. (1836); licen. by Presb. of Forres 24th July 1844; ord. to Glenlivet 11th April 1850 ; pres. by Queen Victoria 8th July, trans, and adm. 24th Sept. 1863 ; .died at Elgin, 1st Dec. 1880. He marr. 3rd Oct. 1862, Helen Stewart (born 5th April 1831, died 16th July 1895), daugh. of Lieut. Robert Innes, Aberlour, and had issue Robert Garden, born 11th July 1864, died 12th March 1898 ; John William, born 5th June 1868 ; Helen Grace, born 10th June 1870. [Henderson's Aberdeenshire Epitaphs, 464.]
1881 John Scott:
born Langholm, Dumfriesshire ; educated at Univ. of Edinburgh ; ord. 6th July 1881 ; died unmarr, at Edinburgh, 25th May 1886.
1886 William Arthur Spark:
born Aberdeen, 1853, son of Archibald S. and Barbara Keith ; educated at Univs. of Glasgow and Aberdeen ; licen. by Presb. of Aberdeen in 1884 ; assistant at Wemyss, Fife, 1884-6; ord. 28th Oct. 1886. Marr. 21st Aug. 1895, Isabel, daugh. of Charles Ogg, Baltimore, and has issue Archibald Charles, 2nd lieut, Gordon Highlanders, born 26th May 1896, killed at Ypres, 31st July 1917 ; John Alexander, lieut. Royal Air Force, born 16th Dec. 1897 ; Annabella Mary, born 10th Dec. 1899; Robert Albert, born 8th May 1902 ; Emelia, born 8th May 1905 ; Gertrude, born 21st May 1912.
The Manse and Glebe employed a number of people as indicated in the following census returns.
1851 census
Manse
Robert Scott Head Widr 72 Minister of Glenbucket Christina Grant House Servt U 36 House Servant
Isobel Dey Servt U 24 House Servant
John Stuart Servt U 22 Farm Labourer
Alexr Inch Servt U 14 Farm Labourer
1861 Scotland Census about James Beatton
Name:James Beatton
Age:11 Estimated Birth Year:abt 1850
Relationship:Servant
Gender:Male
Where born:Glenbucket, Aberdeenshire Registration number:200
Registration district:Glenbucket
Civil parish:Glenbucket County:Aberdeenshire
Address:Manse Occupation:Scholar ED:1
Household schedule number:1 Line:5 Roll:CSSCT1861_29
Household Members:NameAge
William Gordon36
Ann Cameron47
Elspet Carmeron17
Ebenezer Yeats22
James Beatton11
Ebenezer Yeats
b. 25 October 1838, d. 23 April 1917
Father: John Yeats, b. 18 October 1802, d. 29 January 1878
Mother: Elspet Bain, b. 28 January 1792, d. 15 June 1855
Birth: 25 October 1838 Redford, Cabrach, ABD Death: 23 April 1917 Cabrach, BAN Occupation: Farmer at Redford, Cabrach 1905
Occupation: Farmer
Occupation: Ploughman for Revd William Gordon 1861
Occupation: Farmer's son, Redford 1870
Occupation: Farmer 63ac at Langolen, Clatt bet. 1881 and 1891
Residence: bet. 1841 and 1871 Redford, Cabrach
Residence: 1861 Manse of Glenbucket
Baptismal Witnesses : abt. 01 November 1838 Ebenezer Bain in Poneed, John Grant in Redford
Marriage 1 : Isobel Watt , b. 07 January 1842
1. Helen Yeats, b. 08 October 1870
Marriage 2 : Jean McAdam m. 07 November 1872 Rhynie & Essie, ABD, b. 1841, d. 1907
1.+ Elspeth Jean Yeats, b. abt. 1877, d. 29 December 1956
2.+ Alexander Yeats, b. abt. 1878, d. 26 February 1954
3. 8 children Yeats, b. bet. 1873 and 1889
James Alexander Beaton 1849 -
Birth 25 Dec 1849 Glenbucket/Glenbuchat
Sex Male
Father John Beaton, b. 1817, Lochcarron, Ross and Cromarty
Mother Helen McHardy, b. 1818, Strathdon and Corgarff
Histories census
1851 enumerated @ Mains, Glenbucket with parents, grandfather (widower) and siblings Mary, John, Jessie, Charlotte and Archibald
1861 enumerated @ The Manse, Glenbucket (scholar)
1871 census
Manse
John Bremner Head Mar 55 Minister of Glenbucket Tarland
Helen S Bremner Wife Mar 34 Aberlour Banffshire
Robert G Bremner Son 6 Scholar Glenbucket
John W Bremner Son 2 Glenbucket
Helen P Bremner Daur 9 mo Glenbucket
Joseph McGrigor Serv Unm 40 Farm Servant Strathdon
Mary Cameron Serv Unm 28 General Servant Nairn Nairnshire
Eliza McDonald Serv Unm 19 General Servant Aberlour Banffshire
George F Duncan Serv 11 Farm Servant Glenbucket
John Bremner 1815 – 1880
John was Minister of Glenbucket and resided at the manse, Glenbucket.
He and his wife Helen were buried in the Glenbucket Kirkyard
Birth 26 Jun 1815 Strathdon and Corgarff
Sex Male
Died 01 Dec 1880 Elgin, Morayshire
Father Garden Bremner, b. 1758, Unknown
Mother Janet Wattie, b. 1780, Unknown
Family ID F2449 Group Sheet
Family Helen Stuart Innes, b. 06 Apr 1831, Aberlour, Banffshire
Married 23 Oct 1862 Aberlour, Banffshire
Children
Robert Garden Bremner, b. 11 Jul 1864, Glenbucket/Glenbuchat
John William Bremner, b. 05 Jun 1868, Glenbucket/Glenbuchat
Helen Green Bremner, b. 10 Jun 1870, Glenbucket/Glenbuchat
Histories census
1851 enumerated @ AuchBreck, Inveravon (minister)
1871 enumerated @ The Manse, Glenbucket (minister) with wife and children Robert, John and Helen
1871 Scotland Census about John Bremner
Name:John Bremner
Age:55 Estimated Birth Year:abt 1816
Relationship:Head
Spouse's name :Helen L Bremner
Gender:Male
Where born:Garland, Aberdeenshire Registration Number:200
Registration district:Glenbucket Civil parish:Glenbucket County:Aberdeenshire
Address:Manse Occupation:
Minister Of Glenbucket ED:1
Household schedule number:7 Line:7 Roll:CSSCT1871_38
Household Members:NameAge
John Bremner55
Helen L Bremner34
Robert T Bremner6
John W Bremner2
Helen T Bremner2 MO
Joseph M Griger 40 Farm Servant
Mary Cameron28 General Serv
Elisa Mcdonald19 General Serv
George F Duncan11 Farm Serv
Helen Stuart Innes 1831 - 1895
Birth 06 Apr 1831 Aberlour, Banffshire
Sex Female
Died 16 Jul 1895 Rothes, Morayshire
Family John Bremner, b. 26 Jun 1815, Strathdon and Corgarff
Married 23 Oct 1862 Aberlour, Banffshire
Children
Robert Garden Bremner, b. 11 Jul 1864, Glenbucket/Glenbuchat
John William Bremner, b. 05 Jun 1868, Glenbucket/Glenbuchat
Helen Green Bremner, b. 10 Jun 1870, Glenbucket/Glenbuchat
Name:Joseph M Griger
Age:40 Estimated Birth Year:abt 1831
Relationship:Servant
Gender:Male
Where born:Strathdon, Aberdeenshire Registration Number:200 Registration district:Glenbucket Civil parish:Glenbucket County:
Aberdeenshire Address:Manse
Occupation:Farm Servant
Name:Mary Cameron
Age:28 Estimated Birth Year:abt 1843
Relationship:Servant
Gender:Female
Where born:Nairn, Nairnshire Registration Number:200
Registration district:Glenbucket Civil parish:Glenbucket County:Aberdeenshire
Address:Manse
Occupation:General Serv
Name:Elisa Mcdonald
Age:19 Estimated Birth Year:abt 1852
Relationship:Servant
Gender:Female
Where born:Aberlour, Banffshire Registration Number:200
Registration district:Glenbucket Civil parish:Glenbucket County:Aberdeenshire
Address:Manse Occupation:
General Serv
Name:George F Duncan
Age:11 Estimated Birth Year:abt 1860
Relationship:Servant
Gender:Male
Where born:Glenbucket, Aberdeenshire Registration Number:200
Registration district:Glenbucket Civil parish:Glenbucket County:Aberdeenshire
Address:Manse
Occupation:Farm Serv
From
Kildrummy FamiliesWilliam Arthur Spark 1853 -
Birth 11 Jul 1853 St Nicholas, Aberdeen
Sex Male
Family Isobella Ogg, b. 18 Feb 1867, Glenbucket/Glenbuchat
Married 21 Aug 1895 St Nicholas, Aberdeen
Children
Archibald Charles Spark, b. 26 May 1896, Glenbucket/Glenbuchat
John Alexander Spark, b. 16 Dec 1897, Glenbucket/Glenbuchat
Annabella Mary Spark, b. 10 Dec 1899, Glenbucket/Glenbuchat
Robert Albert Spark, b. 08 May 1902, Glenbucket/Glenbuchat
Emilia Barbara Spark, b. 08 May 1905, Glenbucket/Glenbuchat
Gertrude Spark, b. 21 May 1912, Unknown
Histories census
1881 enumerated @ Cromwell Street, Barony (student of theology)
1891 enumerated @ The Manse, Glenbucket (minister)
1901 enumerated @ The Manse, Glenbucket (minister) with wife and children Archibald, John and Annabella
Histories census
1841 enumerated @ MillFord Cottage, Aberlour with parents and siblings Elizabeth, Elspet, William and Robert
1851 enumerated @ MillFord, Aberlour (domestic) with parents and siblings Elizabeth, William, Robert, Margaret, Joseph and Mary
1861 enumerated @ MillFord Cottage, Aberlour with parents and siblings Margaret and Joseph
1871 enumerated @ The Manse, Glenbucket with husband (minister) and children Robert, John and Helen
1881 enumerated @ The Manse, Glenbucket (widow) with sister Margaret and children Robert, John and Helen
Click for picture of Rev Spark, family and household about 1900 1901 Scotland Census about The Revd William Arthur Spark
Name:The Revd William Arthur Spark
Age:45 Estimated Birth Year:abt 1856
Relationship:Head
Spouse's name :Isabella Spark
Gender:Male
Where born:Aberdeen, Aberdeenshire Registration Number:200 Registration district:Glenbucket Civil parish:Glenbucket County:Aberdeenshire
Address:E C Manse
Occupation:Winder Of Glenbucket Parish Church ED:1
Household schedule number:16 Line:14 Roll:CSSCT1901_68
Household Members:NameAge
The Revd William Arthur Spark45
Isabella Spark34
Archebald Charles Spark4
John Alexander Spark3
Annabella Mary Spark1
Annie Isabella Ogg15 General Serv (domestic)
Picture added on 10 December 2012 at 18:37
This picture is in the following groups
buildings