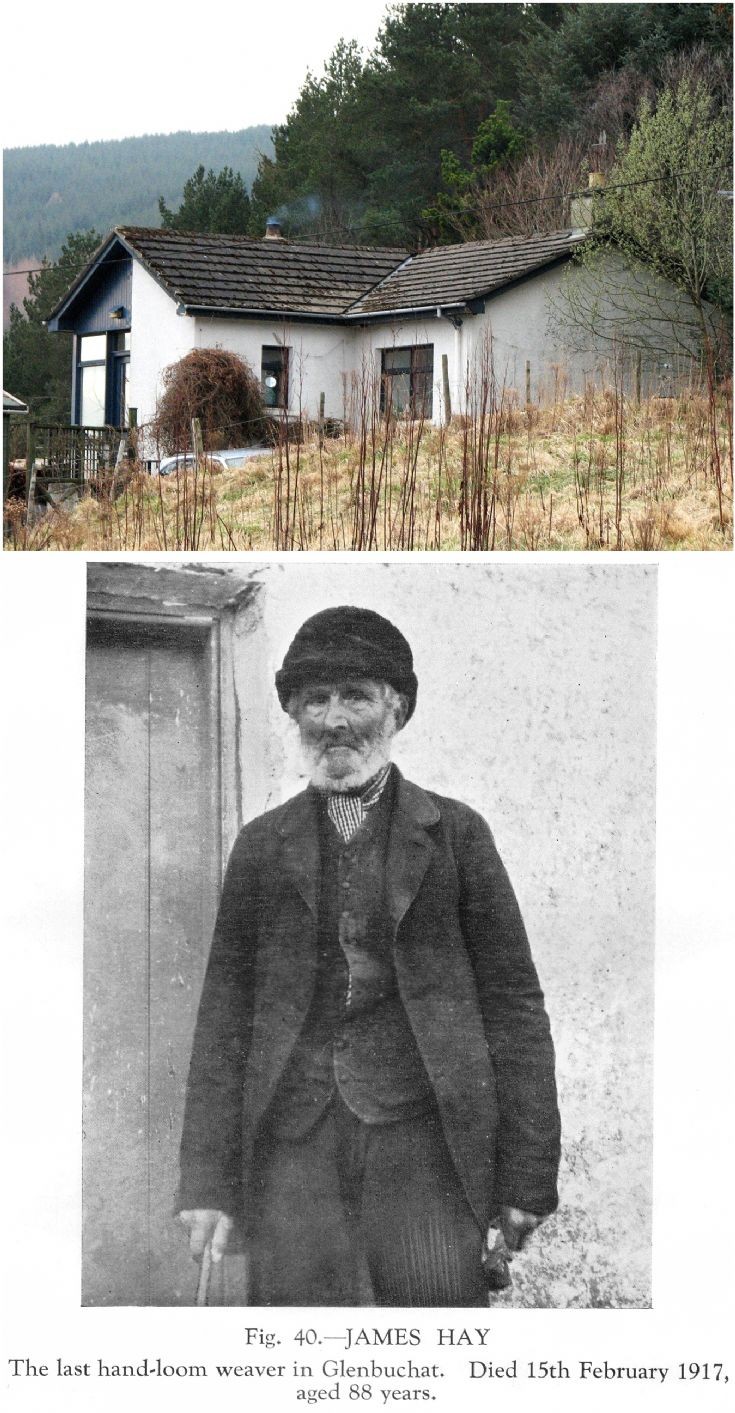 The Glenbuchat Image Library
142 Weavers Cottged BelnacraigWeavers Cottage
The second cottage on the left up the hill at
Belnacraig
is
Weavers Cottage
. Until about 15 years ago this was a two room cottage with a tin roof. Now it has been modernised and a large porch added.
It is difficult to say, from the Census returns, who actually lived in any one cottage on Belnacraig but one can assume that a weaver lived in Weavers cottage. The following are some of the weavers who lived on Belnacraig
1822
Kellas - March 1st 1822 – William Kellas Weaver in Belnacraig & Elizabeth Farquharson his wife had a daughter born in the first March & baptized & named Mary on the twenty third before witnesses
1851 Census
13 Belnacraig
Ann Grant Head U 69 formerly Ag Lab Aberdeenshire
James Hay Son U 22 Hand Loom Woollen Weaver Aberdeenshire, Glenbucket
Ann Hay niece 9 do, Tullynessle
1871 Census
49 Belnacraig
James Hay Head Unm 42 Cotton & Woolen Weaver Glenbucket
1901
From the Book of Glenbuchat "several weavers, now only one carries on a precarious trade."
James Hay died 15 Feb 1917 aged 88
1918 voters roll
Belnacraig: Mrs Jane Hay
1935 George Tait
, was Postie at Glenbuchat for many years. He was born in Aberdeen in 1906.
After training as a Telegraph Messenger, he was appointed Postman at Glenbuchat in 1925.
After his marriage in 1935 he lived at Weavers Cottage. He served on the RAF from 1941-1945 and when he was demobbed he went back to Glenbuchat and remained there until 1959 when the postal districts were amalgamated and mail vans took over from bicycles, to help cope with difficult conditions . He moved to Altdachie, Strathdon at that point and retired from the Post Office in 1966
James Hay
(Photo above, from the Book of Glenbuchat)
1851 Scotland Census about James Hay
Name:James Hay
Age:22 Estimated Birth Year:abt 1829
Relationship:Son
Mother's Name:Ann Grant
Gender:Male
Where born:Glenbucket, Aberdeenshire
Parish Number:200 Civil parish:Glenbucket
County:Aberdeenshire
Address:Belnacraig
Occupation:Hand Loom Woollen Weaver
Household Members:NameAge
Ann Grant69
James Hay22
Anne Hay9
1861 Scotland Census about James Hay
Name:James Hay Age:32
Estimated Birth Year:abt 1829
Relationship:Son
Mother's Name:Ann
Grant Gender:Male
Where born:Glenbucket, Aberdeenshire
Registration number:200 Registration district:Glenbucket Civil parish:Glenbucket
County:Aberdeenshire
Address:Belnacraig
Occupation:Woolen Weaver
Household Members:NameAge
Ann Grant78
James Hay32
1871 Scotland Census about James Hay
Name:James Hay
Age:42 Estimated Birth Year:abt 1829
Relationship:Head
Gender:Male
Where born:Glenbucket, Aberdeenshire
Registration number:200 Registration district:Glenbucket Civil parish:Glenbucket
County:Aberdeenshire
Address:Belnacraig
Occupation:Catton And Woolen Weaver
Household schedule number:49 Line:15 Roll:CSSCT1871_38
Household Members:NameAge
James Hay42
1881 Scotland Census about James Hay
Name:James Hay Age:52 Estimated Birth Year:abt 1829
Relationship:Head
Gender:Male
Where born:Glenbucket, Aberdeensh
Registration number:200 Registration district:Glenbucket Civil parish:Glenbucket
County:Aberdeenshire
Address:Belnacraig
Occupation:Woollen
Household schedule number:49 Line:12 Roll:cssct1881_60
Household Members:NameAge
James Hay52
1901 Scotland Census about James Hay
Name:James Hay
Age:72 Estimated Birth Year:abt 1829
Relationship:Head
Spouse's name :Jane Hay
Gender:Male
Where born:Glenbucket, Aberdeenshire
Registration number:200 Registration district:Glenbucket Civil parish:Glenbucket
County:Aberdeenshire
Address:Belnacraig Occupation:Woolen Weaver
Household Members:NameAge
James Hay 72
Jane Hay 58
Jeannie Barter Riddell 6
Ann Grant Mother of James Hay
1851 Scotland Census about Ann Grant
Name:Ann Grant
Age:69 Estimated Birth Year:abt 1782
Relationship:Head
Gender:Female
Where born:Aberdeenshire
Parish Number:200 Civil parish:Glenbucket County:Aberdeenshire
Address:Belnacraig
Occupation:Formerly Ag Lab
Household schedule number:13 Line:12 Roll:CSSCT1851_45
Household Members:NameAge
Ann Grant69
James Hay22
Anne Hay9
1851 Scotland Census about Anne Hay
Name:Anne Hay
Age:9 Estimated Birth Year:abt 1842
Relationship:Niece
Gender:Female
Where born:Tullynessle, Aberdeenshire
Parish Number:200 Civil parish:Glenbucket County:Aberdeenshire
Address:Belnacraig ED
William Kellas another weaver
William Kellas
Birth 26 SEP 1790 in Glenbucket
Death 1848
Parents
William Kellas (1776-)
Ann Hay (-)
Spouse
Elizabeth Farquharson (1791-1863)
Children
Margaret Kellas (1815-)
William Kellas (1819-)
Mary Kellas (1822-)
James Kellas (1824-)
Alexander Kellas (1826-)
Robert Kellas (1829-1911)
Peter Kellas (1832-)
1790 26 Sep Birth Glenbucket
1841 Age: 51 Residence Aberdeenshire
1848 Age: 58 Death
1871 Scotland Census about William Kellas
Name:William Kellas
Age:3 Estimated Birth Year:abt 1868
Relationship:Son
Father's Name:Robert Kellas
Mother's Name:Elisabeth Kellas
Gender:Male
Where born:Glenbucket, Aberdeenshire
Registration number:200 Registration district:Glenbucket Civil parish:Glenbucket County:Aberdeenshire
Address:Belnacraig
Household Members:NameAge
Robert Kellas41
Elisabeth Kellas39
Alexander Kellas9
Charles Kellas7
John Kellas5
William Kellas3
Anne Kellas1
1891 Scotland Census about William Kellas
Name:William Kellas
Age:23 Estimated Birth Year:abt 1868
Relationship:Son
Father's Name:Robert Kellas
Gender:Male
Where born:Glenbucket, Aberdeenshire
Registration number:200 Registration district:Glenbucket Civil parish:Glenbucket County:Aberdeenshire
Address:Belnacraig
Occupation:Crofters Son
Household Members:NameAge
Robert Kellas61
John Kellas25
William Kellas23
Annie Kellas21
Hellen Kellas14
Isabella Kellas12
Margaret J McHardy10
Gilliam A Sroufe Kellas10mo
Picture added on 03 April 2012 at 22:14
This picture is in the following groups
buildings