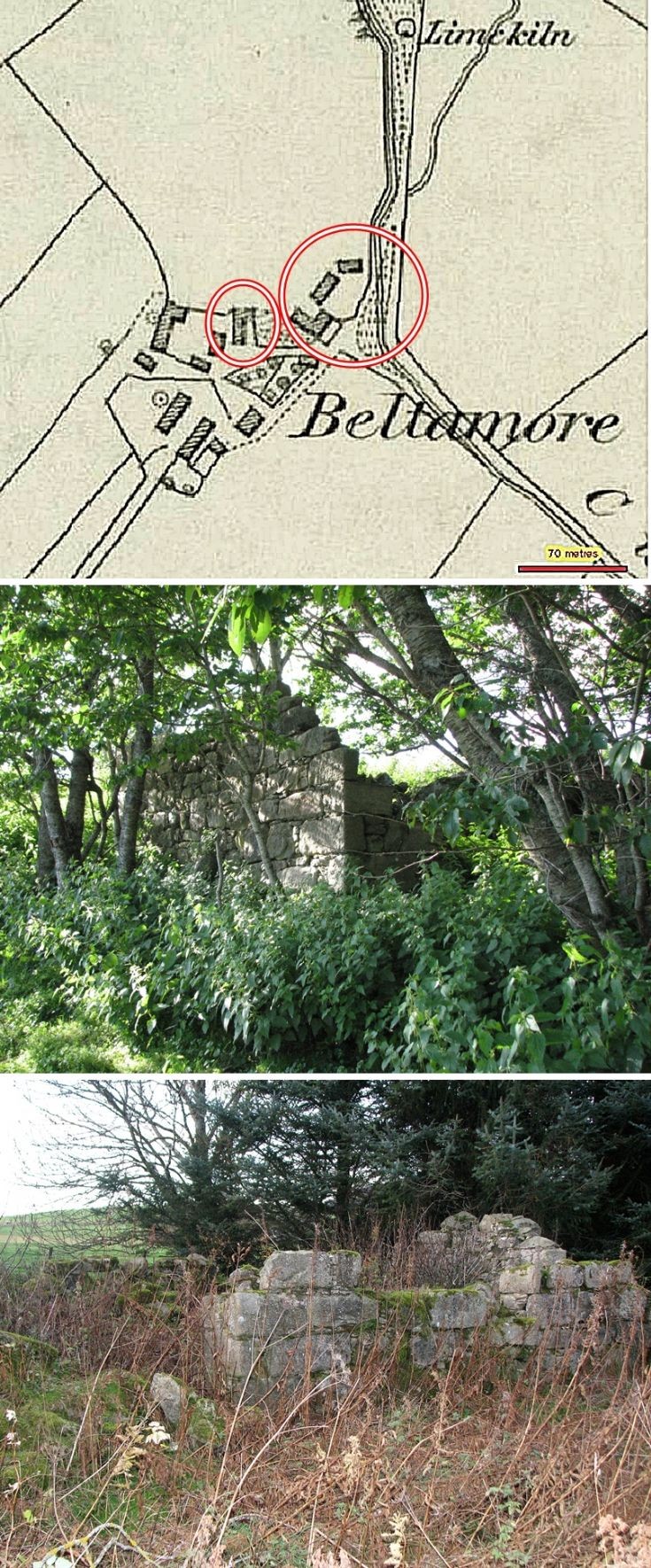 The Glenbuchat Image Library
109 Tomachat
Tomachat, possibly in Gaelic the Hill of the cat.
Tom, hill;
na, of the;
chat, cat (as in fiadh-chat , Wildcat)
The 1871 census places a Mrs Elizabeth Clark at Tomachat. There is no place of this name marked on a map and in Glenbuchat no resident knows of its location. If you know for sure let me know.
The entry in the census is close to
Baltimore Farm
. If you look on the above map and
the aerial picture
you can see on the right of the farm, two ruined cottages which are depicted in the two photo graphs. Either or both may be Tomachat (also Tomnachat)
The residents noted in the census are:
Charles Clark
Birth: Bef 1748 In Prob Aberdeenshire,
Death: Aft 1782 in Glenbucket
Marriage 1 Sophia Davidson b: Bef 24 Aug 1746 in Glenbucket,
Married: 22 Nov 1768 in Glenbucket
Children
1. George Clark b: Bef 14 Nov 1769 in Glenbucket
2. Peter Clark b: Bef 31 May 1772 in Glenbucket
3. Margaret Clark b: Bef 17 May 1774 in Glenbucket
4. John Clark b: Bef 23 jun 1778 in Glenbucket
5.
Charles Clark
b: Bef 18 Sep 1782 in Glenbucket

Charles Clark
Birth: Bef 18 Sep 1782 in Glenbucket,
Burial: Aft 26 Sep 1861 Glenbuchat Churchyard, Glenbucket,
Census: 1851 Belnaboth, Glenbucket
Census: 1841 Belnaboth, Glenbucket
Christening: 18 Sep 1782 Glenbucket
Death: 26 Sep 1861 in Belnaboth, Glenbucket
Census: Apr 1861 Belnaboth, Glenbucket
Father: Charles Clark b: Bef 1748 in prob Aberdeenshire,
Mother: Sophia Davidson b: Bef 24 Aug 1746 in Glenbucket
Marriage
1 Elspet Clark b: Abt 1797 in Kincardine O'Neil,
Married: 09 Aug 1818 in Kincardine O'Neil,
Children
1. Janet Clark b: 12 Jun 1819 in Glenbucket
2. Peter Clark b: 12 Oct 1821 in Glenbucket
3. James Clark b: Bef 26 May 1823 in Glenbucket
4. John Clark b: 27 Dec 1824 in Glenbucket
5. Elizabeth Clark b: 16 Oct 1826 in Glenbucket
6. Charles Clark b: 26 Dec 1828 in Glenbucket
7. Sophia Clark b: 28 Nov 1830 in Glenbucket
8. William Clark b: 21 Feb 1833 in Glenbucket
9. George Clark b: 27 Feb 1835 in Glenbucket
10. Robert Clark b: 19 Aug 1840 in Glenbucket



Elizabeth Clark
Birth: 16 Oct 1826 in Glenbucket
Census: 1841 Belnaboth, Glenbucket
Christening: 21 Oct 1826 Glenbucket
Residence: 01 Feb 1848 Belnaboth, Glenbucket
Death: Aft 1893 in prob Glenbucket
Census: 1851 Belnaboth, Glenbucket
Census: 1871 Tomachat, Glenbucket
Census: 1881 Tomachat, Glenbucket
Census: 1891 Tomachat, Glenbucket
Census: 1861 Belnaboth, Glenbucket
Father: Charles Clark b: Bef 18 Sep 1782 in Glenbucket
Mother: Elspet Clark b: Abt 1797 in Kincardine O'Neil, Aberdeenshire, Scotland
Marriage 1
William Hay
b: Bef 1828 in prob Aberdeenshire, Scotland
Event: Liaison Abt 1847 in prob Glenbucket
Children
1. Peter Hay Clark b: 01 Feb 1848 in Belnaboth, Glenbucket
Marriage 2
Joseph Leslie
Birth: Abt 1831 in Tough, Aberdeenshire,
Death: Bet 1891 and 1893 in prob Glenbucket
Married: Abt 1850 in prob Glenbucket
Children
1. Charles Leslie b: 25 Dec 1850 in Glenbucket
2. Joseph Leslie b: 05 May 1857 in Glenbucket
3. George Leslie b: Abt 1860 in Glenbucket
4. Samuel Leslie b: 12 Feb 1861 in Glenbucket
5. John Leslie b: 30 Jan 1866 in Glenbucket

Joseph Leslie
Birth: Abt 1831 in Tough, Aberdeenshire,
Census: Apr 1861 Farmton, Strathdon, Aberdeenshire
Event: Informant 05 Feb 1866 Tomachat, Glenbucket
Death: Bet 1891 and 1893 in prob Glenbucket
Census: 1881 Tomachat, Glenbucket
Census: 1891 Tomachat, Glenbucket
Census: 1871 Milltown of Edinglassie, Tarland, Aberdeenshire,
Marriage 1
Elizabeth Clark b: 16 Oct 1826 in Glenbucket
Married: Abt 1850 in prob Glenbucket
Children
1. Charles Leslie b: 25 Dec 1850 in Glenbucket
2. Joseph Leslie b: 05 May 1857 in Glenbucket
3. George Leslie b: Abt 1860 in Glenbucket
4. Samuel Leslie b: 12 Feb 1861 in Glenbucket
5. John Leslie b: 30 Jan 1866 in Glenbucket



Samuel Leslie
Birth: 12 Feb 1861 in Glenbucket
Census: Apr 1861 Belnaboth, Glenbucket
Residence: 11 Jan 1893 Chestnut Row, Aberdeen,
Event: Informant 11 Jan 1893 Gerrard Street, St Nicholas, Aberdeenshire,
Event: Witness 15 Dec 1882 Droughsburn, Alford,
Death: Aft 1901 in prob Duthil, Inverness, Scotland
Census: 1871 Tomachat, Glenbucket
Census: 1881 Bithnie, Tullynessle & Forbes, Aberdeenshire,
Census: 1891 Chestnut Row, Old Machar, Aberdeenshire,
Census: 1901 Railway Cottages, Duthil, Inverness,
Father: Joseph Leslie b: Abt 1831 in Tough, Aberdeenshire,
Mother: Elizabeth Clark b: 16 Oct 1826 in Glenbucket
Spouse
Elizabeth Leslie b: Abt 1860 in Drumoak, Aberdeenshire, Scotland
Married: Abt 1887 in prob Aberdeenshire
Children
1. Joseph S Leslie b: Abt 1888 in Aberdeen,
2. Alexander H Leslie b: Abt 1890 in Aberdeen,
3. John S Leslie b: Abt 1890 in Aberdeen,
4. Samuel Leslie b: Abt 1894 in Railway Cottages, Duthil, Inverness



Picture added on 07 December 2011 at 21:46
This picture is in the following groups
farm