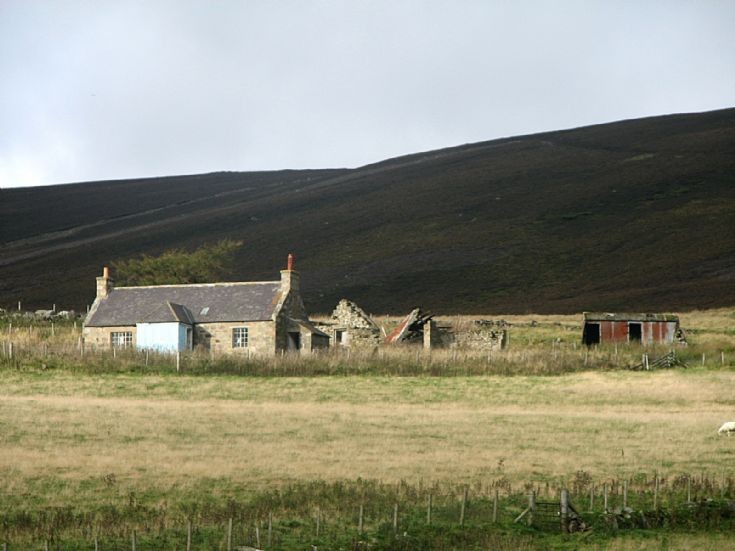 The Glenbuchat Image Library
53 Drumnagarrow Croft
Drumnagarrow croft
High up on the hillside above
Blackhillock Farm
, at 330metres, is the croft of Drumnagarrow.
This was the home of
James Strachan
the well-known fiddler.
The croft consists of a cottage and surrounding farm buildings and sheds which are derelict.
The cottage is intact but has not been inhabited even as a holiday let for over 12 years. It is remote with no road access, no running water, electricity or sanitation.
The inside is in disrepair. In the kitchen there is a
wide arch over the fireplace
not unlike a
Glenbuchat ingle
at Badenyon, except that it is covered with lath and plaster. Does a stone arch lurk underneath?
The cottage however has a magnificent view over the entrance to the Glen and Glenbuchat Castle
1841 Census
Drumnagarrow
James Brodie 45y Farmer
Barbra do 30y
William do 10y
Mary do 8y
James do 6y.
John do 4y.
Alexander do y.
do 1
Alexander Williams 65y H.L.Weaver .
Elizabeth do 20 y
1851 Census
65 Drumnagarrow
Alexander William Head Widr 80 Woollen Weaver Aberdn, Towie
Robert William Son U 41 Ag Lab do, Glenbucket
Betty William daur U 34 employed at home do, do
James Brodie Head Mar 55 Farmer of 13 acres (employing 1 Lab) do, do
Barbara Murdoch Wife Mar 44 do, do
James Brodie Son U 16 Scholar do, do
John Brodie Son U 14 Farmer's Son (employed on farm) do, do
Ann Brodie daur 6 do, do
Jean Brodie daur 4 do, do
1918 Voters Roll
John Cameron Farmer
Charles McCombie Cattle Dealer
Picture added on 21 October 2010 at 00:01
This picture is in the following groups
farm