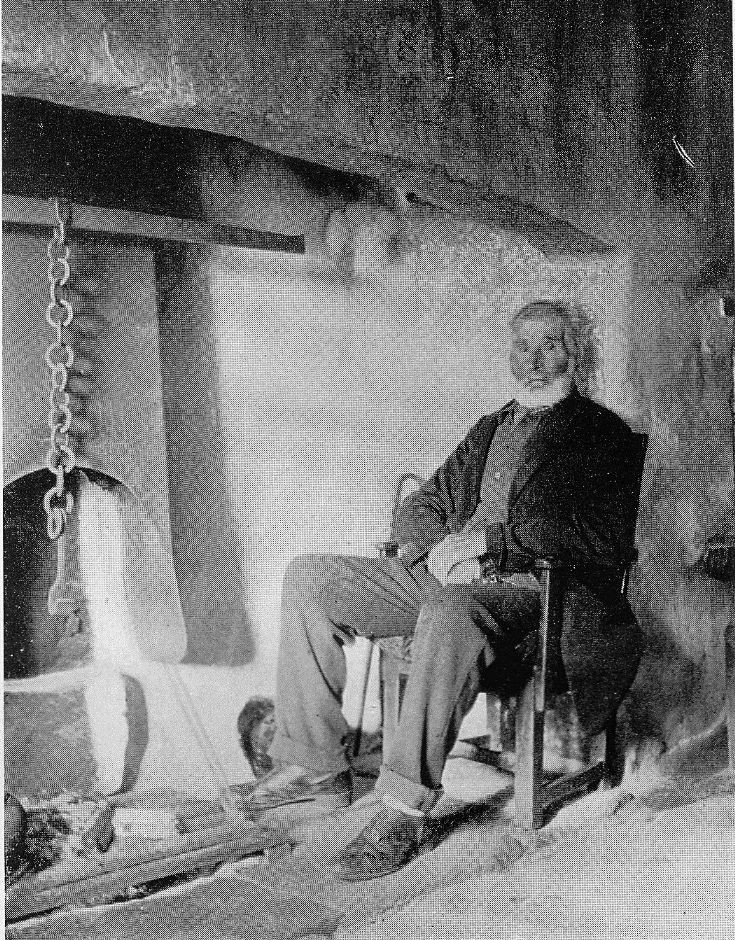 The Glenbuchat Image Library
84 Glenbuchat Ingle
Glenbuchat ingle
At
Badenyon is a wide chimney breast
arching over the front of the fire and under which it is possible to sit. The above is an example of the
'Glenbuchat Ingle'
taken from the Book of Glenbuchat
What is an 'ingle'.
From www.scotslanguage.com
As the nights draw in, we spend more time by our own ingle. This word came into Scots around 1500 from the Gaelic word 'aingeal', meaning fire, itself a borrowing from Old Irish 'aingeal' meaning sunshine or light. In Scots, it usually means a household hearth, although it can be a fire for heating any kind of room or building. Glasgow Burgh Records (1625) show that "ane ingle of collis" was necessary to keep mill wheels from freezing up. An ingle can also be hot material taken from the fire, usually for the purpose of lighting another fire. Don't do this in Perth on a Sunday or you could suffer the fate of the sinner who in 1623 was "Accused for profaning of the Lord 's Day, in kindling ingill to his furnace on Sunday". The Dictionary records similar offences in Dundonald and Falkirk. The ingle could be the kiln fire itself. Jamieson, in his 1808 Etymological Dictionary of the Scottish Language, records: "Some silly superstition is connected with the use of this term in relation to a kiln. For the fire kindled in it is always called 'the ingle', in the southern parts of Scotland at least. The miller is offended, if it be called 'the fire'". Most of the Dictionary of the Scots Language quotations evoke convivial scenes at the ingle neuk. Appropriately, we have a Selkirk quotation from Blackwood's Magazine (1885): "The souters a' fu' croose...Sat contentit round the ingle". Other quotations link ingles with cooking, from drying bannocks on the ingle stane to the mouthwatering "Ham-slices in a frying-pan Hang on the bleezing ingle" in Henry Scott Riddell's Poem (1847) and so, by contrast, the deserted ingle has extreme poignancy in Dorothea M. Ogilvy's Poem (1873) "The snaw that lies upon her ingle stane, Twill be nae caulder, whiter than hersel".
From http://www.britishlistedbuildings.co.uk
A 'Glenbuchat ingle' of the last century is illustrated in the Book of Glenbuchat (fig 39) but it does not immediately appear to be the Badenyon example leading to the assumption that there is (or was) at least one further example in the Glen, possibly that at
Dulax which may have been partly enclosed
. Fenton & Walker say these fireplaces were much larger than one would expect in the size of building, being of a scale more suitable for the great hall of a tower house or castle. A striking example of the great hearth, with well-cut voussoirs, can be found in a farmhouse dated 1822 in Glenfenzie at the top of Glengairn.
Picture added on 15 October 2010 at 15:27
This picture is in the following groups
buildings