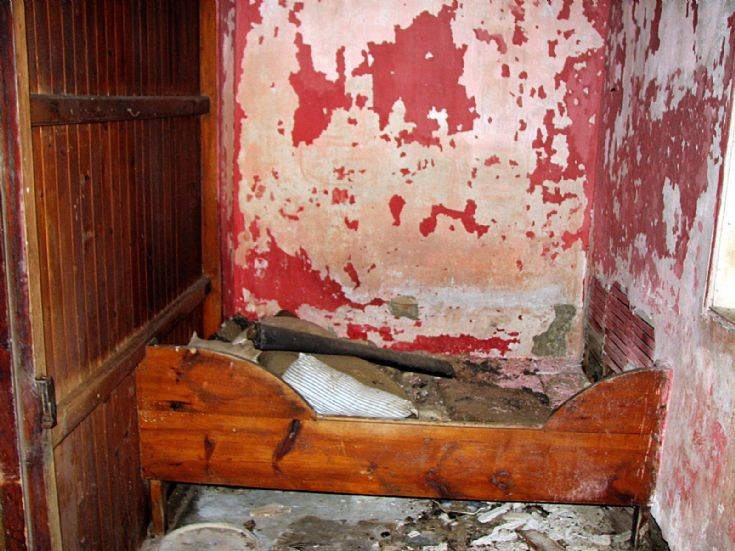 The Glenbuchat Image Library
49 Box Bed at Dulax Farm Cottage
Box bed in cupboard off the kitchen at the Dulax Farm cottage
Search on 'dulax'
for more details and pictures of Dulax
From 'oldandinteresting.com'
Scotland has a strong tradition of box beds, which are more part of the architecture than pieces of furniture.
In Scotland, for example, cottages and urban tenement houses were being designed with box beds or bed recesses until at least 1900. The 1841 plan for a farm labourer's cottage came with this comment:
It is not probable, however, that box-beds, which are really warm and comfortable within, will ever be laid aside, though of inconvenient construction for sick people. Modifications of their form have been recommended by medical men, consisting chiefly in having the back and ends to open on hinges, and the top made movable, for the sake of promoting ventilation, as well as of affording easy access to patients. Curtains suspended from movable rods, which may be drawn forward, have also been recommended to be placed in front, instead of sliding panels, to screen the people while dressing and undressing, in cases where the beds do not occupy separate apartments.
Henry Stephens, The Book of the Farm, 1841
The use of closed-in beds was formerly widespread both in the towns and the country districts of Scotland. The old type of completely enclosed beds, usually with folding doors like a cupboard, has, in the main, disappeared from the towns, though its existence is noted in the evidence from certain northern districts, particularly Orkney and Shetland; but the bed-recess, which is frequently enclosed for part of its length, is still common.
1918, Report of Royal Commission on the Housing of the Industrial Population of Scotland
Picture added on 12 October 2010 at 22:52
This picture is in the following groups
buildings