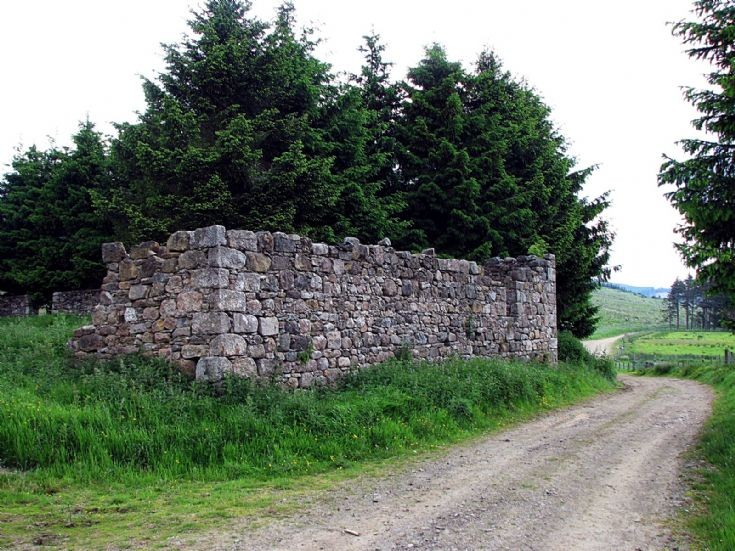 The Glenbuchat Image Library
42 Corriebreck Glen NochtyCorriebreck
If you take the road down the west side of the Nochty, from the Bridge over the Nochty to Lost farm there are a number of ruined steadings along the track. In the trees on the left are the ruins of Blairnamuck farm house. Further along the track on the right are the remains of Corriebreck.
Corriebreck.
Farm named from Coire breac, " speckled corrie."
See this page for historical snippets from the past
From The Royal Commission on the Ancient and Historical Monuments of Scotland
The farmstead of Corriebreck, which remained in use after the beginning of the 20th century (OS 6-inch map, Aberdeenshire, 2nd edition, sheet lx, 1903), comprises a simple U-shaped range around three sides of a S-facing court. Built of mortar-bonded random rubble masonry, it survives to a height of 4m at the NE corner, but much less elsewhere. On the N side of the court there is a byre measuring 27.5m from E to W by 4.5m internally, with a single wide entrance to the N, and three smaller entrances on the S leading into the court. The W wing of the range comprises a single building, measuring 12.4m from N to S by 4.3m internally, which abuts the W end of the byre and has an entrance close to the S end of the E wall. The E wing of the court contains a two-compartment building, measuring 12.4m from N to S by 4.5m internally; this abuts the E end of the byre and has an entrance towards the S end of the W wall. The lack of a separate dwelling at the steading suggests that it must have been incorporated into the range, either in the E or W wings. The court contains a shallow midden hollow and the remains of a sheep-dip.
Visited by RCAHMS (JRS, ATW) 4 March 1998.
Greenhill, Boundary Stone
This boundary stone is situated on the right bank of an un-named tributary of the Corrie Burn some 120m SW of the remains of Greenhill Croft (NJ31SW 50); it is a cylindrical granite pillar, measuring about 0.7m in height and 0.25m in diameter. Although no trace of a legend is now visible, the two sloping facets at the top of the stone have probably borne the incised words 'MARCH' and 'STONE' respectively, and the flat, narrow upper surface would have carried a number.
The stone is first depicted on the 2nd edition of the OS 6-inch map (Aberdeenshire, 1903, sheet lx).
Visited by RCAHMS (SPH), 4 March 1997.
Picture added on 18 August 2010 at 22:26
This picture is in the following groups
farm