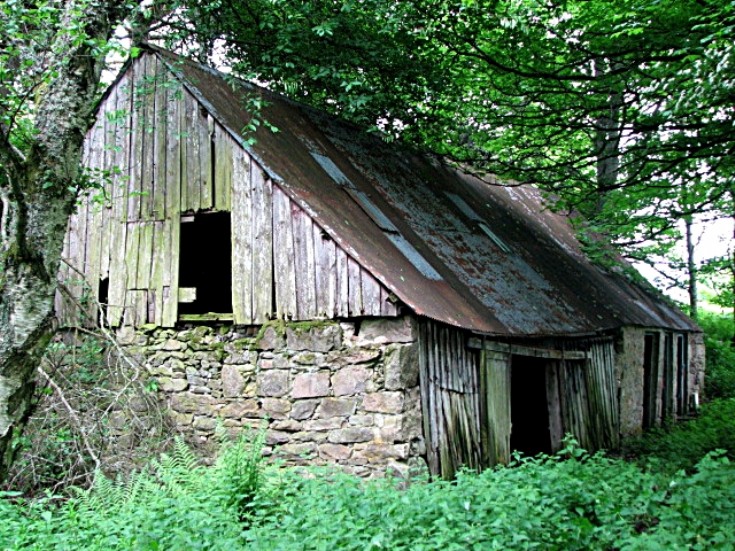 The Glenbuchat Image Library
30 Bridge of Buchat Wool MillWOOL MILL
There is the shell of a shed at Bridge of Buchat which is the remains of a Wool Mill dating from 1810. There was until recently a weir on the river just above the Mill and in the undergrowth there is still evidence of the waterway taking water to the mill.
See the picture of a girl cooking possibly beside this shed
The research into this mill is complicated as some sources speak of the Glenkindie Woollen mill.
There is an old mill at Glenkindie but it was a meal mill.
The woollen mill at Bridge of Buchat is only ½ mile from Glenkindie and on the road west from there.
The following comments relate to both these mills, which may be either separate or one entity. Perhaps there is an authority out there who can correct the situation
(Addendum: see 1580
map of Glenkindy indicating site of Walkmill
(wool mill) which later must have become a meal mill)
Archaeological Notes
Bridge of Buchat, Woollen Mill
Site Type WATERMILL
County ABERDEENSHIRE
Parish GLENBUCHAT
Council ABERDEENSHIRE
NGR NJ 4016 1495
Latitude, Longitude 57.221362N, 2.992577W
All that remains of this former woollen mill is a single building now in use as an animal shelter and store. It measures 16.6m from NW to SE by 5.7m transversely overall. Three of the walls are of stone, but the frontage on the SW is of timber and there is a corrugated iron roof. The interior contains three compartments at ground-level each with an entrance on the SW side. In addition, a loading platform at the SE end of the building gives access to a loft. This building is but one of six depicted here on the 1st edition of the OS 6-inch map (Aberdeenshire 1870, sheet LXI), of which only four are shown on the 2nd edition of the map (1902, sheet LXI.NW). Little or no trace of the rest can be seen in the surrounding area of overgrown woodland.
Visited by RCAHMS (JRS), 16 March 2000.
WALK-MILL, n. Wauk-mill. A fulling mill.
Fulling or tucking or walking ("waulking" in Scotland) is a step in woollen clothmaking which involves the cleansing of cloth (particularly wool) to eliminate oils, dirt, and other impurities, and making it thicker. The worker who does the job is a fuller, tucker, or walker.[1] The Welsh word for a fulling mill is pandy. This is used in several place-names.
Fulling involves two processes—scouring and milling (thickening). These are followed by stretching the cloth on great frames known as tenters and held onto those frames by tenterhooks. It is from this process that we derive the phrase being on tenterhooks as meaning to be held in suspense. The area where the tenters were erected was known as a tenterground.
Originally, this was literally pounding the cloth with the fuller's feet (whence the description of them as 'walkers'), or hands, or a club. From the medieval period, however, it often was carried out in a water mill.
Fulling mills
From the medieval period, the fulling of cloth often was undertaken in a water mill, known as a fulling mill, a walk mill, or a tuck mill. In Wales, a fulling mill is called a pandy. In these, the cloth was beaten with wooden hammers, known as fulling stocks. Fulling stocks were of two kinds, falling stocks (operating vertically) that were used only for scouring, and driving or hanging stocks. In both cases the machinery was operated by cams on the shaft of a waterwheel or on a tappet wheel, which lifted the hammer.
Driving stocks were pivotted so that the 'foot' (the head of the hammer) struck the cloth almost horizontally. The stock had a tub holding the liquor and cloth. This was somewhat rounded on the side away from the hammer, so that the cloth gradually turned, ensuring that all parts of it were milled evenly. However, the cloth was taken out about every two hours to undo plaits and wrinkles. The 'foot' was approximately triangular in shape, with notches to assist the turning of the cloth.
Historical Snippets:
The industrial archaeology of Scotland John Butt - 1967
GLENBUCHAT Mill. Mill of Glenbuchat... This woollen mill dates from about 1810 and now produces knitting yarn;
Abstract of receipt and expenditure for the relief of the poor in the parish of glenbucket during the year ended 14th may, ...
"at Inver- bucket a small woollen manufactory and saw mill, ..."
Strathdon Statistical Account 1845
"Manufactures.—There is not anything deserving the name of a manufactory in the parish. At the wool-mill of Glenkindy, the average quantity of blankets and plaiden manufactured per annum is about 2220 yards ; listing 4000 yards; woollen yarn spun 5800 cuts. The number of persons employed is 6."
Journal of historical geography1977
"The woollen industry eventually achieved a larger scale of operation through the small mills erected at ... the example of the more skilful and opulent tenants being readily imitated and in Glenbuchat "the improvements in every respect ..".
The changing Scottish landscape, Ian D. Whyte, Kathleen A. Whyte
"Some good examples can be seen in the Aberdeenshire valleys of Glenbuchat and Strathdon. ... Textiles Before the later eighteenth century the manufacture of woollen and linen cloth was carried out on a domestic scale in almost every parish."
1858 inspector of factories
"The under mentioned gentlemen have been certifying surgeons
Alex Profet Esq to the Factory at Glenkindie"
Local involvement in the textile business.
1791 Statistical Account
"The women in this parish, 20 or 30 years ago, were chiefly employed in knitting stockings, that species of manufacture has now given place to spinning coarse lint, which is mostly brought for that purpose by our country shopkeepers, from manufacturers in Aberdeen and other places, for there is not much flax raised in the parish. This, though a more severe and more exhausting employment on account of the great quantity if saliva requisite, is deemed more profitable. The women here use all two-handed wheels, as they call them; they are in general capital spinners, and bring a deal of money into the parish. Their common stint is from 20 to 40 cuts a-day; but some of them on a stretch, it is said, will spin double that quantity: For every spindle, or four 12 cut hanks spun, they receive commonly about 1s Sterling. "
1851 Census
Roadside
John Kellas Mar 33 Weaver (Woollen)
Mary Kellas Mar 35 Weaver's Wife
James Kellas Son 5 Scholar
Willm Kellas Son 3
Charles Kellas Son 11m
Elisabeth Kellas W 59 Weaver's Widow
Margt Kellas daur 34 Weaver's daughter
Alexr Kellas Son 24 Carpenter (app)
Mary McKenzie niece 6 Scholar
William Robertson neph 1
William Bremner foster child
Belnacraig
Ann Grant Head 69 formerly Ag Lab
James Hay Son 22 Hand Loom Woollen Weaver
Belnaboth
William Fraser Head 36 Tailor (master employing 2 men)
Margaret Fraser Wife 36 Tailor's
Jessie Fraser daur 6 Scholar
Alexander Fraser Son 4
Margaret Fraser daur 1
William Fraser Nephew 15 Tailor App
John Morrison Serv 16 Tailor Journeyman
Deochry
John Farquharson Head 42 Crofter (6 acres) 1 Lab
Isobel Dawson Wife 41
Ann Farquharson Daur 19 Crofter's daur (dressmaker)
Mains
Barbara Roger Head 75 Stocking Netter
Inverbucket
Charles Ross Son 32 Carpenter
Donald Ross Son 30 Carding Miller (Woollen)
Helen Ross daur 28 Dressmaker
Eliza Ross Grand daur 6 Scholar
George Taylor Serv 45 Blacksmith (Journeyman)
Delfrankie
John McHardy Head 30 Tailor (master employing no Lab)
Drumnagarrow
Alexander William Head 80 Woollen Weaver
Glenkindie Wool Mill
Alexr Skene Head 44 Wool Manufacturer empyg 8
Jane Beattie do Wife 35 Manuf's Wife
James Skene Son 5 Scholar
Ann do Daur 3 --
Helen do Daur 1 --
Margaret Milne Serv 19 House Serv
Jane Jamieson Serv 25 Mill Hand
Grace Cumming Serv 16 do do
Agnes Munro Serv 17 do
Ann Alexander Serv 16 do
Robert Ross Serv 55 Weaver
James Stewart Serv 44 Weaver
Joseph Allan Serv 18 Weaver
Edward Mennie Serv 11 Mill Hand
FROM Strathdon deaths and marriages:
27 Alexander Skene, Wool Miller (married to Jane Beattie) 1865 November fourth 11h 55m PM Inverkindie M: 58 years
parents: William Skene, weaver (deceased) & Elspet Skene ms Allan (deceased)
cause: Paraplegia, bronchitis with collapse of left lung, and exhaustion.
1842 28 August ‑ Alexander Skene, Wool Mill of Glenkindy and Jean Beattie, Grayfriars parish, Aberdeen were this day regularly proclaimed for the first, second and third time & married
From another web site:
"I've got an Alexander SKENE born in Elgin, Moray around 1808, Next I locate him on the Strathdon 1841 census, 30 yrs old, living/working at the Wool Mill in Glenkindie, Strathdon with Widow SKENE, age 70, and perhaps his sister, Margaret SKENE, age 45.
I downloaded a 13 page inventory from them and it was perfect. Copy was clear and complete. Billing was processed accurately. It was very rewarding to have a list of my grandfather Alexander Skene's estate and list of people who owed him money. He owned a wool mill in Glenkindie, Strathdon so there were outstanding accounts.."
Details of the Mill at Glenkindie.
Mill of Glenkindie
Site Type WATERMILL
County ABERDEENSHIRE
Parish TOWIE
Council ABERDEENSHIRE
NGR NJ 42876 14495
Latitude, Longitude 57.217623N, 2.947503W
Mill of Glenkindie, from 18th century. Rubble, with a brick-built kiln and a large overshot wheel with segmental gearing which drove the millstones and adjoining sawmill. The mill was rebuilt early this century after a fire.
Taken from "Aberdeenshire: Donside and Strathbogie - An Illustrated Architectural Guide", by Ian Shepherd, 2006. Published by the Rutland Press http://www.rias.org.uk Archaeological Notes
From The Reids at Rinmore
By now we are near the bottom and on the left hand side is a Mill House. This is the old meal mill. There is still a disused wooden mill wheel to the right and the whole building is generally in very good order. On talking to John Coutts, a Glenkindie inhabitant of some 80 years, whose grandfather was a mason and built many of the houses around Glenkindie, I am informed that the mill was lived in by one Herbert Ellis a joiner and miller, who ground the oatmeal here until recently.
Picture added on 09 July 2010 at 16:15
This picture is in the following groups
mill