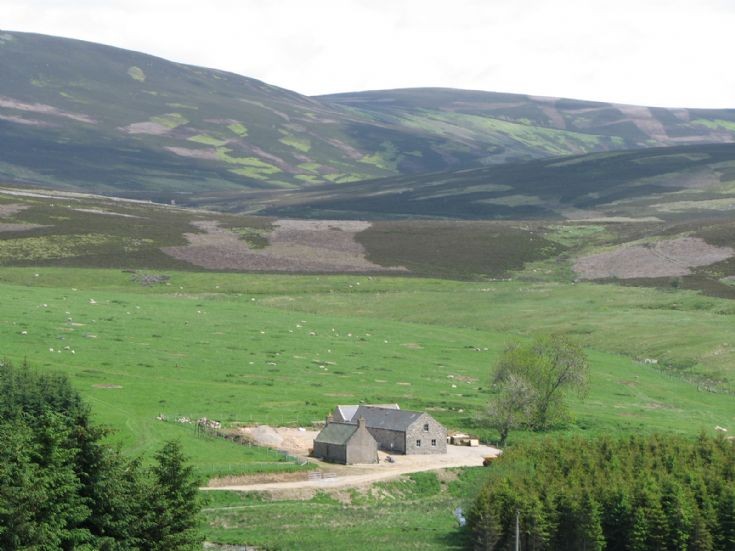 The Glenbuchat Image Library
25 Ballochduie
Undergoung renovation
Note limekiln near house
on 1850 map
Ballochduie
Alternative Name(s) LEADENSIDER BURN
Canmore ID 126549
Site Type FARMSTEAD, LIME KILN
County ABERDEENSHIRE
Parish GLENBUCHAT
Council ABERDEENSHIRE
NGR NJ 3454 1906
Latitude, Longitude 57.257505N, 3.08671W
Images 0
Archaeological Notes
NJ31NW 64 3454 1906
See also NJ31NW 63.
This farmstead is the southern of two closely-spaced but apparently independent farmsteads situated at the junction of the Leadensider Burn and its tributary the Burn of Sluggie, thje other being NJ31NW 63. Four tightly-spaced roofed buildings, with a limekiln to the E, are depicted on the 1st and 2nd editions of the OS 6-inch map (Aberdeenshire, 1869 and 1903 respectively, sheet l).
The SE building lies immediately to the E of the modern track and was probably a farm cottage. It measures 13.7m from E to W by 5.2m transversely over clay-bonded stone walls 0.75m in thickness and up to 2.1m in height. An entrance central to the S side leads into a garden enclosure. Immediately to the W of the cottage, on the W side of the track, there are the grass-grown remains of a small building which is open-ended to the S and measures 6m from N to S by 5.2m transversely over footings 0.5m in thickness and 0.6m in height. To the N of this structure there are the remains of a barn measuring 16.9m from E to W by 5.5m transversely over grass-grown stone wall-footings up to 0.7m in thickness and up to 0.6m in height. The building contains three compartments with entrances to the S, and there is a 2m wide stony platform running the length of the building on that side. At the W end of the building there is a small outshot, and at the E end of the N side there is a horse-engine platform measuring 9.4m in diameter.
The fourth structure lies on the E side of the track N of the cottage and measures 12.3m from E to W by 5.6m transversely over grass-grown footings.
The limekiln is situated about 50m to the E of the cottage on the S side of the Burn of Sluggie. It has been set into a NW-facing slope and measures 6.5m in diameter overall and 3.2m internally; the draw-hole is situated on the NW.
Visited by RCAHMS (JRS, ATW), 14 May 1997.
Picture added on 30 June 2010 at 19:58
This picture is in the following groups
buildings