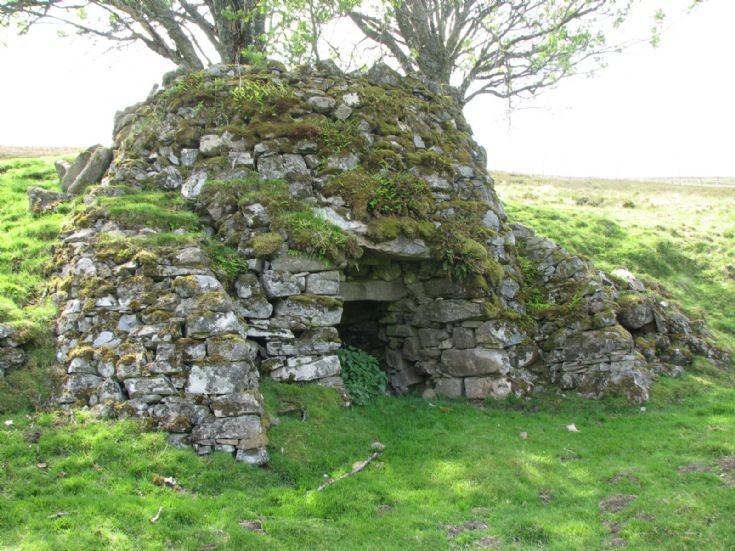 The Glenbuchat Image Library
23 Ryntaing Lime Kiln See entry on the Lime kilns of Glenbuchat
Site Type LIME KILN
County ABERDEENSHIRE
Parish GLENBUCHAT
Council ABERDEENSHIRE
NGR NJ 3376 2014
Latitude, Longitude 57.267092N, 3.099926W
Images 0
Archaeological Notes
NJ32SW 1.01 3376 2014
Lime Kiln (disused) [NAT]
OS 1:10,000 map, 1990.
A limekiln is set into a steep NE-facing bank about 70m to the SW of the farmstead NJ32SW 1.00 on the opposite (S) side of the Leadensider Burn. It measures 5.4m in diameter overall at the base, reducing towards the top at a height of 3.1m. There is a draw-hole, measuring 2m in width by 1.65m in height and 3.1m in depth, on the N and it is flanked on the NE and NW by external buttresses. The bowl of the kiln measures 3.5m in diameter at the top and it has a measurable depth of 2.5m. Apart from part of the E side, which has collapsed, the kiln is in good condition; a farm track runs close to the SW side.
Visited by RCAHMS (JRS), 14 May 1997.
Picture added on 30 June 2010 at 19:43
This picture is in the following groups
farm