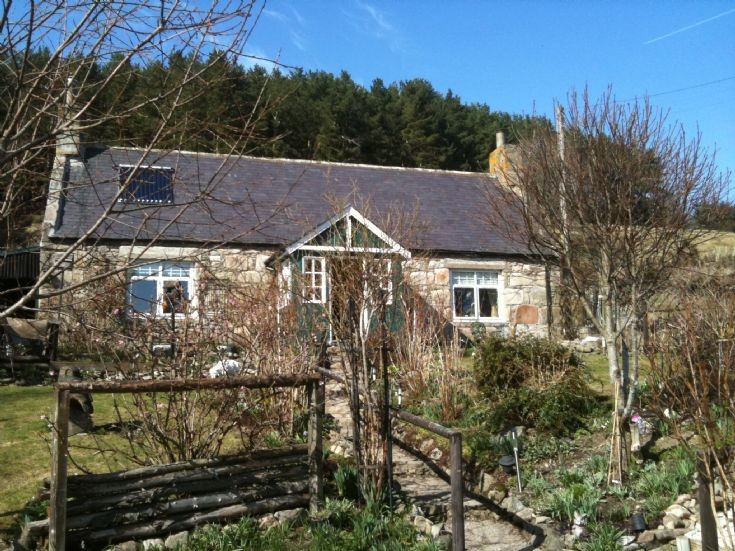 The Glenbuchat Image Library
4 Balgrennie CottageSearch on 'Balgrennie'
for more information on Balgrennie.
Balgrennie (Baile grianach, "sunny or warm town.") is a detached cottage beside the farm of Sunnybrae. The names may therefore be connected and as the cottage appears in the
1869 map
beside Sunnybrae, it has no separate name and may have been part of the farm.
Sandy Thom
, in 1983 the Glens oldest resident, was resident at Balgrennie. Born in the Deochry and farmed most of his life at Beltimb and retired to Balgrennie
The only other record of a resident of Balgrennie is:
Isabella Gordon Beattie
B - 12 Dec 1859 Glenbucket
D - 23 Mar 1935 Balgrennie, Glenbucket. Buried Glenbucket Churchyard. Informant Mary M Joy, sister.
Isabella is listed on death certificate as Housekeeper (Retired), Single. Cause of death is carcinoma of rectum and liver. In the 1881 census, Isabella is listed at 4 Rubislaw Terr, Aberdeen Old Machar as a cook and domestic servant.
There is however record of a more permanent resident,
the Balgrennie Ghost.
"Several years ago, shortly after we started renovations to bring the cottage up to habitable standard, I came into our sitting room and saw a lady sitting in a wooden chair (which was not part of our furnishings) at our fireside. She was very clear and lifelike and I was able to note lots of detail, like her small childlike stature with grey hair either very short or scraped back, her floral crossover pinny and a quiet almost enigmatic smile. I was surprised, but not frightened or threatened by her appearance, and turned to see if I had left the door open for her to get in...when I turned back she was gone! I spoke to a couple of long-term residents of the glen and was shown an old group photo where I was able to pick out Mrs Thom as my visitor. At that time I had almost no knowledge of the history of the glen and its previous residents and as far as I am aware could not have known Mr and Mrs Thom were once tenants here and that Mrs Thom always sat in hard chairs as she believed soft furnishings were bad for the back. I have not "seen" her again, but do frequently feel I am being watched when there is no one there (fairly common phenomenon) but never frightening...more approval especially when I have done housework, Mrs Thom was apparently very house proud!"
Picture added on 12 April 2010 at 20:01
This picture is in the following groups
buildings
Comments: