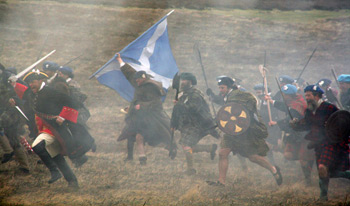 The Glenbuchat Image Library
40 Glenbucket RegimentMajor-General Glenbucket's Regiment

From: Scotwars.com
History of the Regiment, 1745
The regiment was formed in Oct. 1745. Recruited from men from highland or near highland areas, and from highlanders owing no particular allegiance to any chief.
Glenbucket also recruited from the Duke of Gordon's estates, where he gained a reputation as "A most terrifying press officer", driving in every able bodied man and boy he could find. He also took every horse, not excepting those belonging to the duke. The jacobite authorities demanded that landowners should supply an able bodied man for the army, for every £100 (scots) of landed rent, alternatively they could pay £5 (sterling) in lieu of a man. Allegations were rife at the time that the Jacobites were more interested in getting the money than the recruits. Old John Gordon of Glenbucket however always refused offers of money instead of men.
The original size of the regiment is not known, but at Culloden it is listed as being 200 strong, but by that time it may have been well down on its strength due to losses and desertion, as was the entire Jacobite army.
It is known that the regiment was quite well equipped as, Murray of Broughton recorded that Gordon of Glenbucket's and the first battalion of Lord Ogilvy's were both equipped with arms captured from Cope's army at Prestonpans. But evidence suggests that by the time of Culloden, the entire Jacobite army was armed with French and Spanish muskets to simplify the ammunition supply.
It is also known that Glenbucket's had at least two cannon, which they used at Ruthven barracks. The regiment seems to have been quite well organised and disciplined, Colonel O'Sullivan, one of the Prince's Irish staff officers, commented that "John Gordon of Glenbucket was the only Scot I ever knew, who was able to start at the hour fixed".
Glenbucket's Regiment took part in the advance into England and the return from Derby. One Company of the Regiment formed part of the garrison, which was left behind at Carlisle. The regiment also played its part in the Skirmish of Clifton on 18th December and the Battle of Falkirk on 17th January 1746. Shortly before Falkirk with the Highland Army under Lord George Murray drawn up near Bannockburn and expecting an attack from Hawley's superior force, about 1000 - 1200 men were left under the command of the Duke of Perth and Gordon of Glenbucket to continue the siege of Stirling Castle. Other sources maintain that Glenbucket's regiment were at this time in the north of Scotland, operating against the government's independent highland units. Another recorded action of the regiment is on the 11th of February 1746, when John Gordon and his regiment used a couple of guns to "persuade" lieutenant Molly to surrender Ruthven barracks in return for a safe passage to Perth. Glenbucket then proceeded to burn the barracks.
In March 1746, Glenbucket was again in Strathbogie levying money and forcing men out to the cause.
At the battle of Culloden, Glenbucket's had rejoined the main Jacobite army. Originally they stood on the left in the second line, flanked by the Perthshire Horse under Lords Strathallan and Pitsligo, but after Lord George Murray ordered the front line of highland regiments to close up to the right, Perth's and Glenbucket's were moved up to the first line to fill the gap which had been created on the left flank. When the Jacobite army advanced, both Perth's and Glenbucket's advanced with them, but due to swampy ground and small ponds to their front they were unable to make contact with the enemy. So for most of the battle they engaged in a firefight with the government troops opposite them. Glenbucket's and Perth's suffered relatively few casualties during the battle. When the government dragoons launched their attack, Glenbucket's and Perth's on the left flank were able to hold them off for a short time, presumably helped by the same swampy ground which had stopped their own advance. The dragoons soon bypassed the two regiments in search of easier targets. When the general retreat and disintegration of the Jacobite army began, both regiments were able to retire from the field virtually intact and in good order.
Along with the remnants of John Roy Stewart's regiment, Glenbucket's and Perth's escorted Prince Charles from the field for at least part of the way.
There is no record of what happened to Glenbucket's regiment after Culloden, it may have been amongst the units which gathered at Ruthven barracks after the battle, Perth's regiment was there. Whatever happened, the regiment was disbanded soon after Culloden, never to be heard of again.
Some mention is made of Glenbucket's regiment in the records of the trials held in the aftermath of the uprising. In a list of prisoners condemned to death and subsequently reprieved, there are two members of Glenbucket's mentioned. One was John Bennagh, sixteen, he had been pressed into the Prince's service when old Glenbucket went recruiting in Glenmachy; he was reprieved and sentenced to transportation to the Americas, but he died of starvation in prison before he could be taken to a ship. The other was James Gordon, the fifteen year old son of the Laird of Terpersie, he too claimed to have been pressed, but perhaps he did not mind this too much, for his brother was an officer of Glenbucket's, and was later to be hanged for it, and James himself was listed on the muster roll as a Lieutenant of artillery. He was reprieved, but spent two years in prison before a transport took him to Jamaica, where Lord Adam Gordon found him twenty years later.
Another member of the regiment mentioned in some books is the regimental priest, Father John Tyrie. In Strathavon when recruiting was taking place, Fathers Grant and Tyrie cast lots to see who would have the honour of going to war with their communicants. Father Tyrie won and went off to march to Derby, armed with prayers and pistols. He is also mentioned at Culloden as "standing in line next to old Glenbucket with sword and targe, when it all ended at Culloden".
James Reid, the piper captured at Carlisle and subsequently executed for playing an "instrument of war", but there were other pipers taken prisoner and released later. Names include James Campbell, piper to Glengyle,
Nicholas Carr, piper to Glenbucket,
Robert Jameson, piper to the Duke of Perth (and also Town Piper for Arbroath), John Sinclair of Ogilvie's and the unfortunate blind piper Allan MacDougall, who had marched piping straight into the hands of the enemy at the battle of Falkirk.
Major General John Gordon of Glenbucket
Described by his contemporaries as: A craggy old man of seventy or more, his body twisted by rheumatism, he was a man of little property, living in Strathbogie, he liked the highlanders and had married his many daughters amongst them. Described as an inveterate Jacobite, he had been out in '89 with Dundee, and in the '15 he commanded a battalion of Gordons at Sherriffmuir. In the '45 uprising he held the rank of Major General, but due to his age and infirmity he did not exercise his rank. Although he did lead his regiment at Culloden, where he is described as sitting at the head of his regiment on a grey highland pony. Despite his age he still had a considerable reputation with the government troops.
In Feb. '46 a raid on Corgarff castle by a government force of 300 foot and 100 dragoons was abandoned due to a rumour that Glenbucket and his men were in the area. He supposedly gave King George nightmares; during the march to Derby, King George is said to have exclaimed in alarm "De great Glenboggit is coming!"
In the '45, Glenbucket led 300 men for Charles. According to some sources, Glenbucket might just have made it to Prestonpans as he was a member of the official council consisting, amongst others, of the Duke of Perth, Lord George Murray, Lord Elcho, O'Sullivan etc. who met at Edinburgh after the battle and decided to stay there for the meantime. Yet other sources maintain that Glenbucket with 150 of his men was with the Prince shortly before he set out to raise the standard at Glenfinnan on the 19th August 45 and that Glenbucket even brought the Prince news of the first Jacobite victory. After the disastrous defeat at Culloden, Old Glenbucket actually survived and managed to escape from the battlefield and gathered with others like Lovat, Lochiel, the MacDonnel chieftains etc. at the head of Loch Arkaig, hoping to re-launch the 45. He finally escaped on a Swedish sloop on 25th November and was expressly exempted from the Act of Indemnity of June 1747. He died in Bolougne on 16th June 1750. In addition, it is recorded that his son, also named John Gordon, was amongst the captives taken at Inverness after the battle. He is described as being half blind with drink.
Letter from Glenbucket to his son in law to encourage him to raise troups and join the rebellion
George Forbes, 5th of Skellater, married a daughter of John Gordon of Glenbucket the famous Jacobite. (Although referred to as Glenbuchet; John Gordon had sold the castle and lands prior to this. He was in their possession only a short time). George had been much trusted by his redoubtable father-in-law. Skellater had received orders from Mar and Glenbucket to raise all fencible men between 16 and 60 for the Jacobite cause, and one month later his father-in-law wrote the following letter. It bears similar sentiment to that from Mar to John Forbes of Inverernan at the start of the 1715 Jacobite uprising.
St.Bridget, September 15th 1745. [St. Bridget is another name for Mains of Camdell in Strathavon]
Dear George

I am concerned to see your country so backward to relieve yourselves from slavery and poverty. Though no pleasure to force, yet necessite obliges. Get your own men ready, march down amongst those your order obliges you to raise. Since Cushing his health will not allow of his going, he'll concur to oblige his tennants and give arms. If Glenkindie is gone, you'll raise tennents and take his arms and so goe accordingly with the whole. I march from this to Glenlivet this day qhr, you'll acquaint me what your doing. No tyme to be lost. I am glad yr uncle is come. How soon this came to yr hand acquaint Blelack that I marched and that he may acquaint Monaltrie and all our friends to make all possible despatch to joyn without loss of time. If absolute necessite, I shall send one party over yr ladder on ye Strathbogie and Enzie gentrie. I hope they'll be ready, or I can reach them, If I am forced to send a partie, it must be Highlanders who, I am afraid will not, away from myself, be so agreeable nor so regular to the countrie. But since they deserve be made exaples of, blame yourselves. Your orders are full, therefore pray goe dilligently about ym. In all haist, for tomorrow night I design to be the length of Auchindoun, in order to raise that country. My service to yr uncle, Christiane and the Bairns.

John Gordon.
John Forbes of Inverernan was taken prisoner after the battle of Sheriffmuir and died in Carlisle the night previous to the day fixed for his execution. For his part in the 1715 Jacobite uprising MAR had his lands confiscated and died on the Continent in 1732. The fate of his estates were not settled until sometime after 1716. In 1724 the Government allowed his brothers James Erskine, Lord Grange, and David Erskine of Dun, a Lord of Session, to purchase the estates on behalf of Thomas, the only son of the Earl. The trustees held the estates for several years and then with the lands encumbered by debt proceeded to sell all the Aberdeenshire lands. The greater part went to William Duff of Braco, the first Lord Fife, in 1731. It is probably through this purchase that McHardys migrated to certain parts of the Braco lands in the north of Aberdeenshire and Banffshire at a later period. In 1738 George Forbes, 5th of Skellater purchased the lands of Corgarff. The residue of the Mar estates past to Thomas in 1739.
From History of Logie-Coldstone and Braes of Cromar
Up to this date the only contingent his army had received from Aberdeenshire was the troop — mainly of horse— under Old Gordon of Glenbucket, the " Prince Rupert ' of the expedition, as he has been called, on account of his daring and dashing exploits. He was a veteran soldier, and had been out with Mar in the '15, since which time he had sold his estate of Glenbucket — under redemption, as it was called — to the Earl of Fife, who was now in possession. Though Gordon was styled of Glenbucket, the only following he had from that glen consisted of the loose men and masterful beggars who still looked to him as their chief. The body of cavalry he commandedcame from Banffshire and belonged to the regiment being raised there by Lord Lewis Gordon, brother of the Duke of Gordon, an early and active partisan of the Prince. This small body, with some vagabonds from Braemar who joined themselves to the McIntoshes, were the only Aberdeenshire men who had any part in the defeat of " Johnnie Cope *' at Prestonpans. But victory gave a great impulse to the spirit of insurrection in and around Cromar.John Gordon of Glenbucket escaped from Buchan to Norway, whence, after undergoing much privation and suffering, he made his way to France, where he was the recipient, for a few years, of a small pension from the Prince he had served so bravely. An old man, broken in health through the hardships he had endured, he did not long survive his exile. As a soldier in the Highland army his exploits of daring and bravery had inspired such terror into the English mind that even King George II. was said to have his nightly repose frequently disturbed by the fear of his approach, and to start from his sleep exclaiming, in his vernacular accents: "Ish ta great Glenbookat coming?'*
Picture added on 23 February 2010 at 14:09