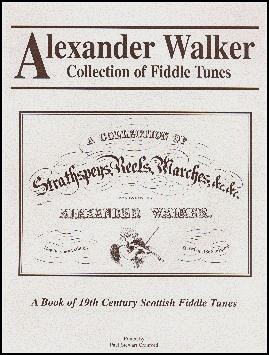 The Glenbuchat Image Library
23 Alexander Walker Fiddle Musc Composer
WALKER, ALEXANDER. A Collection of Strathspeys, Reels, Marches, &c. Cranford Publications, RR#1, Box 42, Little River, Cape Breton, NS, Canada, BOC 1H0. 1991 (originally published in 1866).
See page 22 'Music in the Glen'
Alexander Walker was born in Rhynie in 1819 and besides being a musician was also an inventor, rather like Marshall another amateur inventor. This brought him to the notice of Sir Charles Forbes of Castle Newe and Walker was employed there as a gardener. He also led the Castle Newe Band and many of his compositions reflect his life in the North-East. In 1870 he emigrated to America. Just four years later the Alexander Walker Collection was published in Aberdeen. He collaborated with Scott Skinner and the young Skinner may well have been influenced by Walker. Sadly, Walker's work was much neglected until in 1991 enthusiasts of his music in Cape Breton, Canada, re-published the collection. It is well worth exploring as it contains many notable tunes, including the reels Mar Lodge. Abergeldie Castle, Forbes Morrison, the strathspeys The Countess of Fife, Dr. Profeit (with Skinner), Lonach Hall and the fine air Aboyne Castle.
The Alexander Walker Collection
A Collection of Original 19th Century Fiddle Tunes
196 Tunes
Index
Abbey Craig (The)
Abergeldie Castle
Aboyne Castle
Alexander Davidson
Alexander Ramsay
Alexander Walker
Ardclach
Auchindoun Castle
Balleterach Strathspey
Balmoral Castle
Balmoral Hornpipe
Banks of Avon (The)
Banks of Boggie (The)
Banks of Don (The)
Banks of Earn (The)
Belted Plaid (The)
Ben Newe
Ben-A' Chie
Birks of Delhandy (The)
Birnan Hall
Blair Athole
Bog of Rannes (The )
Bonny Lass of Rothiemay (The)
Braes of Letterfourie (The)
Braes of Mayen (The)
Braes of Morven (The)
Braes of Newe (The)
Braes of Rhynie (The)
Bridge of Alford (The)
Bridge of Banff (The)
Bridge of Bucket
Bridge of Gairn (The)
Bridge of Newe (The)
British Press (The)
Cairntoul
Captain Charles Leith Hay
Castle Forbes
Castle Newe
Charles John Forbes
Clansmen's Quickstep (The)
Clashnettie's Hornpipe
Cluny Water
Coil-a-Creich Inn
Col. Call's
Col. Farquharson of Invercauld
Coming thro' Kilbleen
Corgarff Castle
Countess of Fife (The)
Countess of Seafield (The)
Craig Coynach
Craigenroan
Delnadamph Lodge
Delrachnie's Rant
Deskry Shiel
Doctor Profeit
Donside Lasses (The)
Doune of Invernoughty (The)
Dr. Cameron
Dr. Marshall
Dr. Robertson
Duchess of Athole (The)
Duchess of Richmond (The)
Duke of Athole (The)
Duke of Richmond's Birthday (The)
Duncan Dawson
Dupplin Castle
Earl of Marches (The)
Earl of Seafield (The )
Easter Skene
Falls of Corrymulzie (The)
Fiddich Bridge
Fishers' Reel o' Buckie (The)
Forbes Lodge
Forest of Mar (The)
Free Gardener (The)
George Gordon
George Reid
George S. Forbes of Aslown
Glenavon Forest
Glenbucket Castle
Glenbucket Lodge
Glengairn
Glenlivet
Gordon Castle Waltz
Gordon Stewart Forbes
Haughs of Delbagie (The)
Highland Society of Scotland (The)
Honourable Seymour Egerton (The)
House of Bellabeg (The)
House of Craig (The)
House of Drummuir (The)
House of Edinglassie (The)
House of Glenkindy (The)
House of Invercauld (The)
House of Invereruan (The)
Isla Side Lasses
James Lumsden
James Moir
John Begg
John Forbes
Kerr's Hornpipe
Kildrummie Lodge
Kildrummy Castle
Kirkney Water
Laddie wi' the Bonnet Blue (The)
Lads of Tarland (The)
Lady Augusta Gordon Lennox
Lady Forbes of Newe
Lady Radcliffe
Lasses of Fochabers
Lassie of the Glen (The)
Loch Avon
Loch Builg
Loch Muick
Lonach Country Dance (The)
Lonach Hall
Lonach Highlander's (The)
Lord Arthur's Cairn
Lord Dudley's March
Lord Fife's March
Lord George Gordon Lennox
Lord MacDuff
Lord Redhaven
Mar Castle Strathspey
March to the Rendezvous
Marchioness of Townshend (The)
Marr Lodge
Master John Gatherer
Mayen House
Merry Lads of New Pitsligo (The)
Methven Castle
Mill of Newe (The)
Mill of Tynett
Moncrieffe House
Mount Battock
Mourdun Hill
Mr. Alex Walker
Mr. Alex. Sheriff
Mr. Alexander Lawson
Mr. Alexander Munro
Mr. Alexander Troup
Mr. Alexander Wattie
Mr. Barclay
Mr. Charles Grant
Mr. Duncan McKerracher
Mr. Forbes Morrison
Mr. G. Ironside
Mr. George Morrison
Mr. Gordon Glennie
Mr. Hunter
Mr. J. S. Skinner
Mr. James Davidson
Mr. James McGrigor
Mr. James Munro
Mr. James Taylor
Mr. James Wattie
Mr. Jamieson
Mr. John Walker
Mr. Murdoch
Mr. Peter MacGrigor
Mr. William Donald's Favourite
Mrs. Barclay
Mrs. Forbes of Newe
Mrs. J. Forbes
Mrs. Leith of Glenkindy's
Mrs. Marr
Murthly Castle
Neil Gow's House
New Forest
Pass of Ballater (The)
Patrick Glennie's
Perthshire Lasses (The)
Peter MacLagan
Ploughman Laddie (The)
Polduilly Bridge
R.O. Farquharson of Haughton
Robert Russell of Pilmuir
Roe Hunt (The)
Royal Aberdeenshire Highlanders (The)
Royal Visit to Newe. 1859. (The)
Scone Palace
Sir Alexander Cumming
Sir Charles Forbes of Newe
Sir George Abercrombie
Sir James M. of Edingight
Sir John Stuart Forbes
Sir Robert Gordon
Sporran Mullach (The)
Tap O' Noth
The House of Clova (The)
Towie Castle
Tweedside Lasses (The)
Union Street Bridge
Wallace Tower
We'll Aye Gang Back to yon Town
Willow Hornpipe (The)
Picture added on 06 February 2010 at 19:31
This picture is in the following groups
music
Comments: