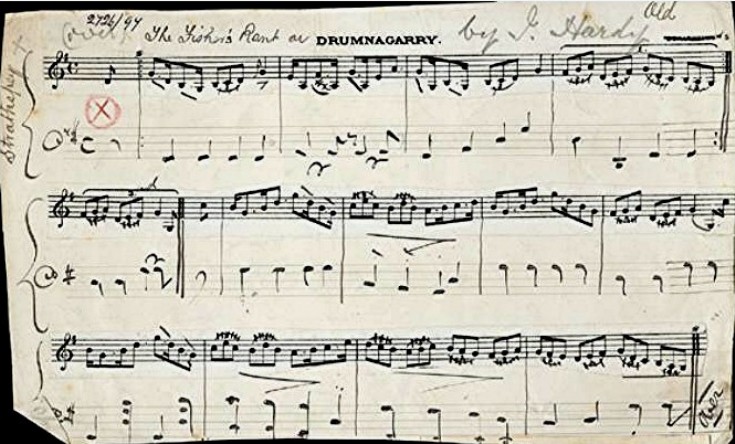 The Glenbuchat Image Library
5 Drumnagarrow Scott Skinner See entry 1 Drumnagarrow
Skinner has adapted a previous printed version by adding another title, the composer's name, changing the bowing, adding dynamics, and a simple bass line. 'Drumnagarry', was John Strachan (c.1785-1877) b. Drumnagarrow, Glenbuchat, Aberdeenshire. He was a well-known fiddler who sometimes played with Willie Blair (q.v.). The 'Fisher's Rant' was renamed 'Drumnagarry' after Strachan. His daughter Mary married William Hardie of Methlick, grandfather of Aberdeenshire fiddler William J. Hardie (1927-1988) and great-grandfather of Edinburgh-based fiddler and publisher Alastair J. Hardie (b. Aberdeen). The composer, 'J. Hardy' was probably James (or Jamie) Hardie (1836-1916, b. nr Ellon, Aberdeenshire d. Edinburgh), a successful Edinburgh violin-maker whom Skinner often visited. Hardie, a grandson of Strachan's, was a prize-winning fiddler, and also played the double bass.
From Aberdeen University Scott Skinner Collection
When the Earl of Fife went to meet his Highlanders, he was a greeted with a blast of music from 'Drumnagarrow and his soul-inspiring band.' Drumnagarrow is a farm at then foot of little Firbiggs hill, north of Easter Buchat. John Strachan, a well-known fiddler who came from the farm, was held in high esteem by Scott Skinner. The Strathspey King was a frequent visitor to Glenbuchat.
From 'The Land of the Lost' by Robert Smith
Picture added on 24 January 2010 at 21:59
This picture is in the following groups
music