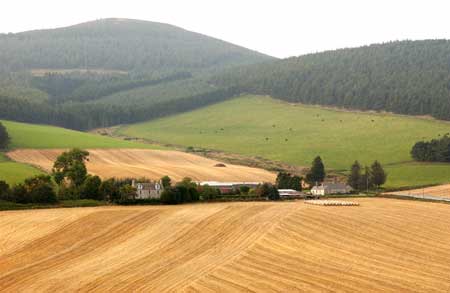 The Glenbuchat Image Library
11 Buchaam Farm Ogg Family Connections
The first record of buildings at Buchaam date from 1420, the main part of the present houseis believed to be two to three hundred years old.The Celtic meaning of the name Buchaam is"curved bend" and in"The Land of Lonach" as"The howe where cows graze".
The farm has 22 archaeological sites with anearth house adjacent to the farmhouse.
The Ogg family have been resident in Strathdonand neighbouring Glenbuchat since 1400 apart
from a short lapse from 1928 - 1958.
The name Ogg has been synonymous withAberdeen Angus cattle throughout the world formany years. Alexander Ogg won many honours inScotland and exported bulls to New Zealand, Brazil,Argentina and South Africa. Alex also won many
honours in Argentina and America as an advisor.
At present the farm is an upland mixed (livestock and crops) and is part of the Cairngorms Environmental Sensitive Area
in the Cairngorms National Park.
Alexander Ogg's son and grandson, Charles and Keith, currently win honours locally for their Limousin Cross herd.
http://www.buchaamfarm.co.uk/
From 1880's
The economy of expense of labour, compared with what it was forty years ago, is illustrated by the fact, that, within that period the farm of Buchaam was worked by 6 ploughs, 18 horses, and 4 yokes of cattle of 10 or 12 each. The present enterprising tenant works the same farm (with a great additional extent of arable land which he has reclaimed) in a manner not to be surpassed, with 3 ploughs, 4 horses, and a pair, or occasionally two pairs of work oxen.
Picture added on 26 January 2010 at 23:27
This picture is in the following groups
farm
Comments: