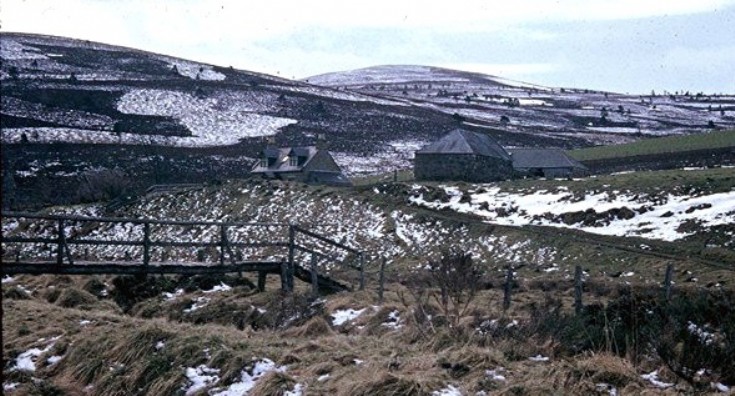 The Glenbuchat Image Library
133 Crofts Winter
Organisation The Royal Commission on the Ancient and Historical Monuments of Scotland
Alternative Name(s) BURN OF CORNABAE
Canmore ID 126642
Site Type LIME KILN, WATERMILL
County ABERDEENSHIRE
Parish GLENBUCHAT
Council ABERDEENSHIRE
NGR NJ 3576 1760
Latitude, Longitude 57.244565N, 3.066112W
Images 0
Archaeological Notes
NJ31NE 54 3576 1760
This mill lies on the left bank of the Burn of Cornabae 40m SE of Crofts farmhouse (NJ31NE 63), which is in use as a private residence. The mill is aligned NE and SW and survives to gable height. There are entrances in the NE end and NW side, and the wheel-pit is visible at the SW end of the SE side. The lade no longer survives, but a short tail-race extends SE from the wheel-pit into the adjacent burn-gully.
The remains of a limekiln are situated on the edge of a burn-gully about 30m S of the mill. The NE side of the kiln has collapsed or has been robbed, but elsewhere its site is marked by shallow depression surrounded by a stony rim with an overall diameter of about 6m.
Visited by RCAHMS (JRS, PC), 9 September 1998.
Picture added on 22 December 2009 at 22:38
This picture is in the following groups
buildings