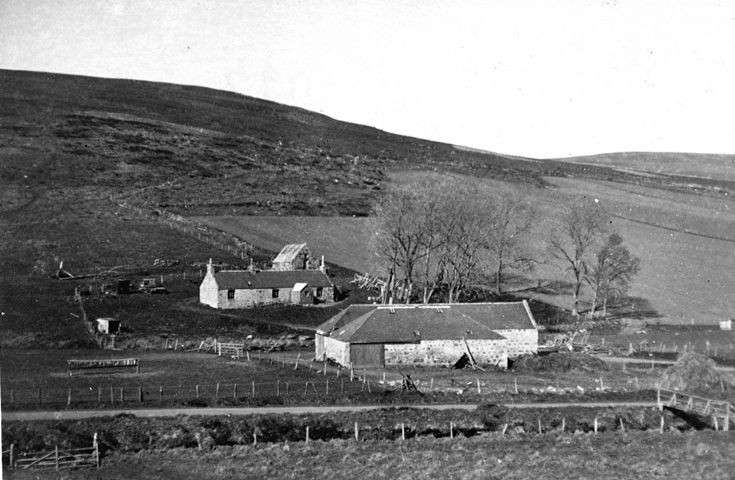 The Glenbuchat Image Library
106 Netherton
Netherton
--------------------------------------------------------------------------------
The Royal Commission on the Ancient and Historical Monuments of Scotland
Alternative Name(s) NETHERTOWN
Canmore ID 120006
Site Type FARMSTEAD
County ABERDEENSHIRE
Parish GLENBUCHAT
Council ABERDEENSHIRE
NGR NJ 3572 1778
Latitude, Longitude 57.246176N, 3.066822W
Images 0
Archaeological Notes
NJ31NE 11 3572 1778 and 3575 1784
The farmhouse at Netherton is still in use as a holiday cottage, but most of the rest of the old steading has been reduced to little more than footings. As depicted on the 1st edition of the OS 6-inch map (Aberdeenshire 1869, sheet L), the principal components of the farmstead comprised a farmhouse, which had a garden immediately to the SE, standing to the S of a U-plan range, its open side facing SSW. A horse-engine platform lay at the WNW end of the NNE side of the range and there were also three other smaller buildings lying to the W and a fourth some 60m to the N.
By the end of the 19th century the farmstead appears to have been heavily altered (1903, sheet L). The farmhouse seems to have been enlarged or rebuilt and a new building, possibly a cottage, had been built immediately to its E, partly occupying the site of the old garden. It is not known whether the range underwent any major reconstruction at this time, but the horse-engine had been moved to the WNW wall of the W wing. Of the three buildings close to W end of the range, only one was still roofed, the second having been removed, and the third abandoned, but an additional building had been constructed here also. The building to the N is shown abandoned.
With the exception of the old farmhouse and the building to the W that had been removed by 1903, the remains of the rest all survive, together with the footings of another four buildings that are not shown on either edition of the map.
Visited by RCAHMS (PC, KM), 22 October 1997.
Picture added on 21 December 2009 at 21:10
This picture is in the following groups
farm