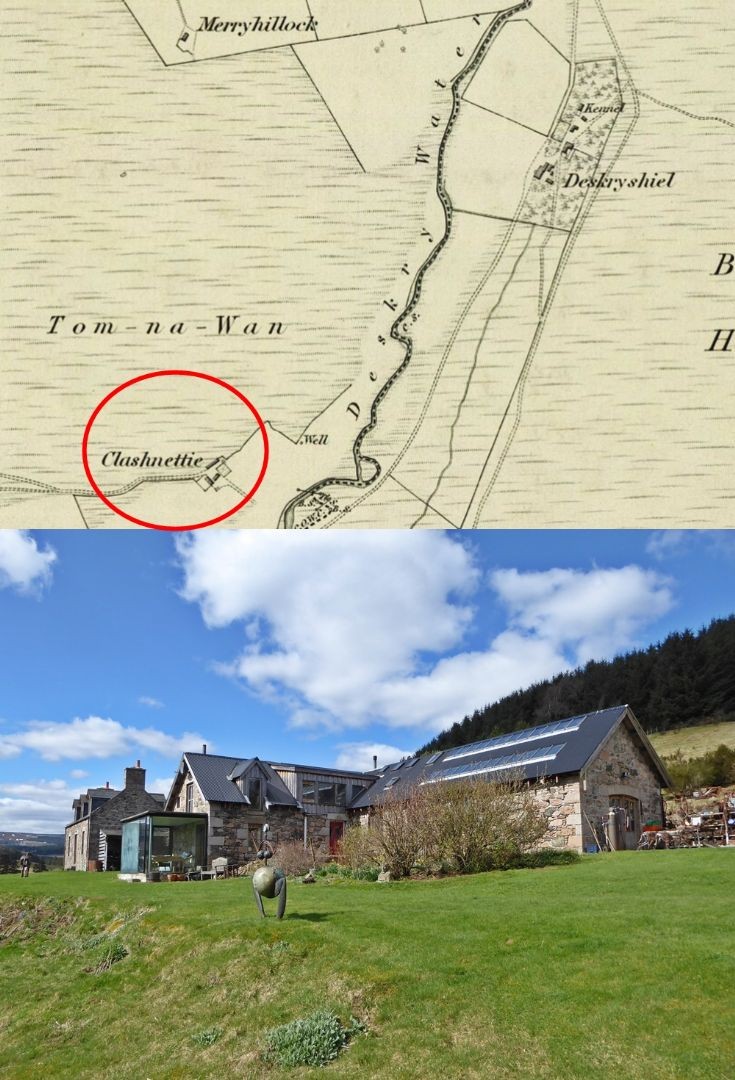 The Glenbuchat Image Library
57 Clashnettie
The above picture shows:
1. 1850 Map of Clashnettie near Sir Charles Forbes's shooting lodge of Deskryshiel
2. Picture of Clashnettie 2018.
Alexander Walker was the gardener at Newe Castle who wrote 196 Fiddle tunes for his employer and patron Sir Charles Forbes.
Click for more details about Alexander Walker
One of the tunes was called 'Clashnettie' and there was conjecture as to why it was included amongst the tunes, most of which related to famous places and famous people or friends of Sir Charles. There was a suggestion that the weaver, Archibald Symon, who lived there may have woven the tartan for Balmoral Castle and Queen Victoria. This raised the question as why was the Balmoral Tartan woven there and not in Deeside.
Below is the entry for Clashnettie in a history giving the background to the tunes.
Click here however for more details about the story of the Symon family and the Balmoral tartan. CLASHNETTIE'S HORNPIPE.
Scottish, Hornpipe. E Flat Major. Standard tuning. AAB. Composed by Alexander Walker. Walker (A Collection of Strathspeys, Reels, Marches, &c.), 1866; No. 108, pg. 37.
Clashnettie Croft and Deskryshiel
Sir Charles Forbes's lands in Strathdon stretched south into the foot hills of Morven by Deskry Water. Here was a shooting lodge Deskryshiel which was presumably rented out for the shooting season.
Not far from Deskryshiel and just across Deskry water is the croft of Clashnettie. Between 1861 and 1881 the census shows that it was occupied by Archibald Symon and his family. Archibald is recorded as being a weaver although later he is a farmer of 10 cares initially then 5 acres. Little is known about Archibald or why he or his croft was the subject of a Walker composition. There is one record of his attendance at a Strathdon function but he does not seem to have been a regular at the Lonach Gatherings.
Alexander Walker Connection
Clashnettie is still occupied and it has been reported that there was a rumour that Archibald Symon was involved in weaving of the Balmoral Tartan designed by Prince Albert, Queen Victoria's husband. This is not impossible because the Symon family came originally from Deeside near Birkhall (Prince Charles's Deeside Home) and may have known John Brown, Victoria's servant, who came from not far away. Clashnettie was on Sir Chares Forbes land and as Sir Charles was well connected with Queen Victoria, he may have given some advice on the tartan. It is also possible that Archibald Symon also wove the tartan for the Lonach Highlanders.
Picture added on 26 April 2019 at 16:12
This picture is in the following groups
farm