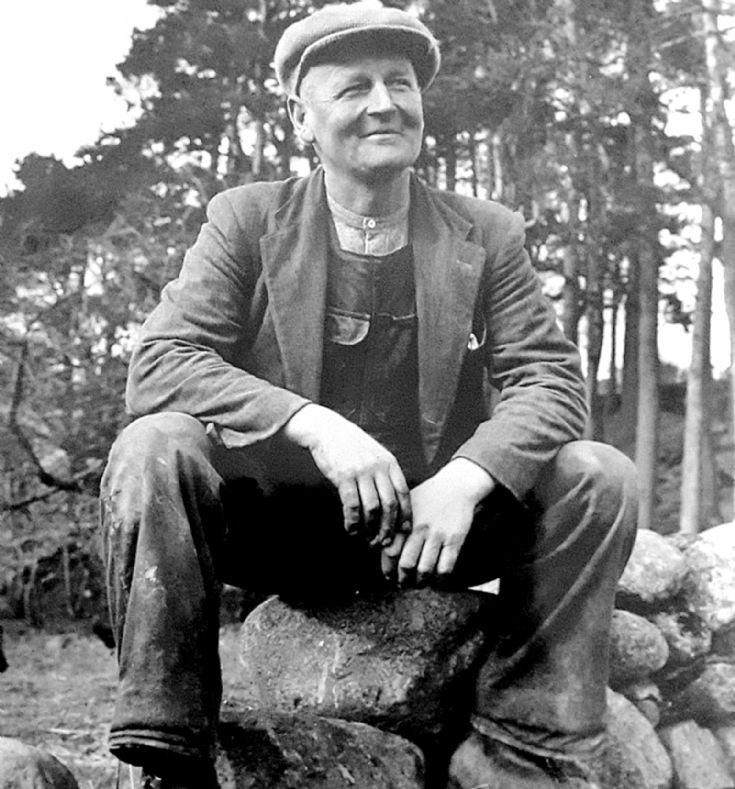 The Glenbuchat Image Library
47 Gavin Ogg
The photograph above is of Gavin Ogg
It was kindly sent by Caroline Blades his granddaughter.
Click for Ogg Family tree
Caroline wrote:
His father, mother, brother Charles and sister Jane are buried in the Glenbuchat churchyard. His brother Alec is buried a few yards away.
I believe my grandfather's mother was born at Tombreck. His beloved brother Charlie died having been kicked by a horse; he lived for a couple of years in a sanatorium just outside Aberdeen. His aunt once visited and missed the bus home...she walked through the night so that she could prepare the men's food in the morning. I was told my great grandmother was not as robust as my great great aunt! Jane, Gavin's sister stayed in Baltimore caring for her elderly mother and aunt, no doubt missing out on love over sense of duty.
My grandfather left Glenbuchat, I believe he worked in Ireland and returned to work at Douneside, where my mother was born. He and his brother Alec developed a fine reputation for their knowledge and breeding of Aberdeen Angus cattle. My grandfather travelled to "The Argentine " to judge shows and advise.
His uncle, Alexander Ogg found recognition in South Africa and, according to family more, narrowly missed the Nobel Prize for his work in Astrophysics. Gavin married Margaret Brown had 3 children, Elisabeth, Norman and Iain all who live in the Kirriemuir area now. Alec had 3 children, Charles (still in Strathdon) Glenyis (I think in Taynuilt) and Sheena, recently back from Australia, now in Aberdeen. My mother must have visited Baltimore as she spoke of a lovely walked kitchen garden that her grandmother kept. There is photo of Baltimore without the central porch extension, I shall track it down. The steading was filled with Rosette from shows and they were still there years after the Oggs left. My parents came across a deserted dilapidated Baltimore many many years ago and my mother took a Rosette and a chunk of granite from the garden. "
Picture added on 03 May 2018 at 21:42
This picture is in the following groups
farm
Comments: