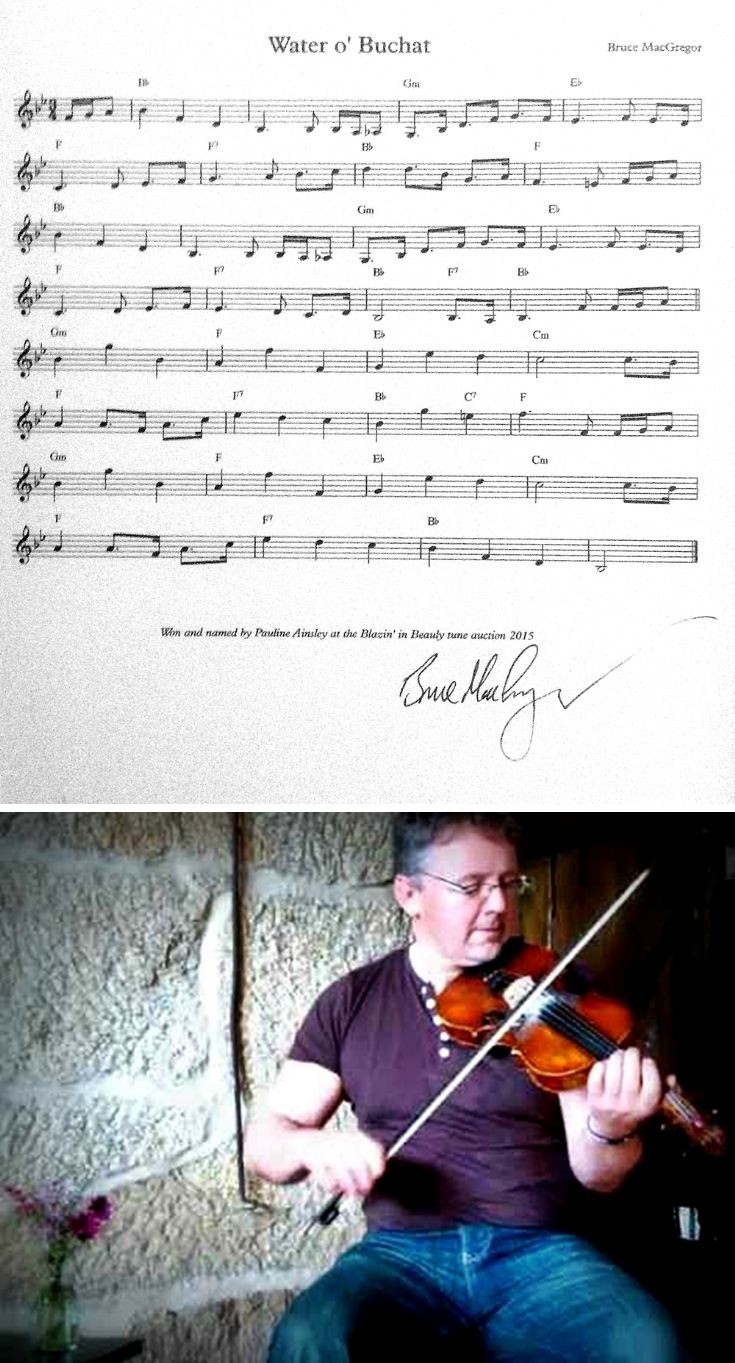 The Glenbuchat Image Library
91 'Water O' Glenbuchat' Fiddle tunePictures:
1. Score of Glenbuchat Water fiddle tune
1. Bruce McGregor, composer of the tune.
Blazing Fiddles
(from their web site)
Take a group of the hottest contemporary fiddle players from the Highlands and Islands of Scotland, mix with some wonderfully sympathetic piano and guitar arrangements and you've got the award winning Blazin' Fiddles on your hands. Like rare single malts, each member of Blazin' Fiddles draws the distinct flavour of music from their part of the Highlands and Islands. Blending solo and ensemble sets, aged with the occasional insightful tale, they all come together in a fiery blend to excite your senses.
Bruce MacGregor
Bruce is probably best known as founder and driving force behind the multi award winning Blazin' Fiddles. He also toured and recorded with the first incarnation of Gaelic supergroup Cliar.
Bruce is one of Scotland's most celebrated and accomplished fiddle players. Taught by the great Donald Riddell CBE, Bruce's style encapsulates the finest points of Highland fiddle music – bold and rugged at times, lyrical and beautiful at others.
For Bruce, the essence of Scottish fiddle music lies in its ability to retain its heart and soul whilst displaying diversity and a sense of adventure that, when brought together, make it truly unique in terms of traditional music.
Blazin' in Beauly
Bruce set up the award winning fiddle school, Blazin' in Beauly, which celebrates its 10th anniversary in 2010, and started Northern Roots, a roots music festival held at the adventure farm that he now runs.
In 2015 Pauline Young from Belnacraig Glenbuchat attended the Blazin' in Beauly and won the prize to have a tune named with a name of her choosing. She has called it Glenbuchat Water and it is displayed above.
This adds to the collection of Glen music including the recently composed
'Glenbuchat Heritage'.
Picture added on 11 December 2016 at 15:54