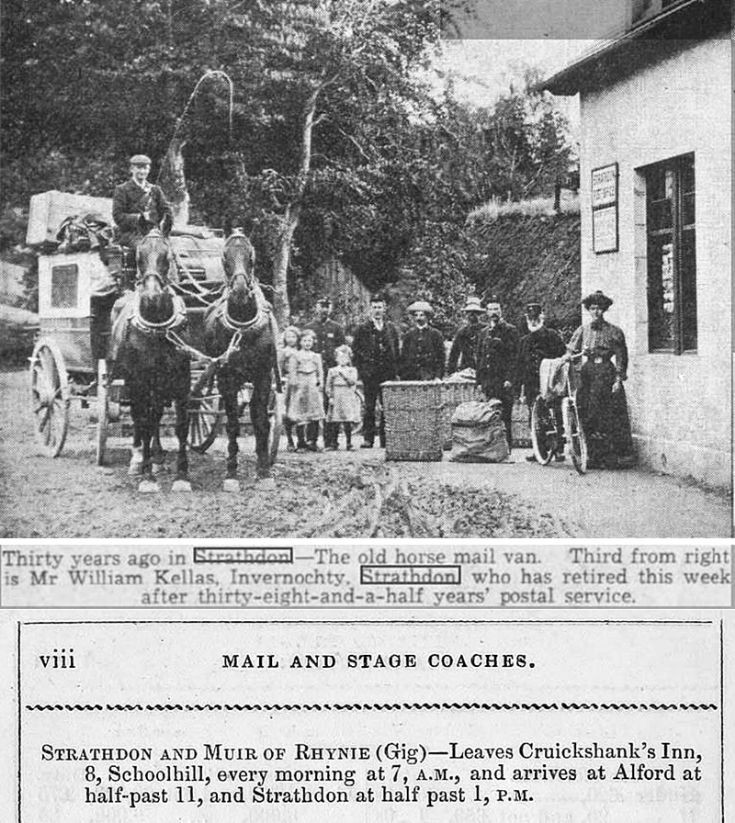 The Glenbuchat Image Library
26 Strathdon Mail Coach 1907
Mail coach at Bellabeg Post Office
This photo printed in 1937, but taken about 1907 shows the mail coach at the Post Office n Bellabeg, Strathdon.
Below that is a section of an 1843 directory indicating times of the mail coach to Strathdon from Aberdeen.
One of the drivers was probably William Beattie from Glenbuchat
William Beattie, Bellabeg (mail coach driver)
B - 28 Mar 1857 in Glenbucket
M - Mary Williams 5 June 1880, Milton of Cushnie, Leochel-Cushnie
D - after 1881 in prob Strathdon, Aberdeenshire, Scotland.
1880 Marriage record shows this pair married according to forms of the Free Church. William is listed as a mail-gig driver, usual residence Lumsden Village Auchindoir. Mary is listed as a housekeeper, usual residence Milton of Cushnie, parents William Williams & Martha Elmslie.
By the 1881 census, this family is living at Bellabeg, Strathdon with William's uncle Charles and one son William Williams Beattie (born March 1881, died April 1881)
In 1937 when this photo was taken Mr Kellas was awarded the Imperial Service Medal.

Whitehall, July 6, 1937.
IMPERIAL SERVICE MEDAL.
Kellas, William, Postman, Strathdon Sub- Office, Aberdeen.
Picture added on 03 June 2016 at 15:16