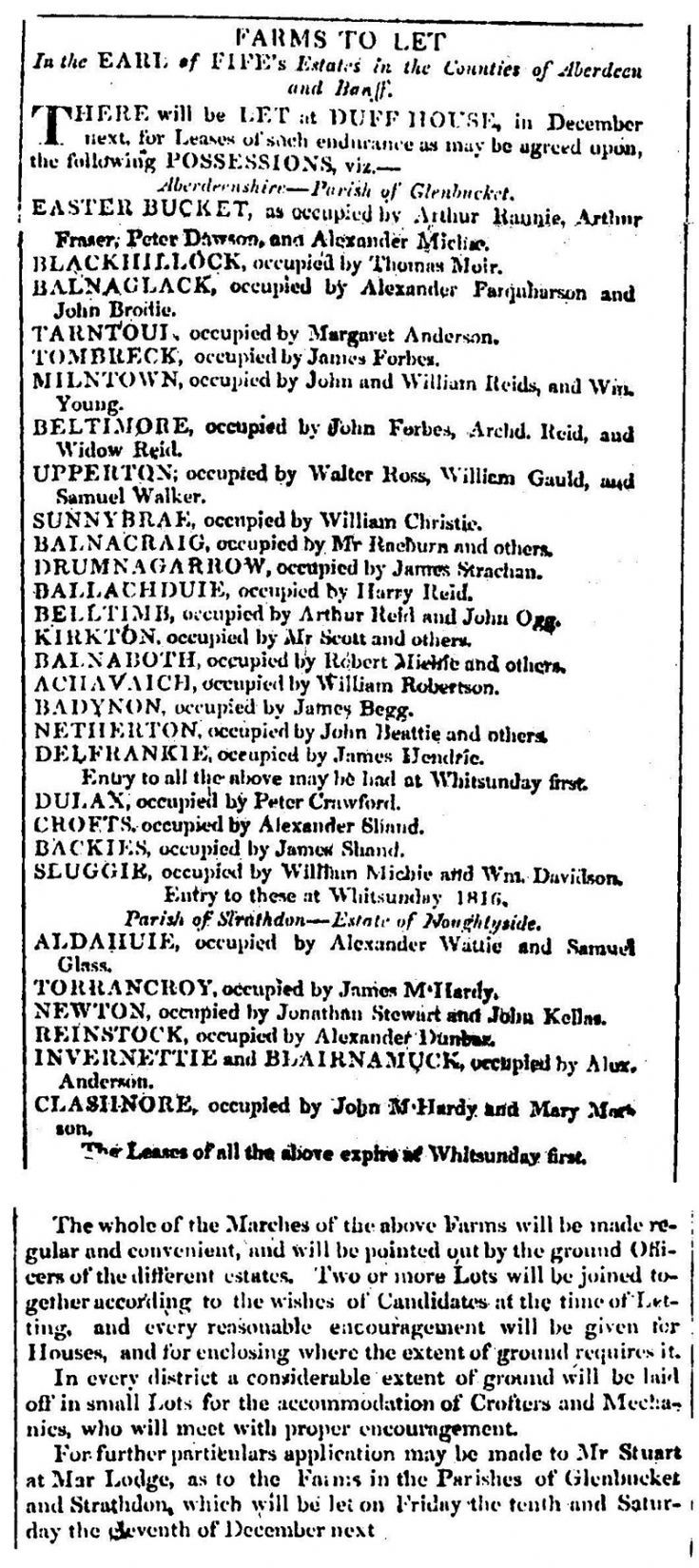 The Glenbuchat Image Library
125 Letting of Farms 1813
Farm Lets 1813
Copy of Advert for the letting of farms in Glenbucket published in the Aberdeen Journal, Wednesday 3rd November 1813.
(From Ken Cruickshank's book Lime Kilns of Glenbuchat)
Fife Estate Farms
FARMS TO LET
In the EARL of FIFE's Estates in the Counties of Aberdeen and Banff.
THERE will be LET at DUFF HOUSE, in December next, for Leases of such endurance as may be agreed upon, the following POSSESSIONS, viz. -
Aberdeenshire - Parish of Glenbucket.
EASTER BUCKET, as occupied by Arthur Rannie, Arthur Fraser, Peter Dawson, and Alexander Michie.
BLACKHILLOCK, occupied by Thomas Moir.
BALNAGLACK, occupied by Alexander Farquharson and John Brodie.
TARNTOUL, occupied by Margaret Anderson.
TOMBRECK, occupied by James Forbes.
MILNTOWN, occupied by John and William Reids, and Wm. Young.
BELTIMORE, occupied by John Forbes, Archd. Reid, and Widow Reid.
UPPERTON, occupied by Walter Ross, William Gauld, and Samual Walker.
SUNNYBRAE, occupied by William Christie.
BALNACRAIG, occupied by Mr Raeburn and others.
DRUMNAGARROW, occupied by James Strachan.
BALLACHDUIE, occupied by Henry Reid.
BELLTIMB, occupied by Arthur Reid and John Ogg.
KIRKTON, occupied by Mr Scott and others.
BALNABOTH, occupied by Robert Michie and others.
ACHAVAICH, occupied by William Robertson.
BADYNON, occupied by James Begg.
NETHERTON, occupied by John Beattie and others.
DELFRANKIE, occupied by James Hendrie.
Entry to all the above may be had at Whitsunday next.
DULAN, occupied by Peter Crawford.
CROFTS, occupied by Alexander Shand.
BACKIES, occupied by James Shand.
SLUGGIE, occupied by William Michie and Wm. Davidson.
Entry to these at Whitsunday, 1816.
The whole of the Marches of the above Farms will be made regular and convenient, and will be pointed out by the ground Officers of the different estates. Two or more Lots will be joined together according to the wishes of Candidates at the time of Letting, and every reasonable encouragement will be given for Houses, and for enclosing where the extent of ground requires it.
In every district a considerable extent of ground will be laid off in small Lots for the accommodation of Crofters and Mechanics, who will meet with proper encouragement.
For further particulars application may be made to Mr Stuart at Mar Lodge, as to the Farms in the Parishes of Glenbucket and Strathdon, which will be let on Friday the tenth and Saturday the eleventh of December next; - To Mr Watt at Nethercluny, as to the Farms in the Parishes of Mortlach, Aberlour, and Glass, which will be let on Monday the thirteenth of December; - To Mr Stronach at Knock, as to the Farms in the Parishes of Keith, Grange and Rothiemay, which will be let on Tuesday and Wednesday the fourteenth and fifteenth days of December next; - and to Mr Wilson at Mill of Alva, as to the Farms in the Parishes of King Edward and Gamery, which will be let on Wednesday the fifteenth day of December; to either of whom, or to Mr Souter at Duff House, offers may be given in previous to the respective days of setting above mentioned.
Picture added on 04 February 2015 at 17:34
This picture is in the following groups
farm