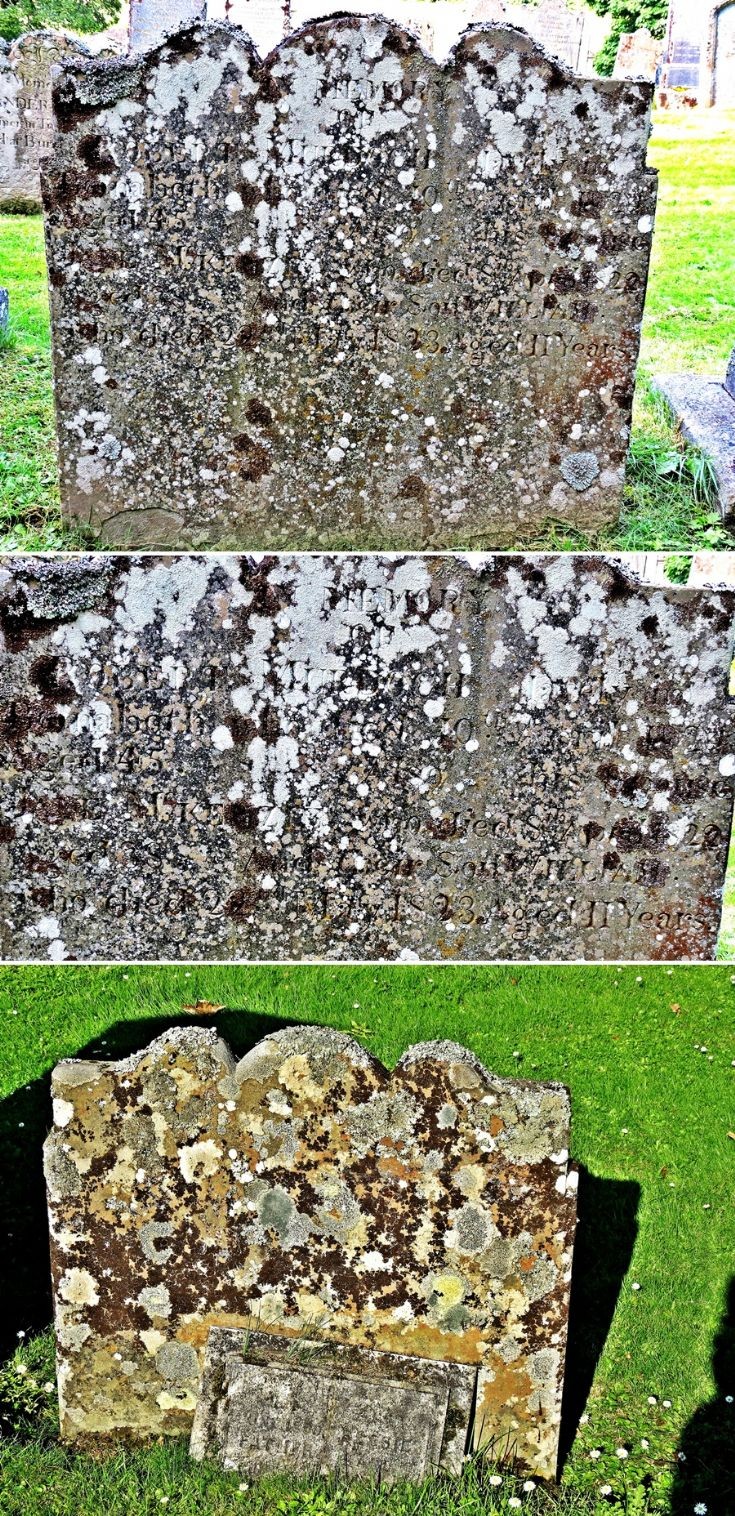 The Glenbuchat Image Library
21 Grave Stone No 18 Robert MurdochGlenbuchat Old Kirk Graveyard Click to return to Grave Yard Plan
The is a small plaque at the back of the stone . The Book Aberdeenshire Epitaphs reports it to be 'In filial regret this stone is erected by the family.'
The text on this stone is difficult to read but has been clarified by entries from a book 'Upper Donside Monumental Inscriptions pre 1855' it probably originally read:
In
Memory
Of
ROBERT MURDOCH lately in
Belnaboth Died 10th August 1824
Aged 45 years. Also
JANE MCKENZIE who died 8th April 1822
Aged 38 And their Son WILLIAM
Died 22nd May 1823 aged 11 years
Robert Murdoch
Birth 06 Dec 1777in Gask, Aberdeenshire,
Death 10 Apr 1824 in Glenbucket,
Parents
Adam Murdoch –
Spouse
Jean McKenzie1785 - 1822
Children
Margaret Murdoch1804 –
John Murdoch
1807 - 1869
Robert Murdoch 1809 –
William Murdoch1811 - 1823
Alexander Murdoch1815 - 1891
James Murdoch1820 –
From the Book 'Aberdeeshire Epitaphs':
The above-mentioned Robert Murdoch and his wife, Jane M'Kenzie, had the following children: — Margaret, who married Harry Reid ; John in Belnaboth, who married Christian, daughter of Angus Macbean ; Robert in Craigielea, who married Isabella, daughter of William Brodie; William, who died young; and Alexander in Dalfrankie, house carpenter and violin maker, who married Isabella Ingram, and had one son and eight daughters.
William Murdoch, brother of the first-mentioned Robert Murdoch, married Jean Milne, and had, with three daughters, a son. William, who married Jessie M'Donald, who, with others had a son, John, who is married to Mary Beattie. Margaret, sister of the first-mentioned Robert Murdoch, married John Glcnnie, who died at Leochry, Glenkindie, survived by numerous descendants.
John Murdoch and his wife. Christian Macbean, had, with others, Robert, now in Pyke, Insch, who married Jessie Dunbar ; Mary, who married Peter Elrick ; Peter, who married Jean Ross; and Jean, who was married to William Ross. Glenkindie Mills, whose daughter, Christina, is the wife of Alexander Law, Parkside, Glenkindie.
Robert Murdoch and his wife. Isabella Brodie had, with others, James; John Watt. drowned in the Irrawaddy in 1882; William, now in Finnylost. Strathdon, who married Isabella Mackintosh; Alexander, in Toronto; Archibald, in Toronto, who married Agnes Geddes ; Mary Ann, who was married to Captain Robert Scott Lawrance (see Peterhead); Margaret, who married William Gordon; and Ann, who married James Alexander. Nether Savoch, Longside.
James Murdoch married Georgina. daughter of James Lyon, New Deer, and, with two daughters, had a son, James Lyon, who. in 1878, married Ann, daughter of Dr William Sangster Wood, New Deer.
Picture added on 10 October 2014 at 14:10
This picture is in the following groups
church