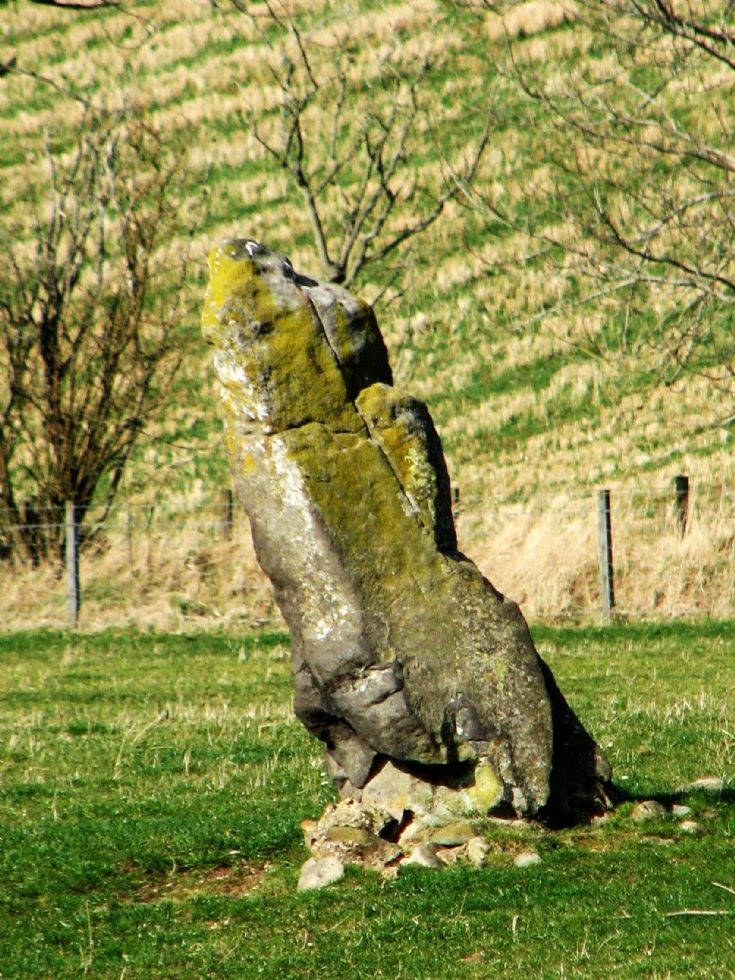 The Glenbuchat Image Library
139 Glenkindie Standing Stone
Glenkindie standing stone
From RCAHMS
Alternative Names
Treasure Stone; Glenkindie House Policies;
Bullhide Stone; Waterside
Site type STANDING STONE, STONE CIRCLE (POSSIBLE)
Archaeological Notes
NJ41SW 9 43828 13751.
(NJ 4383 1374) Supposed Stone Circle (NR) (Remains of).
OS 6" map, Aberdeenshire, 2nd ed., (1902)
A large block of granite, about 7 feet high, supposed to be one of a circle formerly here. Unchanged in living memory. A note by J Macdonald suggests it should be published as 'Standing Stone' (Name Book 1866) and it is so described in the New Statistical Account (NSA).
NSA 1845; Name Book 1866.
A standing stone about 2.2 metres high, about 4.0 metres girth. There is no evidence of a stone circle.
Revised at 1/2500.
Visited by OS (R L) 26 August 1968.
(Name cited as Bullhide Stone, Glenkindie). This standing stone is situated in an area of arable ground at an altitude of 220m OD. It had fallen over by 1991 and the stone hole was partially excavated (by I A G Shepherd) on 15 October 1992 before it was re-erected; the packing stones were conserved.
Press and Journal 16 October 1992; NMRS, MS/712/46.
This granite standing stone is situated on the edge of an old river terrace on the N bank of the River Don about 40m E of Waterside house (NJ41SW 183). It measures 1.1m in breadth by 1m in thickness and 2.3m in height, and now leans slightly to the W. In 1991 the stone fell down, but it was re-erected by the farmer the following year.
Visited by RCAHMS (JRS, ATW), 28 April 1997.
Inverurie Advertiser, 6 November 1992.
Folklore From the Modern Antiquarian
This granite standing stone is 2.3m tall and sits on an old river terrace of the River Don. The stone fell in 1991, but was re-erected the following year after the hole had been partially excavated (the original packing stones were reused).
The stone is also called the 'Treasure Stone' as some was buried there by a Pictish prince. When someone attempted its removal they suffered a heart attack. Another name for the stone is the Bullhide Stone, but I can't find an explanation. (See below)
from " Folklore Of The Aberdeenshire Stone Circles And Standing-
Stones." By The Late James Ritchie,
The tradition of buried treasure is associated with a number of the ancient stone monuments. Although one is frequently told of a pot of gold, or a bull's hide filled with gold, being concealed somewhere underneath a stone, not much faith is now placed in these stories, notwithstanding that they are still kept in remembrance.
The story of a bull's hide filled with gold is connected with many stones. At its simplest it is found at the Binghill stone circle on Deeside, at Lulach's Stone near Kildrummy, at a standing-stone at Glenkindie close by a branch road to Towie, and at the Muckle Stane o' Clochforbie, near the steading of the farm of that name. The last may be a broken recumbent stone, but there is nowadays no standing-stone near it. In this case also an attempt was once made to remove the treasure, but the great efforts made to shift the stone proved fruitless, and a warning voice having been heard from beneath the depths of the stone to command " Let be!" the advice was taken and the stone has remained undisturbed ever since.
Picture added on 16 March 2012 at 23:47
This picture is in the following groups
places