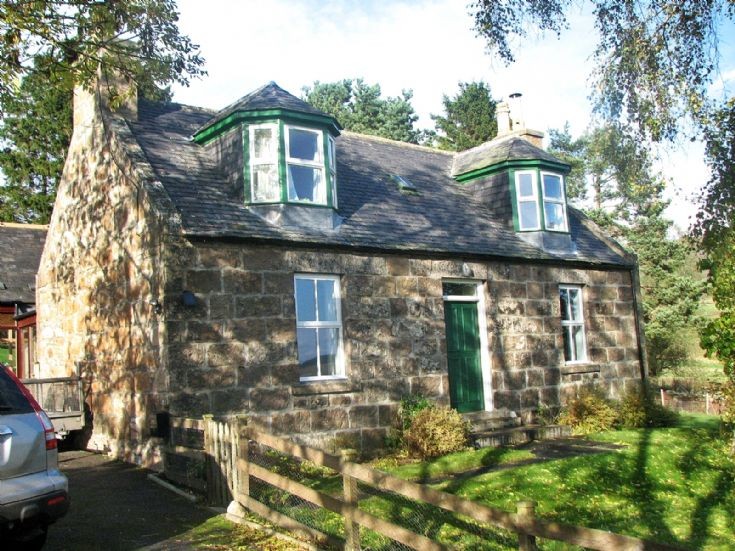 The Glenbuchat Image Library
86 Craig Cottage Belnacraig
Craig Cottage
Craig cottage which had originally been built in 1865 as the School for the new Free Church at the foot of the hill. The front of the School was the cottage for the teacher and the rear was originally a large room with separate entrance and
a range to provide heat and probably meals.
As there was another School at Dulax, it is thought that Bowiebank may have been a Girls School. It is thought that it was only operational for about 15 years as the 1872 Education act passed the responsibility for education to the State from the Churches. The pupils were then transferred to
Glenbuchat Public School
at the top of the Craig (or Crag)
The school was later divided into two with Craig cottage being the front part and Bowiebank the rear part.
In the 1940s-80's the last occupants were:
Front:
Edith and Charlie Fraser
Rear: Thomson(see comments below) then
Bob and Nan Murdoch
The cottage was reunited into one about 1985.
The 1871 Census gives details of the teachers at the Bowiebank
1871 Census
51 Free School
Mary Reid Head Unm 23 Female Teacher Bendochy Perthshire 1 5
Jessie Reid Sister Unm 11 Scholar Bendochy Perthshire
1871 Scotland Census about Mary Reid
Name:Mary Reid Age:23
Estimated Birth Year:abt 1848
Relationship:Head
Gender:Female
Where born: Bendochy, Perthshire
Registration Number:200
Registration district:Glenbucket
Civil parish:Glenbucket County:Aberdeenshire
Address:Free School
Occupation:Female Teacher
Household Members:
NameAge Mary Reid23 Jessie Reid11
1871 Scotland Census about Jessie Reid
Name:Jessie Reid Age:11
Estimated Birth Year:abt 1860
Relationship:Sister
Gender:Female
Where born:Bendochy, Perthshire
Registration Number:200 Registration district:Glenbucket
Civil parish:Glenbucket County:Aberdeenshire
Address:Free School
Occupation:Scholar ED:1
Household schedule number:51 Line:20 Roll:CSSCT1871_38
Household Members:NameAge
Mary Reid23
Picture added on 16 December 2011 at 22:51
This picture is in the following groups
places
Comments: