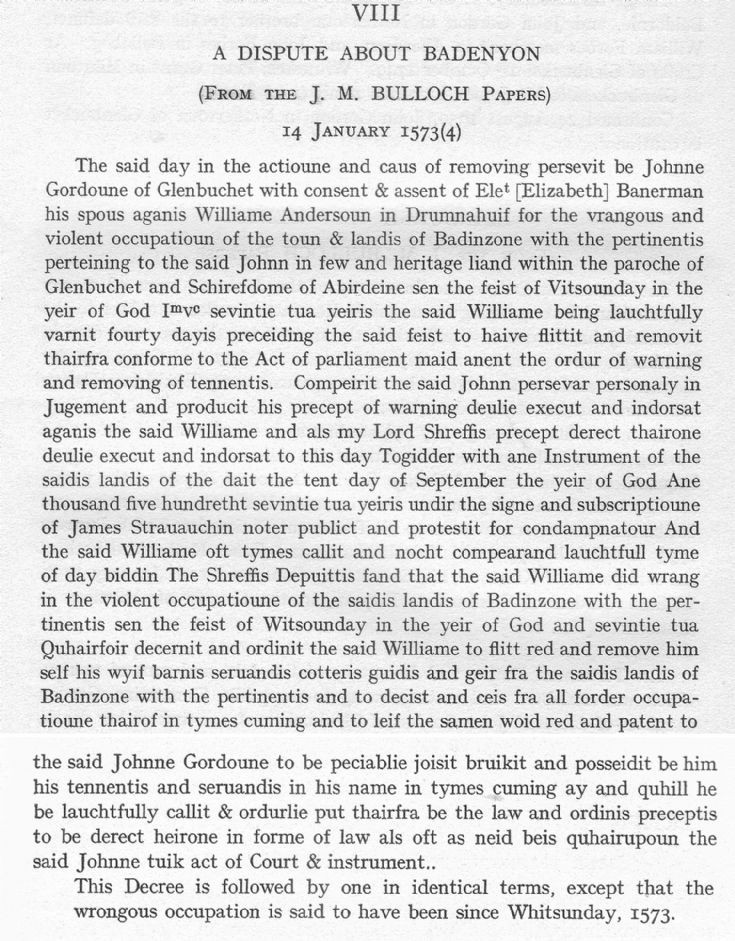 The Glenbuchat Image Library
125 Badenyon Dispute 1574Badenyon Dispute 1574
From The Book of Glenbuchat and others.
The above is a transcript of an entry in Diet Book of the Sherriff Court of Aberdeen dated 14th January 1573-4
The action is between
John Gordoune of Glenbuchet
(with the consent of his first wife Elizabeth Bannerman) and William Andersoun in Drumnahuiff (Kildrummy). The purpose of the action is to remove 'William Anderson, himself, his wife, his bairns, servants, cottars, goods and gear from the said lands of Badinyon'
John Gordon of Cairnbarrow was a descendant of the famous 'Jock' Gordon of Scurdargue, the illegitimate cousin of Elizabeth, the heiress who married Alexander Seaton, and founded the ducal family of Gordon.
John Gordon was thrice married. First to Elizabeth Bannerman, of the Waterton family, and secondly to Helen Carnegie, daughter of Sir Robert Carnegie of Kinnaird, and it is her name which appears with his own, dated 1590, on the castle of Glenbuchat that he built. He married a third time, before 1617, Elizabeth Wishart, an alliance not noted in the usually complete Balbithan MS.
Picture added on 24 November 2011 at 20:04
This picture is in the following groups
Badenyon