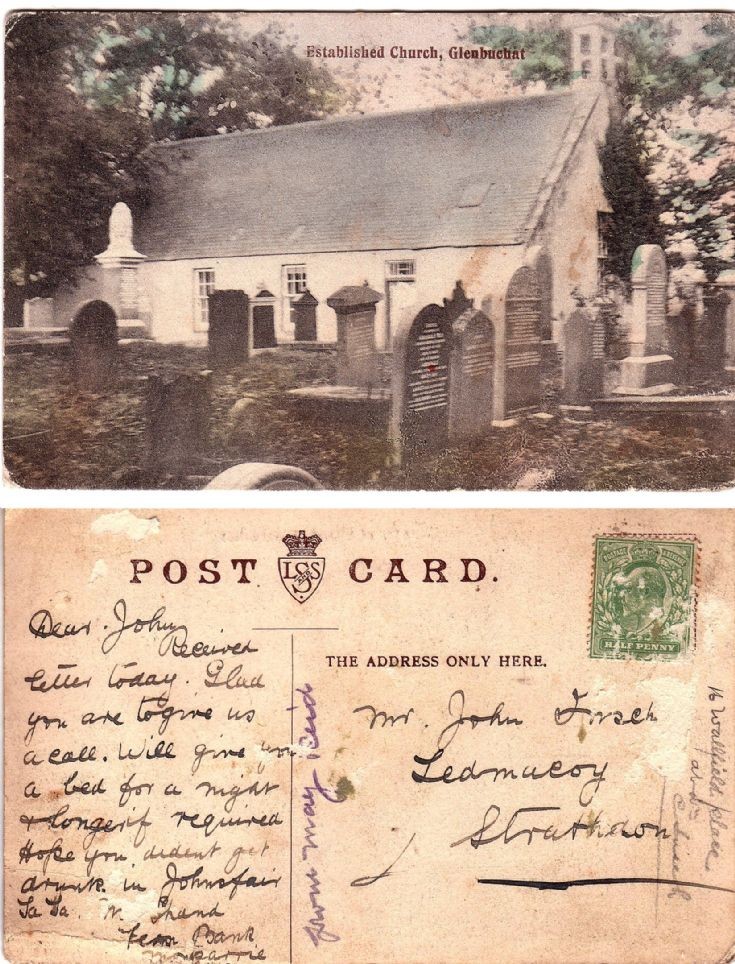 The Glenbuchat Image Library
119 Old Kirk Post card about 1905
Letter to John Insch at Strathdon from a Mr Shand, Fern Bank, Montgarrie.
The card shows a hand coloured picture of Old Glenbuchat Kirk
The stamp is of King Edward VII who reigned 1901 -1910 thus dating the card.
The card was donated by Mrs Muriel Wood who is related to the Glenbuchat Inch family.
Inch was the maiden name of
Grannie Pirie's (Mary Ann Kellas) mother
who was called Jean Inch.
John Inch might therefore been Jean's brother.
Jean and John Inch were twins with the same date of birth 20 Mar 1843
Mary Dow
Birth 1813 in Banchory, Aberdeenshire
Death 20 Feb 1874 in Belnacraig, Glenbuchat
Parents
Lewis Dow (1781-1856)
Elizabeth Milne (1779-)
Spouse
Charles Inch (1806-1887)
Children
Elizabeth Inch (1832-)
James Inch (1835-)
Alexander Inch (1838-1874)
Charles Inch (1839-)
Jean Inch (1843-)
John Inch (1843-)
William Inch (1845-1912)
Mary Inch (1847-)
Ann Inch (1852-)
1831 6 Nov Age: 18 Marriage to Charles Inch Glenbucket, Aberdeenshire, Scotland
1861 Age: 48 Residence Glenbucket
1871 Age: 58 Residence Glenbucket
1874 20 Feb Age: 61 Death Belnacraig, Glenbuchat
Picture added on 16 October 2011 at 20:10
This picture is in the following groups
church