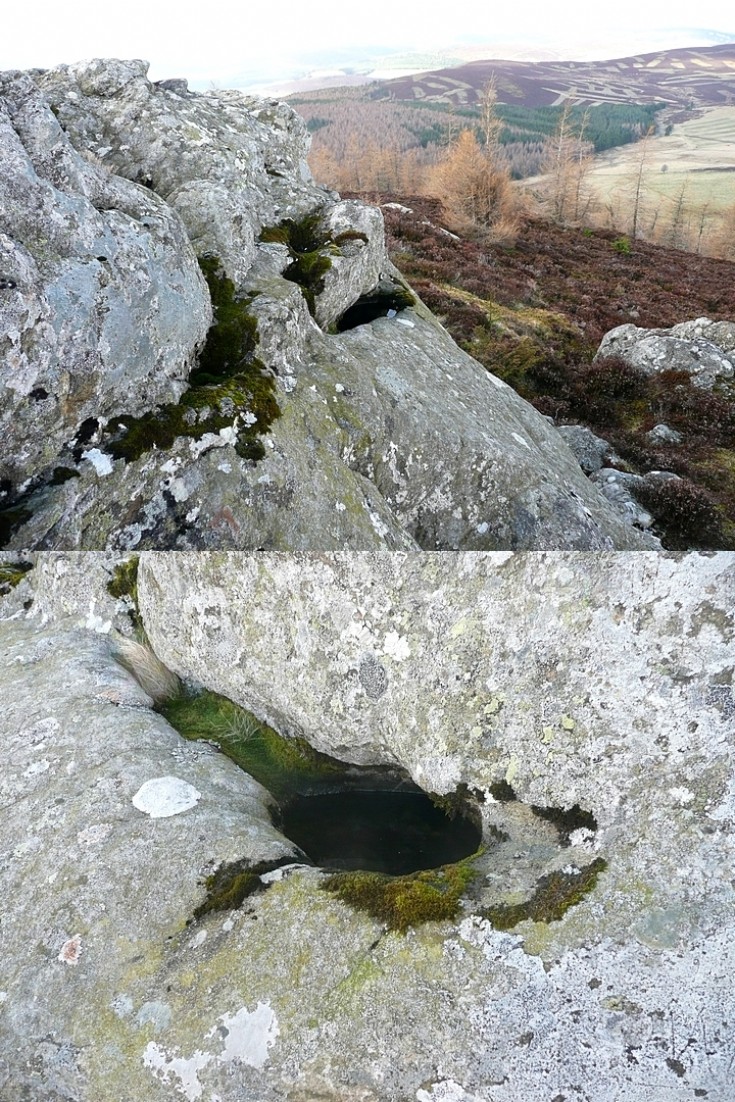 The Glenbuchat Image Library
106 Holy Well Ben Newe
Ben Newe Well
The Holy well at Ben Newe
(mentioned in previous pages)
is well known but rarely found, even by people who live in the Glen.
I am pleased to have a photograph originally shown in the
Modern Antiquarian Site
Note the inscribed letters at the bottom right of the lower photograph. They are probably modern but wold benefit from further investigation.
Click to see more details about the well inscriptions
This and the following passage from a 1895 book provides clues to the position of the well in a rock at the top of Ben Newe
From "The Legend of Perseus". Volume 2 1895
By Edwin Sidney Hartland
Chapter XI Sacred Wells and Trees
Ben Newe Well.
"There is a big rugged rock, says Rev Walter McGregor, on the top of Ben Newe in Strathdon, Aberdeenshire. On the north side of this rock, under a projection, there is a small circular-shaped hollow which always contains water. Everyone that goes to the top of the hill must put some small object into it, and then take a draught of water off it. Unless this is done the traveller will not reach in life the foot of the hill.

I climbed the hill in June of 1890, and saw in the well several pins, a small bone, a pill-box, a piece of a flower, and a few other objects."
The RCAHMS record says the OS visited in 1968, and 'offerings of coins [were] still made'.
The RCAHMS record also mentions WJ Watson's 1926 'History of the Celtic place-names of Scotland' in which he proposes "The well may be the sacred place (the Celtic 'nemeton') preserved in the 'Newe' element of Ben Newe".
From Wikipedia, the free encyclopedia
A nemeton was a sacred space of ancient Celtic religion. Nemeta appear to have been primarily situated in natural areas, and, as they often utilized trees, they are often interpreted as sacred groves. However, other evidence suggests that the word implied a wider variety of ritual spaces, such as shrines and temples. Evidence for nemeta consists chiefly of inscriptions and place-names, which occur all across the Celtic world. Toponyms related to the word nemeton occur as far west as Galicia, Spain, as far north as Scotland, and as far east as central Turkey. The word is related to the name of the Nemetes tribe living by the Rhine between the Palatinate and Lake Constance in what is now Germany, and their goddess Nemetona.
Picture added on 27 September 2011 at 23:12
This picture is in the following groups
places