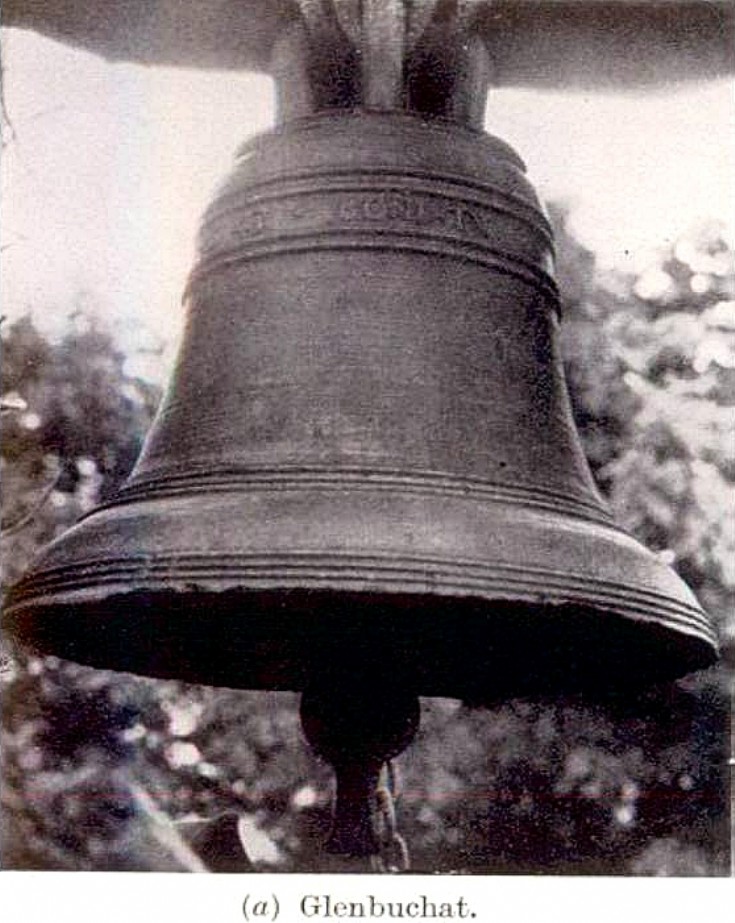 The Glenbuchat Image Library
93 Bell, Old Glenbuchat Kirk The Church And Other Bells Of Aberdeenshire.

By The Late F. C. Eeles, O.B.E., D.LITT., F.S.A.ScoT., AND
RANALD W. M. CLOUSTON, B.SC.ENG., F.S.A.ScoT.
GLENBUCHAT St Peter.
In the bird-cage belfry over the east end of the
old church
hangs a bell, 17 ins. diameter, 12 ins. high, note C, inscribed: PETER IANSEN * ANNO * 1643 * BONI * TWN *
The bell has a large flat crown with a projecting edge which almost overtops the small rounded shoulder. The canons are large and straight, 4 ins .in height. The moulding wires are located two above the inscription, two below it, three above the sound bow and three very small ones close together above the lip. The bell is rather a rough casting, and the lip is slightly chipped.
The lettering is small and irregular and in low relief, and the bell is very similar to that at Auchterless by the same founder but with the difference that it is smaller and has fewer moulding wires.
The belfry is comparatively modern; it is of sandstone, has a heavy projecting cornice, and is surmounted by a large vase. Another of this type', but with a, different shaped vase, is at Mary ton, Angus.
M
In the top of the west gable is built a small triangular stone inscribed
A K,
1629
it is the typanum of the former belfry which used to be on this west gable.
The initials stand for Andrew Ker, who was minister here in 1629.
There is a smaller bell out side the New Free Church at Belnacraig
GLENBUCHAT New Church
The belfry contains a single bell, about 17 ins. diameter, which appears to be devoid of-any cast inscription. However, the waist bears some painted on figures which seem fro be 1904. The bell has a hand-bell type argent and is bolted to a metal headstock; it is of modern date.
Picture added on 15 January 2011 at 17:28
This picture is in the following groups
church